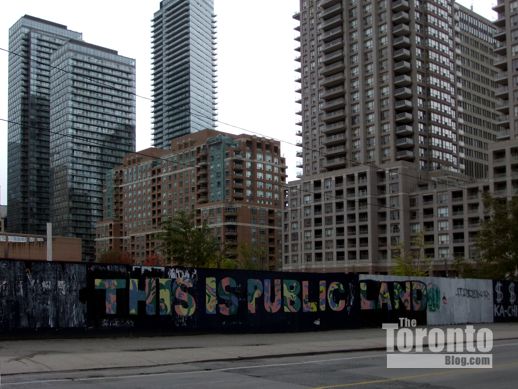 Up to three office towers or highrise residential buildings could be in store for lands behind this wooden hoarding at 11 Wellesley Street West, seen here from the northeast at the corner of Wellesley and St Nicholas Streets. Last week, a deal was supposed to close under which the Ontario Government would sell the property and pass ownership to a so-far undisclosed buyer, at a so-far unknown price, for redevelopment purposes. The closing apparently has been delayed until February. See report below for further details.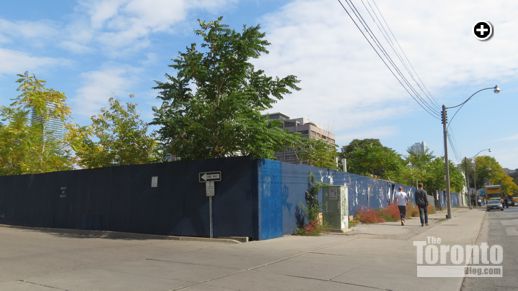 Hoarding along Breadalbane Street at the southwest corner of the 11 Wellesley West site. Since at least early 2011, downtown residents and neighbourhood associations have been pressing the City and provincial governments to create a new park or public greenspace on the vacant 2-acre property between Bay and Yonge Streets.
Hopes fading: A real estate transaction that was scheduled to close yesterday may dash many downtown residents' dreams for the creation of a new public park on a vacant Wellesley Street West site surrounded by thousands of existing condo and apartment units, with thousands more on the way. But the local City Councillor has pledged to continue fighting for green space on the location.
Ward 27 Councillor Kristyn Wong-Tam told Tuesday night's annual general meeting of the Church Wellesley Neighbourhood Association (CWNA) that Wednesday January 23 was the scheduled closing date for the sale of empty provincially-owned land at 11 Wellesley Street West. Barring an unforeseen event, she said, title for the land would rest in the hands of its new owner by 4.30 p.m. Wednesday.  [Editor's Note: CWNA board of directors member Paul Farrelly posted this update on the CWNA's Facebook page January 26: "Councillor Kristyn Wong-Tam has been recently advised by the developer that the transaction will not close until the end of February. A visit on Thursday to Land Registry revealed a new construction lien for $650,000 was put on the property by a construction company on Jan 13,2013, but its not clear whether that has anything to do with the delayed closing."]
Many in the CWNA audience had been hoping Councillor Wong-Tam would announce significant positive developments in her work to obtain at least some of the land for City park space, but she had no such good news to report in her brief update on the subject.  She could say only that the City will continue its efforts to secure part of the property from its new owner. The buyer has not yet been publicly identified.
Negative news exactly one year after positive outlook
The Councillor offered the disappointing update to more than 60 people attending the CWNA meeting at the 519 Church Street Community Centre. Exactly one year ago, she was present in the very same room — for the CWNA's 2012 AGM — while Toronto Centre MPP Glen Murray made encouraging statements about the possibility of greenspace being established at 11 Wellesley West.
As I reported in a January 25 2012 post, Mr. Murray told last year's CWNA meeting that he and his staff were investigating opportunities to provide provincially-owned land for sorely-needed parkland and public amenities in the greenspace-deficient downtown core. The Ontario Government owns more than 110 acres of property south of Bloor Street, he said, so his Toronto Centre Plan project was examining whether some of that land could be repurposed for parks and public amenities. More specifically, his staff were studying options to have the province declare 11 Wellesley as surplus government land that could either be turned directly over to the City for park purposes, or declared an extension of the Ryerson University campus and made available for public use. (Mr. Murray was Provincial Minister of Training, Colleges and Universities at the time.)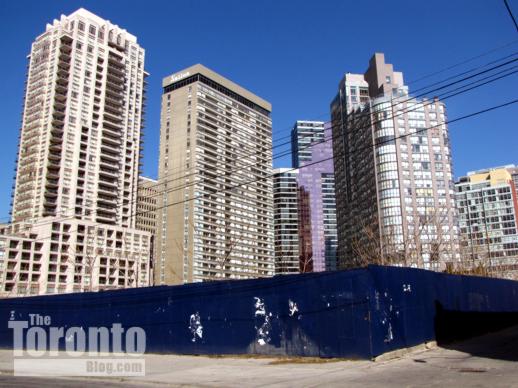 Highrise condo and apartment towers cluster at the west and north sides of 11 Wellesley West, seen here from the southeast on Breadalbane Street. More towers are on the way at several locations within a 2-block radius of the site as the downtown neighbourhood experiences an unprecedented intensification.  Even the former Sutton Place Hotel (center) is going condo — a developer plans to completely overhaul the 32-storey structure and add 9 more floors on top. The new building, The Britt,  would have 772 residential units.
60 new towers proposed for Yonge Street alone

The Cabinet minister's enthusiastic comments last year buoyed the spirits of area residents whose neighbourhoods have been undergoing tremendous intensification during the City's ongoing condominium boom. The downtown area has already surpassed intensification targets that had been set for next decade, and the population is set to surge even more before then as dozens of applications for new condo tower developments work their way through the city planning process. (Councillor Wong-Tam told Tuesday night's meeting that City staff are currently working on files for more than 60 towers being proposed just along Yonge Street alone, between midtown and the waterfront.) To residents' dismay, however, development of municipal parks, amenities and infrastructure improvements needed to support the larger population have not kept pace with the condo boom, leaving downtown residents with just a fraction of the greenspace available to residents in other parts of the City. (CWNA director Andrew Horberry waved an 8.5 x 11-inch sheet of paper in the air to show Tuesday night's audience the paltry amount of parkland available, per person, in the area.)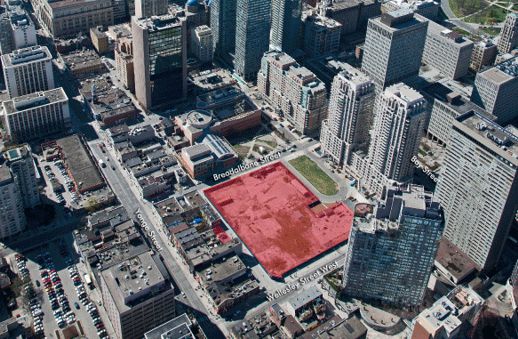 This image from a CBRE Limited website flyer shows an aerial view, from the northeast, of the 11 Wellesley West redevelopment site ….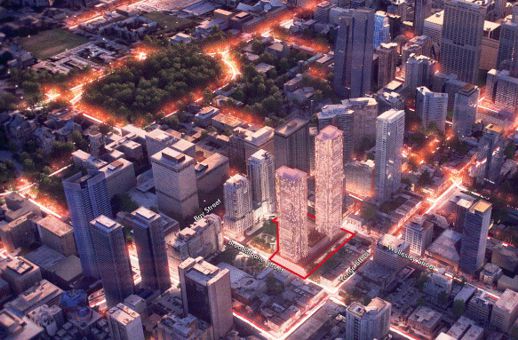 … while this image from the CBRE site illustrates the development potential for the property
 Site touted for 'outstanding' development opportunity
Grassroots efforts to secure a public park at 11 Wellesley go back to at least early 2011. As I reported in an April 21 2011 post,  the Bay Cloverhill Community Association (BCCA) had been promoting a letter-writing campaign that urged residents to express their support for a park to both Councillor Wong-Tam and Mr. Murray. (See my April report for photos showing the vacant site and its surrounding area.) Mr. Murray's January 2012 remarks were heartening to park proponents, but less than six months later their campaign suffered a setback when the province retained a commercial real estate brokerage firm to "arrange the sale" of what has variously been called the "East of Bay" lands and the "Bay & Wellesley Lands."  As I noted in my July 5 2012 post, CBRE Canada advertised the property in the Globe & Mail newspaper as well as in a website overview that described details of the "outstanding development opportunity" at the "exceptionally well-located" site. (Sources said the listing wasn't actually a surprise since the government had much earlier hired Toronto planning and urban design firm Urban Strategies Inc. to study and advise on possible options for redeveloping the land. That firm ultimately presented a report outlining three potential scenarios, each of which indicated how the site could easily suit several residential buildings containing more than 1,000 units in total. No public space was provided in any of the scenarios.)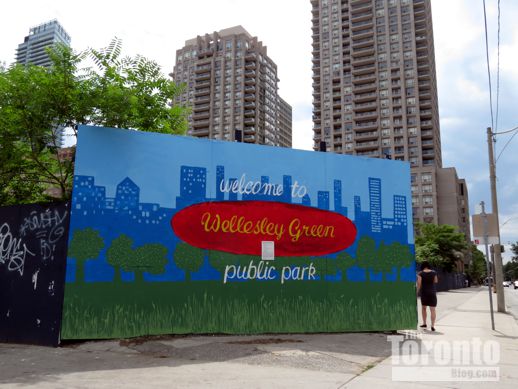 Neighbourhood residents painted this mural on a section of the 11 Wellesley hoarding in early July as part of their efforts to persuade politicians to establish a park on the site.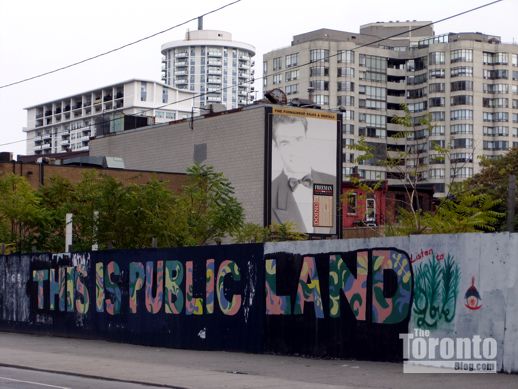 Last fall, more sections of the hoarding were painted with  pro-park slogans …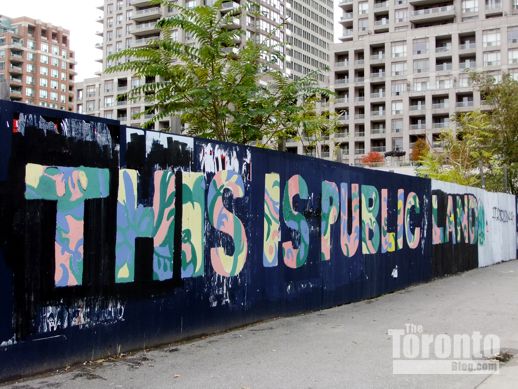 … including this long section of hoarding next to the Wellesley Street sidewalk
City passed motion directing staff to undertake 'exploratory discussions'
Councillor Wong-Tam responded with a motion asking Toronto City Council to direct City staff to "negotiate the acquisition of 11 Wellesley West … for park purposes." The motion, amended to read that staff would be directed to "begin exploratory discussions" with the province or its agents, was adopted in a 32-0 vote at Council's July 11 meeting.
In turn, residents' groups stepped up their efforts to pressure politicians to make a park a reality. The BCCA and CWNA encouraged their members to continue sending letters and emails to City Hall and Queen's Park, and circulated petitions that gathered several thousand signatures. A community group called Save Wellesley Green Public Park was formed, and during August and September held public rallies to galvanize public support for the cause. Meanwhile, neighbourhood residents and activists gathered several times to paint pro-park murals and slogans on the tall wood hoarding that has enclosed 11 Wellesley West for most of the last decade.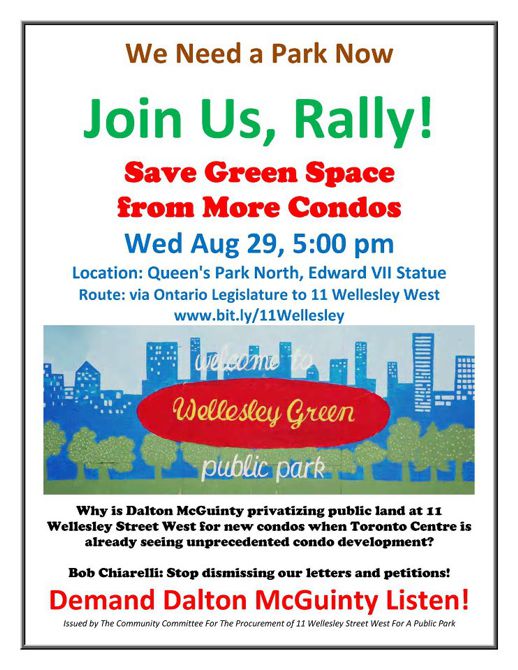 This poster advertised one of several rallies held in late summer of last year
Groups told 50% of land to be available for new park
During the fall, word circulated that Mr. Murray had met with community groups and told them he had been able to convince his Cabinet colleagues that 50% of the Bay & Wellesley Lands should be made available for a new park. A condition in any agreement for sale of the land would stipulate this, sources said. The news thrilled area residents, as did an October 30 2012 City Council decision which authorized the use of parkland reserve funds in negotiations for the acquisition of park space at 11 Wellesley West. As November approached, community groups remained optimistic that at least one acre of land would be set aside for public space. But hope began to dim closer to Christmas, when rumours spread suggesting the provincial government had privately told the City that any negotiations for parkland would have to be undertaken with the new owner of the property — after the sale had closed.
Last week, the neighbourhood was rife with talk that the property sale was imminent, and that the Ontario government was selling the property free and clear of any obligation to build a park of any size. Area residents speculated that the government had suddenly changed tack over concerns about "optics" — worries that Ontarians outside Toronto would look unfavourably on the cash-strapped province giving away valuable land instead of selling it at a maximum possible market price and using the funds to pay down Ontario's massive $12 billion deficit.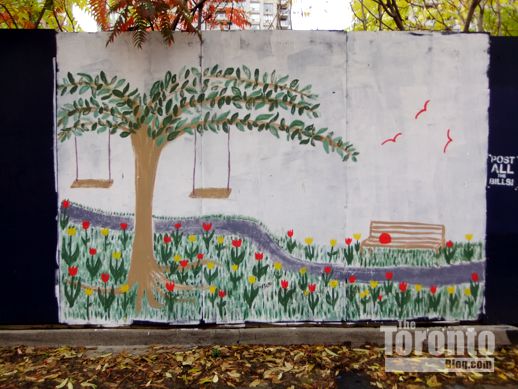 This mural, painted on hoarding next to St Luke Lane on the east side of the 2-acre site, indicates what many residents wanted to see put on the property …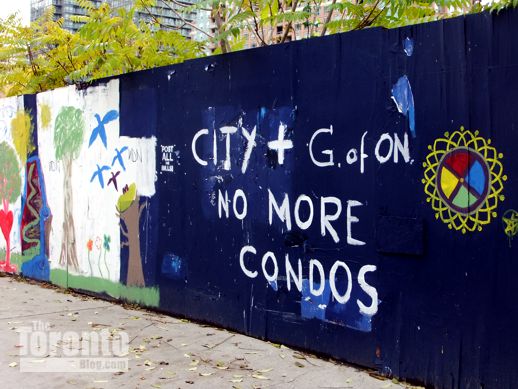 … while this comment bluntly states what many of the residents do not want to see …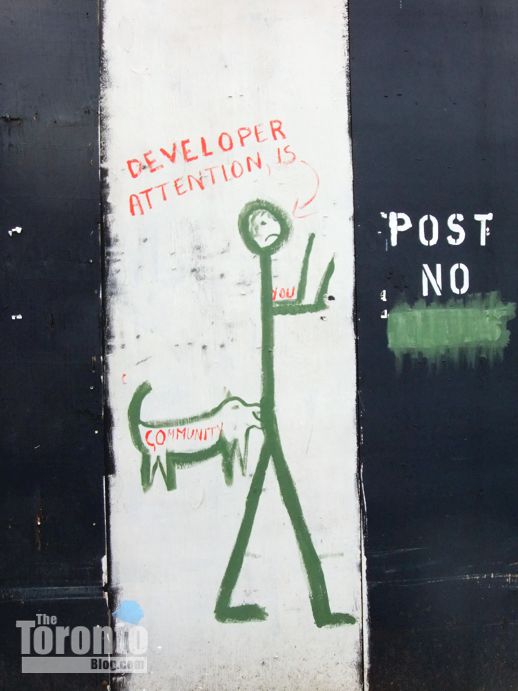 … while this one expresses the frustration many area residents feel about the pace of condo development and the lack of greenspace and public amenities to serve the growing population
Previous plans for site thwarted by provincial deficit concerns
So unless Councillor Wong-Tam manages to strike a deal with 11 Wellesley's new owner in the near future, plans to create publicly-accessible space at the site will likely be thwarted for the second time in just over two decades — on both occasions because of the province's struggles with its finances. A magnificent opera house designed by Moshe Safdie had been planned for the property in the 1980s, but the NDP government of Bob Rae pulled the plug on the province's involvement in that project in the early 1990s in the face of a recession and $2.5 billion deficit.
This time around, 11 Wellesley could well be the last significantly-sized parcel of vacant land remaining in north-central downtown. Apprehensive residents of the BCCA and CWNA  neighbourhoods realize it's a long shot, but keep hoping that at least part of the property will become a green space for thousands of future generations of condo dwellers to enjoy.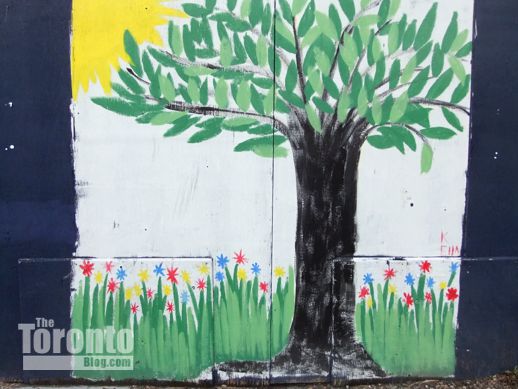 The big question for area residents now is: Will it be trees or towers, or will any forthcoming development plan make room for both?