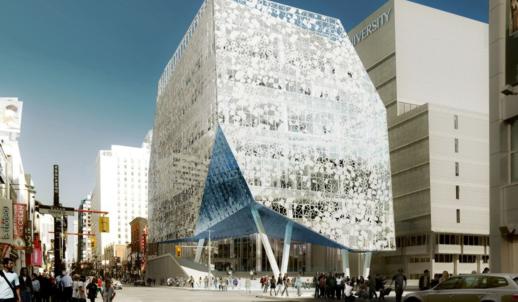 This rendering suggests how the Ryerson University Student Learning Centre will appear when viewed looking north on Yonge Street near Gould Street
Campus showpiece: I envy the students who will get to study and relax in the marvellous Student Learning Centre that Ryerson University unveiled this week and will begin constructing later this year. I spent six years of my life studying in university libraries and classroom buildings that were bleak, bunker-like structures with few windows allowing natural light inside. They were drab, dreary places to learn, and I often dreaded going inside. Even lounge and food service areas tended to be dim, dull and depressing — taking a break for a coffee or chat with friends just meant moving from one boring, bland building to another equally cheerless space. Ryerson's Student Learning Centre promises to be the polar opposite.  Designed by Toronto's Zeidler Partnership Architects and Snøhetta of Oslo and New York City, the building will be breathtaking on the outside, its flashy glass facade adding architectural excitement and sparkle to the busy Yonge Street strip between Dundas and Gerrard Streets. With a dramatic stepped plaza entrance and transparent glass walls bearing dazzling designs, the Student Learning Centre will bring tremendous visual interest to a streetcorner previously made famous by the long-gone Sam the Record Man store's iconic neon signs. I wouldn't be surprised if the building's startling shape and skin slows or even stops traffic on Yonge — stunning contemporary architecture isn't something Torontonians expect to encounter on a commercial strip characterized by boxy, unattractive buildings plastered with brilliant electronic billboards and enormous advertising posters.
The Student Learning Centre's interior will be just as sensational. Inside, a cavernous light-filled lobby with an impressive, wide staircase will wow visitors, while upper levels of the eight-storey structure will offer huge bright spaces for study and socializing. "The Student Learning Centre will provide bright, open, technologically rich, barrier-free spaces for individual and collaborative study that will accommodate our students' different learning styles and our faculties' different teaching practices," Ryerson's Provost and Vice President Academic, Alan Shepard, said in a press release announcing the building design. The Centre will be linked by a bridge to the university's existing library next door, will have learning and study spaces in a variety of different sizes and designs on its upper floors, and will have retail space both along Yonge and on one floor below street level. Each floor will have a unique personality — "some will be open and interpretive with flexible furniture and terraces, while others will be densely filled with enclosed study rooms for groups of four to eight people. Space will be available for independent, quiet study and contemplation. With full digital support and accessible academic services, the Student Learning Centre will foster learning success and help promote a culture of collaboration and creativity among Ryerson students," the news release explains.
Besides becoming the architectural showpiece of the university campus, the Centre is bound to have a significant impact on the city, too. Ryerson president Sheldon Levy says the Centre will be " a transformative, bold development and an important step forward in city building." And there's no doubt it will give the university's campus, much of which is largely hidden from view between Yonge and Church Streets, an unprecedented presence and highly influential profile on the city's main street. Zeidler Architects senior partner Tarek El-Khatib anticipates that the Student Learning Centre "will contribute to the retail and pedestrian life in the area and set the tone for ongoing revitalization in this historic commercial neighbourhood. A generous and inviting, entry plaza will gently draw both students and the general public up and into this new vertical community setting the standard for future development in the area."
That's something I'm personally looking forward to. I don't particularly enjoy walking along Yonge between Dundas and College Streets; I find the sidewalks too narrow and crowded, while the retail shops and restaurants are geared to a much younger demographic — there's practically nothing there to catch my interest and make me want to linger. I either hurry past, or avoid the strip altogether by walking up Bay Street or cutting through the Ryerson campus. But the Student Learning Centre at Gould Street, along with the Aura condo and retail complex two blocks north at Gerrard, could well become catalysts for major improvements and enhancements to the area. In a few years' time, I just might enjoy spending time on Yonge Street once again.
Construction of the Student Learning Centre is scheduled to begin by the end of this year, with completion anticipated for 2014. Full project details are available on the media page of the Ryerson University website. The Toronto Star's architecture and urban issues specialist, Christopher Hume, discusses the design in his April 6 2011 column, while Globe & Mail writer Omair Quadri describes the project in an April 6 2011 article in that newspaper. Below are several artistic renderings depicting some of the Student Learning Centre's signature interior and exterior design features.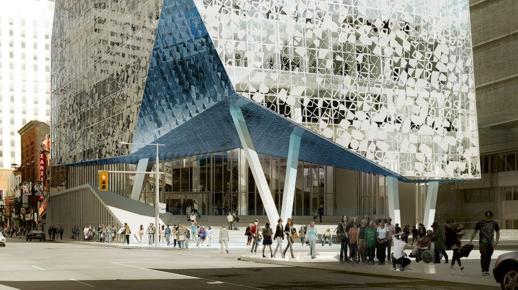 The Student Learning Centre will feature an impressive and dramatic stepped plaza entrance at the corner of Yonge & Gould Streets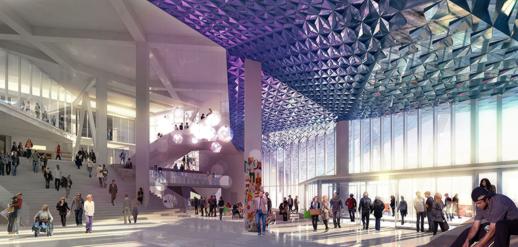 The Centre's lobby will be cavernous, but streaming with natural light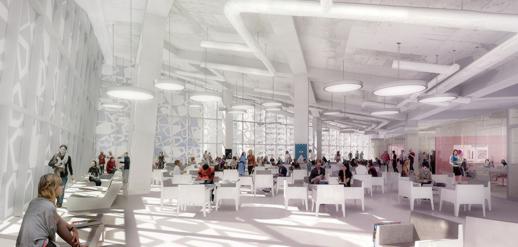 One of the "flexible" study spaces on an upper level of the Centre
One of the Centre's cheery and bright open study spaces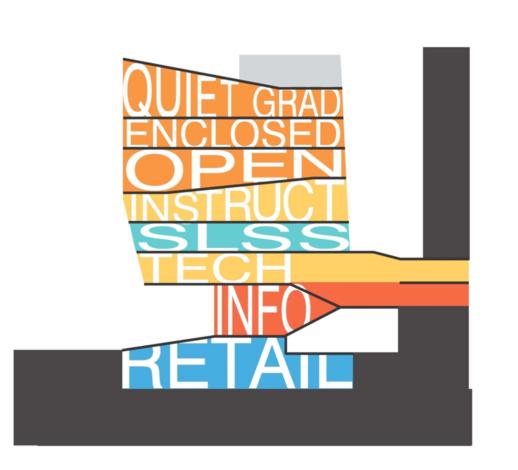 This illustration outlines the interior layout of the 8-storey building