Welcome to The Toronto Blog, my online photo journal about downtown Toronto, its buildings and architecture, and the city's amazing building boom.
I'm an architecture/building buff who lives in Toronto's downtown core. One of my favourite pastimes is walking or cycling in the city center to experience the bustling urban environment and take photos of street scenes and buildings. Toronto is growing at a phenomenal pace, and I'm always keen to see — and feel — how the city is changing as a result. Whenever I take a short walk around my neighbourhood, or a longer trek to explore another part of downtown, I always find something new to surprise, delight or disappoint me (I don't always like what I see!).
It's an exciting time to be in Toronto. Highrise condominiums keep popping up all over the place, while new office and hotel towers have made their mark on the ever-expanding city skyline. Hospitals, colleges and universities have constructed important new buildings, while museums, galleries, performing arts venues and shopping malls have either expanded with noteworthy additions, or undertaken massive renovation projects. The City of Toronto itself has joined the action by creating new waterfront parks, redeveloping the historic Union Station rail transport hub, revitalizing City Hall's Nathan Phillips Square, and rejuvenating some major city streets.
With so much construction underway, and so much more scheduled for the near future,  it's a huge challenge to monitor the latest development milestones and record the gradual but significant changes to the city's streetscapes, neighbourhoods and skyline. With this blog, I aim to chronicle the building activity I've been discovering and photographing during my walkabouts, and to share my personal perspective on downtown Toronto's dramatic transformation. I hope you enjoy coming along as I keep track of Toronto's building boom!
More about me, downtown Toronto and my blog:
I've been fascinated by Toronto and its buildings and architecture ever since I was a little kid. Whenever my family travelled to "the big city" to visit relatives who lived here, I always got a huge thrill seeing the skyscrapers in downtown "T.O." Each trip, I couldn't wait to see what new buildings had been constructed since our last visit.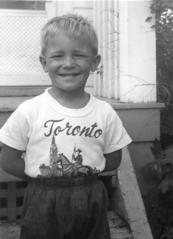 I remember feeling exhilarated in the 1960s when I saw two bold new buildings that put Toronto on the world architecture map: Toronto City Hall's curving clamshell towers and flying saucer-shaped council chamber, and the Toronto-Dominion Centre's TD Bank Tower, a massive black skyscraper 56 floors tall. During the 1970s, I was excited to see more landmarks soar skyward: the 51-floor concrete apartment tower at Manulife Centre, the 57-storey stainless steel Commerce Court West, the 72-storey white Carrara marble First Canadian Place, and the iconic CN Tower — the 1,815-foot telecommunications edifice that instantly became one of Toronto's most famous tourist attractions, and held the record as the world's "tallest freestanding structure" for more than three decades. Toronto was getting bigger and taller, and I loved it.
When I moved here in the 1980s, I watched more skyscrapers rise in the Financial District — including the 68-storey Scotia Plaza tower, with its distinctive copper-toned granite cladding — along with dozens of condominium highrises constructed during a residential building boom throughout the downtown core. I couldn't wait to see what was coming next. There was constant talk in the media about even bigger development yet to come: grandiose plans for public and private building projects that would launch Toronto into the big leagues of world cities. I was one of many residents who anticipated an extraordinary building binge if Toronto won its bid to host the 1996 Summer Olympics. Instead, Atlanta got the Games, and things didn't change too much in Toronto.
From the late 1980s through the 1990s, there was more talk of big projects in the works, many of which would almost certainly be built if Toronto won the 2008 Summer Olympics. There were repeated promises of a spectacular new opera house and aquarium, regular announcements about developing the city's extensive Lake Ontario waterfront, and proposals for expanding the subway system and transit network — which would in turn encourage even more construction. But much of that was just talk: Beijing got the Games instead of Toronto, and most of the projects never materialized.
Since the early 2000s, however, a building boom of Olympic proportions has been changing the complete look, feel, shape and size of downtown Toronto. I've been astounded by the absolutely staggering scale of construction activity, which has maintained its torrid pace despite the global financial crisis of 2007 – 2010. Scores of highrise condo towers have made a dramatic impact on the city skyline, dozens more are in different stages of marketing and construction, and numerous other projects are winding their way through the planning and approval pipeline. But the boom extends well beyond the condo sector. New office and five-star hotel towers have been going up, too, and there has been a steady flurry of construction, renovation, restoration and "revitalization" activity by major retail outlets, cultural institutions, hospitals, colleges, universities and the City of Toronto itself.
The University of Toronto and Ryerson University have added impressive buildings, while George Brown College is building an entirely new campus on the waterfront which, at long last, is getting the ground-breaking development promised decades ago. Downtown hospitals have been busy expanding their facilities: St Michael's Hospital is completing construction of a research centre on Shuter Street, and the Hospital for Sick Children is building one of its own on Bay Street; Mt. Sinai Hospital and Toronto Rehab both have constructed major new additions at their respective University Avenue locations. In a remarkable renaissance for Toronto art and culture, the Art Gallery of Ontario, Royal Ontario Museum, Royal Conservatory of Music, National Ballet School of Canada and the Sony Centre for the Performing Arts all recently undertook massive renovation and building projects. Toronto finally got its new opera house – the Four Seasons Centre for the Performing Arts – and should see construction start soon on its long-awaited aquarium. Some of the city's most famous office towers, public buildings and tourist attractions — First Canadian Place, TD Centre, the Eaton Centre, Union Station, Nathan Phillips Square and Bloor Street — have been undergoing major makeovers and facelifts, and Ontario Place could be next in line. Meanwhile, with Toronto set to host the Pan Am Games in 2015, a long stretch of Lake Ontario waterfront and a vast swath of reclaimed land near the historic Distillery District are being transformed into promising new urban parks and neighbourhoods.
I'll be exploring all of these developments, and many more, here in The Toronto Blog. I hope you'll keep coming back to watch downtown Toronto grow!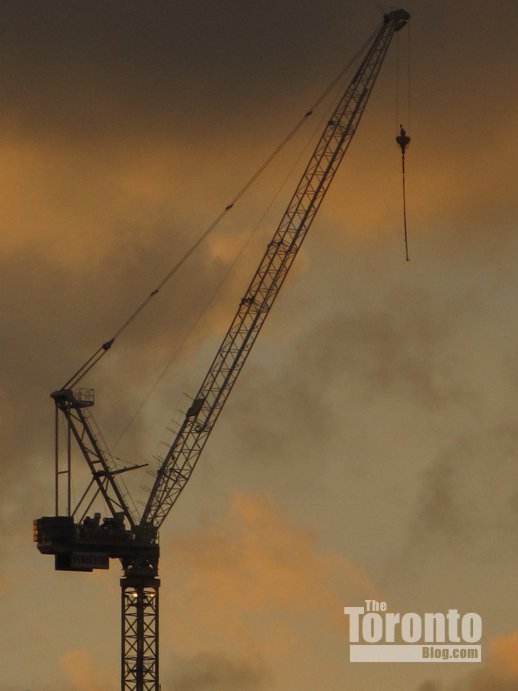 A construction crane in downtown Toronto at sunset