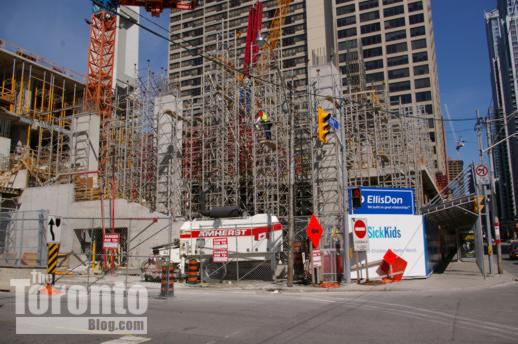 April 30 2011: Stacks of scaffolding rise more than two storeys high at the SickKids Research & Learning Tower construction site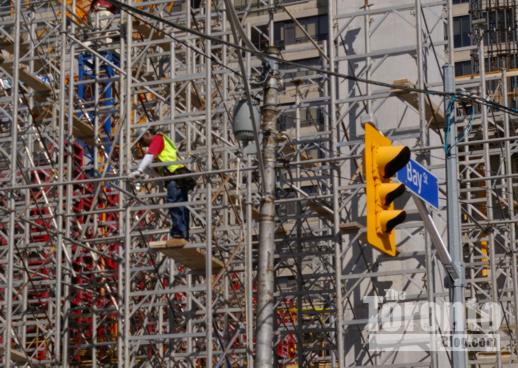 April 30 2011: A construction worker walks the plank in a thicket of scaffolding at the SickKids Research & Learning Tower construction site
Going from ground to third floor: Since they reached street grade 46 days ago, crews at the SickKids Research & Learning Tower have maintained a steady pace of above-ground construction milestones. On April 19, they completed the placement of the ground floor slab, along with vertical walls and columns between there and the second floor. Two weeks ago, they finished pouring the second level concrete floor slab, and were well on their way to erecting formwork, reinforcing steel and concrete for the vertical walls and columns between the second and third floors. Meanwhile, progress continues on the southwest corner of the building site, where the SickKids Tower first began noticeably taking shape above Elm Street. About 14 days ago, the workers completed concrete placement for the second floor auditorium, then finished installing the acoustical floating floor. Plenty of activity has been happening where the sun doesn't shine, too. The interior masonry walls of the P3 level were completed two weeks ago, with installation of mechanical and electrical rough-ins progressing well. Interior masonry walls were 75% complete on P2, while on P1 the mechanical and electrical overhead rough-ins were well underway and work on the interior masonry walls was beginning. But it's above ground, of course, where the work is really starting to make an impact on the surrounding streetscape. With construction approaching the third floor, the building activity is obvious to passersby on Walton, Bay and Elm Streets, and is noticeable from a block away in each direction. Soon, the tower will start blocking some sightlines, including views of the CN Tower from the Bay & Gerrard area. Below is a construction webcam photo showing building activity at the Tower site this afternoon, along with photos I snapped at the beginning and the end of April.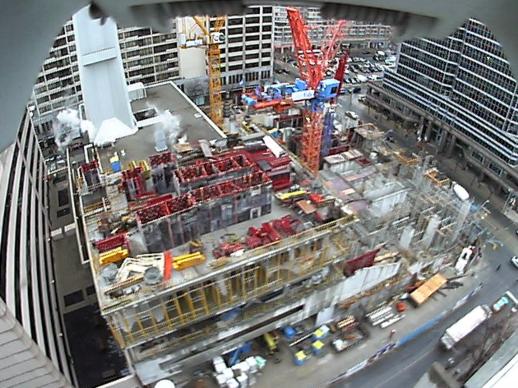 May 3 2011: SickKids Research & Learning Tower webcam view of construction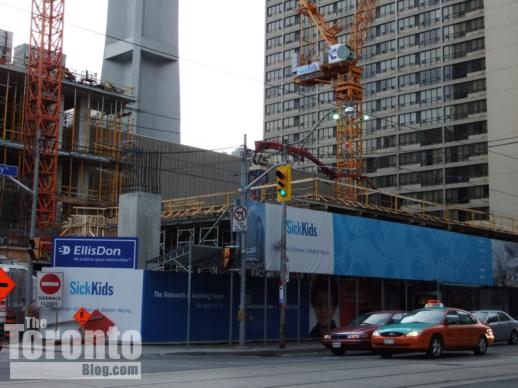 April 8 2011: Forms for the second floor appear above the Bay Street hoarding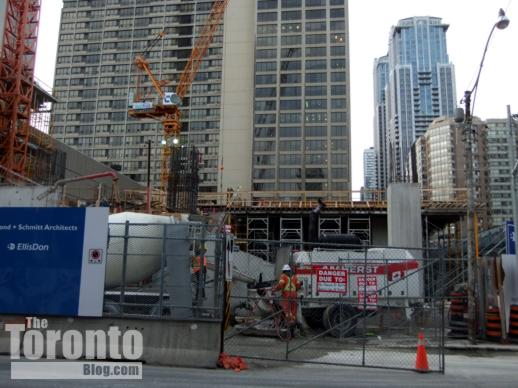 April 8 2011: North view of the tower site from the corner of Bay & Elm Street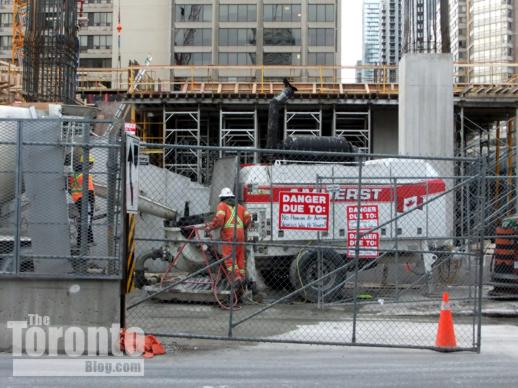 April 8 2011: Forms are in place for the concrete pour for the second floor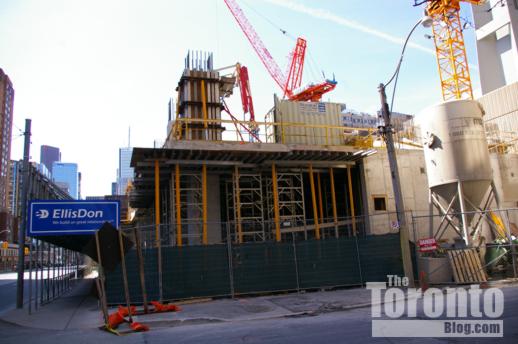 April 30 2011: Second floor construction viewed from Walton Street looking south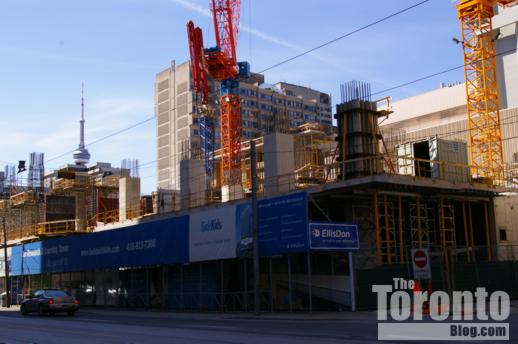 April 30 2011: Construction progress viewed from the northeast corner of Bay & Walton Streets. Won't be long before the tower blocks this view of the CN Tower.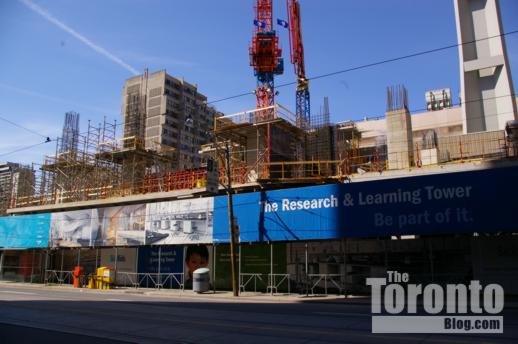 April 30 2011: Vertical forms rise from the second floor of the tower, viewed here from the east side of Bay Street just below Walton Street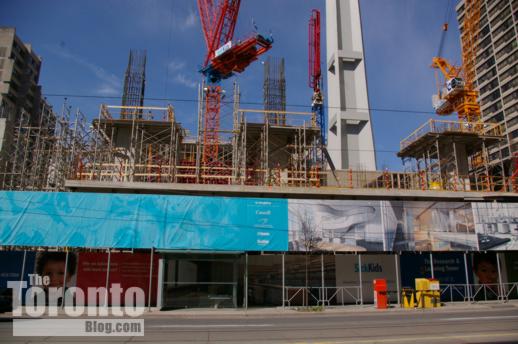 April 30 2011: West view of the site from the opposite side of Bay Street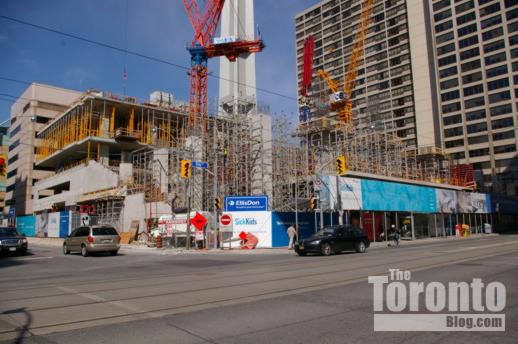 April 30 2011: Construction view from the southeast corner of Bay & Elm Streets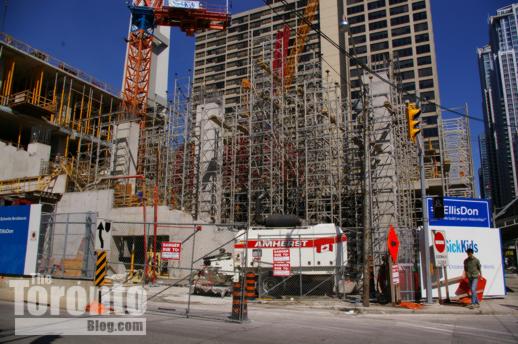 April 30 2011: Elm Street view of stacks of scaffolding rising on the site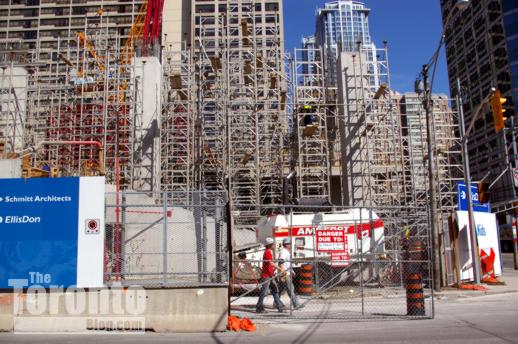 April 30 2011: Soon, the construction will block Elm Street views of the LuCliff tower at Bay &  Gerrard Street (rear) and the College Park condo towers at 777 Bay Street (right rear)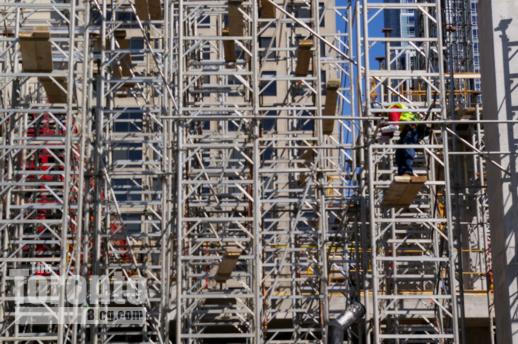 April 30 2011: A construction worker is barely visible as he stands in one of the stacks of scaffolding at the southeast corner of the Tower construction site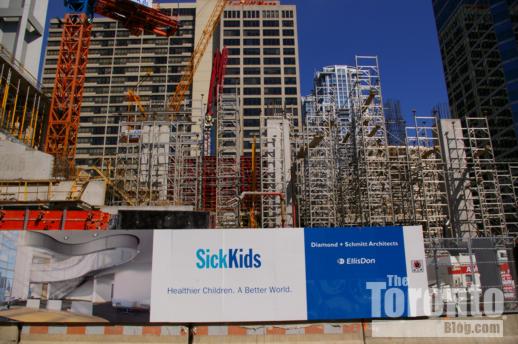 April 30 2011: North view of the construction site from Elm Street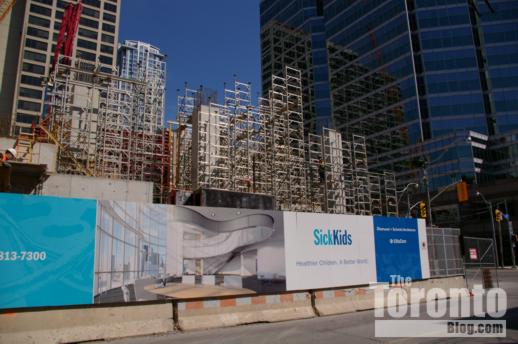 April 30 2011: The stacks of scaffolding viewed from Elm Street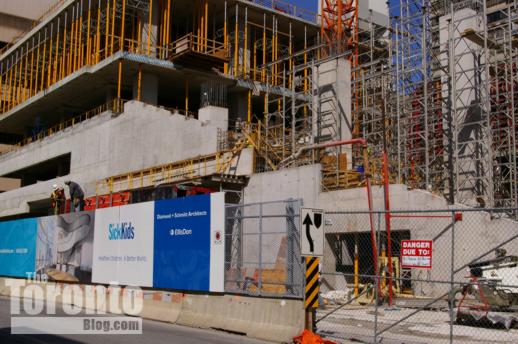 April 30 2011: Elm Street view of the auditorium construction at the southwest corner of the SickKids Tower site
April 30 2011: Auditorium construction at the tower's southwest corner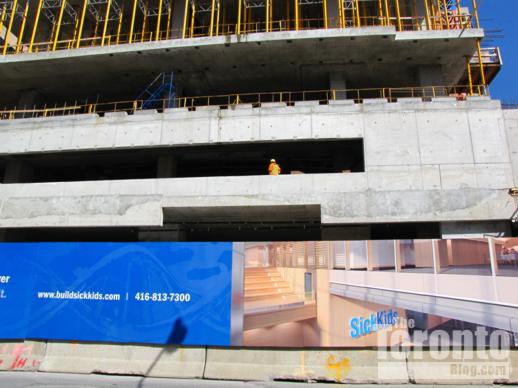 April 30 2011: Elm Street view of the auditorium construction progress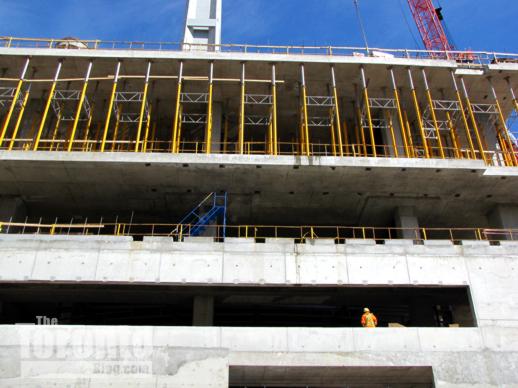 April 30 2011: Looking up from Elm Street at the southwest side of the building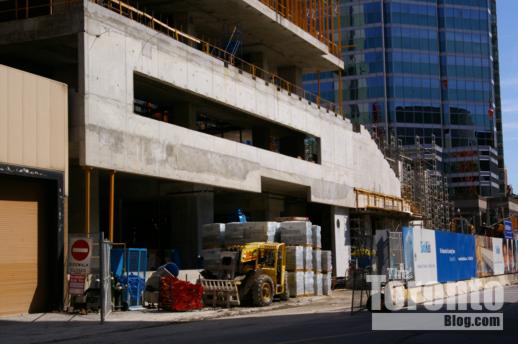 April 30 2011: Looking east along Elm Street at the tower's ground level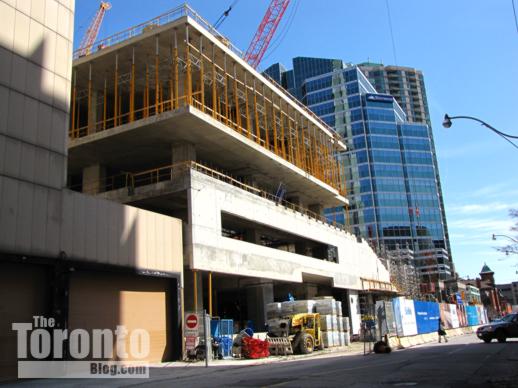 April 30 2011: Looking northeast on Elm Street toward Bay Street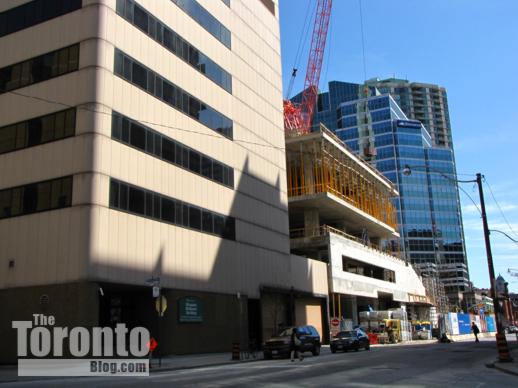 April 30 2011: The SickKids Tower viewed from the southwest corner of Bay & Elizabeth Streets