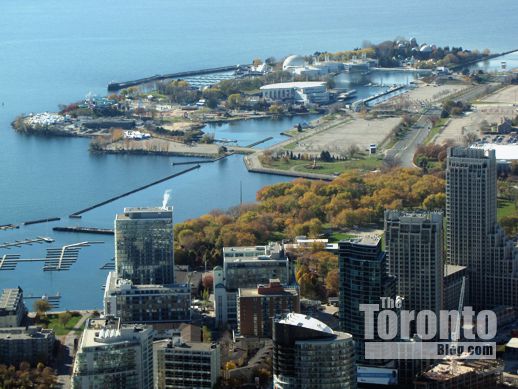 CN Tower view of Ontario Place's 90-acre waterfront property (top)
Supporters stage a "Save Ontario Place" rally
Yesterday, dozens of those workers and other Ontario Place supporters staged a "Save Ontario Place" rally to urge the province to keep the park open during the transformation process. An article in Saturday's online edition of the Toronto Star said more than 100 people participated in the rally, while a report on television news channel CP24 put the number at only 30. Among them was NDP MPP Rosario Marchese who told CP24 that he is concerned about the park's fate because Ontario Premier Dalton McGuinty has not ruled out privatizing some or all of the property.  "We have to keep Ontario Place as a public space for kids, families and individuals who come here to enjoy a piece of land that hasn't yet been taken over by condominiums," Mr. Marchese said.
Suggestions for the park's rejuvenation are still being considered, and one idea that has frequently been mentioned in the media is the creation of a casino on part of the site. Mr. Tory and his panel are expected to report back to the government sometime this spring or summer. "I want it to be excellent, a people place, something that will help to create jobs and enrich the cultural and social fabric of Toronto and takes advantage of what is a jewel of a location," a February 1 Globe and Mail story quotes Mr. Tory as saying. And in another article published the same day, the Globe says Mr. Tory stated that, whatever the province winds up building, "it's got to be something that is extraordinary."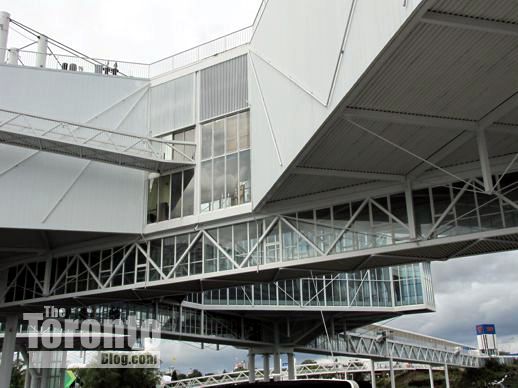 Some of the pavilions and walkways suspended above the water
90 acres of man-made islands and lagoons
Forty-one years ago, Ontario Place was rather extraordinary. Designed by Eberhard Zeidler, senior partner emeritus of Toronto's Zeidler Partnership Architects, the park was created on 90 acres of enticing man-made lagoons and islands constructed on a formerly neglected stretch of prime waterfront property — all on a mere $26 million budget. The park featured five interconnected exhibition pavilions suspended on stilts high above the water, the world's first IMAX theatre (the 800-seat Cinesphere), a concert forum with a revolving stage plus lawn seating for more than 12,000 spectators, as well as restaurants, bars, snack bars, a marina, picnic areas and shops.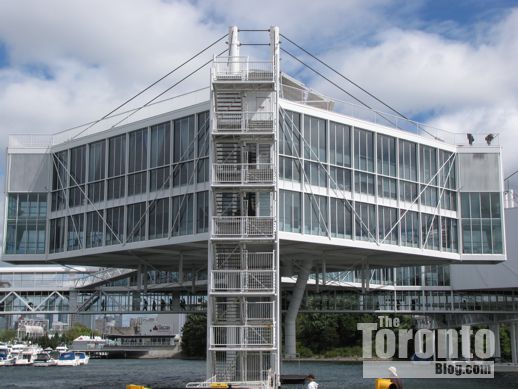 One of the five interconnected pavilions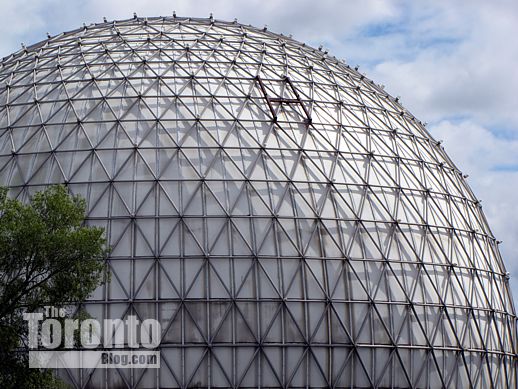 The 800-seat Cinesphere was the world's first IMAX theatre
Lots of walking, stairclimbing, and lining up
Back in the 1970s, the gleaming white steel and glass pavilions and the Cinesphere's round geodesic white dome were architectural marvels; to a teenage kid like me, they were the coolest-looking buildings in Toronto after new City Hall. But while the architecture and some of the surrounding green space, waterways and lagoons were attractive and appealing, the park itself didn't really offer much to visitors besides lots of lineups, walking, stairclimbing, greasy food, overpriced alcoholic beverages and snotty young staff who worked in the park.
First time I went to Ontario Place was with my family, when we came to Toronto for a summer visit. All I remember from that day is a long wait and lineup at the entrance; long waits and lineups at the Cinesphere; long waits and lineups to get into restaurants; long waits and lineups for the paddle boats; lots of stair climbing, and nothing much else to do besides jealously ogling the sleek, expensive luxury speedboats and sailboats moored in the marina. I can't even recall what, if anything, was in the pavilions. I felt bored out of my mind.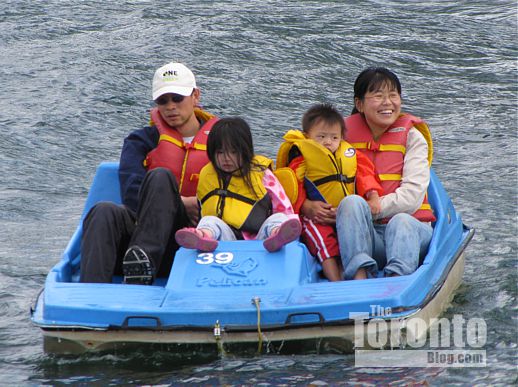 A family enjoys a paddleboat at Ontario Place …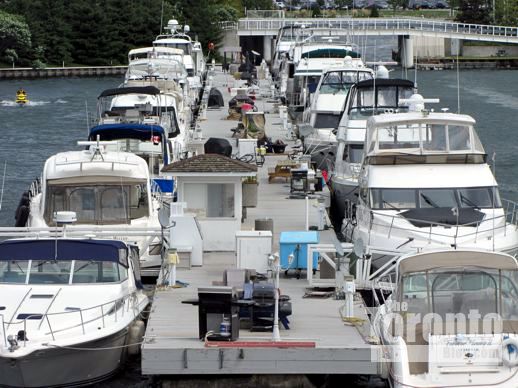 … while customers of the Ontario Place marina can enjoy time on the waters of Lake Ontario in far more luxurious and comfortable fashion
Fireworks and concerts drew us to the park
When I moved to Toronto after university, my girlfriend and I would go to Ontario Place with a group of friends to watch the international Symphony of Fire fireworks competition in July and attend occasional summer concerts at the Forum (long since replaced by the Molson Amphitheatre). Afterwards, we'd hit the Ontario Place bars for drinks. But that meant long walks to reach the bars, long lineups to get in (if we could even get in; we often couldn't get seats), lots of stair climbing and walking to get out of the park, and then incredibly long waits to get back downtown through the crawling, bumper-to-bumper traffic along Lake Shore Boulevard. Afterwards, we would wonder why we had wasted our time going all the way out there instead of just staying downtown to bar hop.
In the past 20 years, I've been back to the park just a handful of times, and always during the Canadian National Exhibition when entrance to Ontario Place is free from the CNE grounds. As in the past, each of those visits entailed a lot of walking and stairclimbing, a lot of waiting to get seats at bars and restaurants, and nothing to see in the pavilions. Once, when I helped a friend take a wheelchair-bound neighbour to Ontario Place to view a fireworks show, I discovered how much of a nightmare getting around the park can be for people with disabilities or walking impairments. No wonder there never seemed to be many senior citizens at Ontario Place … getting from one point to another and back would be simply far too strenuous for someone with walking difficulties.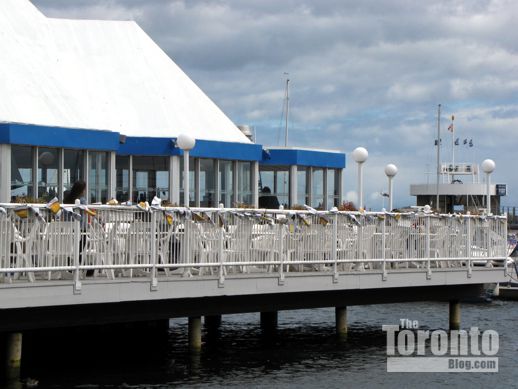 Some of the restaurants & bars have terraces above the water near the marina …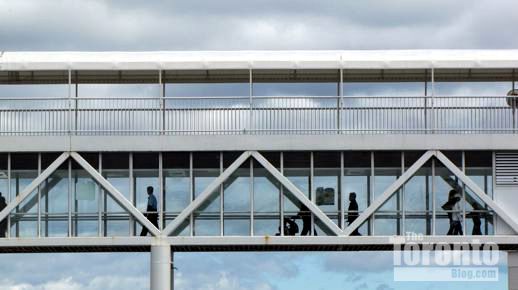 … but getting to any of those places for a meal or a drink requires a long walk …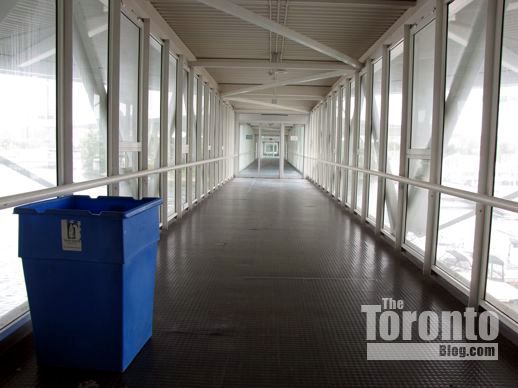 … usually through a long, hot and stuffy enclosed walkway like this one …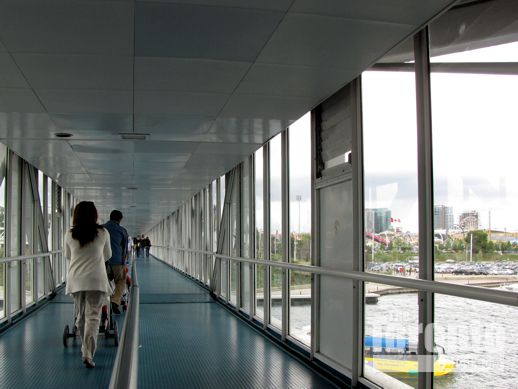 … or one like this …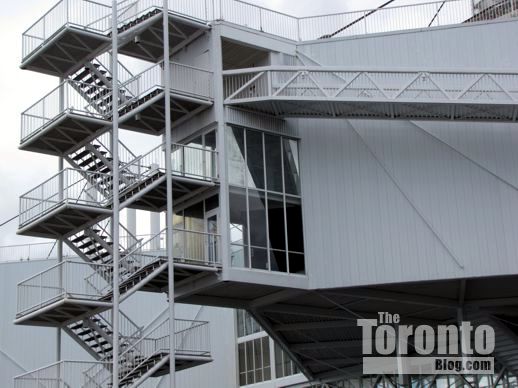 … or up or down flights of steps, like this staircase outside one of the pavilions
Depressing final visit
The last time I went to Ontario Place was during the CNE's final weekend in September 2010. My friend and I went in only because admission was free, and because there had been a lot of talk in the news that the Ontario government was considering a revitalization plan for the park. We thought it could be our last opportunity to see Ontario Place before it was closed for a significant period of time for its overhaul.
Once inside, we both quickly agreed that the park desperately needs rejuvenation, along with new "wow factor" attractions to make it worthwhile travelling all the way there. We were disappointed that the park had a cheap, dingy and run-down look and feel, and we found the overall atmosphere incredibly depressing, not fun. Even though it was the Labour Day holiday weekend, most of the restaurants weren't open, and we couldn't find a decent sheltered place to sit and enjoy a coffee once the weather suddenly changed with dark clouds and cool winds blowing in over the park. We didn't see much that impressed us, apart from some of Zeidler's original architecture. We both still liked the look and design of the suspended pavilions, and hope they can be refurbished and given a useful new life with whatever new uses John Tory and his team deem appropriate for the park. (I still believe there are far too many stairs in the park, however.)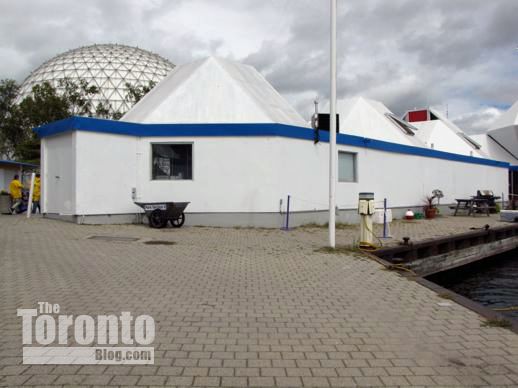 Many of the food, beverage and washroom facilities — and surrounding grounds — have a cheap, tacky and worn-out appearance …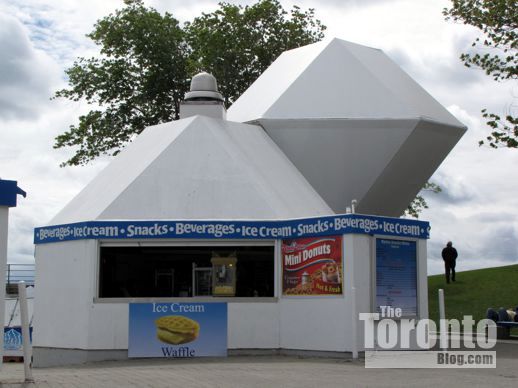 … and look like they were assembled straight out of an IKEA box 40 years ago
Exciting year-round attractions needed
My friend said he has long believed that Ontario Place would be a great spot to relocate and rejuvenate the equally tired Ontario Science Centre, or build a spectacular new aquarium, gallery or museum that would draw visitors to the site all year long. (The Ripley's Aquarium of Canada is currently under construction at the base of the CN Tower, so that certainly rules out an aquarium attraction for Ontario Place.)  I've always thought that the CNE grounds and Ontario Place should be transformed together into a vast new city park and entertainment area with year-round attractions and better transit access.
Here's hoping John Tory and his colleagues think big and develop some exciting ideas and suggestions for improvements and enhancements that will once more put Toronto's waterfront jewel back on the map.
Below are more photos taken during my last visit to Ontario Place, on September 4 2010.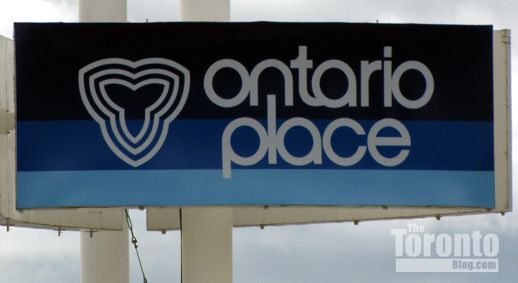 An Ontario Place sign on Lake Shore Boulevard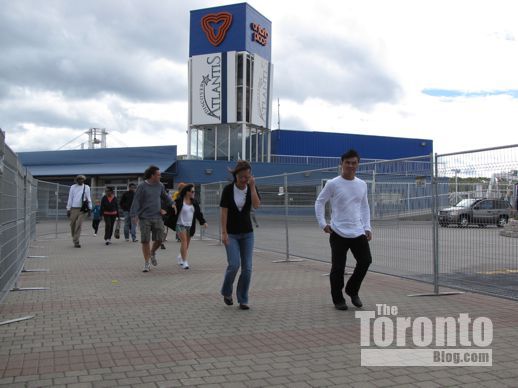 People walk from the Ontario Place entrance toward the CNE grounds at Exhibition Place.  The park entrance gates always looked cheap and tacky; it never felt like an event to enter the grounds through the turnstiles at the dingy gate.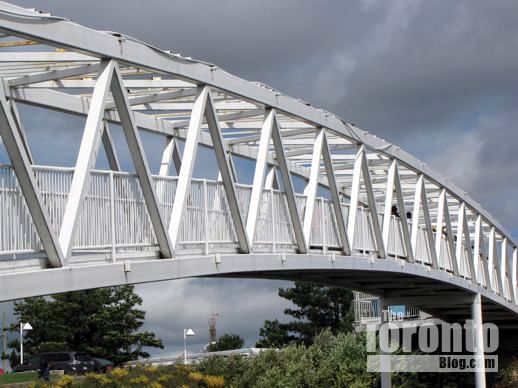 An open-air footbridge arcs above the water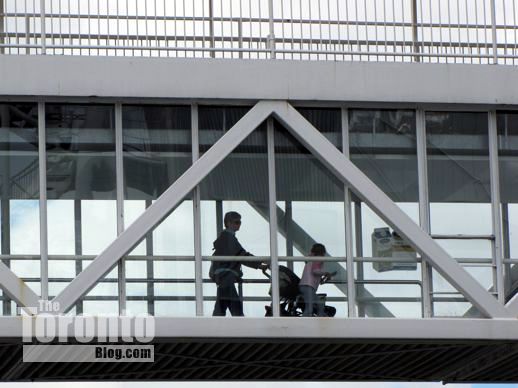 A family strolls one of the enclosed walkways to the pavilions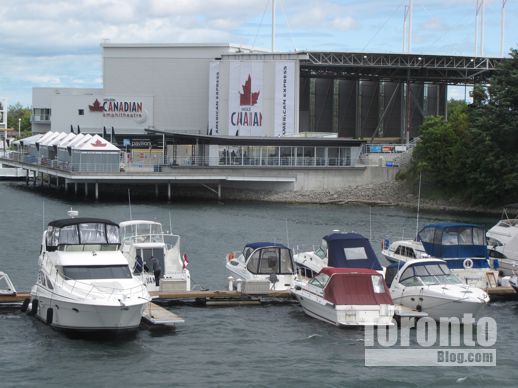 A view of the Molson Amphitheatre from one of the pavilion walkways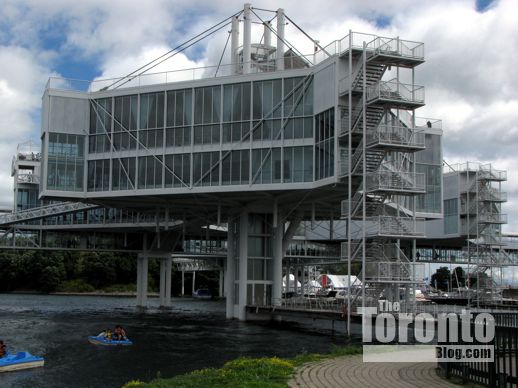 Visitors ride a paddleboat under one of the pavilions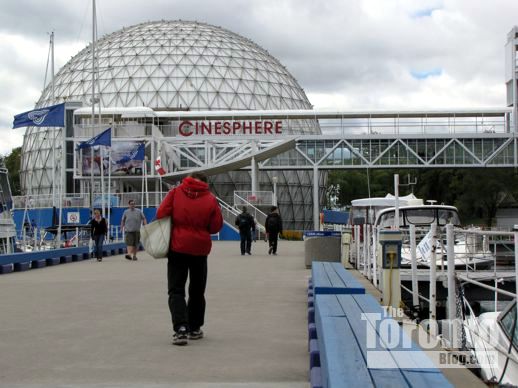 Approaching the Cinesphere from a walkway at the marina …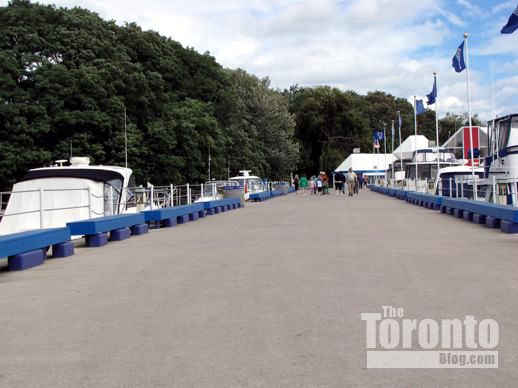 … and looking back in the opposite direction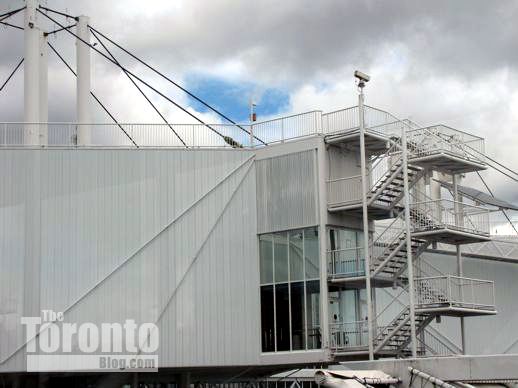 A view of some of the cables holding up one of the pavilions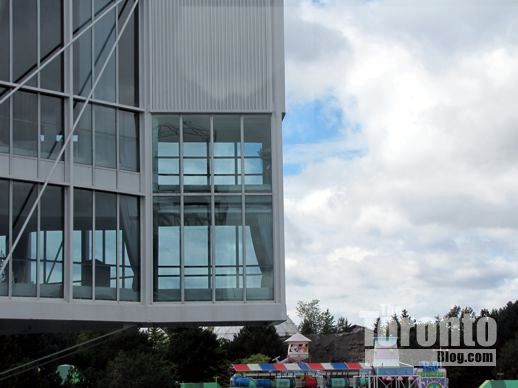 Corner windows in one of the pavilions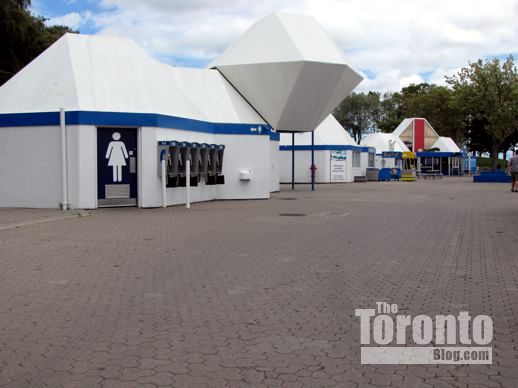 A restaurant, snack bar and washroom strip near the marina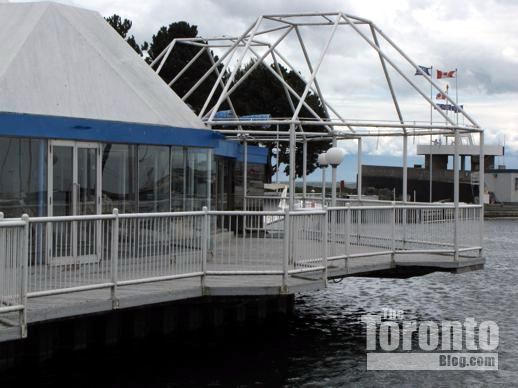 One of the marina-view restaurants was already closed for the season, even though it was the Labour Day long weekend holiday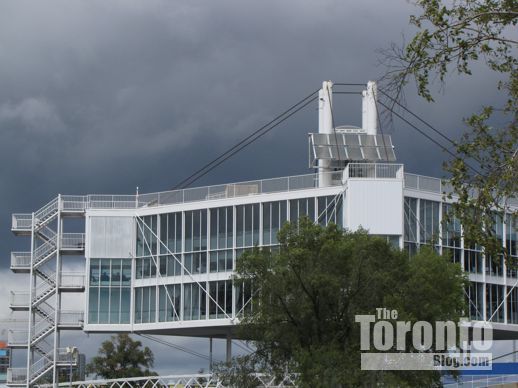 A sunny, warm afternoon turned windy and cool when storm clouds blew in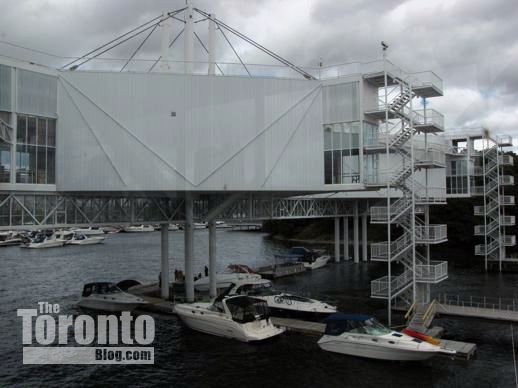 Pleasure boats moored at a dock beneath one of the pavilions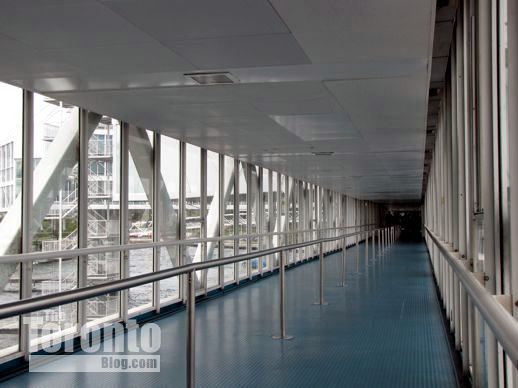 Inside one of the long enclosed walkways leading to the pavilions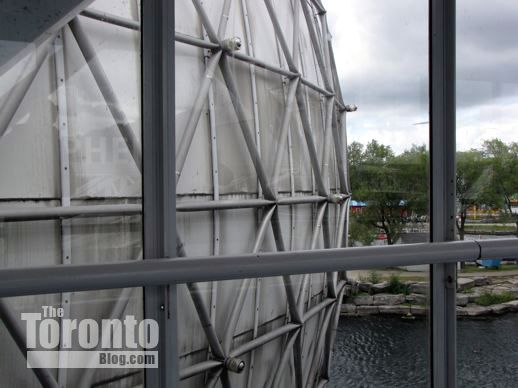 Approaching the Cinesphere from inside one of the walkways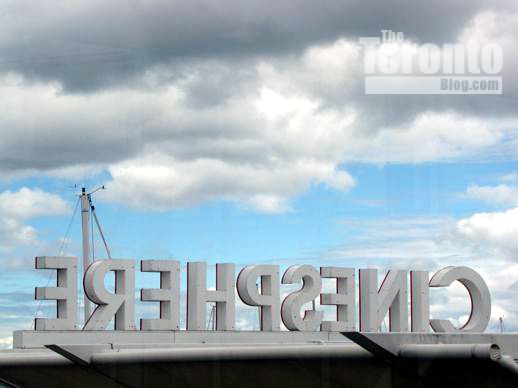 The Cinesphere sign, viewed from behind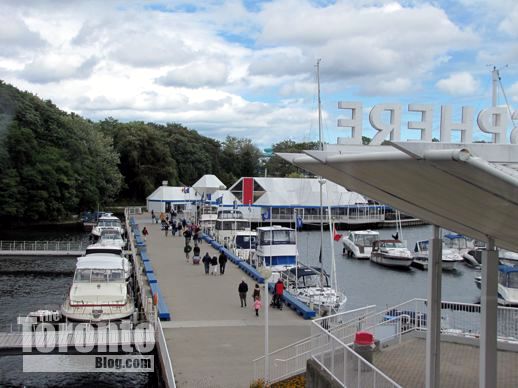 Overlooking the marina from a walkway to the Cinesphere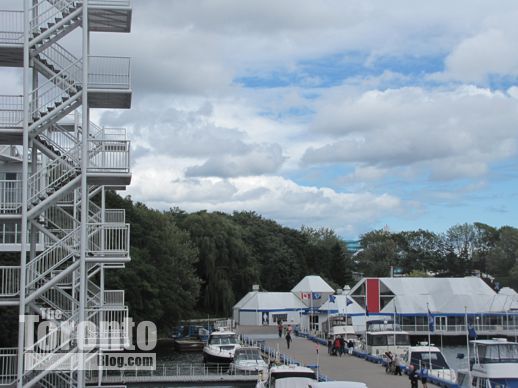 A pavilion staircase overlooking the Ontario Place marina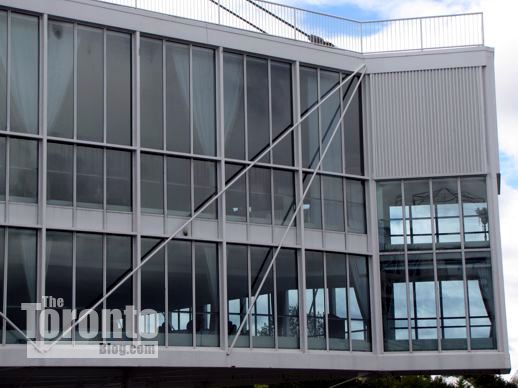 Tall windows on one side of a pavilion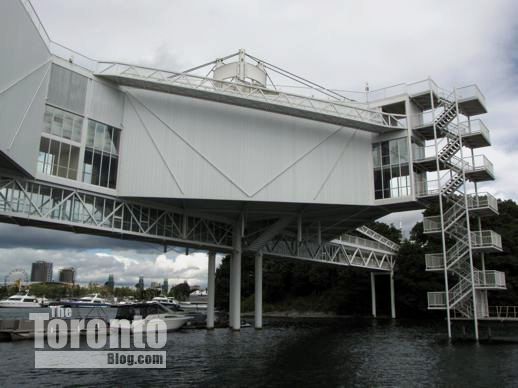 Walkways and staircases at the pavilion near the marina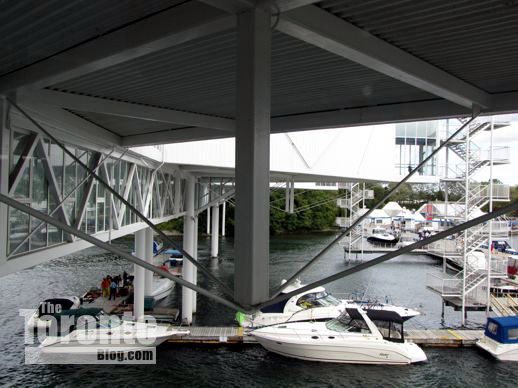 Boats under a pavilion at Ontario Place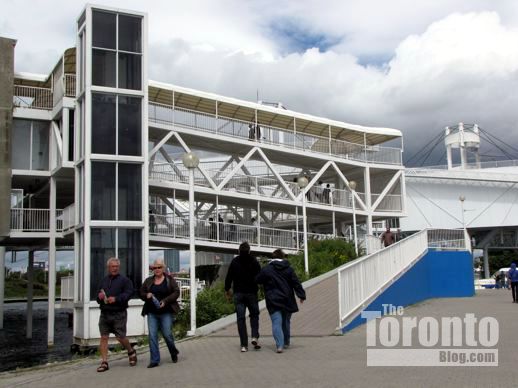 The sloped ramps leading to the Cinesphere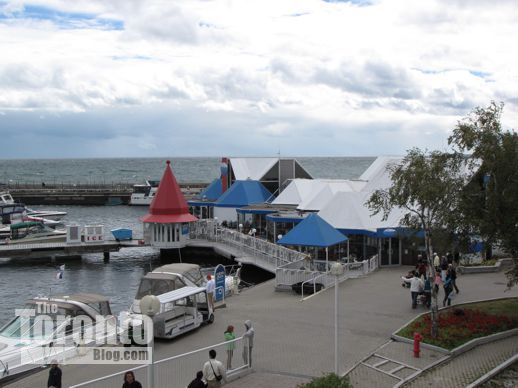 Some of the drinking and dining spots near the marina, below the Cinesphere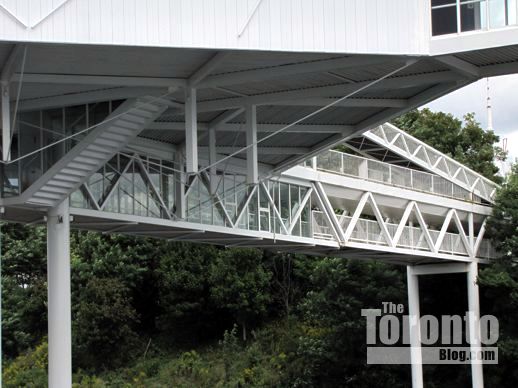 Walkways leading to the pavilion closest to the Molson Amphitheatre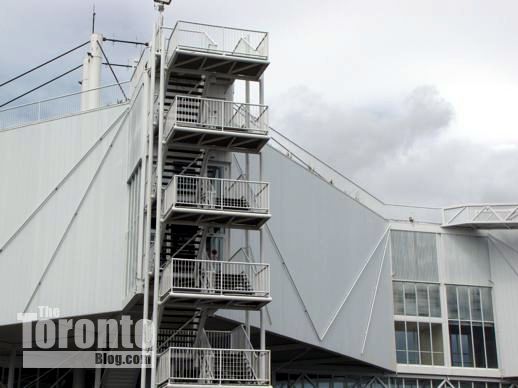 Steps on the side of a pavilion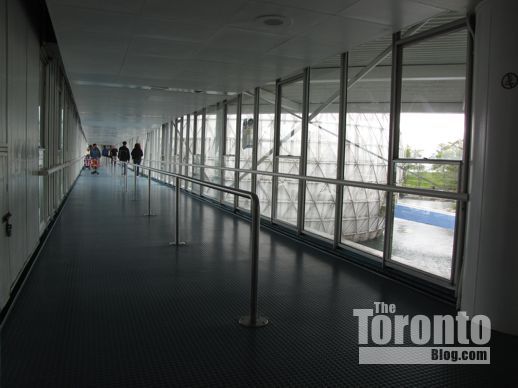 Approaching the Cinesphere from an enclosed walkway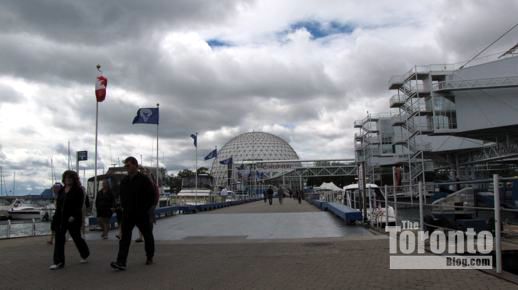 Stormclouds fill the afternoon sky above the Cinesphere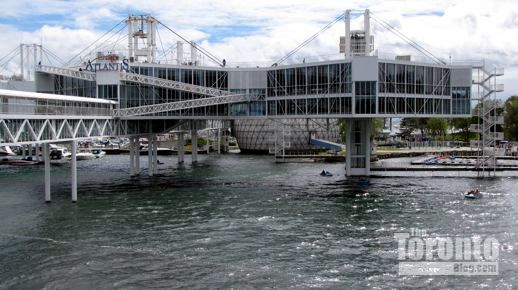 Looking across the water toward two of the suspended pavilions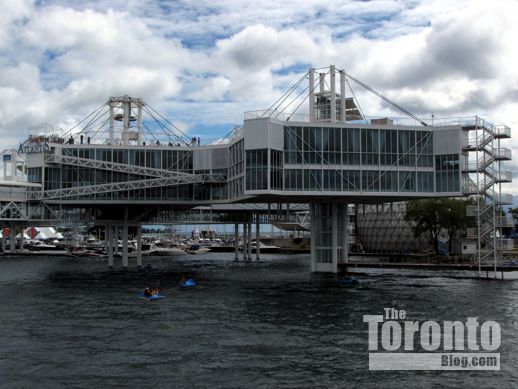 The buildings were designed by Toronto architect Eberhard Zeidler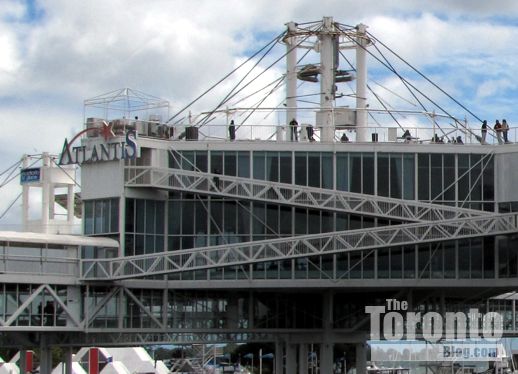 The pavilion rooftops were a great place to watch the annual Symphony of Fire fireworks show … if you could get a spot up there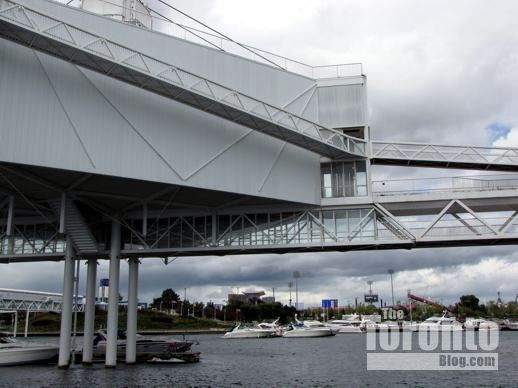 I don't recall the pavilions containing anything interested to see or do …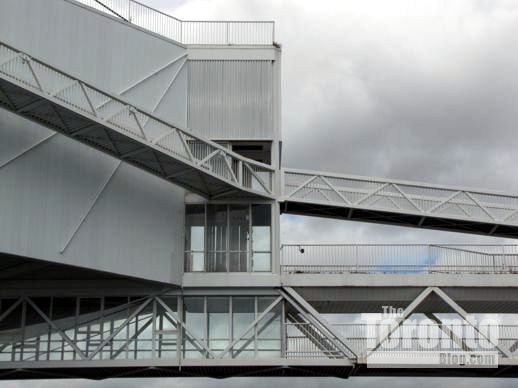 … whenever I went to Ontario Place, it seemed I spent most of my time walking between the buildings …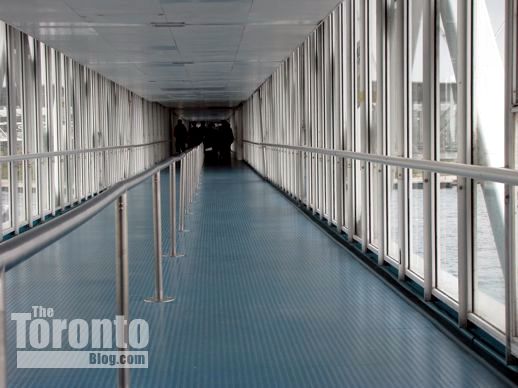 … in one of those interminably long walkways …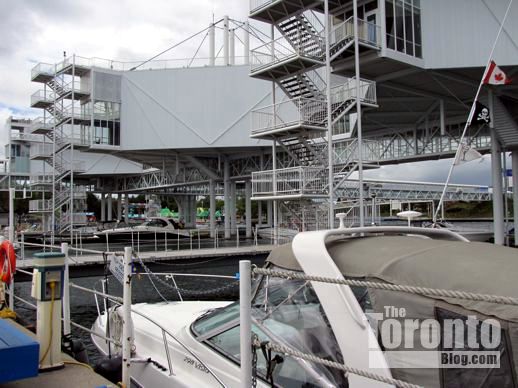 … expecting to encounter something interesting to see or do, other than jealously admire private boats at the marina…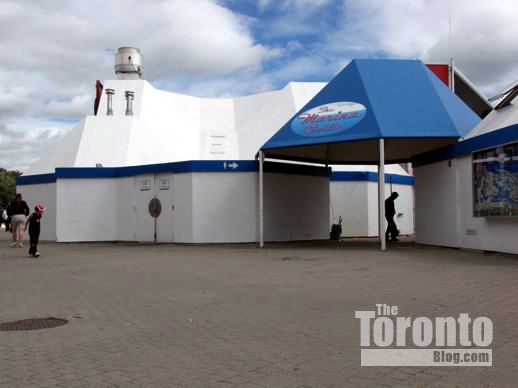 … or spend money on mediocre food at the tacky-looking restaurants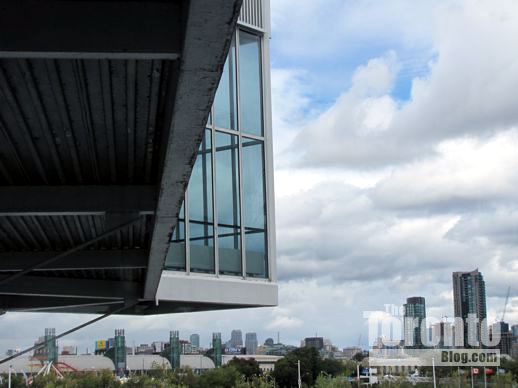 The corner of this pavilion looks like it extends over the Direct Energy Centre convention facility at the nearby CNE grounds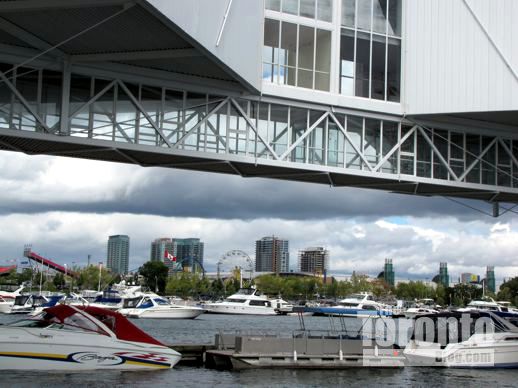 The ferris wheel at the CNE can be seen from beneath one of the pavilions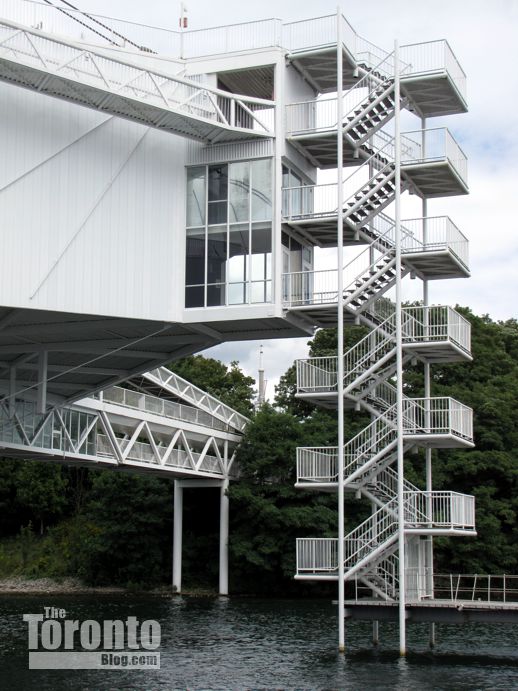 A long, tall set of stairs outside one of the pavilions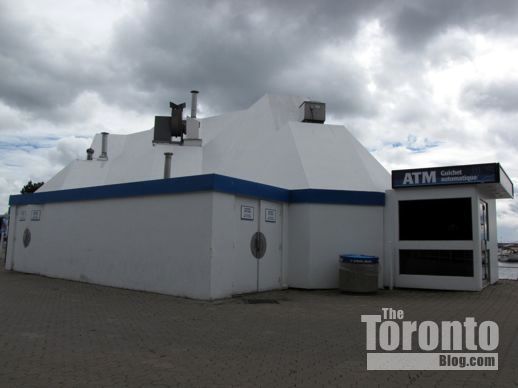 One of the tacky buildings in the restaurant and marina area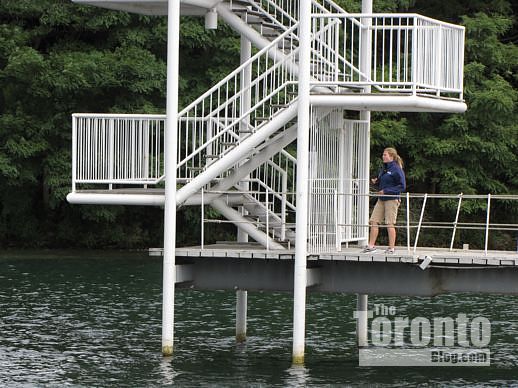 A woman stands at the bottom of the stairs outside a pavilion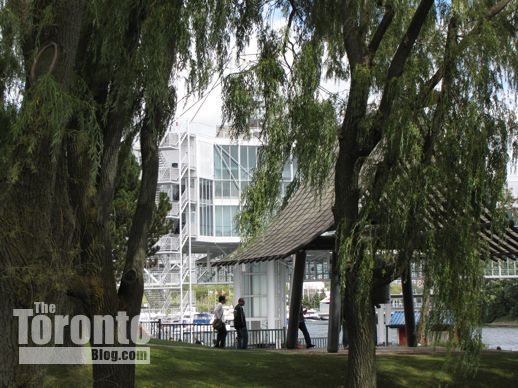 The many mature trees, including impressive weeping willows, are one of the features I like most about the park …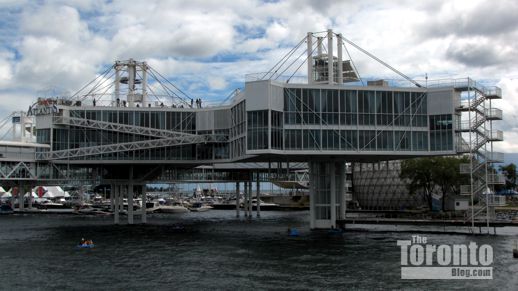 … as well as Zeidler's pavilions above the water (too bad they don't have anything worth seeing inside of them, but that's not the architect's fault) …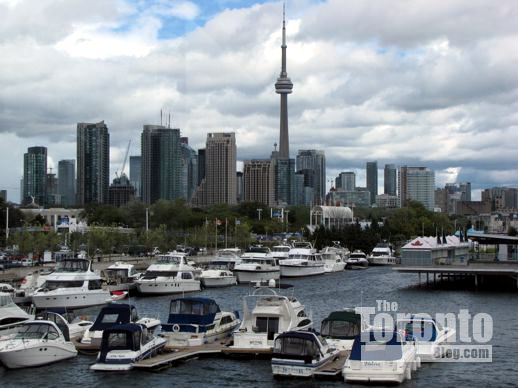 .. and the great views of Toronto's skyline from many parts of the park