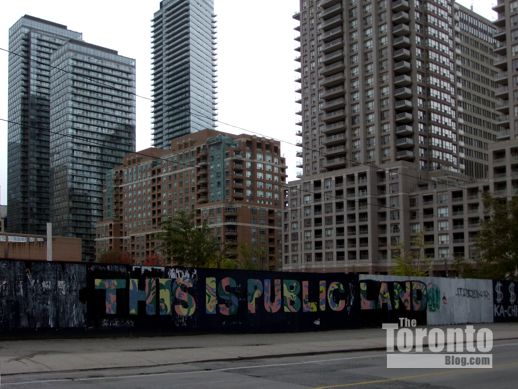 Up to three office towers or highrise residential buildings could be in store for lands behind this wooden hoarding at 11 Wellesley Street West, seen here from the northeast at the corner of Wellesley and St Nicholas Streets. Last week, a deal was supposed to close under which the Ontario Government would sell the property and pass ownership to a so-far undisclosed buyer, at a so-far unknown price, for redevelopment purposes. The closing apparently has been delayed until February. See report below for further details.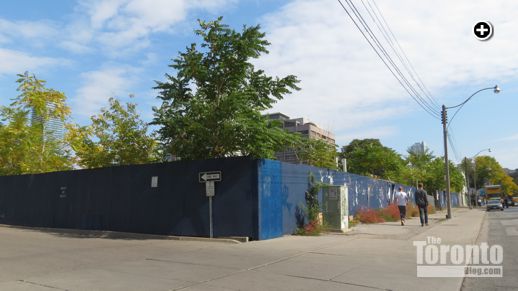 Hoarding along Breadalbane Street at the southwest corner of the 11 Wellesley West site. Since at least early 2011, downtown residents and neighbourhood associations have been pressing the City and provincial governments to create a new park or public greenspace on the vacant 2-acre property between Bay and Yonge Streets.
Hopes fading: A real estate transaction that was scheduled to close yesterday may dash many downtown residents' dreams for the creation of a new public park on a vacant Wellesley Street West site surrounded by thousands of existing condo and apartment units, with thousands more on the way. But the local City Councillor has pledged to continue fighting for green space on the location.
Ward 27 Councillor Kristyn Wong-Tam told Tuesday night's annual general meeting of the Church Wellesley Neighbourhood Association (CWNA) that Wednesday January 23 was the scheduled closing date for the sale of empty provincially-owned land at 11 Wellesley Street West. Barring an unforeseen event, she said, title for the land would rest in the hands of its new owner by 4.30 p.m. Wednesday.  [Editor's Note: CWNA board of directors member Paul Farrelly posted this update on the CWNA's Facebook page January 26: "Councillor Kristyn Wong-Tam has been recently advised by the developer that the transaction will not close until the end of February. A visit on Thursday to Land Registry revealed a new construction lien for $650,000 was put on the property by a construction company on Jan 13,2013, but its not clear whether that has anything to do with the delayed closing."]
Many in the CWNA audience had been hoping Councillor Wong-Tam would announce significant positive developments in her work to obtain at least some of the land for City park space, but she had no such good news to report in her brief update on the subject.  She could say only that the City will continue its efforts to secure part of the property from its new owner. The buyer has not yet been publicly identified.
CONTINUED ON PAGE 2