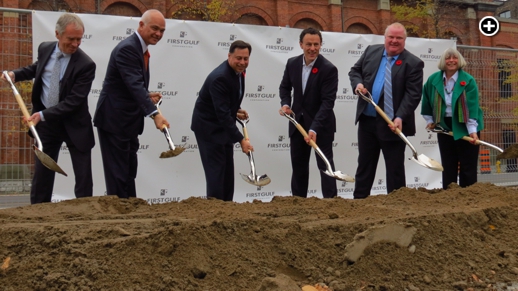 Globe and Mail Publisher Phillip Crawley, left, OpTrust President & CEO Bill Hatanaka, Ontario Minister of Training, Colleges & Universities Brad Duguid, First Gulf Corporation CEO David Gerofsky, Toronto Mayor Rob Ford and Toronto City Councillor Pam McConnell wield shiny silver shovels at the recent groundbreaking ceremony for the new Globe and Mail Centre at King & Berkeley Streets.
Construction kick-off: For the past half-dozen years, Toronto's southeast downtown has been teeming with a variety of low-, mid- and high-rise residential construction projects that have been steadily transforming the city's Old Town, Corktown, Distillery District and West Don Lands areas. A new 500,000 square foot office tower that First Gulf Corporation has started building at King, Berkeley and Front Streets will boost the region's revitalization even more, bringing up to 5,000 jobs to the bustling area.
First Gulf Corporation recently broke ground on its 17-storey Globe and Mail Centre, named after the building's anchor tenant, The Globe and Mail newspaper, which will relocate from its current premises near Front Street and Spadina Avenue on the west side of downtown. Local politicians joined executives from The Globe and Mail, plus First Gulf and its development partner OPTrust, in an October 30 ground-breaking ceremony that officially kicked off construction of the Centre. Completion of the tower is anticipated for 2016.
Designed by Toronto's Diamond Schmitt Architects, The Globe and Mail Centre will cut  a unique profile on the southeast downtown skyline thanks to the building's distinctive design of stacked, alternate-sized floor plates and large outdoor terrace spaces. Ten-foot-tall windows will let natural light penetrate deep into the building interior, while presenting occupants with expansive views of Toronto's waterfront, Financial District, and adjacent residential neighbourhoods.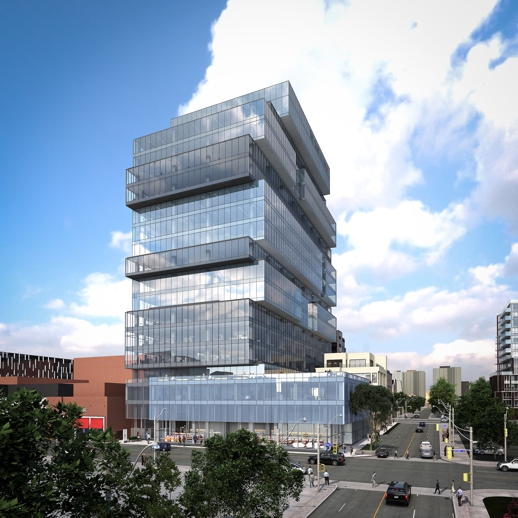 This artistic illustration, by Diamond Schmitt Architects, shows how the Globe & Mail Centre will look when viewed from the southeast along Berkeley Street
CONTINUED ON PAGE 2