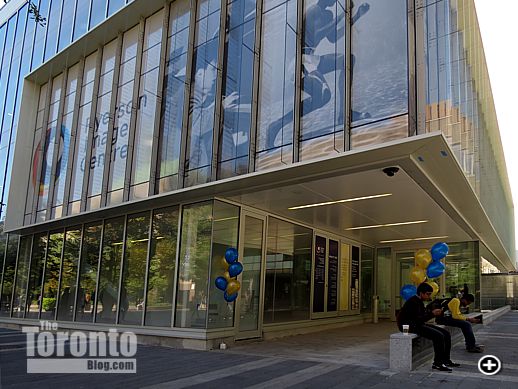 September 25 2012: The entrance to the new Ryerson Image Centre (RIC) at 33 Gould Street on the Ryerson University campus. The RIC opens to the public tonight.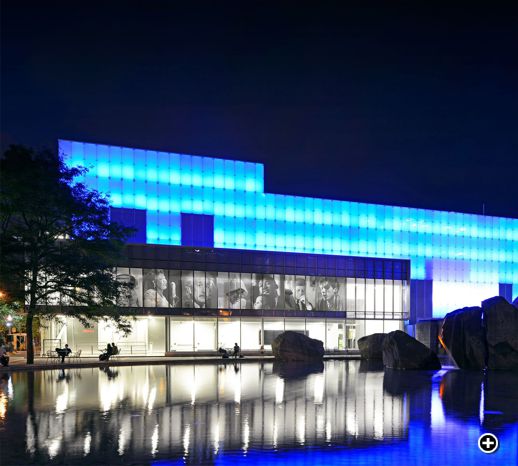 The RIC occupies the west side of the Ryerson University School of Image Arts building, the northwest corner of which is seen in this Tom Arban night photo provided courtesy of Diamond Schmitt Architects. Click on both photos to view larger-size images of each.
Open doors: Arts aficionados finally get to visit the newest destination on the city's ever-expanding cultural landscape tonight when the Ryerson Image Centre (RIC) leaves its doors open all night long as part of the Scotiabank Nuit Blanche festival.
The RIC is situated in the School of Image Arts building, which recently won the 2012 AL Light & Architecture Design Award for Best Use of Colour. Originally a brewery with few exterior windows, the brick building was expanded and totally transformed into a showcase faculty and gallery facility designed by Toronto's Diamond Schmitt Architects. In sharp contrast to the original structure, transparent glazing lets people see in and out  three sides of the redesigned building while an LED system concealed in the exterior double-glass cladding lights up the university campus at night with a regularly-changing array of colours. (See my September 10 2012 post for full details and photos of the building and its lighting system.)
CONTINUED ON PAGE 2