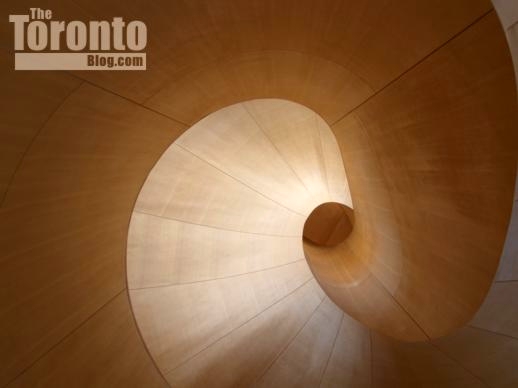 The view straight up the Frank Gehry-designed staircase in the AGO
Twists & turns: Most visitors watch their feet while they huff and puff their way up — or down — the many wooden steps of the Baroque Stair at the Art Gallery of Ontario. Some look out the windows, and some glance at the people they pass, but most don't bother looking up. Straight up, that is, at the staircase spiralling upwards above them. It's too bad, because they're missing a real treat.
Designed by Frank Gehry, the Baroque Stair is one of my favourite architectural elements in the recently renovated gallery. Whenever I walk the Stair, I like to stop and look up at the sensuous curves of the wooden form that twists and turns overhead, linking ground-level Walker Court with the AGO's new fifth floor contemporary art galleries. I notice new things about the Stair every time — surprising shapes, textures and colours that vary in different levels of light. For me, the Baroque Stair is a delightful piece of eye candy that takes my mind off the long, thigh-burning climb (it's a very long walk indeed — the Stair is approximately 11 residential stories tall).
As AGO director/CEO Matthew Teitelbaum notes in an audio commentary on the gallery website, Gehry designed the Baroque Stair to be a "place of experience, not just a way of getting somewhere." For me, that experience is one of the highlights of any visit to the AGO.  Below are several more pics of the Stair.
More photos and further information about Gehry's gallery transformation are provided at this link on the AGO website.