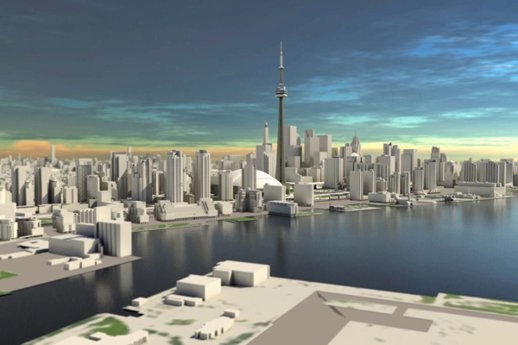 Tall buildings. Lots and lots of tall, new buildings. That's what experts foresee for Toronto in the year 2061 — and not just downtown. Four specific neighbourhoods — Bloor Street/Kipling Avenue in Etobicoke, Yonge Street/Highway 401 in North York, Yonge Street/Eglinton Avenue, and McCowan Rd./Highway 401 in Scarborough — will experience massive highrise building booms to accommodate hundreds of thousands of immigrants and new residents expected to move here, they say.
As part of a special project celebrating its 50th anniversary, CTV Toronto asked some leading Toronto urban planners, architects and designers to gaze into their crystal balls and predict how the city will look 50 years from now. The consensus: with as many as one million more residents, Toronto will have "only one way to grow — up."
The skyline rendering at the top of this post, plus artistic conceptions of the future Toronto waterfront and the Yonge/Bloor neighbourhood (below), are from CTV's website feature, "Toronto 2061: Toronto's Evolving Skyline."
Their full story, plus a videoclip with some intriguing skyline and building animations, can be viewed on the CTV Toronto website.