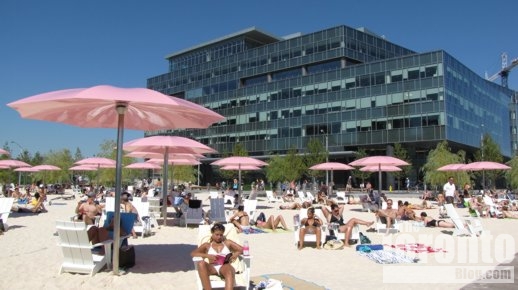 Beachgoers enjoy warm sand and hot sun at Sugar Beach last August
Can't get to the Caribbean? Stuck in the snow and cold and hoping you don't catch the flu nasty that's knocking people off their feet in Toronto? Unfortunately, it's only the middle of January, and we've still got a lot more wicked winter weather ahead of us. But if you can't escape to the south to soak up some hot sun on a beach holiday this season, you can always do the next best thing: Pretend you're there.
To help you imagine that you're enjoying warm sun and sand beside a wide expanse of appealing blue water, here's some photos of the new beach and lakeside promenade that opened next to the Corus Entertainment building at the foot of Jarvis Street last summer.
Admittedly, Sugar Beach isn't lush and exotic like Hawaii or St. Lucia, but it definitely looks a helluva lot more enticing than the snow and ice I see on the city streets right now.
Enjoy your beach break daydream and remember: only four more months to go before you can kick back and relax for real on Sugar Beach!