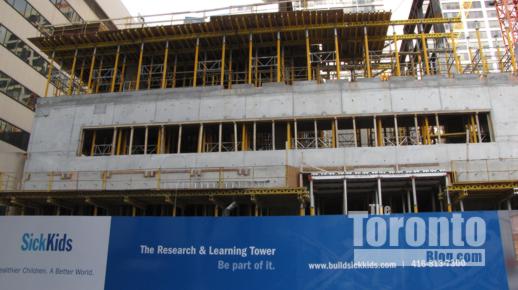 SickKids Research and Learning Tower taking shape along Elm Street

Artistic rendering of SickKids Research and Learning Tower
Beacon on Bay: Although foundation work is still below grade level along the Bay Street portion of its construction site, some design elements of the SickKids Research and Learning Tower are already obvious on the fast-progressing Elm Street section of the project — particularly a long, rectangular row of windows in what will be a patterned wall above Elm.
The $400 million facility will feature 750,000 square feet of space and 21 floors rising approximately 117 meters (383 feet). Sick Kids Hospital boasts that its new building, scheduled to open in 2013, will be not only "an architectural landmark," but "a beacon in Toronto's Discovery District and a magnet for the best and brightest child health professionals around the world."
If the finished tower winds up looking like artistic renderings I've seen, it should be a beacon indeed — a bright, beautiful building that should drastically improve and enhance a rather unsightly stretch of Bay Street (the site itself used to be a parking lot).
I'm also fervently hoping that the tower will rise tall enough to block views of its next-door neighbour, the Enwave steam plant smokestack on Walton Street — especially views from the south, since the stack stands out like a sore thumb between the graceful curving towers of City Hall.
There's a wealth of information about the Research and Learning Tower project, as well as renderings of the building interior, at the SickKids Foundation website.
The tower is a project of Toronto's Diamond + Schmitt Architects. Below are several recent photos showing how far construction has progressed, as well as a rendering of the tower viewed from Bay Street.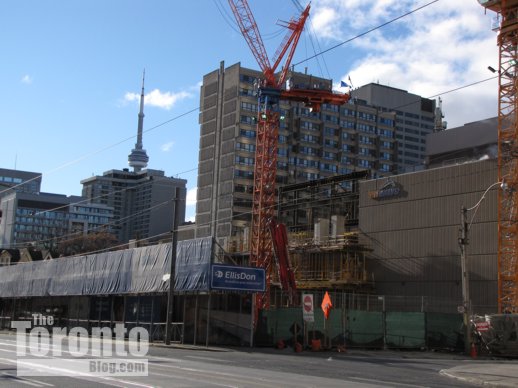 SickKids tower construction viewed from Bay Street below Gerrard Street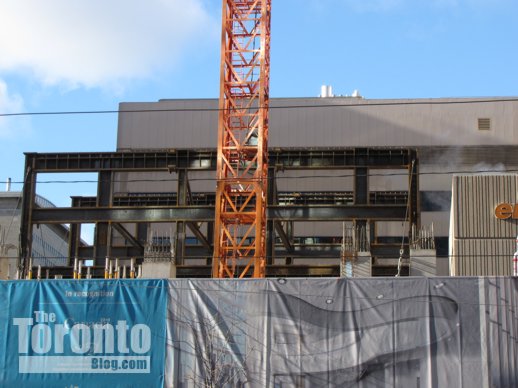 SickKids tower construction viewed from Bay Street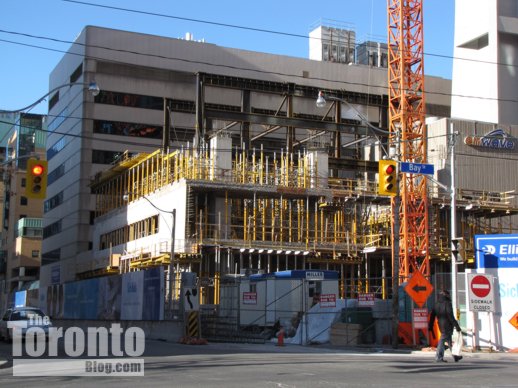 SickKids tower construction progress at corner of Bay & Elm Streets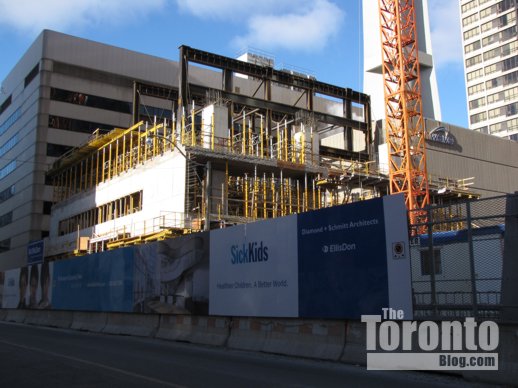 SickKids tower construction progress along Elm Street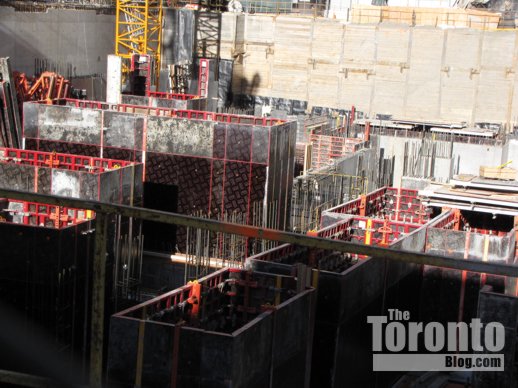 Progress of foundation work for SickKids tower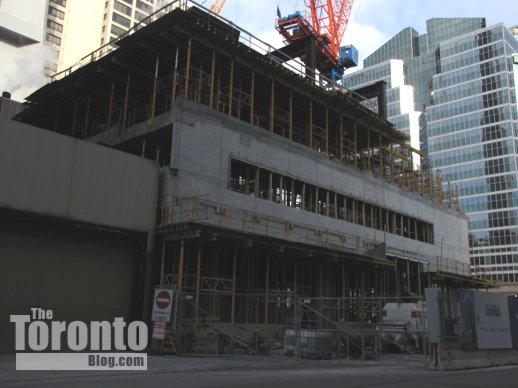 SickKids tower construction progress along Elm Street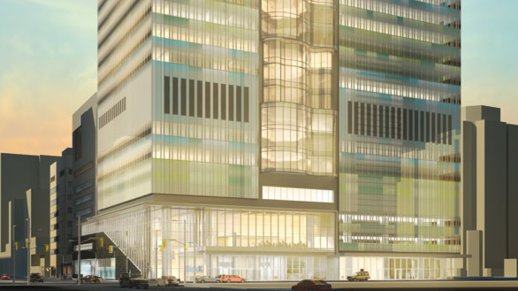 Artistic rendering of SickKids Research and Learning Tower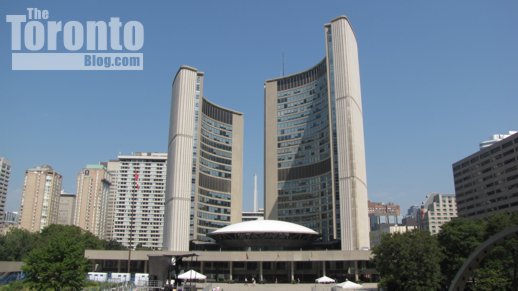 I'm hoping the SickKids tower will be high enough to block views of the Enwave steam plant smokestack between the towers of Toronto City Hall