The ceiling segment collapsed around 10.30 this morning outside a BMO Bank of Montreal branch on the building's main floor. According to reports  on CBC News and CTV Toronto, the area beneath the damaged ceiling had already been cordoned off after someone noticed two days ago that the ceiling material was sagging. Media reports say some debris landed on the public sidewalk along the west side of University Avenue, but did not strike any pedestrians.
Southbound University Avenue was temporarily closed to traffic while emergency crews investigated the accident, but the lanes were reopened to vehicles by lunchtime. The sidewalk was still cordoned off with police tape when I passed by around 1 p.m., but pedestrians were being allowed to walk past the OPG building outside the taped-off zone.
I wasn't able to speak to investigators, but television cameramen filming the collapse scene for local news reports told me they had received conflicting information about what types of material fell from the building. Some heard that only drywall had fallen to the ground, but one cameraman said the large sections still dangling from the roof appeared to consist of wood panels, metal support bars, and an external protective layer of either concrete or stucco.
The 14-storey office building, still referred to as the Ontario Hydro Building by many Torontonians, was constructed in 1976.
Below are several more pics I took while passing by the building this afternoon.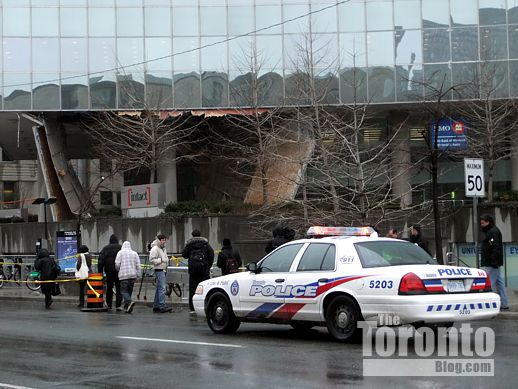 February 29 2012: The southbound right lane on University Avenue remains blocked to vehicles — but not pedestrians — outside the OPG building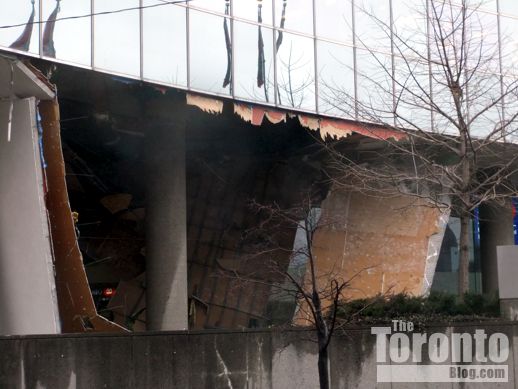 February 29 2012: Large panels of wood, metal support bars and other material dangle from the ceiling outside a BMO Bank of Montreal branch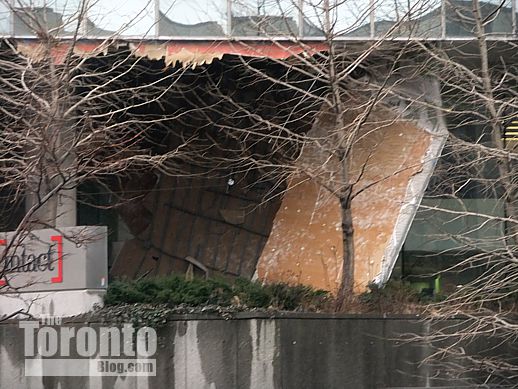 February 29 2012: A closer view of one of the dangling ceiling sections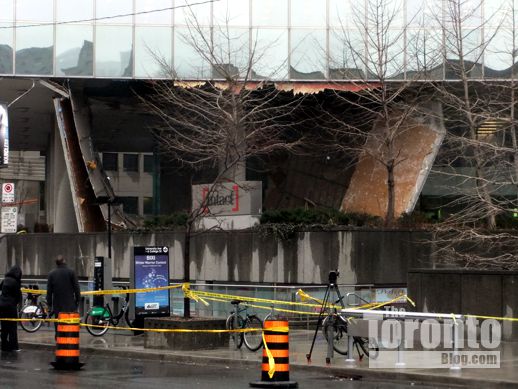 February 29 2012: Police tape cordons off the collapse zone next to the sidewalk on the west side of University Avenue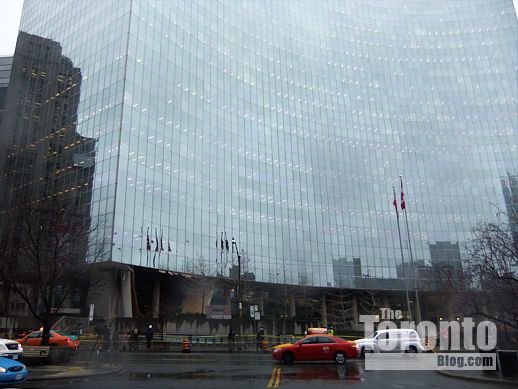 February 29 2012: By lunchtime all but one of the southbound lanes of University Avenue were reopened to traffic