The construction mishap occurred around 10:30 a.m. on Saturday, and when water began pouring into the station, the Toronto Transit Commission (TTC) was forced to halt subway service on the Yonge-University-Spadina line between Bloor and Osgoode Stations. The TTC called in dozens of buses to shuttle passengers along the busy transit route between Bloor Street and Union Station while crews pumped water from the station. According to an article in the Saturday online edition of the Toronto Star, the subway station was flooded with up to a meter of water at track level. (The article includes a photograph of water gushing onto the rails.) The flooding affected electrical and switching equipment which must be "painfully and carefully dried out" before subway service can be restored, the TTC's chief general manager, Andy Byford, told reporters. Service was expected to resume today; this morning, I noticed that a subway disruption advisory had been removed from the TTC website, suggesting that the train would begin running again at their normal 9 a.m.  Sunday start time.
The last time I reported on the subway platform expansion project was nearly a year ago, in a March 11 2011 post.  Since then, I have taken the subway to Union Station several times, but haven't noticed many signs of significant construction progress underground. It's been a different story at street level, where I have seen considerable construction activity each time I've walked along Front Street between Yonge and York Streets, or along Bay Street at Front.
Below are photos I've taken during the past year of ground-level construction work for the new subway platform, along with illustrations, from the TTC website, showing how the new, widened platforms will appear.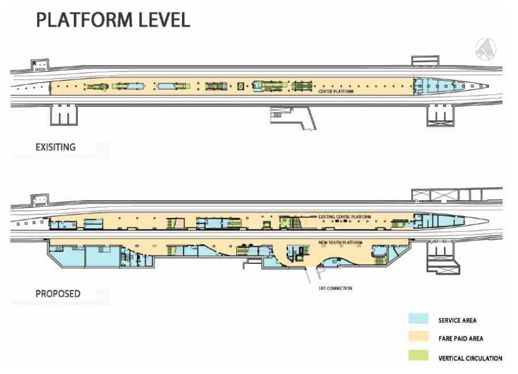 This diagram, from the TTC website, compares the existing centre platform at the Union subway station to the double platform configuration that is currently under construction. The new second platform is being built to the south of the present narrow one which often gets overcrowded.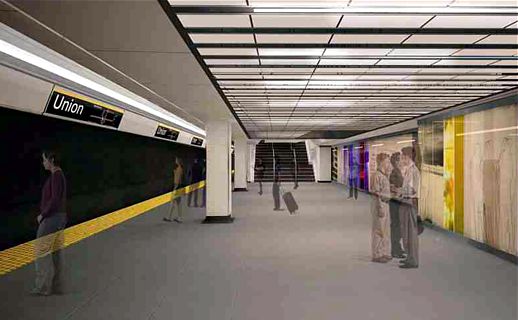 This illustration from the TTC website shows the existing Union subway station platform, which will service trains heading north on the University subway line after construction of the new second platform is finished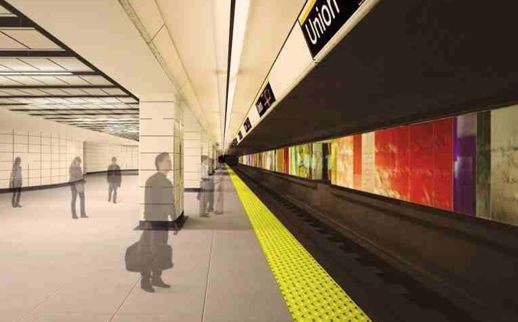 From the TTC website, an illustration of the new south platform currently under construction. It will service trains heading north on the Yonge subway line.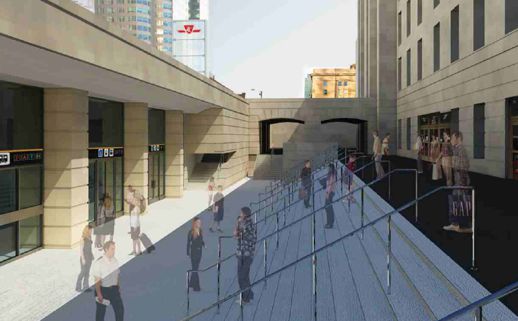 This illustration from the TTC website shows how the Union Station "moat" will be reconfigured as part of the new subway platform construction. The entrance to the subway station is depicted at left; Union Station is to the right.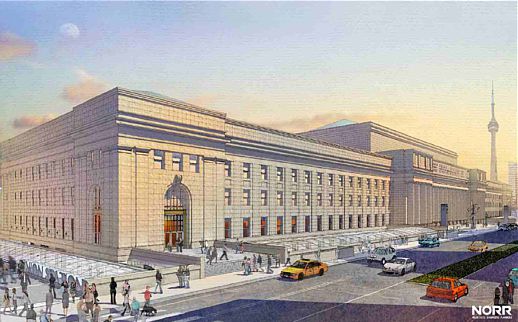 This illustration, also from the TTC website, depicts Union Station with new glass roofs above the pedestrian "moats" along Front and Bay Streets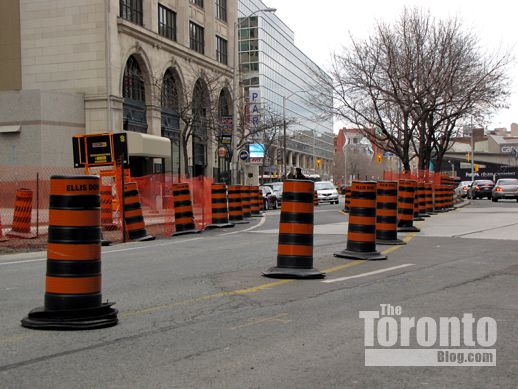 April 21 2011: Pylons divert traffic approaching and leaving subway platform construction zones on Front Street, just west of Yonge Street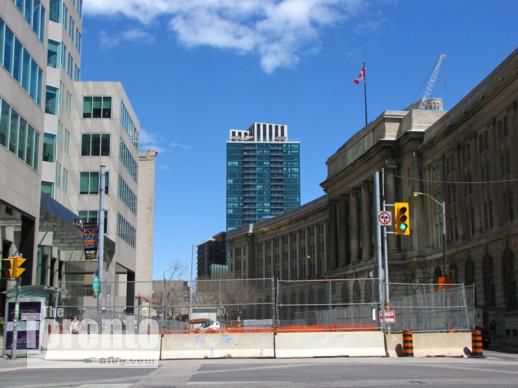 May 8 2011: Barricades block traffic from the subway platform construction area on the north lanes of Front Street, between Bay and Yonge Streets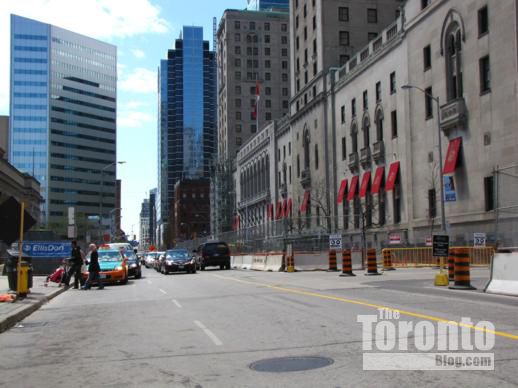 May 8 2011: Traffic is diverted around construction areas on Front Street outside the Fairmont Royal York Hotel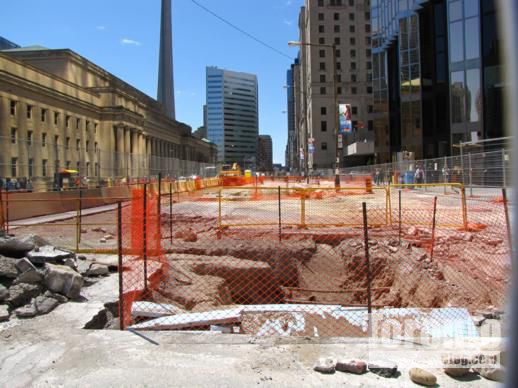 May 8 2011: Construction zones outside Royal Bank Plaza on Front Street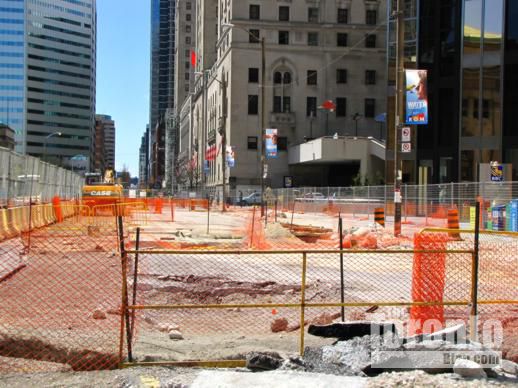 May 8 2011: The pavement is punctured in several different places as construction of the new subway platform continues below the street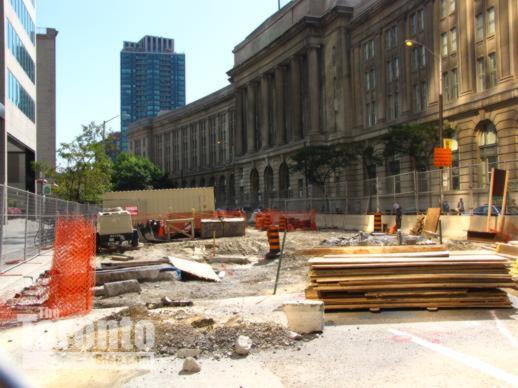 August 12 2011: Subway platform construction activity occupies two full lanes of Front Street next to Brookfield Place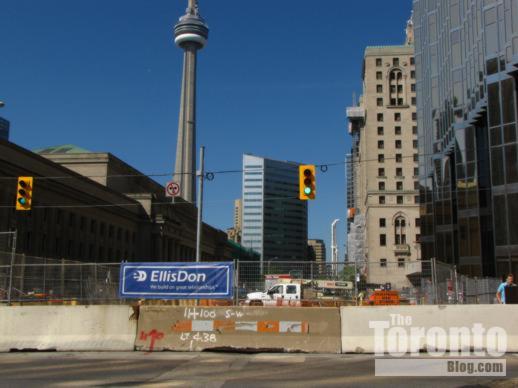 August 12 2011: Looking west along Front Street from Bay Street, where the two westbound lanes have been closed during construction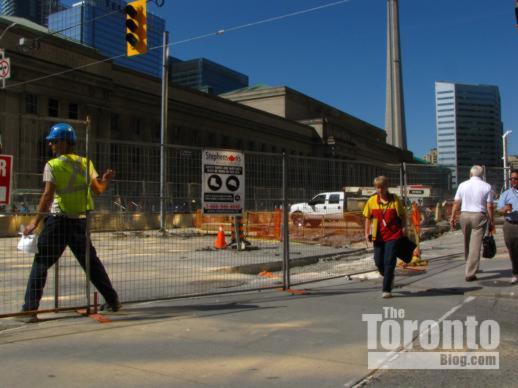 August 12 2011: Pedestrians walk past the construction zone on the north side of Front Street, outside Royal Bank Plaza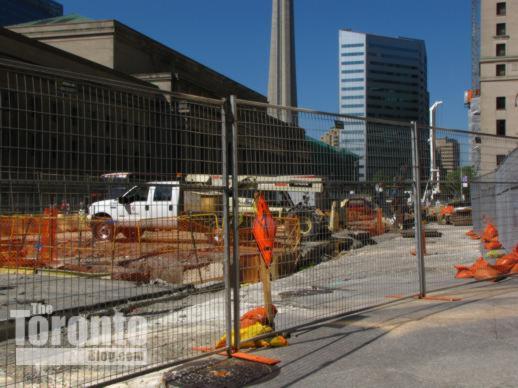 August 12 2011: Looking west at the construction on Front Street, outside the Royal Bank Plaza and Fairmont Royal York Hotel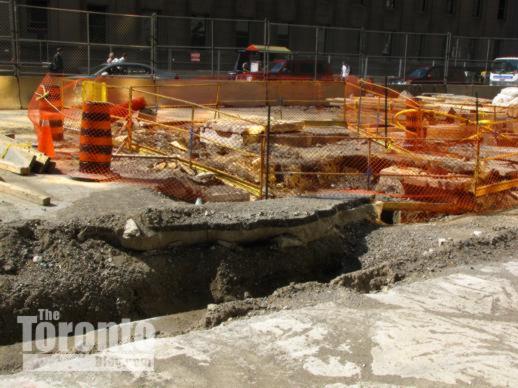 August 12 2011: Pavement excavations on Front Street outside Royal Bank Plaza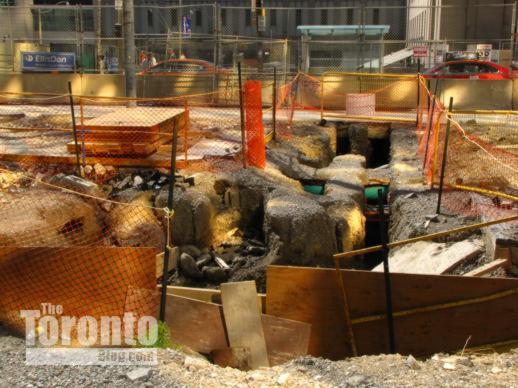 August 12 2011: Another view of the pavement excavations on Front Street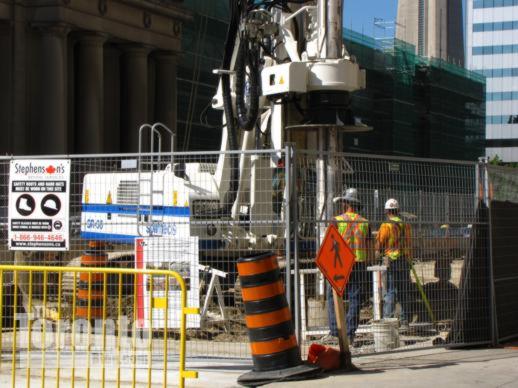 August 12 2011: Workers watch as a drilling machine bores into Front Street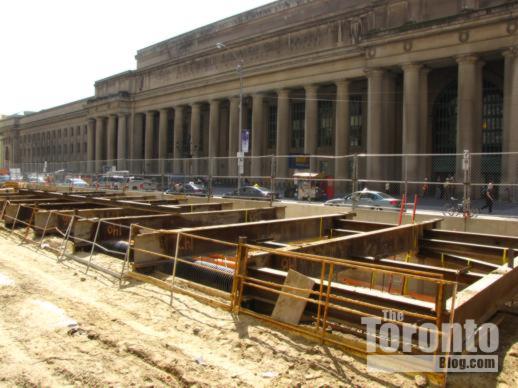 August 12 2011: Construction activity on Front Street outside Union Station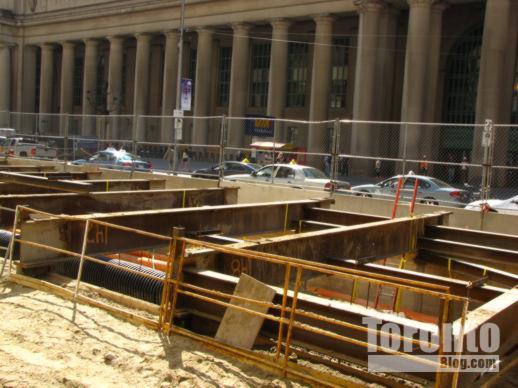 August 12 2011: A framework of giant steel beams is positioned above open excavations on Front Street outside Union Station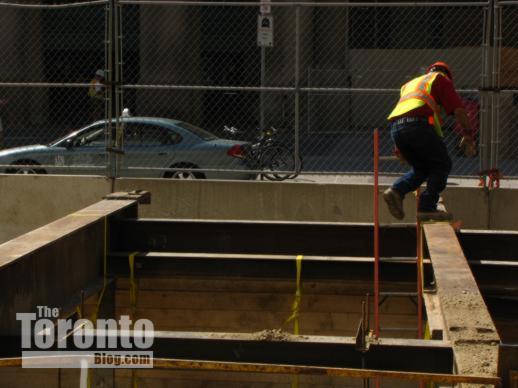 August 12 2011 A construction worker climbs out of the excavation onto one of the steel beams positioned above the Front Street work zone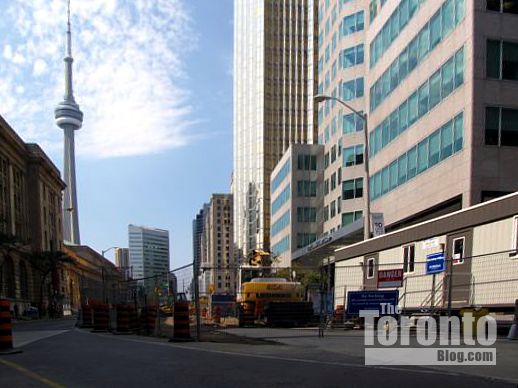 September 3 2011: The two lanes on the north side of Front Street are still diverted around a construction zone next to Brookfield Place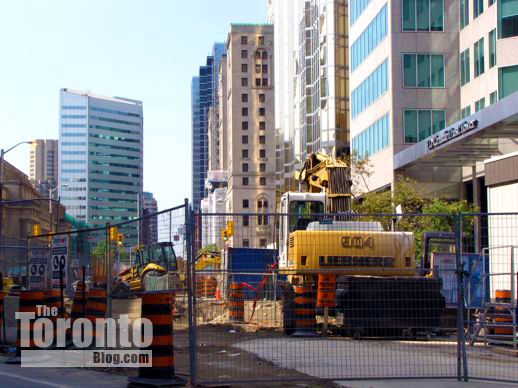 September 3 2011: Construction equipment on the closed section of Font street next to Brookfield Place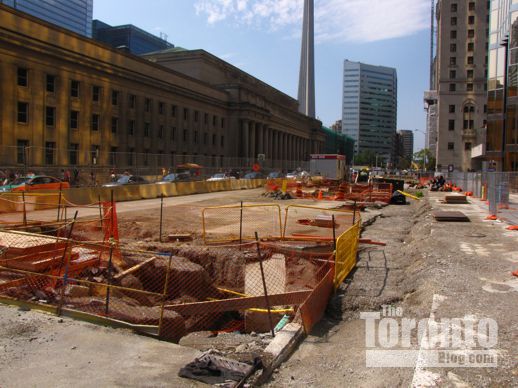 September 3 2011: Construction zone on the north side of Front Street, between Union Station and Royal Bank Plaza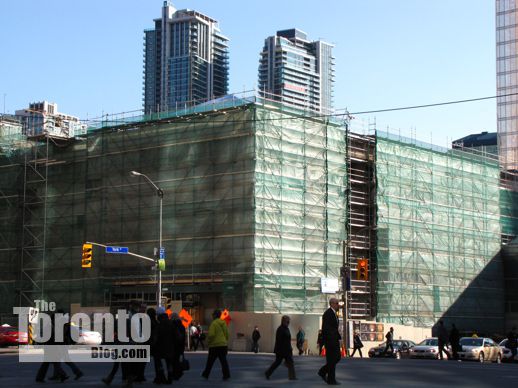 November 17 2011: The west half of Union Station is shrouded in green netting as construction work progresses on the building's revitalization project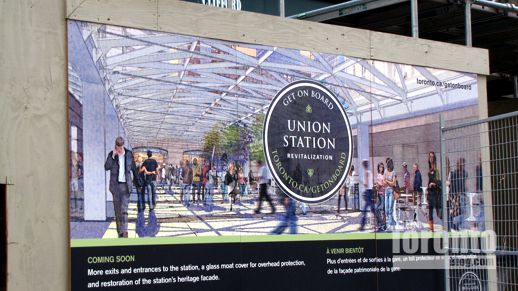 A poster outside Union Station advises passing pedestrians about the project
<>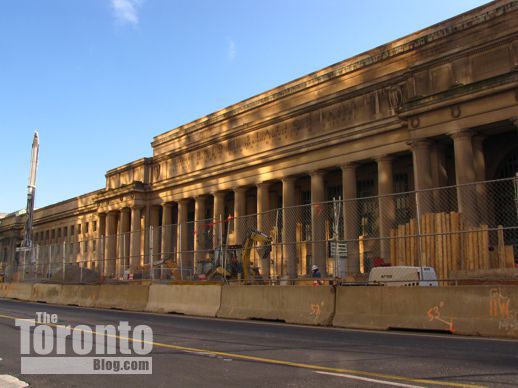 November 17 2011: Barricades cordon off a construction zone on the south side of Front Street outside Union Station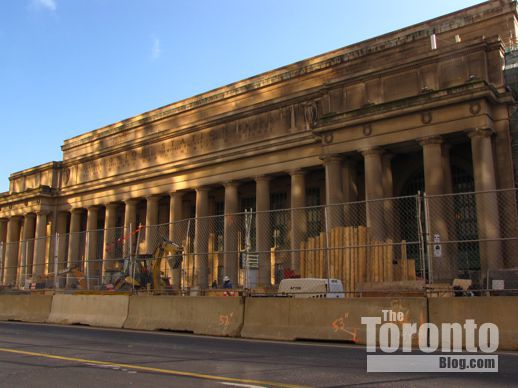 November 17 2011: Union Station itself is undergoing a major renovation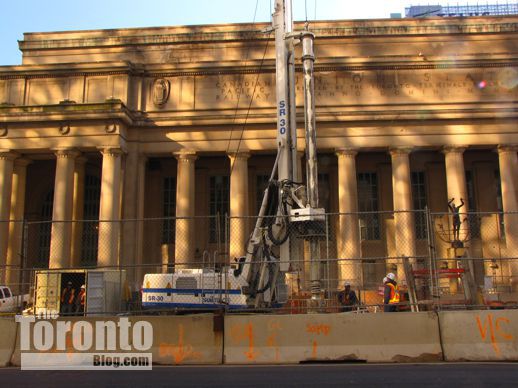 November 17 2011: A drilling machine at work outside Union Station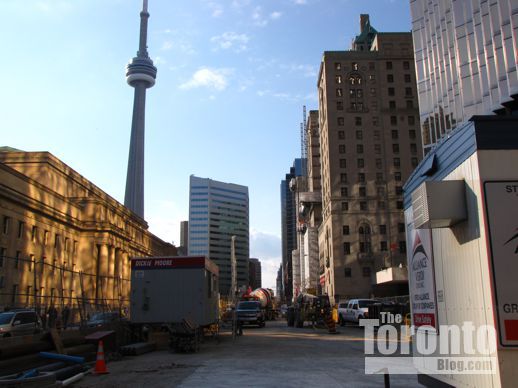 November 17 2011: Looking west across the construction zone from the sidewalk next to Royal Bank Plaza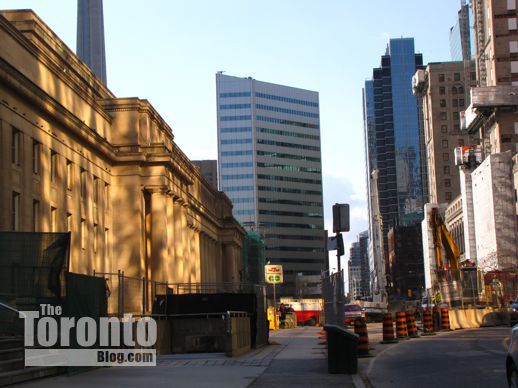 November 17 2011: A view of the traffic diversion on the south side of Front Street outside Union Station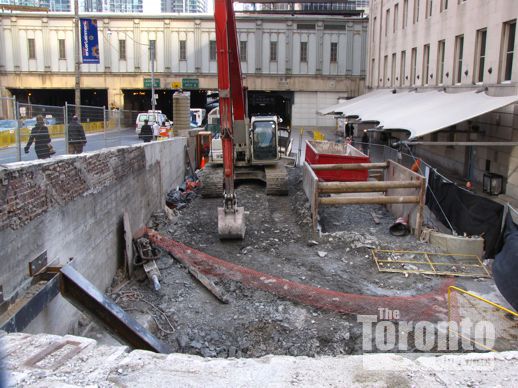 November 17 2011: Construction in the Union Station "moat" along Bay Street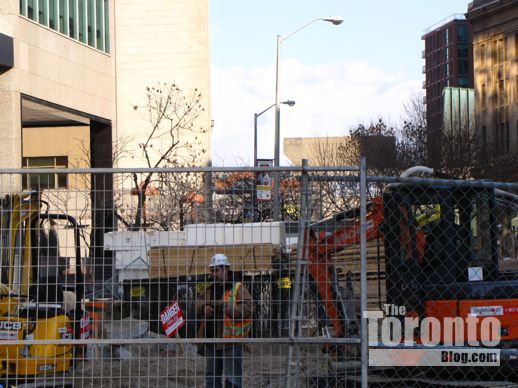 November 17 2011: The two north lanes on Front Street next to Brookfield Place are still closed for construction activity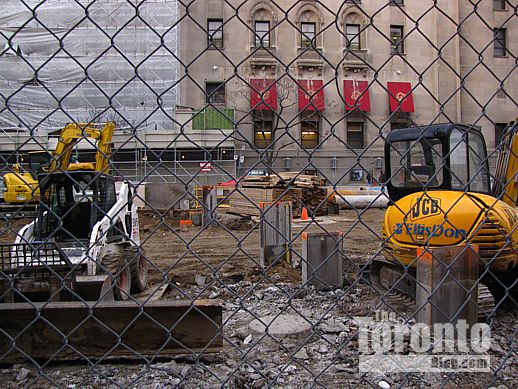 January 6 2012: Construction zone on Front Street between Union Station and the Fairmont Royal York Hotel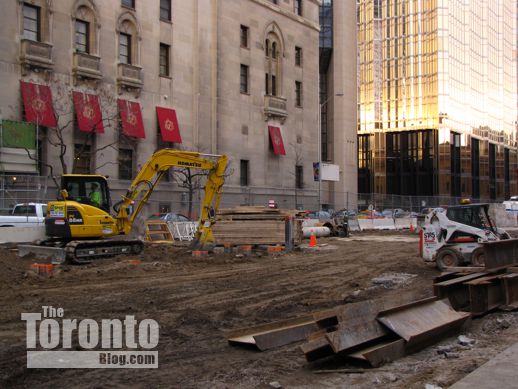 January 6 2012: Street-level construction activity on Front Street between the Fairmont Royal York Hotel and Union Station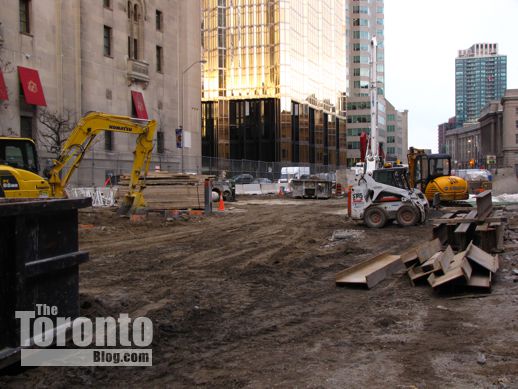 January 6 2012″ Looking east along Front Street from the construction area outside Union Station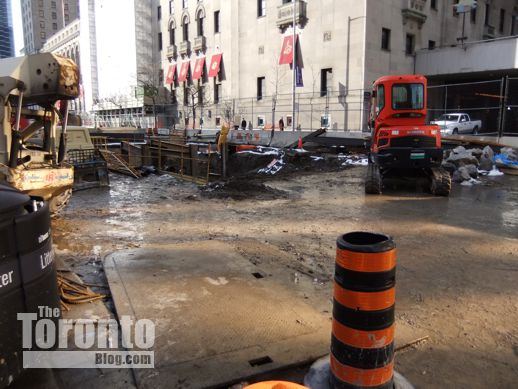 January 31 2012: Looking west at the construction zone between the Fairmont Royal York Hotel and Union Station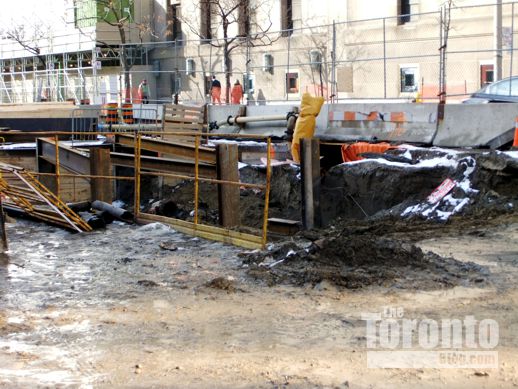 January 31 2012: Part of the south lanes on Front Street is still dug up for the subway station expansion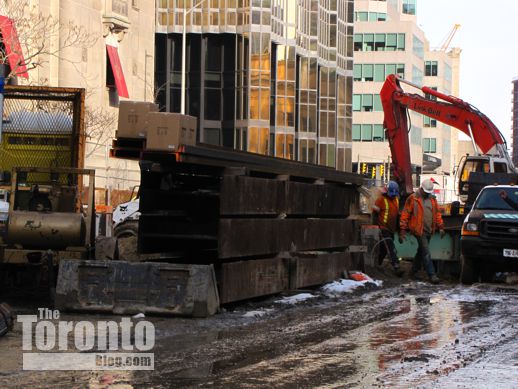 January 31 2012: Construction workers walking on the muddy closed street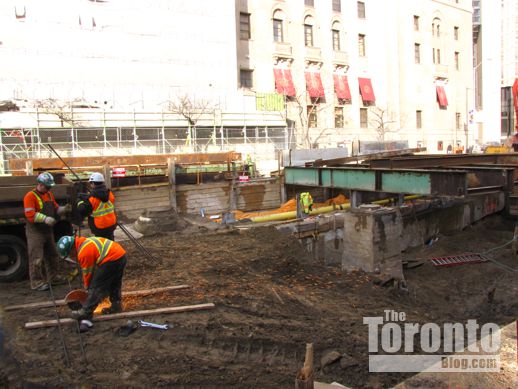 January 31 2012: A construction crew works in the street excavation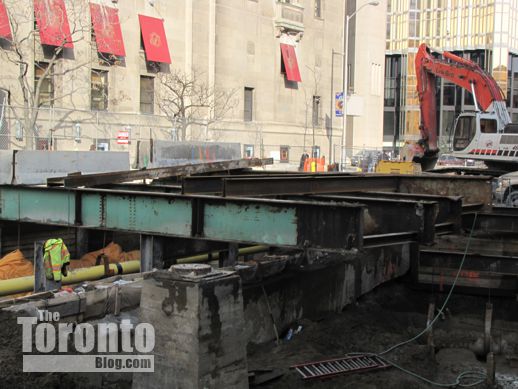 January 31 2012: A frame of steel beams above the excavation on Front Street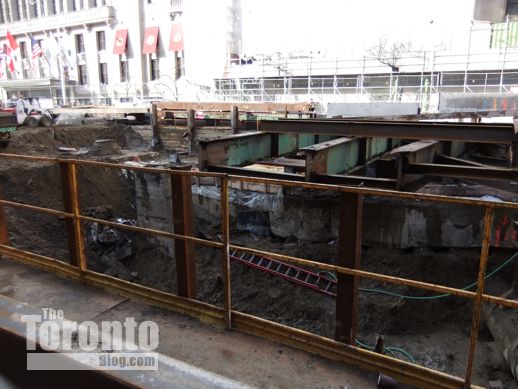 January 31 2012: An excavated section of Front Street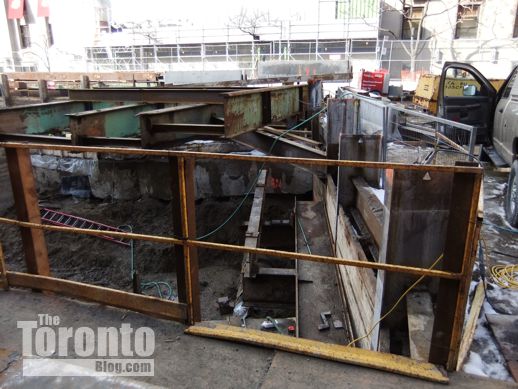 January 31 2012: Another view of the steel beam supports above the excavation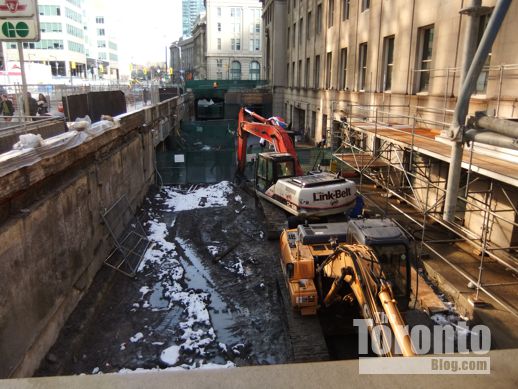 January 31 2012: Construction equipment in the Union Station "moat" on the south side of Front Street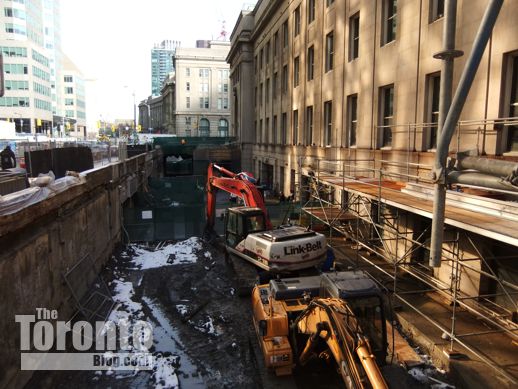 January 31 2012: A glass roof eventually will enclose the "moats"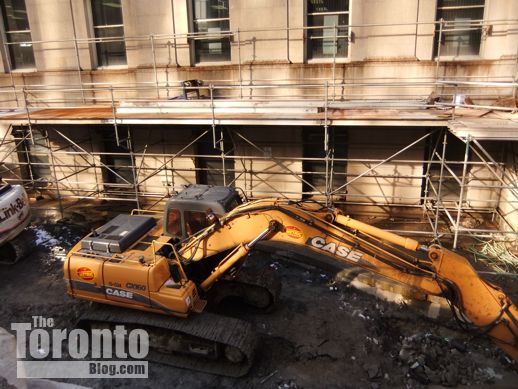 January 31 2012: An excavating machine at work in the moat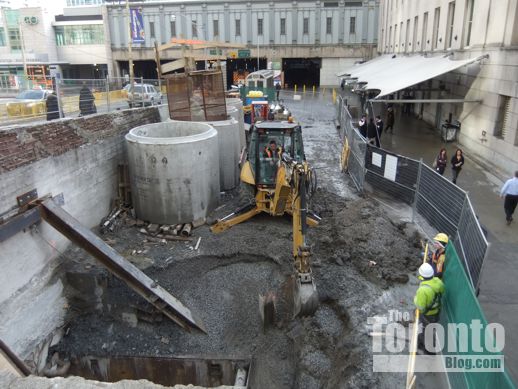 January 31 2012: Construction work continues on the moat along the Bay Street (east) side of Union Station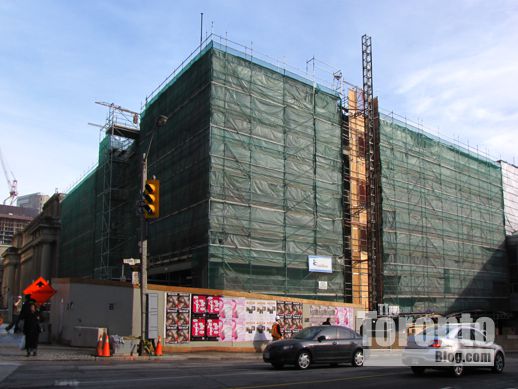 January 31 201: Work continues on the York Street side of Union Station