Email, letter and petition campaigns
Downtown residents and local neighbourhood groups including the Bay Cloverhill Community Association (BCCA) and the Church Wellesley Neighbourhood Association (CWNA) have written letters, sent emails, and organized petition campaigns to persuade local and provincial politicians to establish a park at 11 Wellesley West, but the province has been ignoring their pleas. In fact, as I reported in a July 5 2012 post, the Ontario government retained a real estate brokerage firm to "arrange the sale" of 11 Wellesley West, which the suits at Queen's Park variously call the "East of Bay lands" and "Bay & Wellesley Lands."
Councillor Wong-Tam, whose ward includes the Wellesley lands, has been leading a city effort to acquire the property for new public green space.  In July, she proposed a motion calling on city officials to meet with the province to discuss the possibility of acquiring the Wellesley lands "for parkland purposes." City Council passed the motion at its July 11 2012 meeting. However, the land could cost many tens of millions of dollars which the cash-strapped city cannot afford to spend for one park.
Last chance for parkland in the area?
Area residents see the Wellesley property as possibly the last available land in the immediate area that could be turned into green space. And they point out that the need for parks will become even more acute in the next several years, when thousands more people — many of whom will have dogs as pets — move into condo towers either currently under construction or planned for development close by. Those include the FIVE Condos tower at Yonge & St Joseph, the two U Condos towers at Bay and St Mary Streets, and the Nicholas Residences tower at Yonge & St Mary Street. A developer plans to convert the Sutton Place Hotel directly across the street from 11 Wellesley into a condominium called The Britt; meanwhile, more towers are in the works for sites just a short walk from the Wellesley lands, including 2-8 Gloucester Street, 593 Yonge, 17 Dundonald Street, 40 and 46 Wellesley East, 501 Yonge and 460 Yonge.
Downtown residents are now stepping up their battle and attempting to put more public pressure on the politicians to save the Wellesley lands from redevelopment into more condo towers. A group called "The Community Committee for the procurement of 11 Wellesley Street West for a public park" has scheduled a rally for 5 p.m. today at Queen's Park to send its "We need a park now" message to Premier Dalton McGuinty. Participants will march to the 11 Wellesley West site after mobilizing at the Ontario legislative building two blocks west.
Further information is available on the Save Wellesley Green Public Park Facebook page.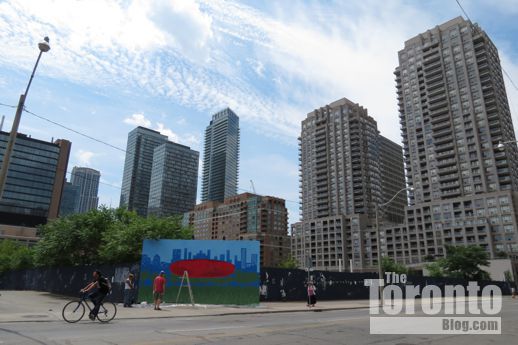 On Sunday July 8, community activists gathered to paint a pro-park mural on the hoarding around the government lands at 11 Wellesley Street West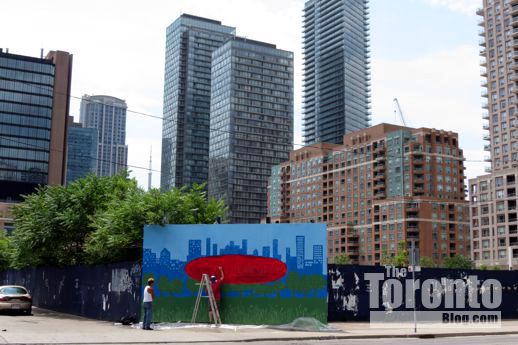 The mural calls public attention to the opportunity to create new green space on the site, which has been surrounded by hoarding for about a decade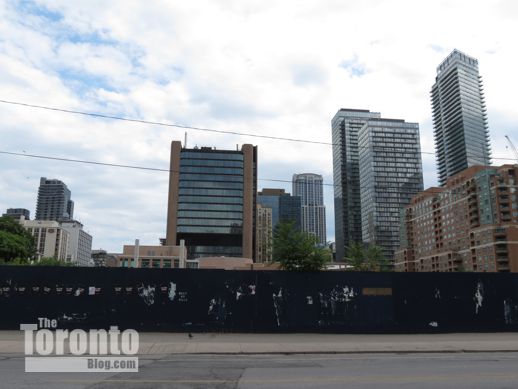 The hoarding surrounds a large vacant lot between Yonge and Bay Streets — property that originally was assembled for a new opera house that wound up being built at the southeast corner of University Avenue & Queen Street instead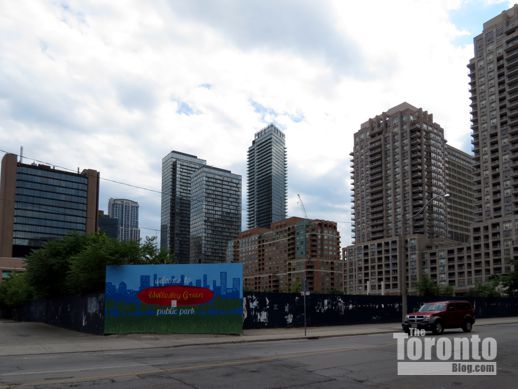 The Wellesley lands are surrounded by condo and rental highrises, with at least one dozen more condos towers either curently under construction, or in the development stage, for locations within a 5-minute walk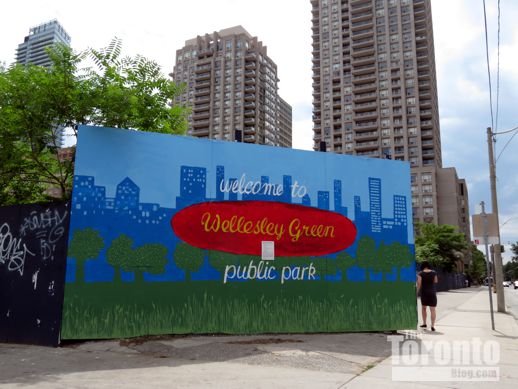 Rally participants will walk from Queen's Park to the mural