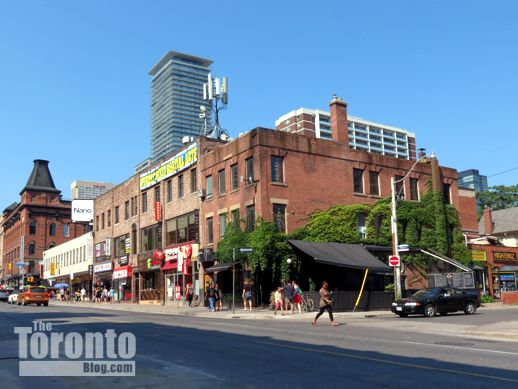 August 25 2012: A 49-storey condo tower has been proposed for this block on the east side of Yonge Street, between Dundonald and Gloucester Streets
New proposal: As Torontonians and tourists enjoy the Celebrate Yonge festival on south Yonge Street between Gerrard and Queen Streets, some city residents are beginning to wonder if there will be anything left for them to celebrate along the north downtown section of Yonge, between Bloor and Wellesley Streets, by the end of the decade.
News that a 49-storey condo tower has just been proposed for the bourgeoning east side of Yonge, between Dundonald and Gloucester Streets, has left many area residents fearing that Yonge is on the verge of becoming another dark and drab condo canyon like the one on Bay Street. Residents are also worried about the overall impact that several more highrise condo projects nearby will have on the Church-Wellesley neighbourhood.
The latest skyscraper proposal involves properties from 587-599 Yonge Street, as well as adjacent business properties at 2 and 4 Dundonald Street, as well as 7 and 9 Gloucester Street. A search on the City's development applications webpage shows that a redevelopment plan for the block-long site proposes a 49-storey tower with 514 condo units, street-level retail shops, and underground parking. 593 Yonge is the street address indicated for the application.
(The city's website entry does not provide any further information about the proposal, and does not identify either the developer or the date on which the 593 Yonge rezoning application was submitted to city planners. The city overhauled its development webpage this summer, and entries no longer provide proposal submission dates. Prior to the format change, webpage entries provided more detail, as well as contact information for the city planner responsible for the file.)
CONTINUED ON PAGE 2