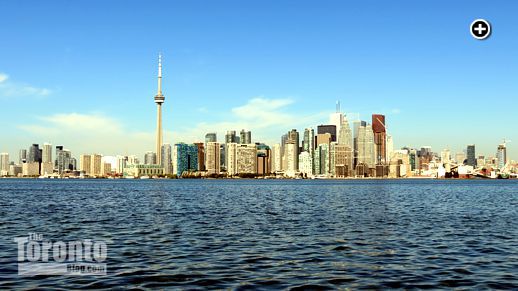 September 11 2012: A view of the downtown Toronto skyline, as seen from Ward's Island in the Toronto Islands. Click on the photo to view a larger image.
Summer skyline:  As the "Frankenstorm" from Hurricane Sandy drenches the city with windy wet weather, I've been missing the opportunity to take long relaxing rides on my bike to see the downtown skyline from different perspectives.
Since it was too rainy for riding and photography this weekend, I decided to collect some of the skyline photos I shot during the summer, and compile them into an online album. Entitled Toronto Skyline Views 2012, the album can be viewed on thetorontoblog.com's Facebook page. It features dozens of skyline pics from a variety of vantage points, including the Toronto Islands, the island ferries, Tommy Thompson Park, Ontario Place, and condo balconies near Jarvis & Carlton Streets.
CONTINUED ON PAGE 2