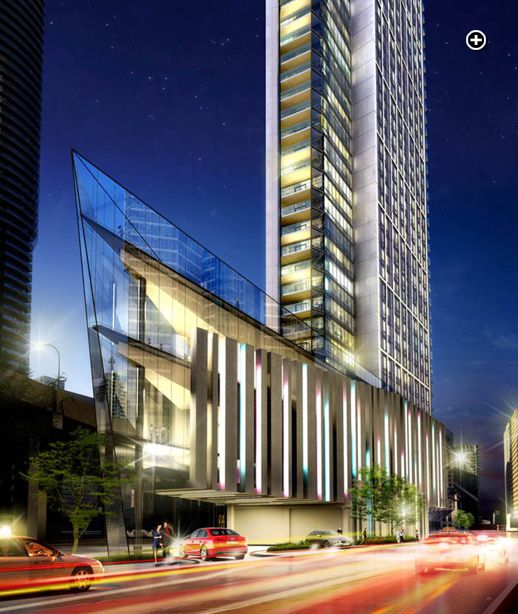 Making a strong point: The prow-shaped podium for the proposed Ten York condo tower will add tremendous visual interest and excitement for eastbound drivers emerging onto Harbour Street from the dark Lake Shore Blvd corridor beneath the Gardiner Expressway. This artistic rendering, provided courtesy of Tridel, depicts a view of the podium from its western point.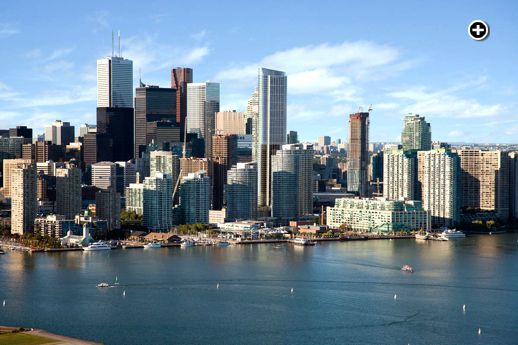 This illustration, featured in current Tridel marketing promotions, depicts the dramatic impression the 65-storey, flatiron-shaped Ten York condo tower (center) would make on the Toronto skyline. Ten York was designed by Toronto's Wallman Architects. Click on the image to view the illustration in a larger format.
Back in the spotlight: It was one year ago this month (November 22 2011, to be precise) that the announcement of plans to build Ten York, a 75-storey condo tower near the foot of York Street, became the talk of the town — and the focus of news headlines and discussion right across the country. Ten York remained a popular conversation topic for weeks afterward, with people continuing to comment as much on its soaring floor count as its unlikely location — a triangular site tightly wedged between three of downtown's busiest traffic arteries, the Gardiner Expressway, Lake Shore Boulevard and Harbour Street. Ten York even dominated cocktail chat at holiday parties and get-togethers I attended throughout the holiday season  (asking the question: "Who would want to live so close to the Gardiner and Lake Shore?" always sparked a lively debate).
CONTINUED ON PAGE 2