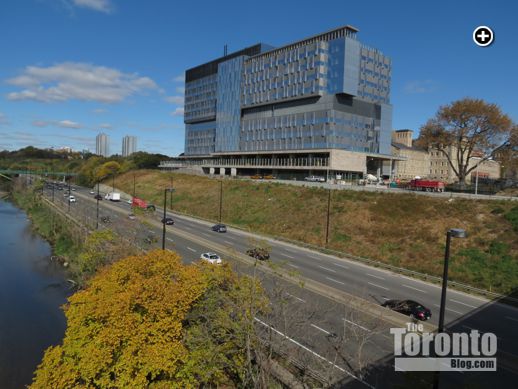 October 16 2012: A southwest view of Bridgepoint Health's new hospital, seen here from the Gerrard Street bridge above the Don Valley Parkway. As construction nears completion, Bridgepoint expects to begin moving patients into the new building next April …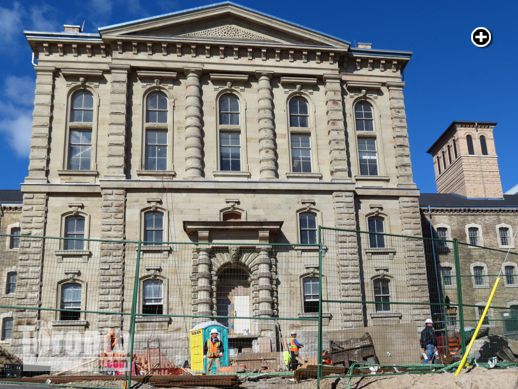 … while the historic Don Jail, which has been undergoing an extensive cleaning and restoration, inside and out, is expected to open at the same time. The fully renovated building will house administrative offices for around 100 Bridgepoint executives.
Completion in sight: With construction of the new Bridgepoint hospital continuing on schedule, patients and staff of Bridgepoint Health should begin moving into the state-of-the-art and environmentally-conscious new facility in only a few months' time — April of next year, to be exact. Hospital administrators and executives are expected to start moving into their own new digs around the same time — office space in the fully restored and repurposed historic Don Jail building right next door. And by the end of next year, once the old hospital building and Toronto Jail addition beside it have been demolished, and new public park spaces, landscaping and streets have been put in place, the 10-acre Bridgepoint campus will have completely revitalized the northwest corner of Broadview Avenue and Gerrard Street.
The $1.27 billion project was in the news today, with an insightful Globe & Mail report by Angela Kryhul — "Historic Don Jail buffed up, refitted for a new purpose" describing the transformation of the 148-year-old Don Jail building into the administrative headquarters for the adjacent 10-storey, 472-bed hospital. I highly recommend giving Angela's interesting article a read; she spoke to two architects involved in the Bridgepoint project, Paul Sapounzi of the Ontario firm +VG Architects and Gregory Colucci of Toronto's Diamond Schmitt Architects. The online Globe & Mail article is accompanied by a slideshow of 11 photographs of the Don Jail's interior and exterior.
CONTINUED ON PAGE 2