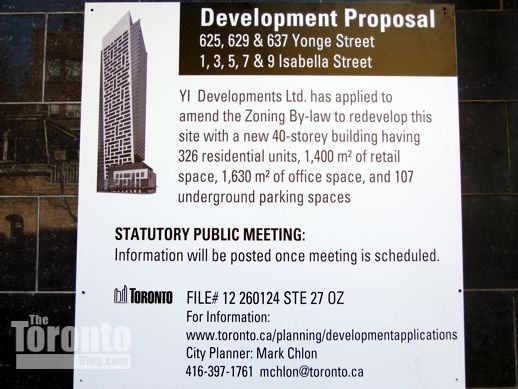 November 21 2012 : Development proposal signs, like this one on Isabella Street, were posted this week outside the latest condo project site on Yonge Street
Sign posted: In my October 11 2012 post, I reported that a developer had filed an application with the City for authorization to build a 40-storey condo tower at the southeast corner of Yonge and Isabella Streets. At that time, however, few details had been available about which municipal addresses were part of the property for which redevelopment approval is being sought. This week, the City finally posted development proposal signs that offer that information.
According to the signs, YI Developments Ltd. wants to build the tower on property presently occupied by two separate buildings. The larger of the two is the 3-storey corner building that houses  Yonge Street Fitness Club as well as street-level retail and restaurant space at the municipal addresses of 625-637 Yonge and 1-7 Isabella. The second is a 2-storey structure at 9 Isabella Street which is home to a Rabba Fine Foods outlet on street level and other commercial businesses on the second floor. The development site does not include a two-storey retail and commercial building at 619-623 Yonge as some area residents had initially believed.
The application is still in the early stages of the city planning and approval process. One of the next steps will be a community consultation meeting at which full details about the development proposal will be presented to neighbourhood residents and other area stakeholders to obtain their comments and concerns. However, that meeting is unlikely to be arranged before February. Normal city procedure is for city planners to present a preliminary report to Toronto and East York Community Council (TEYCC), asking it to order that a community consultation be held. Since the next TEYCC meeting isn't scheduled until January 22 (the council doesn't meet during December), it appears a public feedback session is at least two and a half to three months away.
See my October 11 report for photos of the development site and its surrounding area.