This artistic illustration, which appears in an online City planning department report, shows the 38-storey tower addition originally proposed for the 545-565 Sherbourne Street apartment complex.  In October 2011, Toronto City Council approved a revised plan for a redesigned 43-storey tower. The building is being designed by Toronto's Page + Steele IBI Group Architects.
New tower & townhouses proposed in 2008
Just over six years ago the owner of 545-565 Sherbourne, Medallion Properties Inc., revealed an ambitious redevelopment plan that would add 409 more rental units to the complex while significantly sprucing up its appearance along Sherbourne, Earl and Bleecker streets. 
In a rezoning application filed with the City on December 19 2008, Medallion sought approval to add a 38-storey rental apartment tower to its property, between the highrises at 555 and 565 Sherbourne, and to construct a series of 3-storey townhouses along Bleecker Street. The podium would be enhanced with major improvements to the grocery store and commercial businesses fronting on Sherbourne Street, while the elevated deck above Earl Street would be removed. (Full details of the original proposal are outlined in a March 9 2009 preliminary report prepared by City planners.)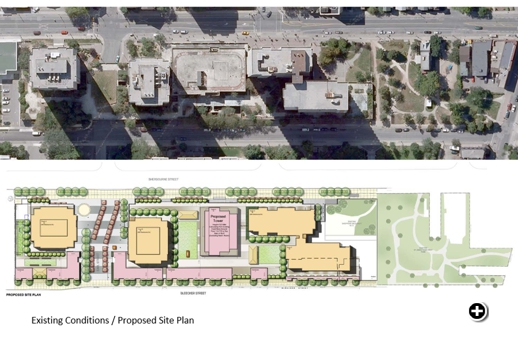 This illustration, from a City planning department report, shows an aerial view of the existing buildings at 545-565 Sherbourne, along with an original site plan diagram showing where the new tower and townhomes would be built. Click on the image to view a larger illustration.
Proposal was amended after city & community review process
The redevelopment proposal was subjected to extensive City planning and public review during  2009 and 2010, including two community consultation meetings and a working group meeting process that involved residents and stakeholders from the immediate vicinity.
Medallion subsequently amended its plans and submitted a revised rezoning application that proposed construction of a 43-storey residential tower and 40 townhouse units in 2- and 3-storey layouts.
In a September 13 2011 planning report, City staff recommended that City Council approve the application provided that numerous conditions be satisfied, including payment of $1,000,000 for specified community benefit projects. City Council approved the plan on October 24 2011.
Nothing happened in the months afterward, and in late 2012 I asked a City planner if there was any word on when construction might commence. I was told that the developer's engineers and architects were still meeting with staff from various City departments to iron out demolition and construction details, and that work should start sometime in 2013. I also was told that the City and Medallion were studying if it might be possible to keep part of the No Frills grocery store open during some or all of the construction period, since it was one of only two supermarkets serving thousands of residents in the immediate area.
Grocery store and other shops closed in summer 2013
However, the No Frills staff started advising customers last spring that the store would close permanently in mid-July of 2013 because its lease had not been renewed. Staff said they had been told that the Sobey's grocery chain had acquired a lease for the site, and would be opening one of its Freschco discount stores once the premises had been revitalized. The No Frills did indeed close in July; meanwhile, other retail shops in the complex also began closing or relocating, and signs advertising a shuttle bus service to the nearest Freshco store at Parliament & Dundas were posted in the windows of a vacant shop at 565 Sherbourne.
With most of the retail shops shuttered and empty, the podium at 545-565 Sherbourne looked even more dreary and dishevelled, and cast a depressing pall on the stretch of Sherbourne between Linden and Earl Streets. Area residents wondered how much longer it would be before construction began, but in late December the installation of security fencing on Earl Street offered a hopeful sign that work was imminent.
A Sherbourne Street resident told me that demolition activity finally got underway on Monday, January 13.  I walked past Earl Street this afternoon and saw that most of the elevated deck above the street has been torn down, brightening the block and significantly improving the streetscape — even though the work isn't yet finished.
Below are several photos I shot of the 545-565 Sherbourne complex last August, followed by several images of demolition activity that area resident Mason Byrne shot this week. Those are followed by several more pics I took today.
Additional photos and information about the development plan for 545-565 Sherbourne can be viewed in my October 3 2011 post.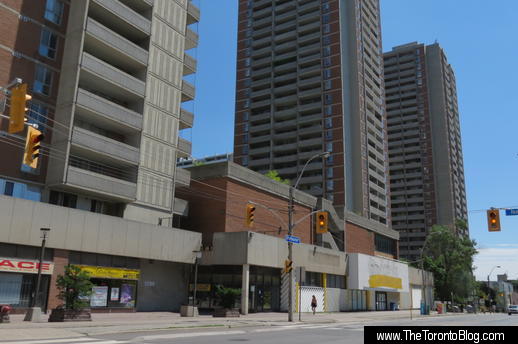 August 9 2013: A view of 565 555 & 545 Sherbourne Street several weeks after the No Frills grocery store (centre) closed for good.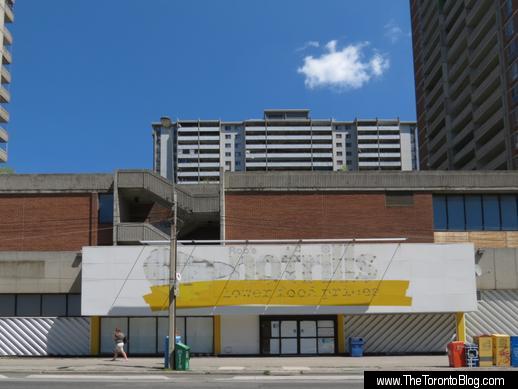 August 9 2013: The outline of the No Frills sign is still visible on the vacant storefront in the podium at 555 Sherbourne. Until the early 2000s, a fitness and squash club operated in facilities above the grocery store. The club's full-size swimming pool was situated behind the five windows at upper right.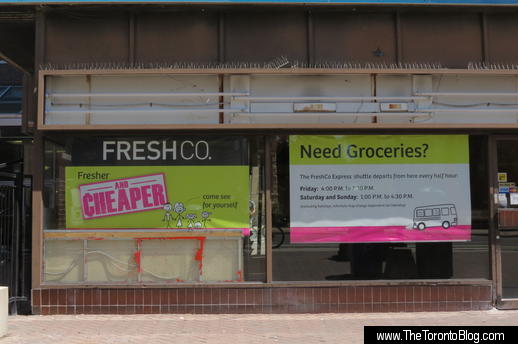 August 9 2013: After the No Frills store ceased operations, the Freshco supermarket at Parliament & Dundas Streets started offering a shuttle bus service to its location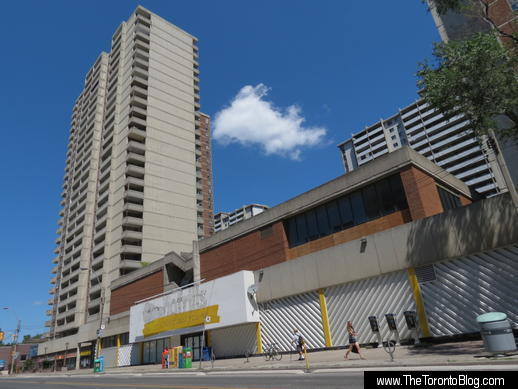 August 9 2013: The new apartment tower will rise to the rear of the grocery store, which will be renovated as part of the revitalization of the complex's podium along Sherbourne Street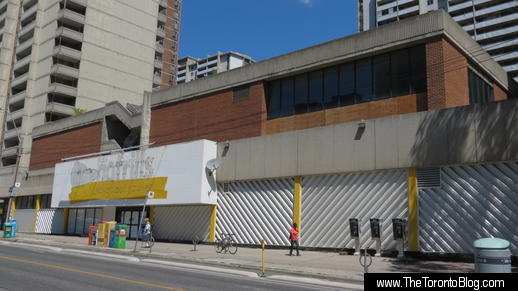 August 9 2013: The closure of the No Frills store last July was a huge blow to thousands of low- to moderate-income St James Town-area residents who relied on it for reasonably-priced groceries. There is only one other large supermarket nearby — a cramped and shabby Food Basics two blocks away on Wellesley Street East.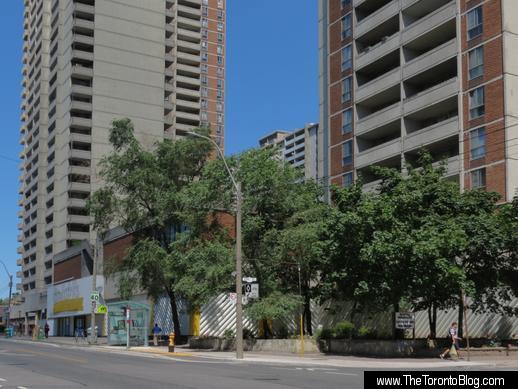 August 9 2013: A view of 565 Sherbourne, left, the former No Frills grocery store, center, and 555 Sherbourne, right. The new 43-storey tower will be built in between the two existing highrises.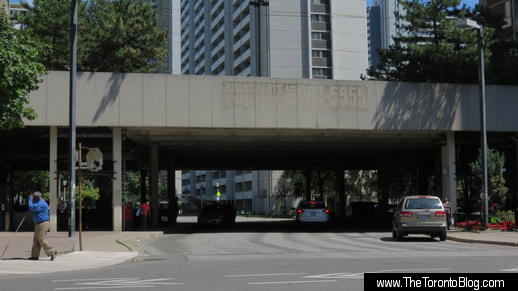 August 9 2013: The elevated concrete deck had fallen into serious disrepair and also posed security concerns for apartment residents. Although its removal will eliminate a landscaped green space, the demolition of the deck will brighten the streetscape and improve the look of the neighbourhood.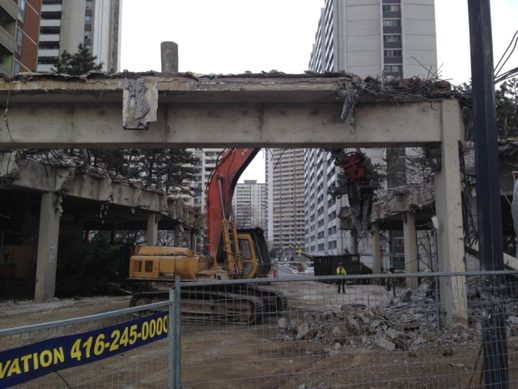 This image provided courtesy of Mason Byrne shows a demolition machine dismantling the concrete deck above Earl Street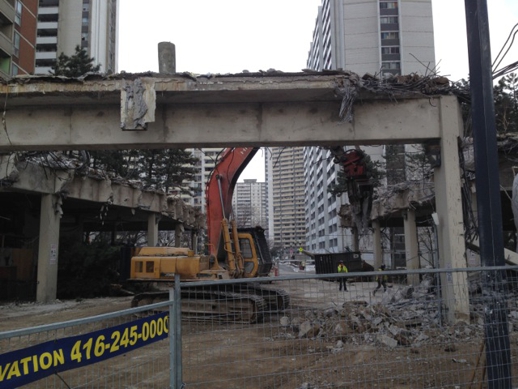 Another view of the deck demolition in a photo provided courtesy of Mason Byrne.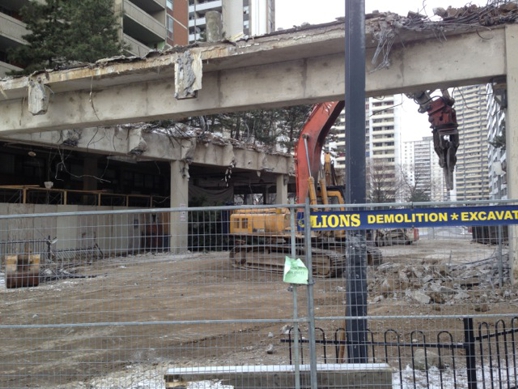 Another Mason Byrne photograph of demolition progress on the elevated deck linking 545 and 555 Sherbourne. Mason said the wrecking crew commenced work on Monday January 13.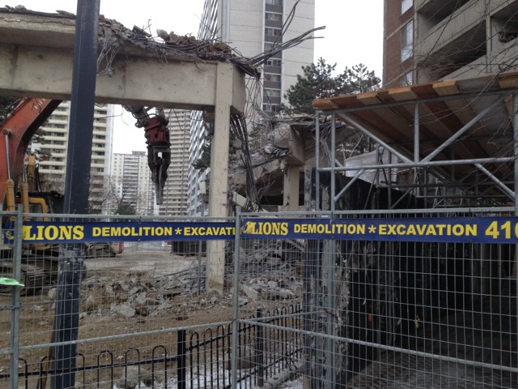 A Mason Byrne photograph of demolition activity outside the entrance to the 545 Sherbourne tower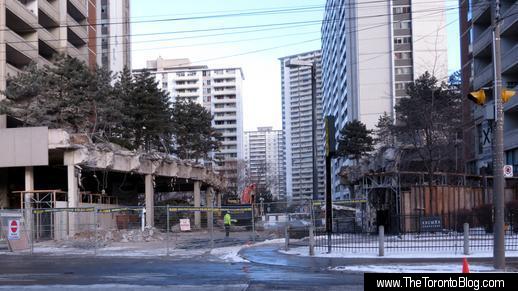 January 20 2013: Most of the deck has been removed from above Earl Street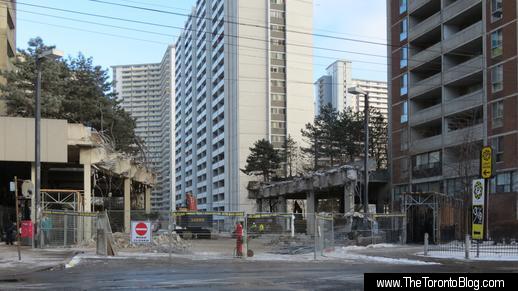 January 20 2013: With the elevated deck removed, Earl Street now offers a visual gateway to the apartment towers of St James Town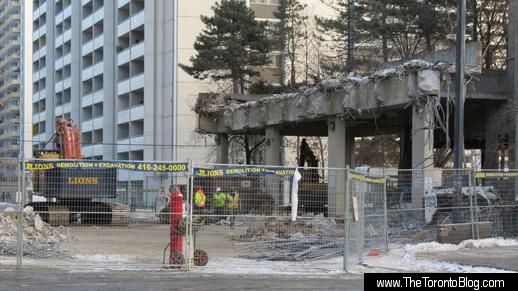 January 20 2013: A view of demolition progress on the section of podium attached to 545 Sherbourne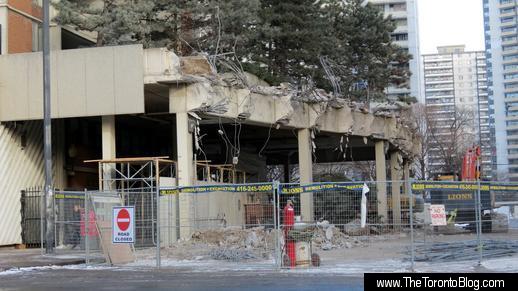 January 20 2013: A view of demolition progress on the podium section attached to 555 Sherbourne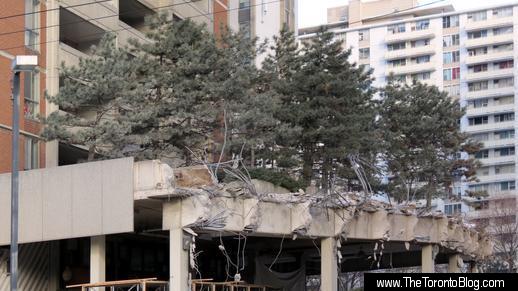 January 20 2013: Besides landscaped decks, the podium roof once featured an outdoor jogging track. The decks had been publicly accessible, but after the redevelopment work is complete, will be available for exclusive use of the apartment residents.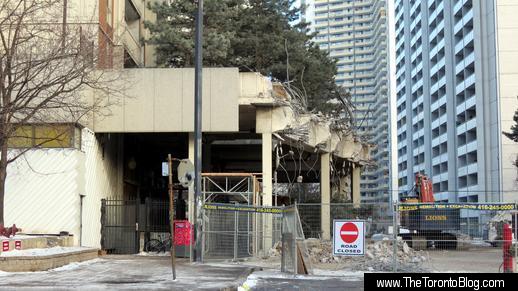 January 20 2013: Townhouses will be built on parts of Earl Street and Bleecker Street flanks of the apartment complex. In return for redevelopment approval from the City, the property owner will be contributing $100,000 toward street improvements.