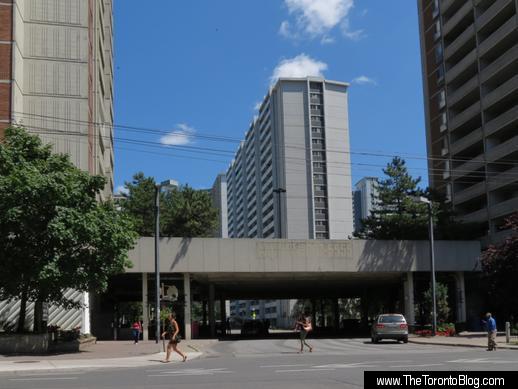 August 9 2013: Since 1977, this landscaped podium over Earl Street has linked the rental apartment highrise at 555 Sherbourne, left, with its sister tower at 545 Sherbourne (right), blocking views of buildings in St James Town to the east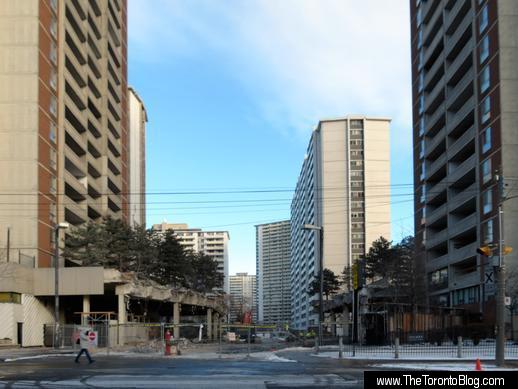 January 20 2014: Demolition of the podium link, which started one week ago, has already improved the streetscapes and views immensely
Long wait: Preliminary work has finally begun on a long-awaited construction project that will add a fourth tower plus 40 townhomes to a 37-year-old Sherbourne Street highrise apartment complex — drastically improving the look of three adjacent streets in the process.
Demolition began one week ago on an elevated concrete structure that had provided outdoor amenity space between the apartment towers at 545 and 555 Sherbourne Street. The landscaped deck, which passed over Earl Street, was part of a podium that contained a grocery store, retail shops and a fitness club, all linked to a third highrise apartment building at 565 Sherbourne.
Constructed in 1977 on the western flank of downtown Toronto's heavily populated St James Town neighbourhood, the 545-565 Sherbourne complex contains 1,117 rental units in two 31-storey towers and one 28-storey highrise.
Redevelopment plan will revitalize 37-year-old complex
Once a vibrant and popular apartment enclave boasting a street-level Loblaws grocery store and other retail shops, a multi-level racquet sports and fitness centre, and a block-long landscaped podium roof deck with jogging track, 545-565 Sherbourne has not aged well and in the past decade has looked increasingly tired and worn, particularly at street level.
The Loblaws supermarket closed in the late 1990s and was replaced with a discount No Frills grocery store, while the fitness club shut down in the early 2000s and its large space has remained vacant ever since. A Shoppers Drug Mart was constructed beside 565 Sherbourne in 2007, slightly improving the appearance of the complex's north side; however, the building frontage along Sherbourne has looked increasingly run-down in recent years, while the property's street-level face along Earl and Bleecker Streets has long been dark, dingy and dismal.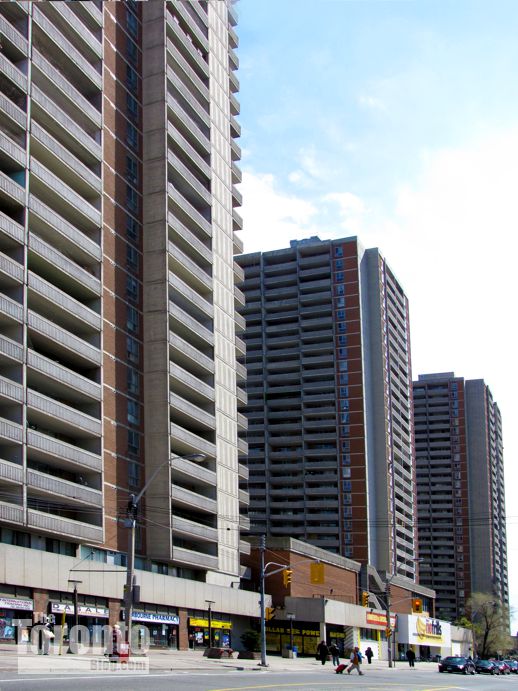 April 10 2011: The rental apartment buildings at 565, 555 and 545 Sherbourne Street, as seen from the intersection of Isabella and Sherbourne Streets
CONTINUED ON PAGE 2