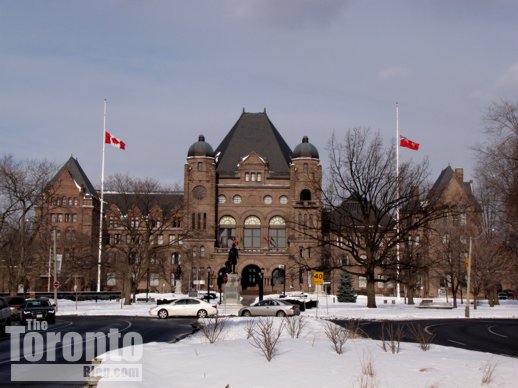 Ontario Legislature viewed from College Street on January 14 2011
Four Seasons views all year long? Redevelopment of the 31-storey Four Seasons Hotel in Yorkville into two condo towers — 48 and 44 floors tall — is one step closer in the wake of a ruling yesterday by the Ontario Superior Court of Justice.
In 2007, Menkes Developments proposed building the two condo highrises on the Avenue Road site of Toronto's "old" Four Seasons (a brand-new Four Seasons hotel + condo complex is presently under construction just two blocks away; after it opens, Menkes wants to demolish the old tower and build condos in its place). After city planners rejected Menkes' proposal, the developer appealed to the Ontario Municipal Board (OMB).
In the meantime, heritage groups voiced opposition to the Menkes project, claiming the condo towers would be so tall, they would spoil precious views of the Ontario Legislature building at Queen's Park (the groups fear that the condo towers will poke above the building's gables and spoil skyline views to the north.)
The Ontario Government did not seek standing to participate in the OMB hearings, but the Speaker of the Legislature, Steve Peters, did so on behalf of the Legislative Assembly. His argument that the towers would ruin views of the Legislature didn't hold sway at the OMB, which ruled that the Menkes proposal was consistent with city and provincial planning policies. The Legislative Assembly in turn went to court seeking permission to appeal the OMB decision.
In her decision yesterday, however, Madam Justice Alison Harvison Young rejected the Legislature's request. She said that even though the Legislature is an important building, that "does not, in itself, render the legal issues of significant importance to justify granting leave to appeal."
Meanwhile, CTV Toronto reports that Mr. Peters will ask the government to take action to protect the vista. A story in today's Globe and Mail provides further details about the controversy.
Below are photos of the current Four Seasons Hotel and the redevelopment proposal sign that has been displayed on the property for the past three years, as well as a pic of the new Four Seasons complex under construction at the northeast corner of Bay Street and Yorkville Avenue.