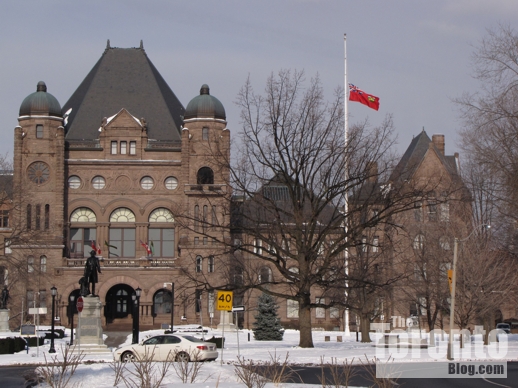 In several years, two Yorkville condo towers may be clearly visible in this College Street view of the Ontario Legislature building at Queen's Park

Skyline scrap: The Ontario government will not take action to preserve views of the provincial Legislature building at Queen's Park — a vista that heritage groups worry will be spoiled by construction of two condo skyscrapers planned for Yorkville.
Concerns about drastic changes to skyline views of Queen's Park arose several years ago when a developer sought approval from the City to construct two condo towers on the Avenue Road site of the Four Seasons Hotel.
The Four Seasons is building a new flagship hotel and condo complex just two blocks away, at the corner of Bay Street and Yorkville Avenue. Once it begins operations there, the developer wants to demolish the old Four Seasons tower (31 storeys) and replace it with two condo highrises (48 and 44 floors respectively).
City planners rejected the proposal, so the developer appealed to the Ontario Municipal Board (OMB). Heritage groups were outraged by the development plan, fearing that the skyscrapers would be visible poking up in the distance behind the gables of the Legislature building. The Speaker of the Legislature, Steve Peters, shared their concerns, and fought against the condo proposal on behalf of the Legislative Assembly of Ontario when the developer's case went before the OMB.
The skyline scrap didn't faze the OMB, which said the project could proceed because it was consistent with city and provincial planning policies. The Legislative Assembly sought leave to appeal its decision, but as I noted in a blog post last week, an Ontario Superior Court judge rejected the claim. With no further legal avenues left to challenge the developer, Mr. Peters called on the provincial government to take action to protect the Queen's Park vista.
As reported in a Globe and Mail article on Saturday, however, the government won't step into the fray.
"The courts have made a decision, and we respect the process that has been undertaken," said a Cabinet minister's spokesman. The Globe says that, with the province refusing to take action, "there is nothing blocking Menkes Developments, the real estate company behind the proposed condo towers, from going ahead with the project."
I'm keeping my fingers crossed that Menkes will ask its architects to develop a striking design for the proposed towers. If they're going to be visible behind the Legislature, I'd rather they look a helluva lot more impressive than the existing Four Seasons and the 24-storey Renaissance Plaza condo tower, which already lurk in the distance behind Queen's Park (see photo below).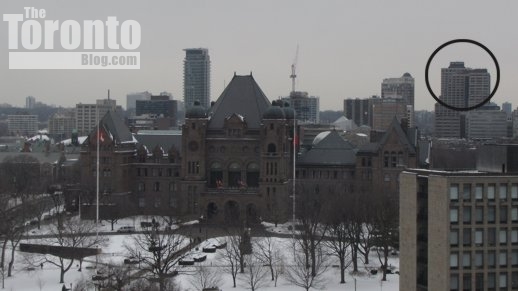 This photo taken today shows towers in Yorkville, including the Four Seasons Hotel and the Renaissance Plaza condos (circled), just  north of Queen's Park.