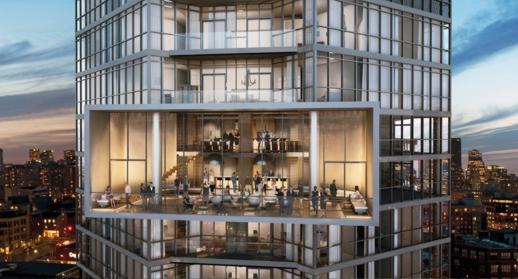 Architectural rendering of 2-storey sky lounge at Chaz on Charles condos
Watch me watch you: It's been about five years since a developer announced plans to build a residential tower on the site of a Brutalist-style office building at 45 Charles Street East.  Since then, I've been waiting patiently to see what  the highrise that will replace it will look like. My wait is over.
Designed by Sol Wassermuhl of Toronto's Page + Steele IBI Group Architects, Chaz on Charles will be 39-storey condo tower featuring a five-storey limestone-clad podium topped by a sleek glass tower with recessed balconies. To fit nicely on the current streetscape, the podium will be "synched" with that of the 46-storey Casa condo tower right next door (to its west).
Chaz will be so packed with appealing amenities, its residents probably won't want to spend much time in their own units. Heck, they won't need to. According to the Chaz on Charles website, the main floor will boast not one but two lobbies "literally brimming with activity." One will be "a living room-style lobby lounge," while the other will offer "a series of smaller spaces" that include a living room, wet bar, dining room with full catering kitchen, and a billiards room — all of which will open onto an outdoor landscaped terrace.
Chaz will have top of the line fitness and recreation facilities, of course, along with not one but two theatres  (a movie screening room and sports viewing room), meeting room facilities, guest suites for overnight visitors, and a pet spa. Yes, no longer will you have to endure the embarrassment and humiliation of leading your muddy, smelly mutt through the lush lobby and elevators anymore, since there will be a special wash and blowdry room where you can give Fido a quick freshening-up after a walk in the grimy neighbourhood streets.
But wait, there's more! What's really going to put Chaz on the map — and instantly make it a midtown "landmark" (according to the website's copywriters) — is the  signature architectural detail that will appear three-quarters of the way up the south side of the tower. I'll let the people at Chaz describe it in their own words: "Jutting out from the 31st and 32nd levels on the south side of the building is a two-storey cantilevered box, framed in white concrete and illuminated at night. This is the Chaz Club, a lounge and dining space for the building's residents, and it is a dazzling architectural gesture. From miles around, Torontonians will look up to see residents of Chaz, and their guests, enjoying cocktails on the club's spacious terrace or relaxing inside this glass box in the sky."
Yes, without a doubt, jealous people throughout downtown Toronto and from points miles afar will spend their evenings staring at the lucky, privileged few who will get to call Chaz home. If they can even see them, that is. With all the other highrises and towers planned for the immediate vicinity, views of the Chaz Club will likely be blocked from most sightlines. But not from mine! So in just a few years' time, I'll be able to sit back, relax and enjoy a nice glass of wine on my balcony while watching Chaz residents looking back at me while they sip cocktails in their chic, comfy glass box in the sky. Some things are worth waiting for, n'est-ce pas?
Below are some photos I've taken of the Chaz location during the past four years.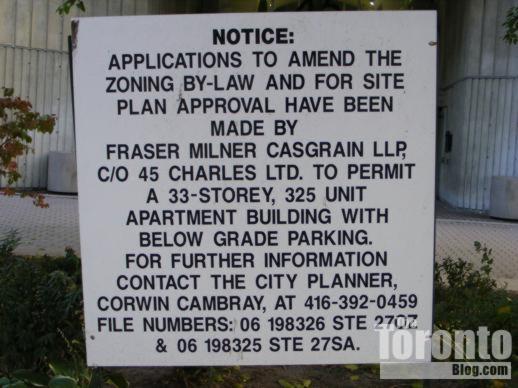 Chaz on Charles development zoning sign outside 45 Charles St. E. in late 2007; the city subsequently approved a tower with six more floors.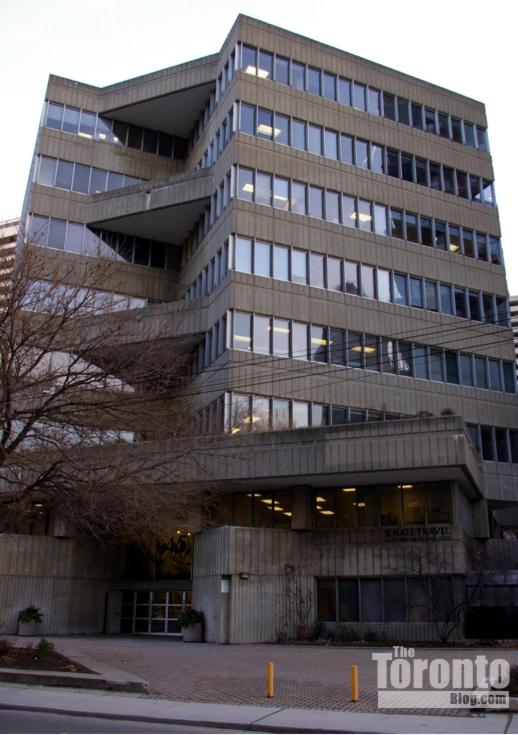 This office building at 45 Charles East will be demolished to make way for the Chaz condo tower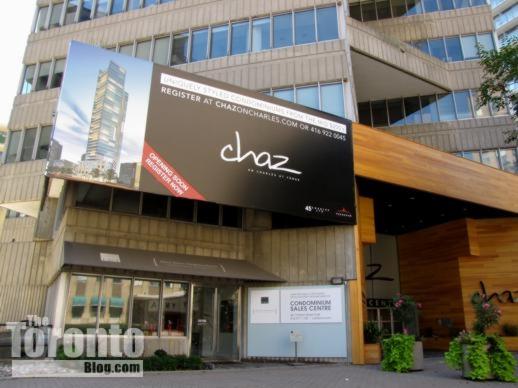 Chaz condo sales office on August 29 2010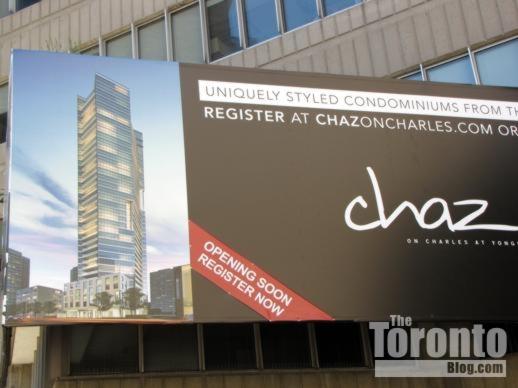 Chaz condo sales office on August 29 2010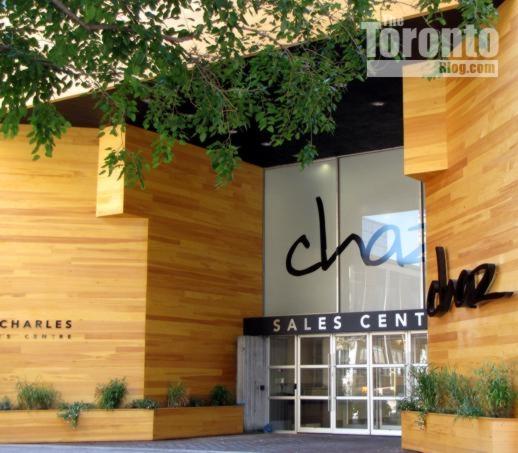 Chaz condo sales office on August 29 2010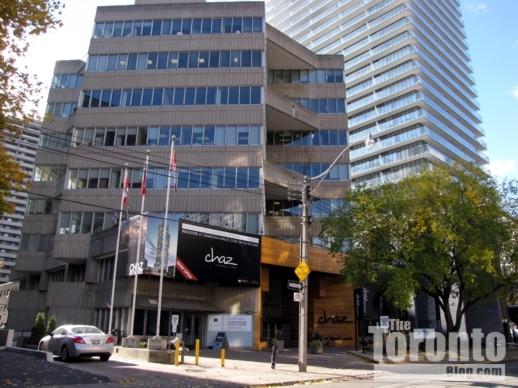 45 Charles St. E. and the Casa condominium tower next door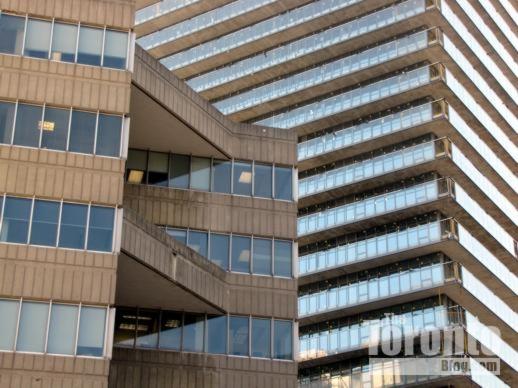 45 Charles St. E. and the Casa condominium tower next door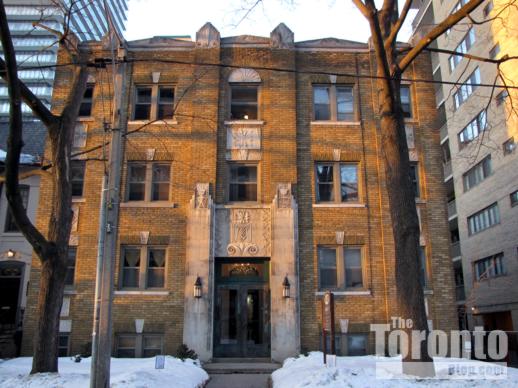 Chaz on Charles will tower above The Bromley apartment building to its south on Isabella Street, seen here on January 29 2011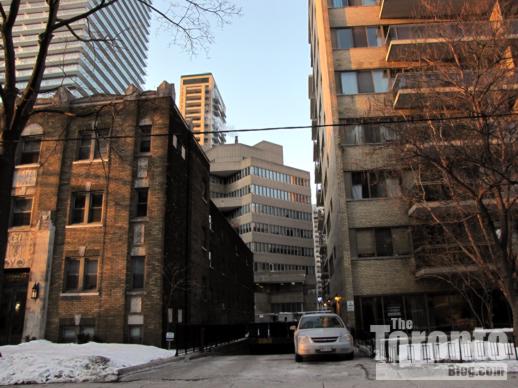 Isabella Street view of Chaz on Charles condo site on January 29 2011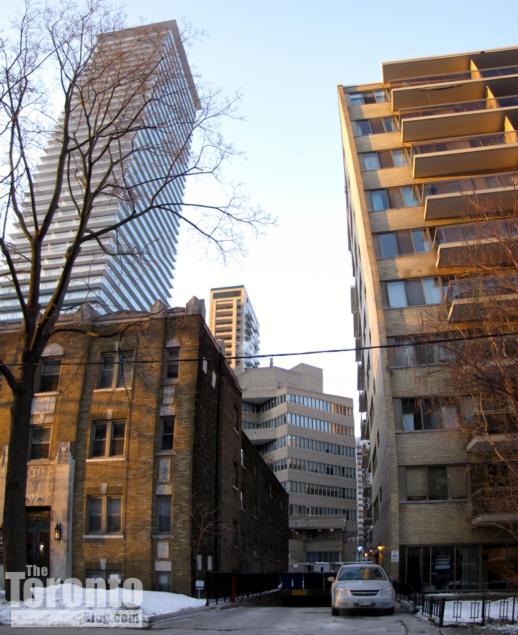 Another Isabella Street view of the site where Chaz on Charles will rise