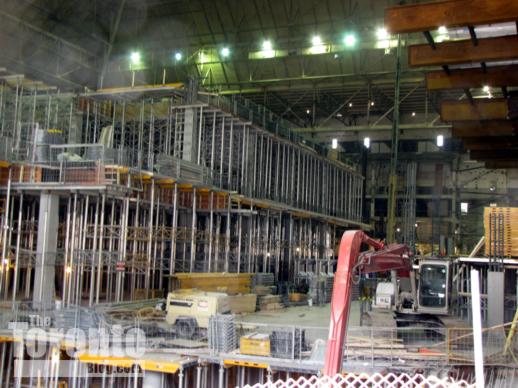 Construction progress inside Maple Leaf Gardens on March 29 2011.
Under the big top: The enormous cavern under the big white domed roof of Maple Leaf Gardens keeps buzzing with construction activity. But there's an awful lot of work remaining to be done before the interior of the historic hockey shrine starts looking like a grocery store and a university athletic facility. Latest word is that the Maple Leaf Gardens revitalization is scheduled for completion in December but — as is always the case with any construction project — that deadline isn't cast in concrete and is always subject to change. In my February 2 post about the project, I mentioned what little construction progress I had been able to see when passing the Gardens while one of the construction entrance doors was open. I've since had a few more quick glimpses inside and today was lucky to have my camera with me when doors were opened to allow construction vehicles in and out of the building. I managed to snap a few photos which appear below, along with some other recent pics of Maple Leaf Gardens.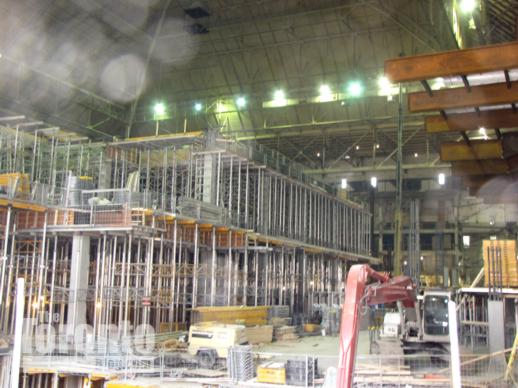 The interior arch on the west side of the hockey arena's famous domed roof is visible above the spotlights. The new Ryerson University sports and recreation centre will occupy two floors under the dome. It will have an NHL-sized ice rink as well as a running track, basketball and volleyball courts,  a fitness centre, gym and academic space. The university facility alone is costing more than $60 million.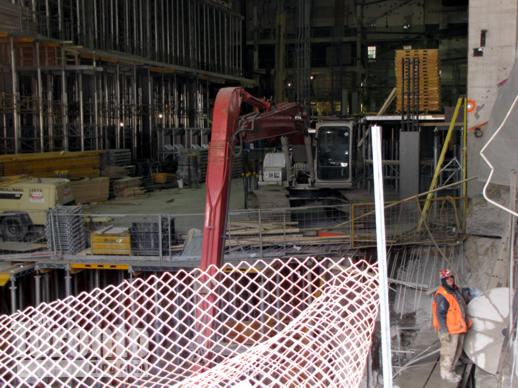 Maple Leaf Gardens interior viewed from the northeast corner of the building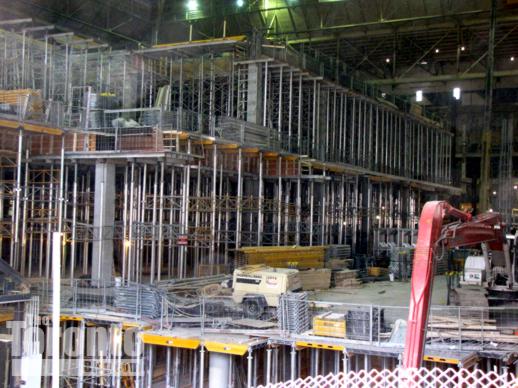 The revitalized Maple Leaf Gardens will become home to a 70,000 square foot Loblaw grocery store at street level, with one floor of underground parking below it (partly visible at the bottom of the photo).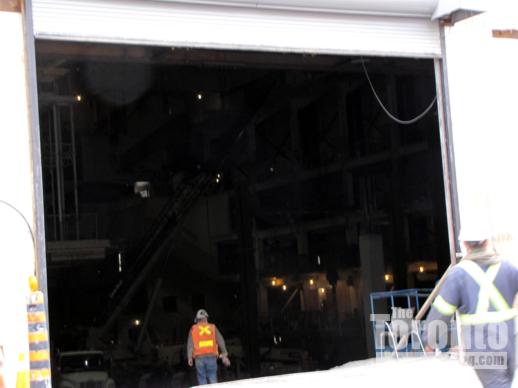 This is a typical street view of the cavernous interior of Maple Leaf Gardens — a dark, dusty space buzzing with activity as the Loblaw corporation and Ryerson University transform the Gardens into a unique multi-purpose facility.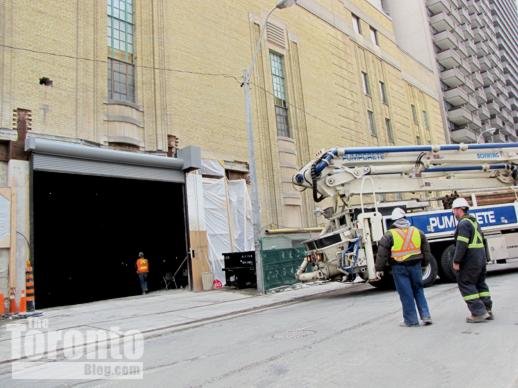 A concrete pumping truck slowly backs into the Maple Leaf Gardens construction entrance on Wood Street. Earlier this winter, a hole was knocked into the wall to create an extra entrance at this location.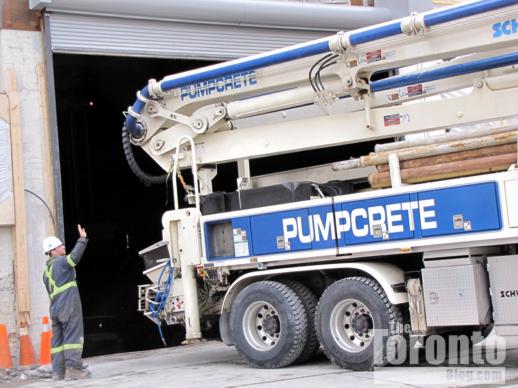 It's a tight squeeze, but the truck manages to ease inside in less than a minute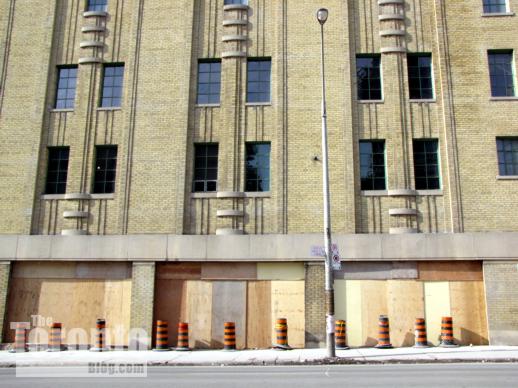 February 20 2011: Windows will eventually be installed for the grocery store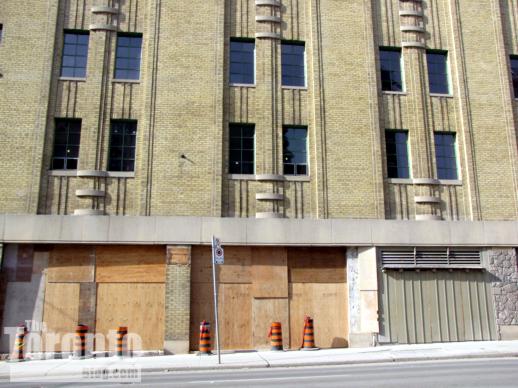 Wide windows along the Church and Carlton Street walls of Maple Leaf Gardens will create a more pedestrian-friendly streetscape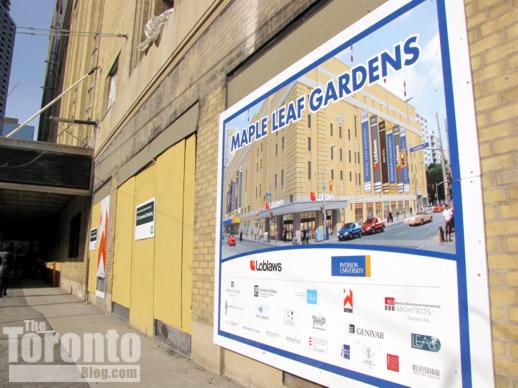 February 20 2011: The southeast corner of Maple Leaf Gardens on Carlton Street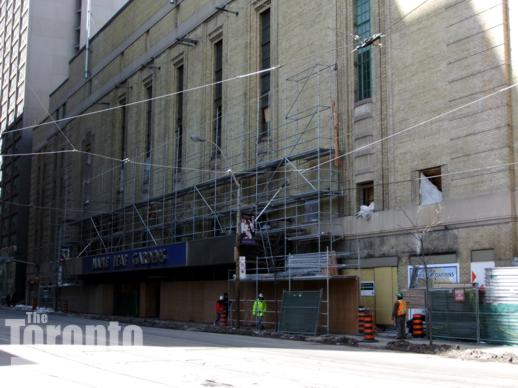 March 25 2011: Scaffolding above the Gardens' Carlton Street entrance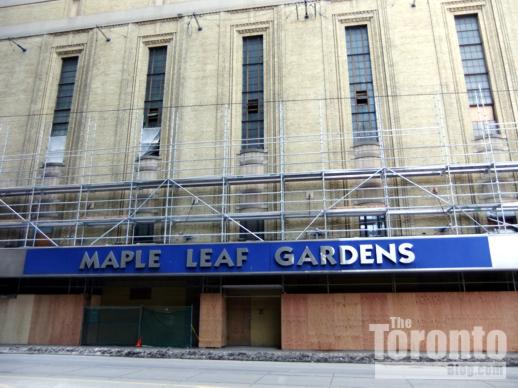 March 25 2011: The boarded-up Carlton Street entrance to Maple Leaf Gardens