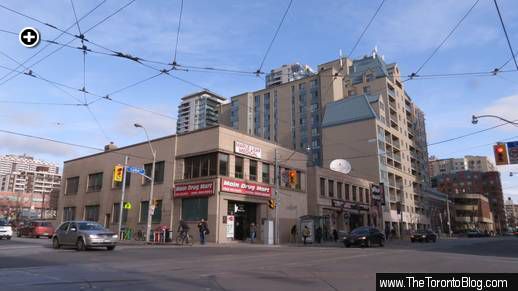 A 45-storey condo tower with retail and institutional space is being proposed for the property currently occupied by the two low-rise buildings at 70 and 72 Carlton Street, seen here from the intersection of Church & Carlton Streets …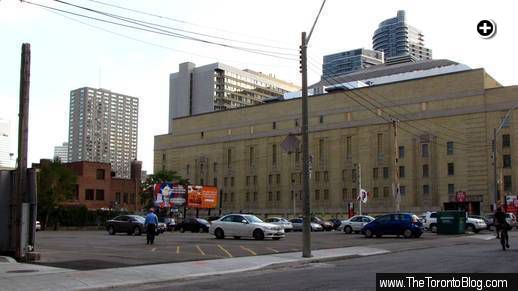 … but it is unclear if the development site includes this surface parking lot behind the two buildings, at the corner of Church & Wood Streets.  The lot is seen here from Wood Street, looking toward Maple Leaf Gardens on Church Street.
New neighbour for the Gardens: Details are sketchy, but a proposal to build a 45-storey mixed use tower at the northeast corner of Church & Carlton Streets — directly across the street from Maple Leaf Gardens — has been filed with the City's planning department.
An undated entry on the development projects page of the City of Toronto website says that applications have been filed for site plan control, zoning bylaw amendment and rental housing demolition for property at 70 Carlton Street. The site would be redeveloped with "a 38 storey tower atop of a 7 storey podium separated by a two-storey reveal comprising of 35149m2 of residential space 845m2 of retail space and 17m2 of institutional/other space. There will be a total of 202 parking spaces," the website entry states.
CONTINUED ON PAGE 2