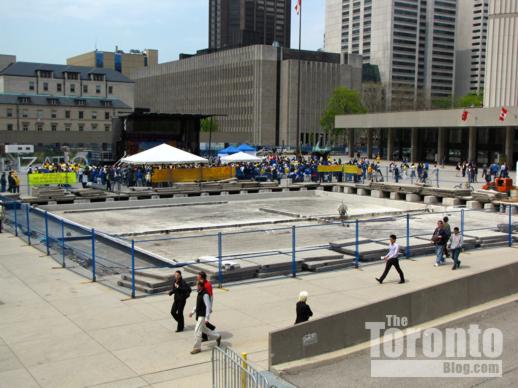 May 13 2011: Work still hasn't finished on the former Peace Garden location
Snail's pace: Looks like the Nathan Phillips Square revitalization is one of those ambitious city projects that is going to take years to complete … and probably not look much like the transformation that was initially promised to Toronto taxpayers.  Every time I visit the Square, I expect to see signs of significant construction progress, but never do. While I do notice changes from time to time, I keep getting the distinct impression that the transformation appears to be moving at a snail's pace. Now I know why. In her latest column in Saturday's Globe and Mail, Lisa Rochon says "work has been seriously delayed on the square" because of "petty squabbles" between the contractor and the city — a dispute that could result in a two-year delay costing taxpayers an extra $2.4 million.  (As I noted in my January 11 2011 post, the project was supposed to take only two years, and cost $42.7 million). I highly recommend reading Ms. Rochon's column for further insight and information about the Nathan Phillips Square revitalization and other public space projects in Toronto. In the meantime, I've posted some recent pics of the Square's construction progress (or lack thereof) below. Unless a lot of work and general spring cleaning happens in the next couple of weeks, the Square is destined to look tacky and dumpy throughout the summer tourist season. And that's definitely not a good way to make a positive impression on the hundreds of out-of-town visitors who will pass through the Square each day.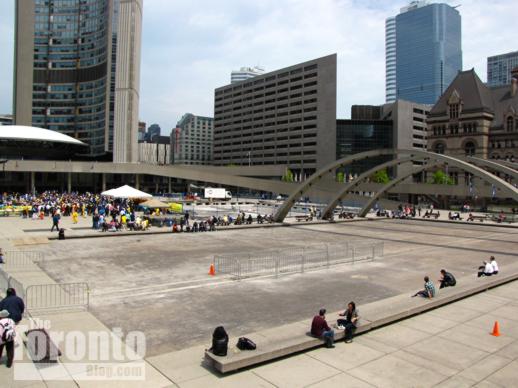 May 13 2011: Without water and operating fountains, the big reflecting pool looks like a large rectangular dustbowl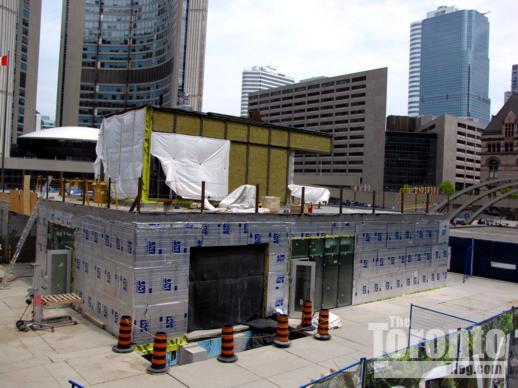 May 13 2011: The new concession stand and skate rental facility was supposed to be finished by the end of last year, but still has a ways to go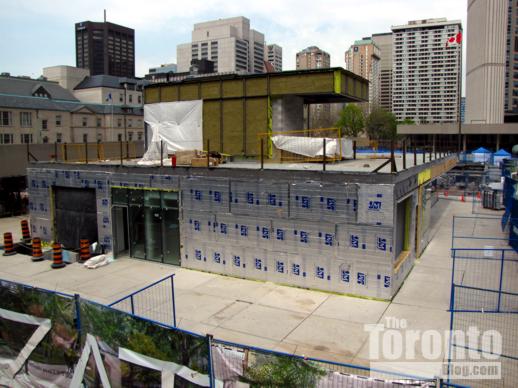 May 13 2011: Another view of the concession building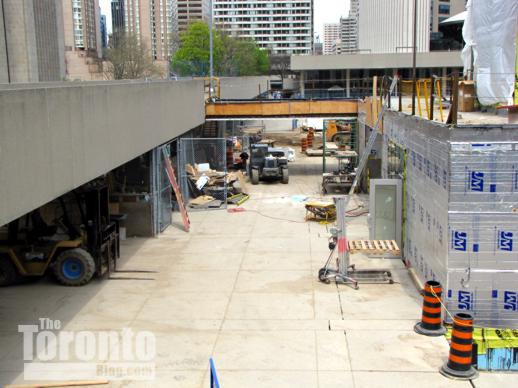 May 13 2011: A view of the bridge being built to link the concession building with the elevated walkway that surrounds Nathan Phillips Square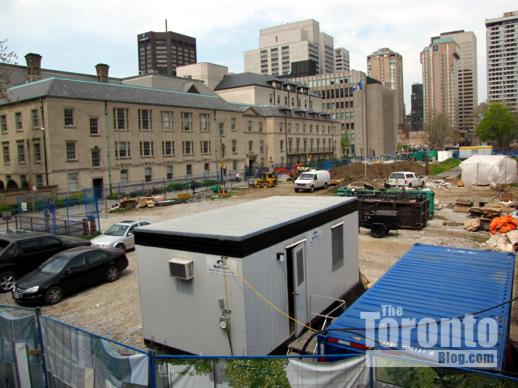 May 13 2011: The west end of the Square next to Osgoode Hall, where the Peace Garden is supposed to be relocated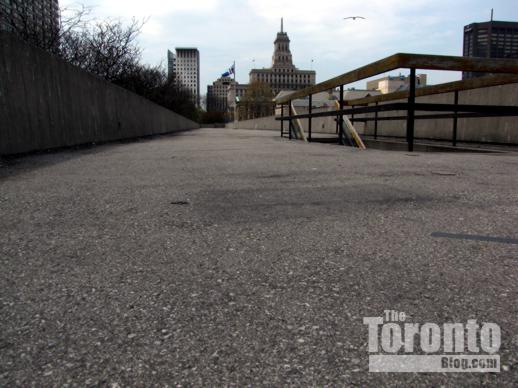 May 13 2011: After being closed all winter, the elevated walkways (and City Hall's green roof park) have re-opened to the public.  The walkways are supposed to get new surfacing and lighting as part of the Nathan Phillips Square revitalization.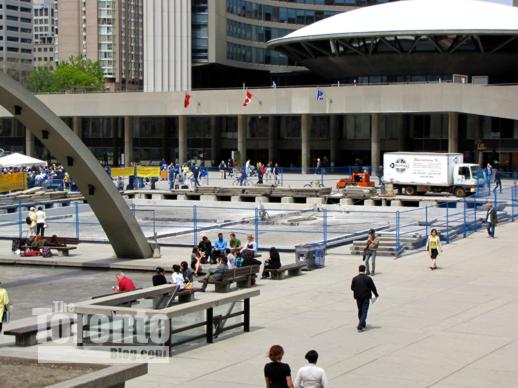 May 13 2011: Another view of the former Peace Garden location, which has been taking months to rebuild as an open section of Nathan Phillips Square