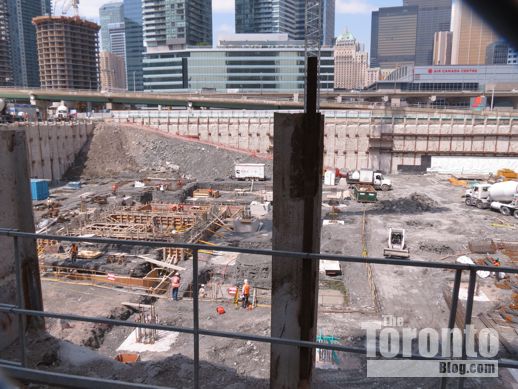 August 15 2012: A view of construction progress on the western two-thirds of the construction site for the 30-storey RBC WaterPark Place tower at 88 Queen's Quay West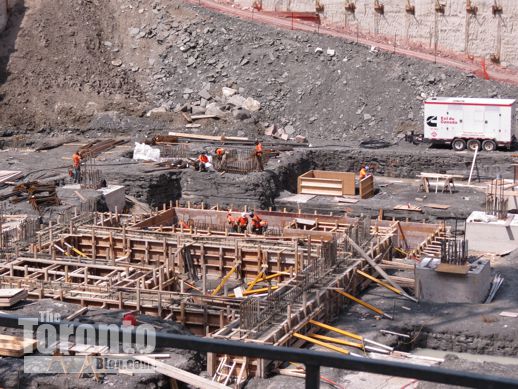 August 15 2012: Building forms near the west end of the pit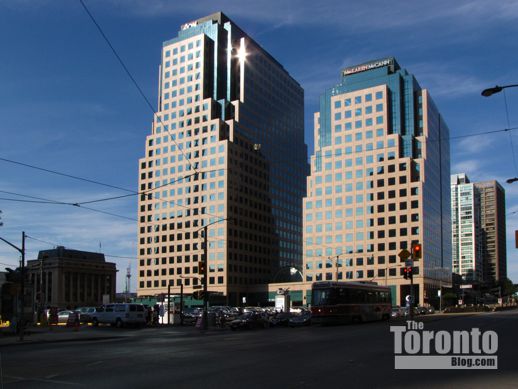 July 3 2011: The tower will rise on the parking lot site west of the 24-storey WaterPark Place 1 tower, built in 1986 (left), and the 18-storey WPP 2 tower, built in 1990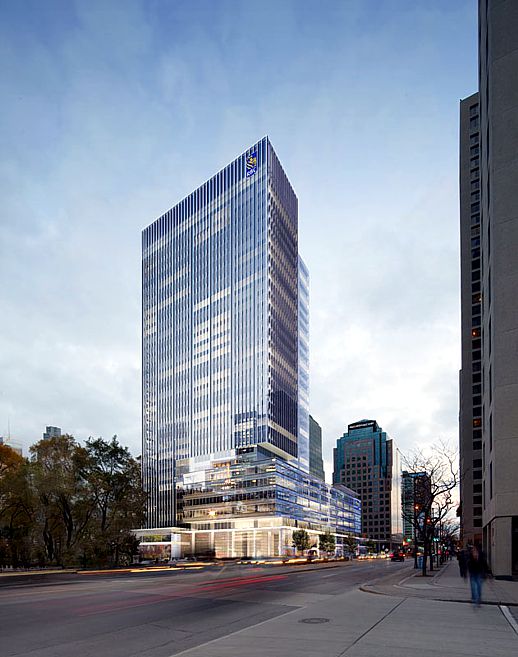 This artistic rendering depicts a southwest street-level view of RBC WaterPark Place from Queen's Quay Blvd. The RBC tower was designed by Toronto's WZMH Architects. The rendering appears on the project webpage for the tower's developer, Oxford Properties.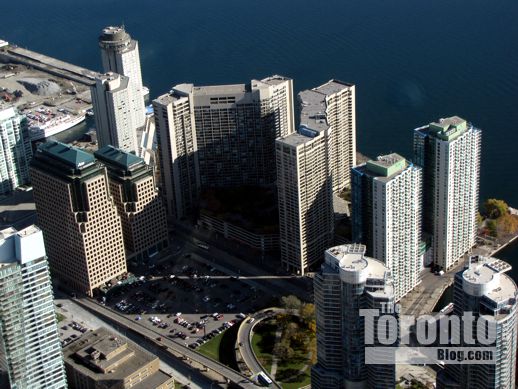 November 2 2010: This photo, taken from the CN Tower, shows the parking lot area where the RBC WaterPark Place tower is currently under construction
New bank tower: Construction crews have been busy laying the foundation this summer for the city's newest downtown bank tower, RBC WaterPark Place.
The 30-storey glass tower, which was designed by Toronto's WZMH Architects, will rise on what used to be a large surface parking lot immediately west of the two granite and glass WaterPark Place towers that have been fixtures at Toronto's Harbourfront area for more than two decades. (The 24-storey WaterPark Place 1 tower was built in 1986, and the 18-storey WaterPark Place 2 tower was built in 1990.)
I recall that when the first two towers were constructed, people were predicting that a third — and possibly even a fourth — highrise would join them within just a few years. But nothing happened during the office building drought that ensued. Now, 22 years later, work is well underway on what will become RBC's national headquarters for Canadian banking operations.
CONTINUED ON PAGE 2