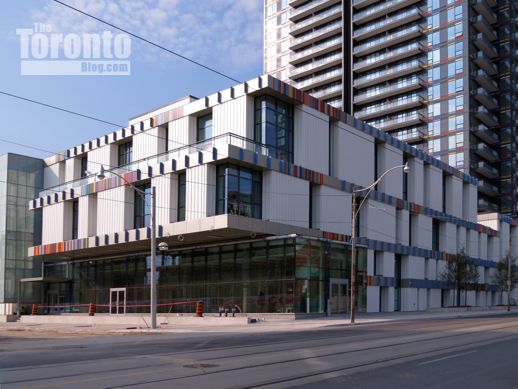 The Daniels Spectrum at 585 Dundas Street East, seen last Friday …
… and again today, sporting its new signage. The Spectrum officially opened with a ribbon cutting ceremony this morning, and will be hosting a public open house on Saturday.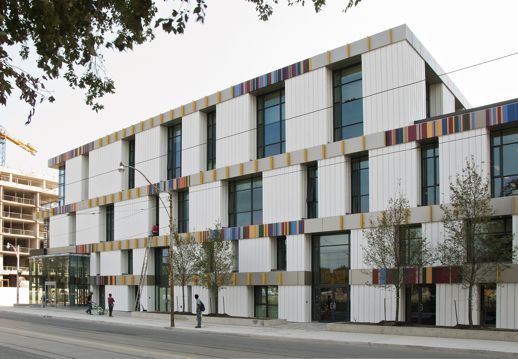 Another Dundas Street view of Daniels Spectrum, this time in a photo provided courtesy of Elizabeth Gyde/Diamond Schmitt Architects
 ~
Great space:  I've been absolutely amazed by the incredible neighbourhood transformation that has been taking place the past several years in Regent Park, where a 15-year revitalization project is gradually rebuilding the east downtown area's 60-year-old social housing development into a completely new mixed-income and mixed-use community.
Though still in early stages of the multi-phase project, the makeover has already given the heart of Regent Park a remarkable look and feel with modern new townhouses, apartment buildings and condo highrises, attractive landscaped streets and public spaces, and bustling retail shops and services. But the official opening today of the impressive new Daniels Spectrum (formerly known as the Regent Park Arts & Cultural Centre, as it was called up until this morning's ribbon-cutting ceremony) is about to add an entirely new dimension of energy and excitement to the neighbourhood.
CONTINUED ON PAGE 2