The colourful Spectrum, designed by Toronto's Diamond Schmitt Architects, is an airy and inspiring space that will be buzzing with creative activity by people of all ages and walks of life seven days a week.
I was invited to join a media tour of the facility last Friday, and admit that I arrived expecting to see a typical community centre of offices, meeting rooms and other functional public gathering spaces. Instead, I was astounded not only by the high-quality, state-of-the-art performance and rehearsal spaces, inviting outdoor terraces, and bright, warm and comfortable indoor gathering areas, but also by the wide variety of arts, culture and innovation organizations that call the Spectrum home, as well as the tremendous range of programming they and other groups will be offering there. And even though construction workers were still putting the finishing touches on many parts of the building, and tenants were busy unpacking and setting up, it already was apparent that the Spectrum will quickly become a vibrant new culture destination in downtown Toronto.
Spectrum is "rooted in Regent Park" but "open to the world"
According to its website, the 60,000-square-foot Spectrum is "a platform for cultural exchange and collaboration" that features programming "rooted in Regent Park and open to the world. It is a place where people come to be inspired, to learn, to share, to create. It showcases artistic talent, acts as an incubator for creativity and a workshop for social and cultural innovation."
Although most of the more than 7,500 residents of the Regent Park area live in social housing, they are rich in culture and talent, thanks to their 56 different countries of origin and the 47 different languages they speak.  Unfortunately, Regent Park hasn't had facilities to nurture and display its residents' immense creativity — until now, with the opening of a brand new arts and cultural centre built specifically for that purpose.
A project more than four years in the making, the Spectrum is owned by Regent Park Arts Development (RPAD), a non-profit corporation created through a joint venture between Toronto Community Housing, Canadian building and development firm The Daniels Corporation, and Artscape, a not-for-profit organization that "makes space for creativity and transforms communities." RPAD is governed a board of directors that includes representatives from all three organizations as well as from the community and the Regent Park Neighbourhood Initiative. Artscape — whose previous projects include multi-tenant arts facilities in the city's Queen Street West, Distillery District, Liberty Village and Toronto Islands neighbourhoods — is in charge of managing the Centre's ongoing operations.
The City of Toronto and Toronto Community Housing contributed the land for the facility. Money for the development and construction of the $38 million Spectrum came from the federal and provincial governments, which each contributed $12 million in infrastructure stimulus funding, plus a fundraising campaign  that secured nearly $10 million dollars in charitable donations by individuals, corporations and foundations.  At its official opening today, the centre was renamed the Daniels Spectrum in appreciation of a $4 million gift from The Daniels Corporation and the John and Myrna Daniels Charitable Foundation.
Each floor designed to reflect a specific theme
The three-level Spectrum was designed by the Diamond Schmitt Architects team of Don Schmitt, Jennifer Mallard, Joseph Troppmann, Adam Staniland, Elcin Unal and Patrick Dormer. Artscape's president and CEO, Tim Jones, told our media tour that the architects were asked to design each floor based upon a specific theme: experience for the ground floor; learning for the 2nd floor, and innovation for the 3rd level.
The ground-level "experience" floor features the Artscape Lounge, a bright glass-walled entrance gallery with a café and a small space for public performances of music, singing and poetry readings as well as art exhibitions. The adjacent South Lobby provides additional and overflow space for larger events.
Next to the lobby is the 6,000-square-foot Ada Slaight Hall, a grand performance and event venue that can accommodate up to 400 people — or be subdivided into three separate rooms for smaller groups. It's equipped with video, sound and lighting systems, and has  retractable seating and a stage. Outside the performance hall, on the south side of the building, is the 4,000-square-foot MDC Partners Courtyard, a terrace that will be used as a performance space. Like the main hall, it has a stage and access to kitchen facilities, so the area can host outdoor dance, theatre and film productions, farmer's markets and the like, or be booked for private events, including weddings, bar mitzvahs or other receptions.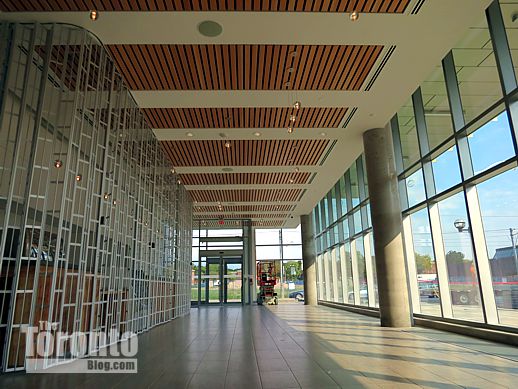 The Spectrum's Dundas Street entrance opens into the light-filled Artscape Lounge, which will have seating for a café, left, and will host small performances and exhibitions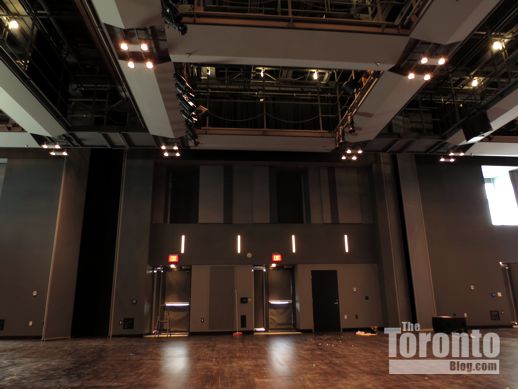 Inside the Ada Slaight Hall, a performance and event venue which can hold up to 400 people as one room, or be subdivided into three separate rooms for smaller gatherings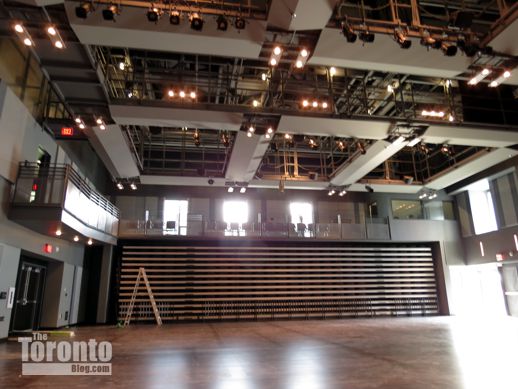 A retractable seating system is built into the hall's east wall; it provides seating for up to 310 people. The floor can accommodate seating for an additional 90 spectators.
The hall boasts state-of-the-art theatre equipment, complete with a full sound, lighting and projection system, an A/V control booth and catwalks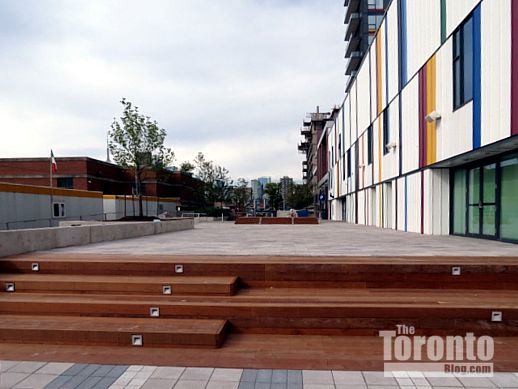 The 4,000-square-foot MDC Partners Courtyard on the south side of the Spectrum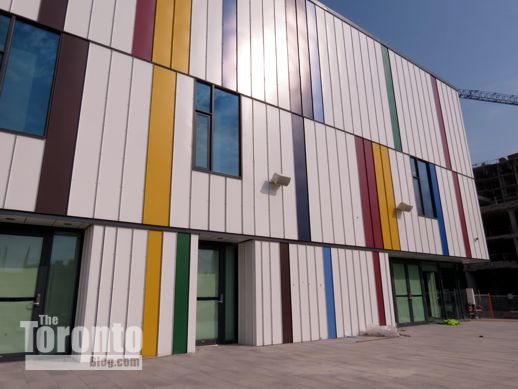 The courtyard has direct access into to the Ada Slaight Hall as well as into the building's kitchen and other service facilities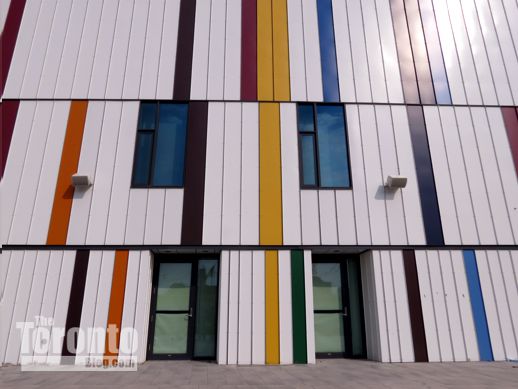 The Spectrum's exterior cladding is comprised of custom-shaped metal siding with multi-coloured accent panels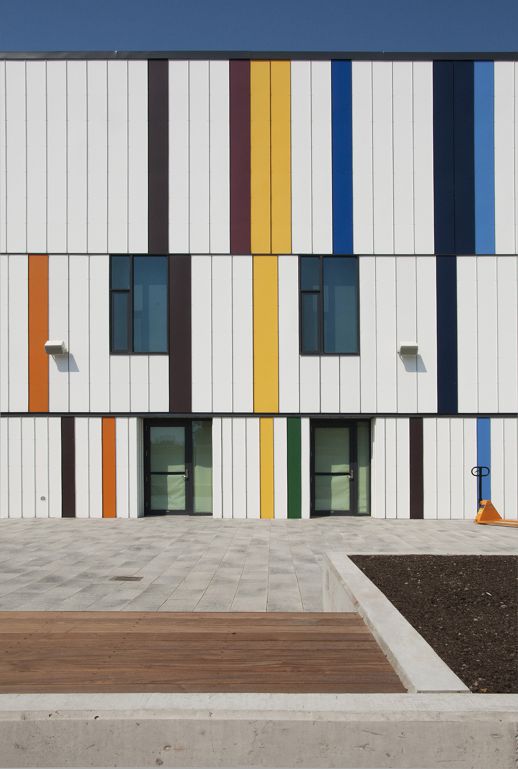 Facade details are evident in this photo by Elizabeth Gyde/Diamond Schmitt Architects.  The architects note that the multi-coloured accent panels, which were "inspired by the flags of the world," are set against "custom-formed white metal siding and a syncopated rhythm of recessed windows."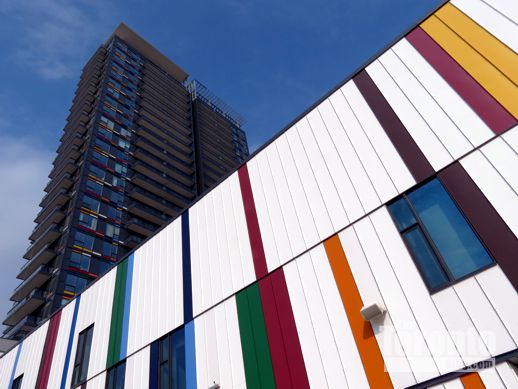 The Spectrum is adjacent to the new Paintbox condominiums, designed by the Diamond Schmitt Architects team of Agnes Kazmierczak, Andreea Scarlat, Tyson Milani, Gerry Lang and Robert Boyd. A project of The Daniels Corporation, the 26-storey tower is completely sold out. It opened for occupancy several months ago.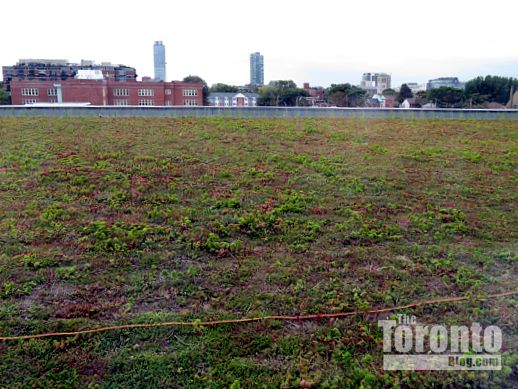 A view of the Spectrum's 1,524-square-meter green roof
Atop the performance hall section of the building is one of the building's numerous environmental features — a large green roof covered in a variety of native plant species. The green roof isn't accessible to the public, but can be seen through windows at the Centre for Social Innovation and other facilities on the third floor.
Architect Jennifer Mallard, one of the Diamond Schmitt team members who worked on the project, told me "The plant material is chosen to survive well in full sun with very little maintenance, however it doesn't do well when walked on. To provide walkways etc. would decrease the area of plant material, thus defeating the environmental benefits of having a green roof. " Moreover, it was the developer's (Daniels) mandate to maximize the green roof area, as required by the city's Green Building Standard. "It's a great contribution to the sustainability story of the development," Ms. Mallard said.
The architects say Spectrum was designed to achieve LEED Gold certification, and boasts other environmental features including "bicycle parking and showers, storm water treatment, high-efficiency HVAC system, heat recovery, occupancy sensors, recycled construction materials, including reclaimed wood from Regent Park, low VOC paint, carpeting and cabinetry and controllable lights and thermostats."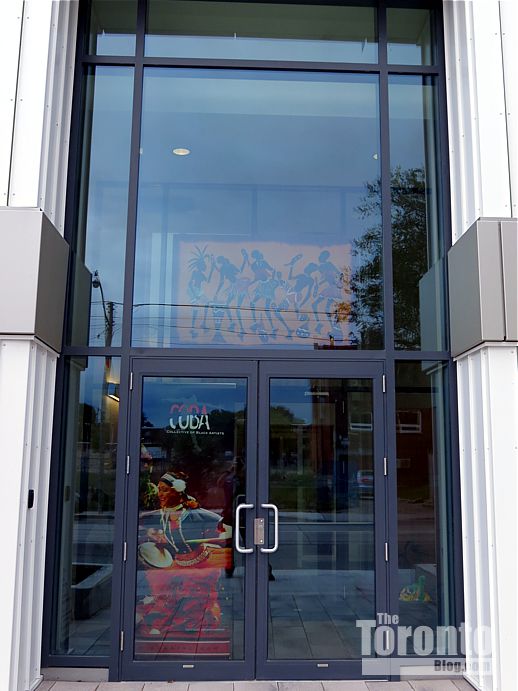 The Dundas Street entrance to the COBA Collective of Black Artists facilities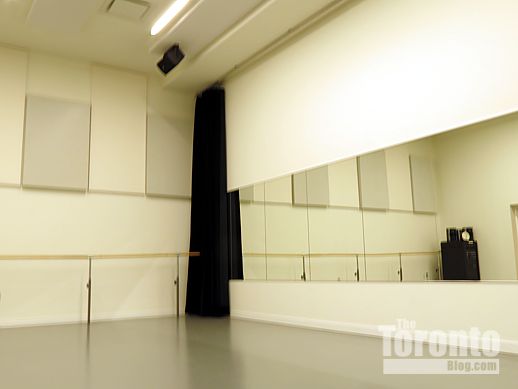 One of two rehearsal studios in the COBA facility. The studios have sound systems, acoustic wall surfaces and special cushioned flooring for the dancers, who train and perform in bare feet. COBA also has its own performance space.
Two tenant groups have studios, rehearsal and performance spaces on the experience floor: COBA Collective of Black Artists and Native Earth Performing Arts. COBA is an organization dedicated to creating and presenting traditional and contemporary dance and music "that celebrate and reflect an Africanist aesthetic." COBA offers a range of classes — from beginner to professional levels — for children and adults alike, in two acoustic studios with cushioned flooring, mirrored walls and sound systems.  COBA also has its own large performance hall. Native Earth is a not-for-profit organization "dedicated to the creating, developing and producing of professional artistic expression of the Aboriginal experience in Canada" through theatre, dance and multi-disciplinary works. Its facilities include the Aki Studio Theatre for Native Earth Performing Arts, a 120-seat "black box" studio with a technical sound and lighting rig and flexible seating arrangements.
Second floor focusses on music, film, art and education
The "learning" floor on the 2nd level has facilities for four tenant organizations: Regent Park School of Music, Regent Park Film Festival, ArtHeart Community Art Centre, and Pathways to Education.
Regent Park School of Music is an organization founded in 1999 that provides "high quality, affordable music education to youth-in-need in Regent Park and other high priority areas in the City of Toronto including Parkdale, Jane & Finch, and Lawrence Heights."
Regent Park Film Festival presents independent films to Regent Park and other communities, hosts an annual film festival (this year's takes place November 7 to 10), and offers "year-round school and community screenings, workshops and discussions at no cost."
ArtHeart Community Art Centre is a 21-year-old community organization that offers free visual arts education and programs to people of all ages living in Regent Park and the surrounding area. According to its website, "ArtHeart uses art as a vehicle to address child poverty, homelessness, lack of employment and mental health issues. ArtHeart fosters the arts in a community that simply can't afford access to making art and being creative." To that end, ArtHeart provides artist supplies and materials free of charge. It even nourishes more than creativity — studio manager Timothy Svirklys takes advantage of the group's new kitchen to cook vegan and vegetarian meals for the centre's clients. "We don't believe in starving artists here," he said, explaining that charitable donations help fund the art supplies and food.
Pathways to Education helps youth complete high school and continue into post-secondary education. As its website notes, "Pathways addresses systemic barriers to education by providing leadership, expertise and a community-based program proven to lower dropout rates. The Pathways program provides a comprehensive set of academic, financial and social supports to youth" and has an spectacular success rate in "reducing high school drop-out rates by as much as 70 per cent, and increasing the rate at which youth go on to college or university by up to 300 per cent."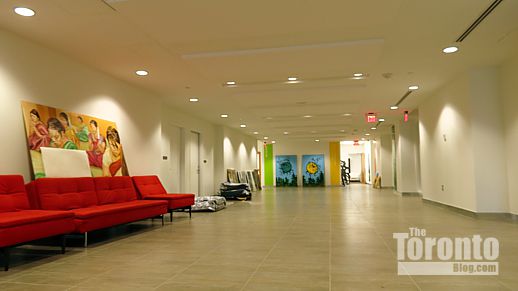 The spacious, long corridor on the Spectrum's second level has a "main street" feel and can be used for multiple purposes. Architect Donald Schmitt says the building's wide corridors, like this one, "act as a gallery, impromptu performance space and a public piazza that facilitates connection among users."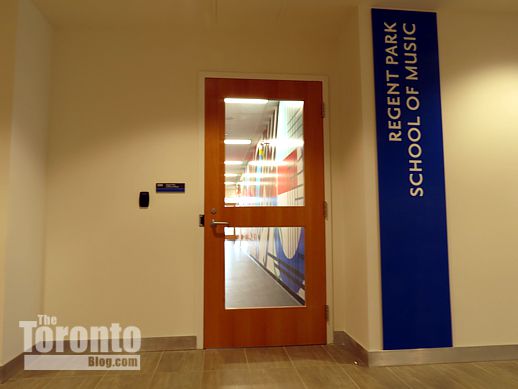 Regent Park School of Music is one of four main tenants occupying the second floor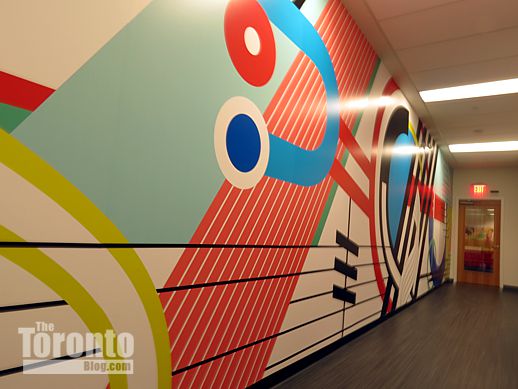 A colourful wall mural in the Regent Park School of Music facilities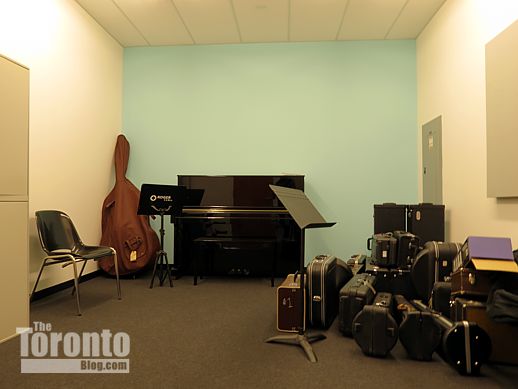 One of the rehearsal rooms in the Regent Park School of Music
The Spectrum's 3rd-floor "innovation" level is home to two tenants: Centre for Social Innovation and Artscape.
Centre for Social Innovation occupies a 10,000-square-foot area that provides work and meeting space for "nonprofits, social enterprises, freelancers, consultants, creative types and other small organizations with a social mission." As mentioned earlier, Artscape is responsible for the day-to-day management of the Spectrum, and also will be developing the centre's programming schedule for 2013.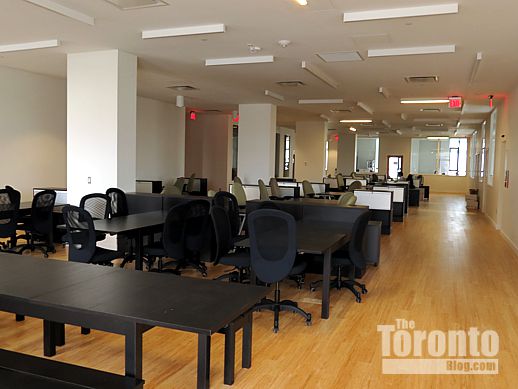 Desks and conference tables in the main work room of the Centre for Social Innovation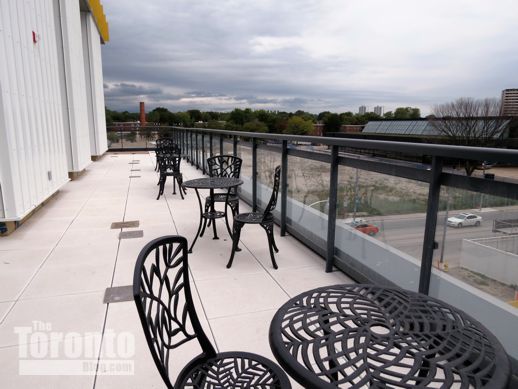 The Centre boasts a long, sun-splashed outdoor terrace on the east side of the building. The patio overlooks the new 6-acre public park under construction on the north side of Dundas Street, as well as the new Regent Park Aquatic Centre which is opening soon (upper right).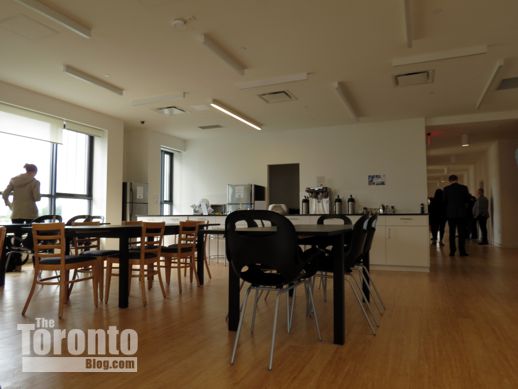 The Centre even has a large open-concept kitchen facility and dining area where tenants can discuss their projects and ideas over coffee or pot-luck luncheons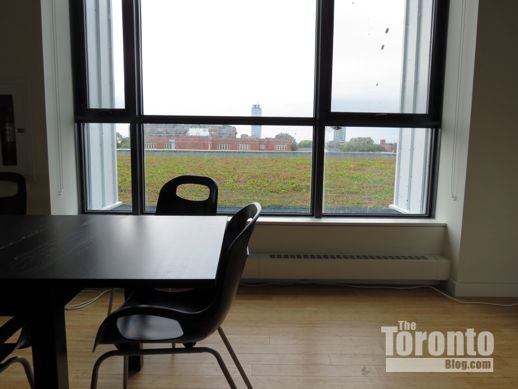 South-facing windows in the social space look across the Spectrum's big green roof
The Daniels Spectrum makes its public debut with an open house from noon to 4 p.m. on Saturday afternoon that will give visitors a chance to explore the building, meet its tenants, and enjoy public performances. That's followed on Sunday by Block-O-Rama, a block party bursting with entertainment, food, games, family fun and workshops from 1 to 9 p.m. Block-O-Rama is a free event hosted by the Spectrum's Youth Subcommittee. Other upcoming events on the centre's packed programming calendar include the Manifesto Festival Art Show and Launch Party tomorrow; the September 28 to 30 Culture Days highlighting Spectrum tenant activities; and "parades of neon and fire, shadow puppetry, interactive music, dance and theatre" during Scotiabank Nuit Blanche on September 29. A calendar with the full schedule of events can be viewed on the Daniels Spectrum webpage.
Prior to the media tour, I didn't have even the slightest inkling that the Daniels Spectrum would be home to so many inspirational and admirable organizations offering so much creative and socially innovative — and important — activity. And while it's colourful on the outside, I had no idea the building's interior would be so striking, with such impressive public areas and work and performance spaces. It's clearly a terrific new addition to the city's arts and culture scene, one that will make Regent Park a must-visit destination for people throughout Toronto and beyond. Kudos to Artscape, Toronto Community Housing, The Daniels Corporation and Diamond Schmitt Architects for bringing the Daniels Spectrum to life!
Below is a link to a 6 1/2-minute video about the Spectrum, followed by photos I shot during different stages of the building's construction.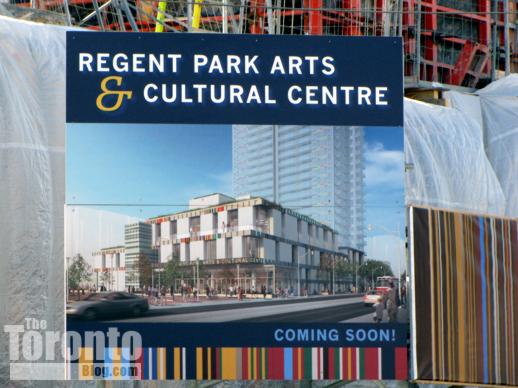 February 15 2011: A rendering of the Diamond Schmitt Architects design appeared on this billboard outside the Daniels Spectrum construction site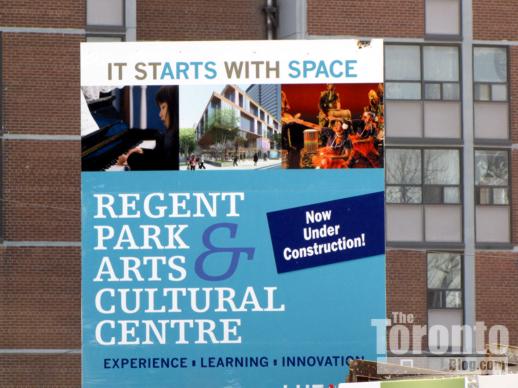 February 15 2011: Another billboard nearby champions the centre's three central themes of experience, learning and innovation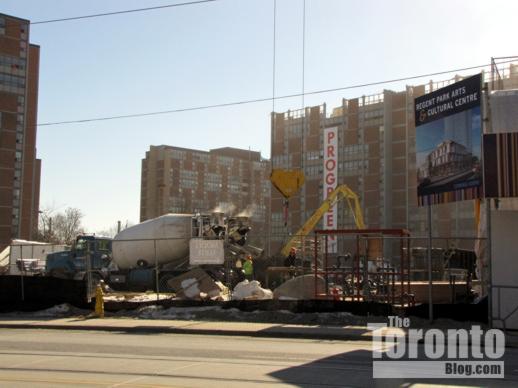 February 15 2011: Construction activity at the east end of the property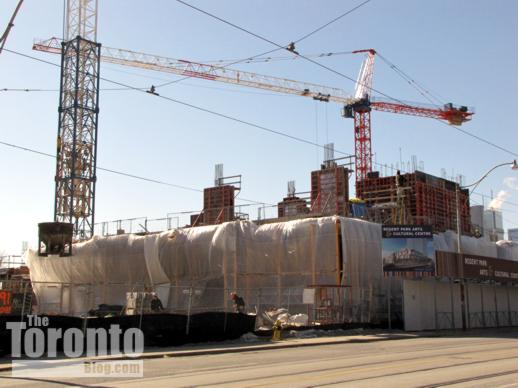 February 15 2011: Looking west along Dundas Street toward the building site, where construction has commenced on the second of three levels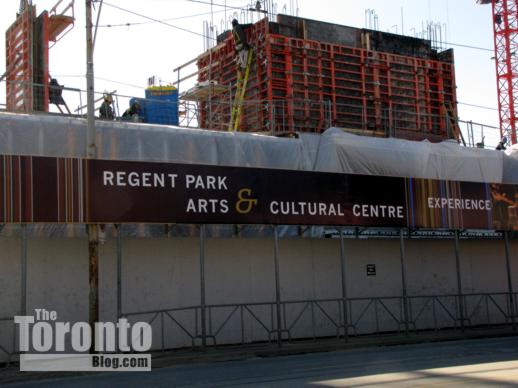 February 15 2011: Construction comes into view above the hoarding along Dundas Street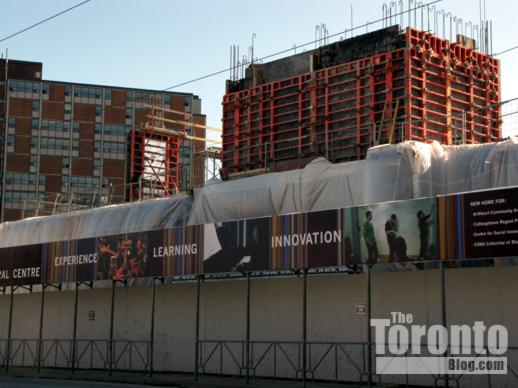 February 15 2011: Another view of construction forms rising above the hoarding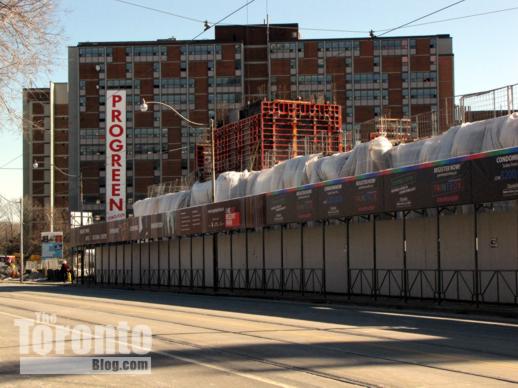 February 15 2011: Looking to the east across Dundas Street at construction progress on the arts and culture centre and the Paintbox condominium highrise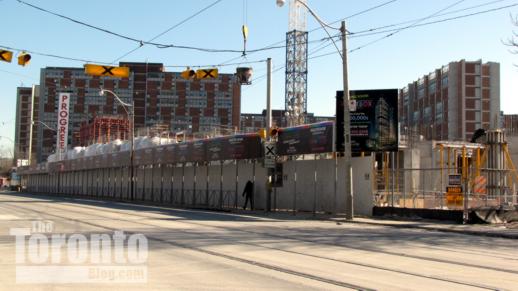 February 15 2011: A view from the west on Dundas Street of the Paintbox condo construction, foreground, and arts and culture centre, rear
June 21 2011: Progress on the arts and culture centre, left, and the Paintbox condo highrise seen from Sumach Street to the northeast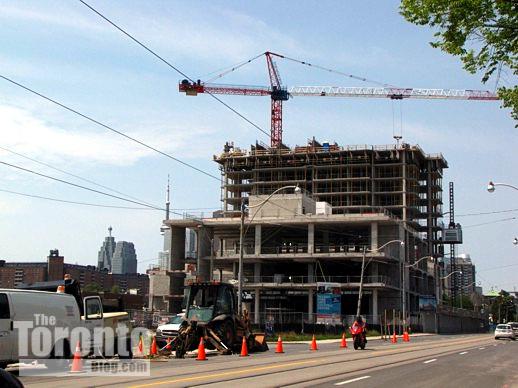 June 21 2011: Construction viewed from the east along Dundas Street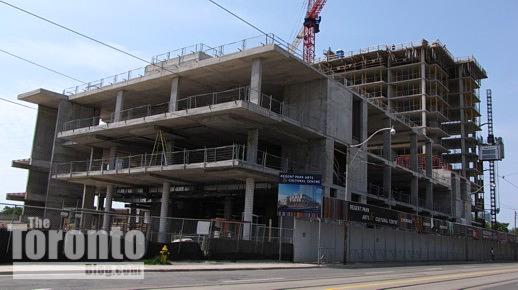 June 21 2011: The building's concrete shell appears to be nearly complete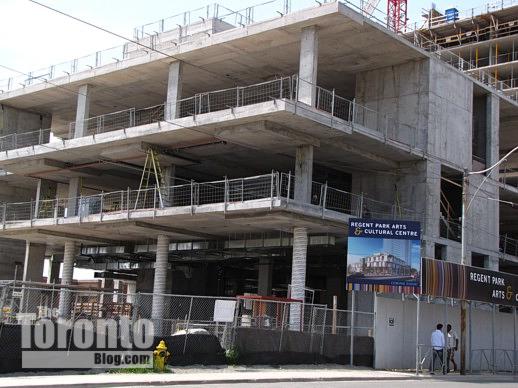 June 21 2011: Dundas Street view of the building's northeast corner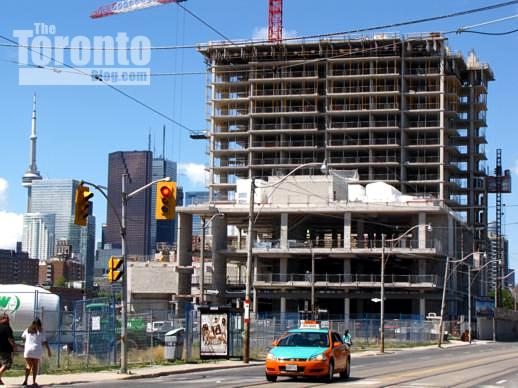 July 13 2011:  Another view of construction progress from the east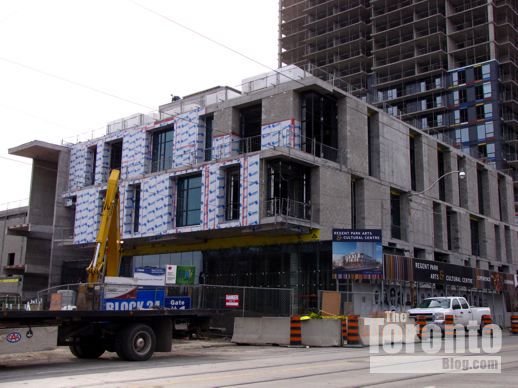 October 31 2011: Building exterior takes shape as window installation commences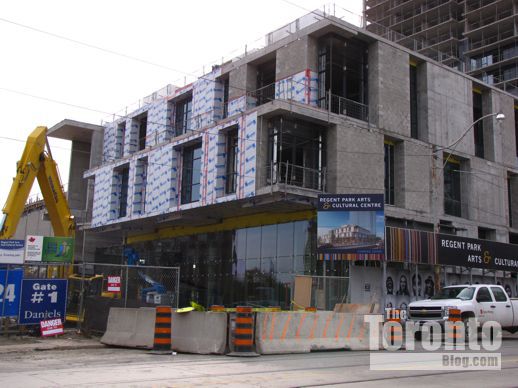 October 31 2011: A closer view of the windows for the entrance and Artscape Lounge at the northeast corner of the centre
October 31 2011: The north facade along Dundas Street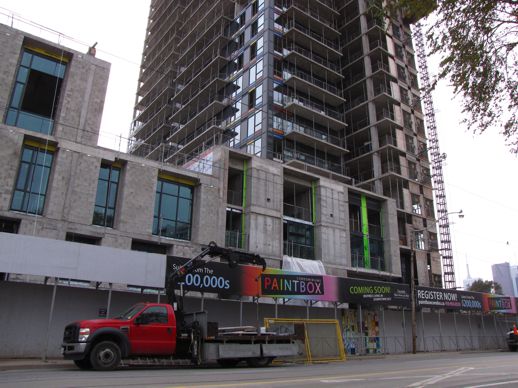 October 31 2011: The west end of the centre and the Paintbox condo tower next door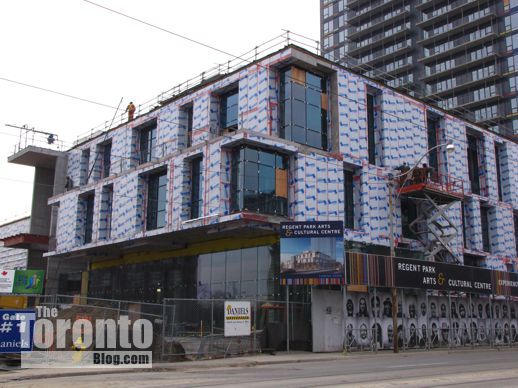 December 13 2011: Windows are all in; insulation is being applied to the exterior walls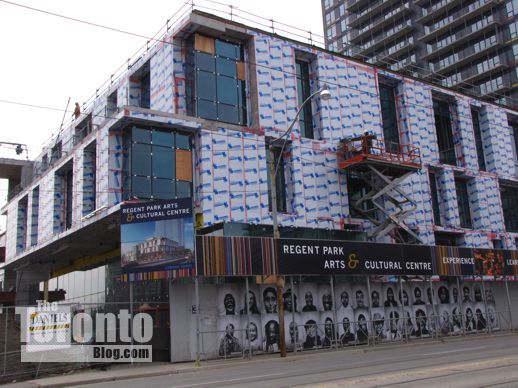 December 13 2011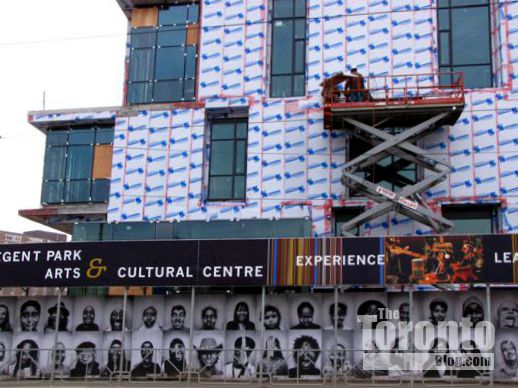 December 13 2011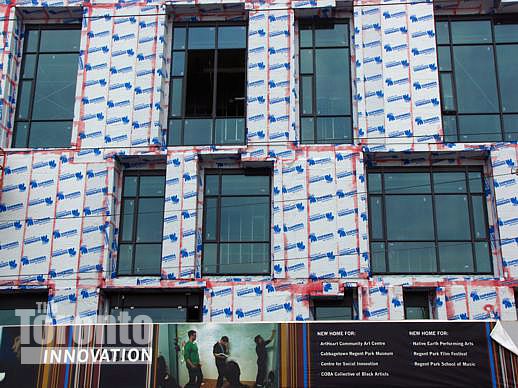 December 13 2011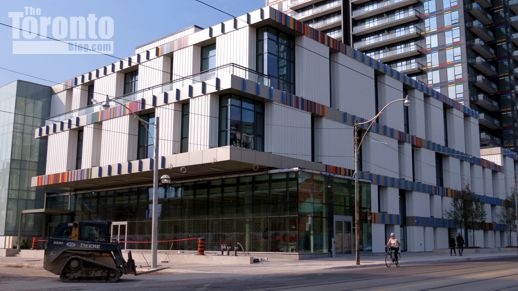 September 14 2012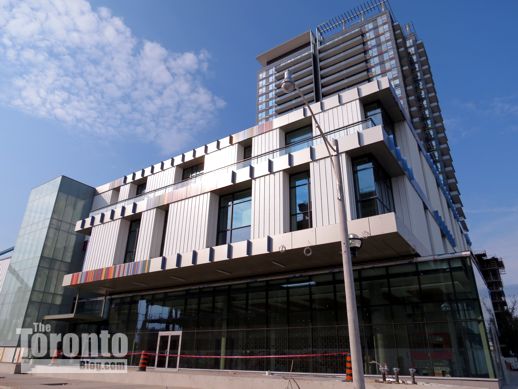 September 14 2012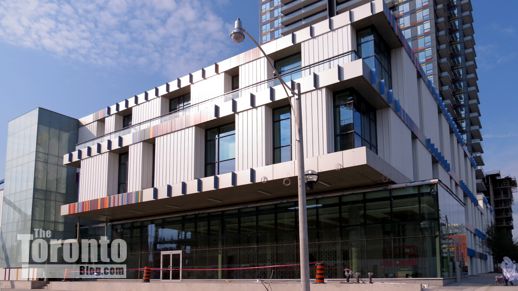 September 14 2012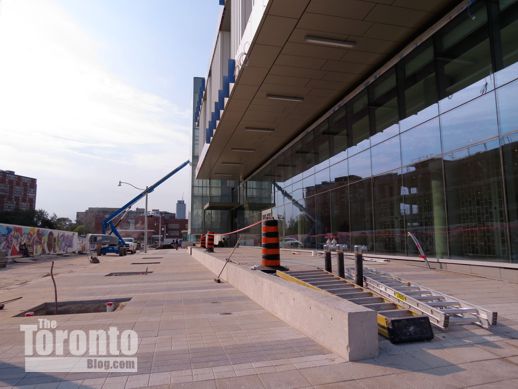 September 14 2012: Landscaping and tree planting is still to come for the sunny stone-paved terrace on the building's east side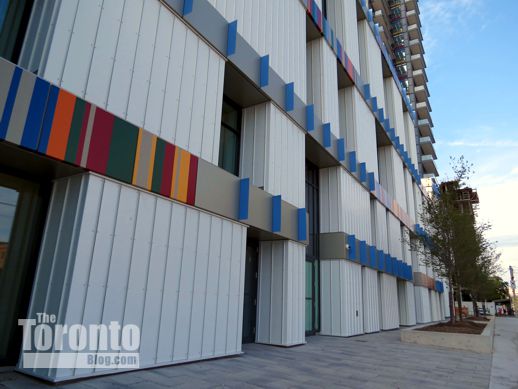 September 14 2012: The north facade along Dundas Street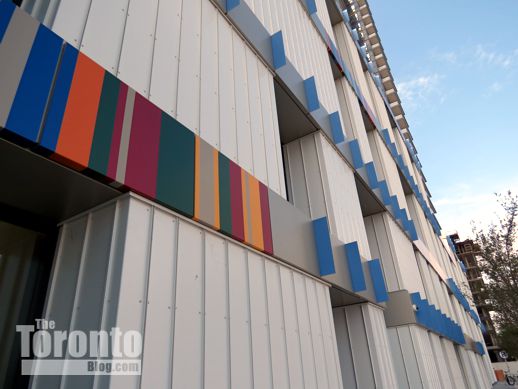 September 14 2012: Another view of the multi-coloured panels on the north facade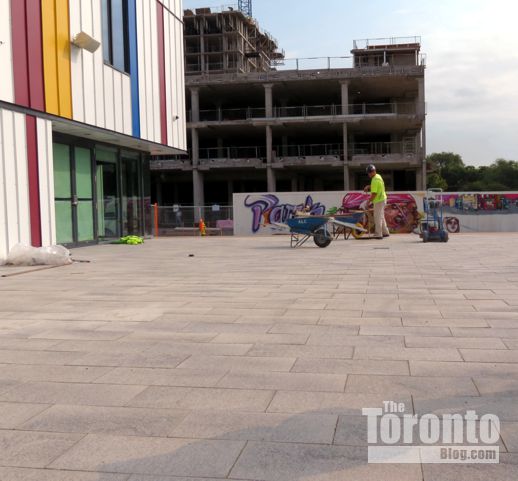 September 14 2012: A member of the construction crew attends to some last-minute details on the MDC Partners Courtyard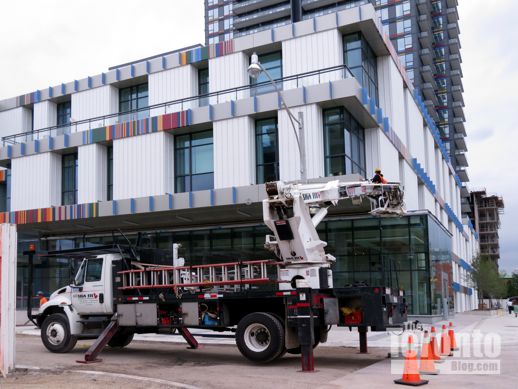 September 14 2012: A crew commences installation of the centre's electronic sign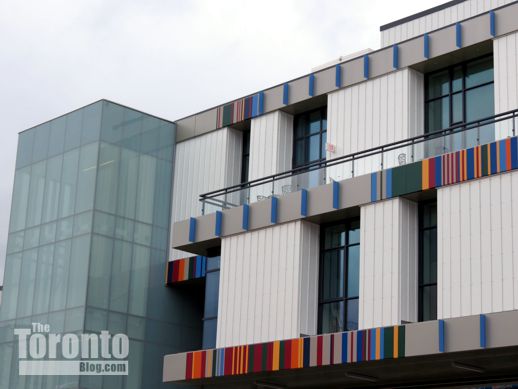 September 14 2012: Looking up toward the long terrace on the third level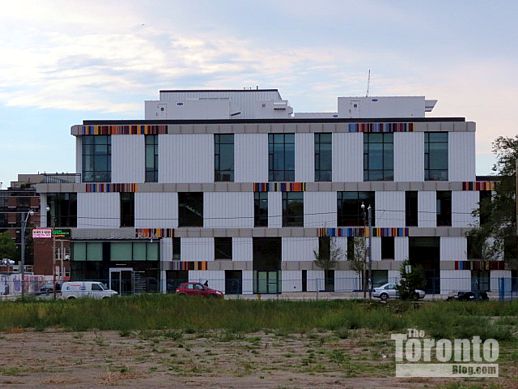 September 20 201: The Daniels Spectrum viewed from the north side of the new 6-acre public park now under construction. The park is scheduled for completion next autumn.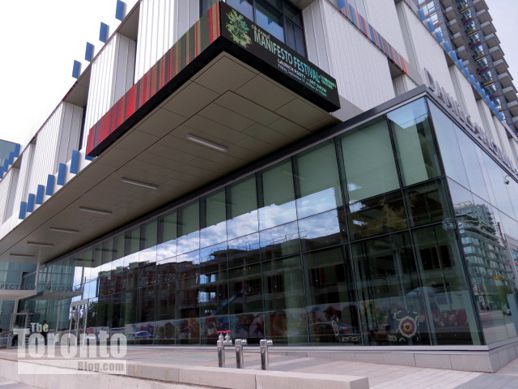 September 20 2012: A colourful electronic sign  calls attention to the building's northeast corner. The Artscape Lounge is behind the long expanse of tall windows.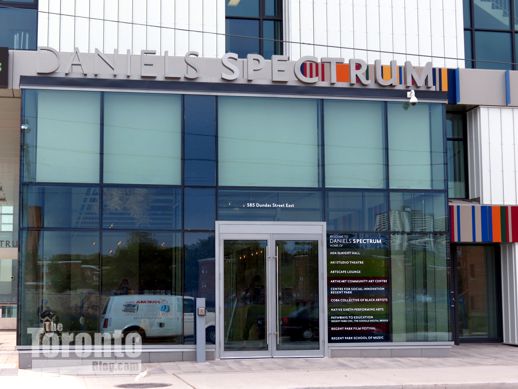 September 20 2012: The main entrance at 585 Dundas Street East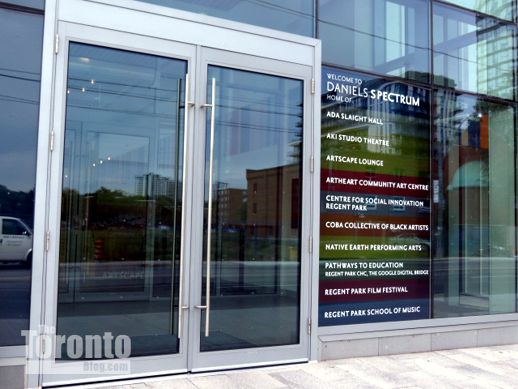 September 20 2012: Tenant and facility listing next to the Spectrum's main entrance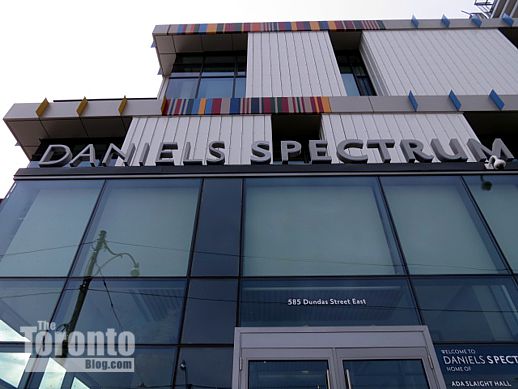 September 20 2012: Daniels Spectrum sign above the main entrance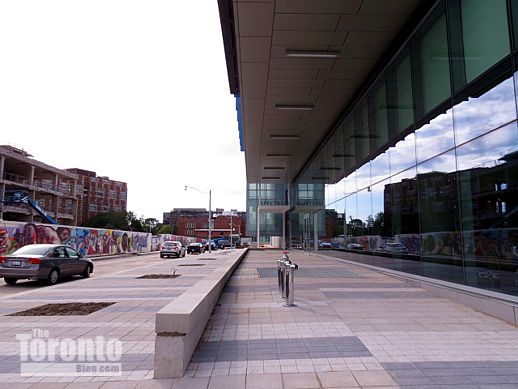 September 20 2012: Street-level view of the building's east side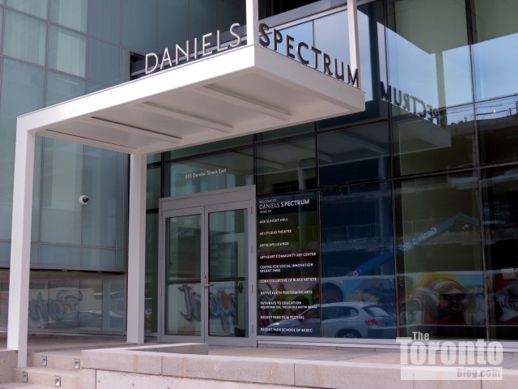 September 20 2012: A secondary entrance on the building's east side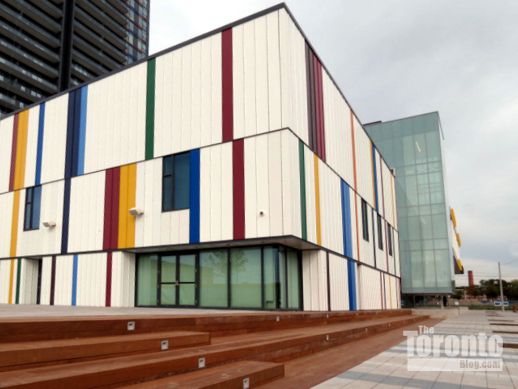 September 20 2012: A view of the building's southeast corner
September 20 2012: The MDC Partners Courtyard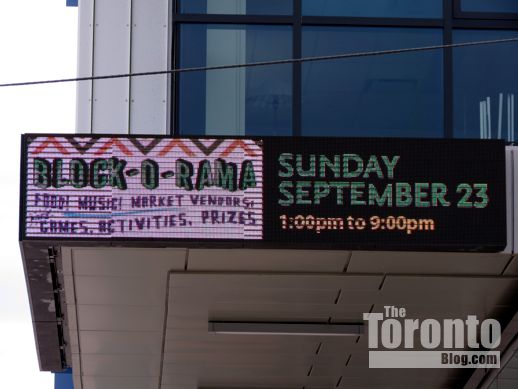 September 20 2012: A Block-O-Rama promotional message on the electronic sign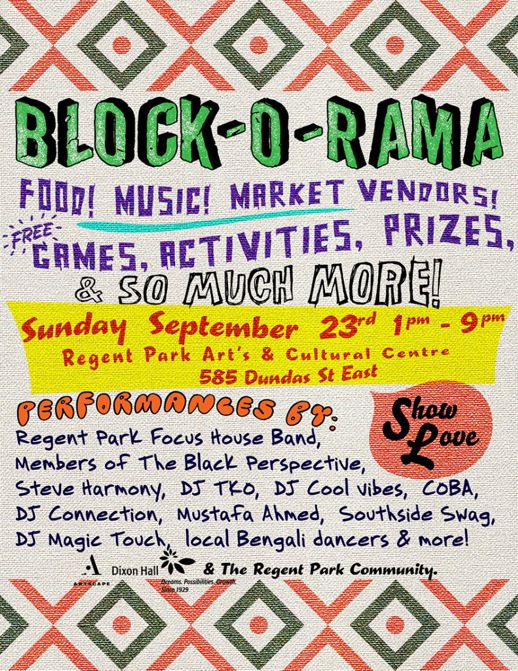 A flyer on the Daniels Spectrum website offers details about the block party