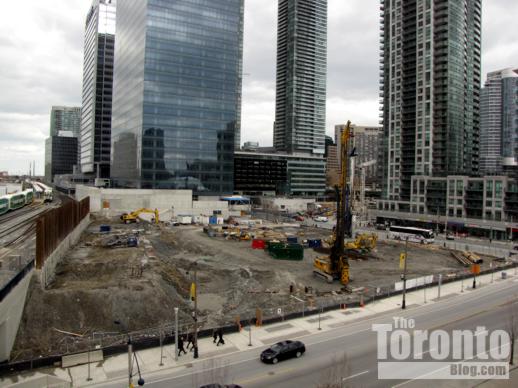 April 21 2011: Pile driving and shoring activity continues as crews prepare the Delta Toronto hotel and Bremner Tower office site for excavation.
Shore thing: The site for downtown Toronto's next new hotel and office tower — part of the Southcore Financial Centre (SFC) at the northwest corner of Bremner Boulevard and Lower Simcoe Street — continues to be prepared for excavation. Drilling rigs have been working on the property since the beginning of this year, installing steel I-beams  to shore up the north side of the site next to the railway tracks. Excavation for the 45-storey Delta Toronto hotel and the 30-storey Bremner Tower office building should commence within a few months. Meanwhile, the 26-storey PricewaterhouseCoopers office building — the first SFC tower to be built — is 86% leased, with occupancy expected to be begin this fall. Below is a rendering from the Southcore Financial Centre website, showing how all three towers will appear once completed, along with a series of photos I took of the construction site on Thursday.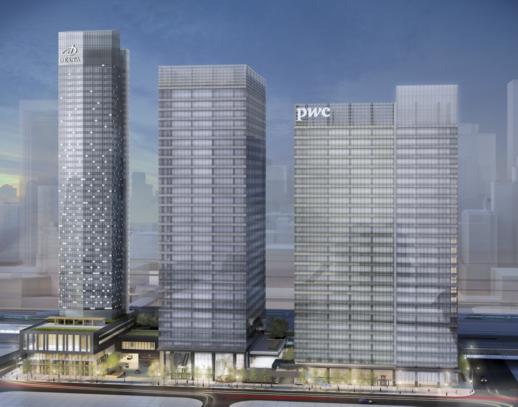 From the SFC website, a south view of the hotel & office towers
April 21 2011: Bremner Boulevard north view of the construction site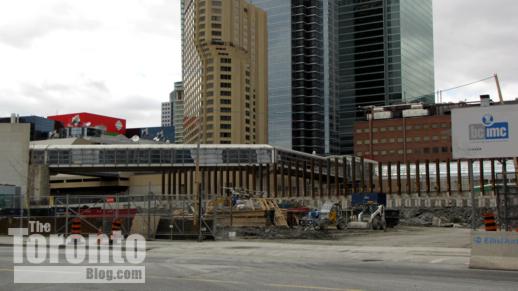 April 21 2011: The site sits south of the railway tracks, and across Lower Simcoe Street from the Toronto Convention Centre (left)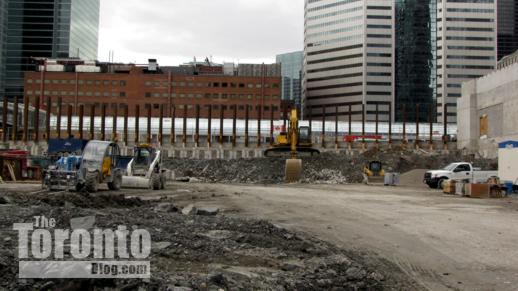 April 21 2011: North view from Bremner Boulevard of the SFC site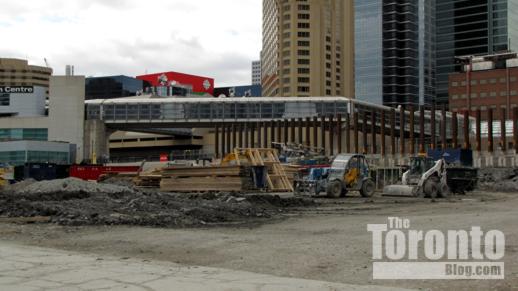 April 21 2011: The west half of the site, along Lower Simcoe Street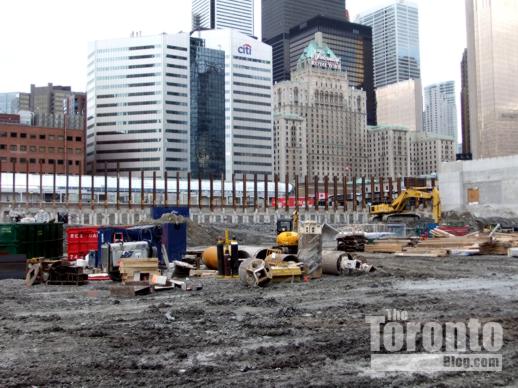 April 21 2011: Northeast view of the construction zone from Bremner Blvd.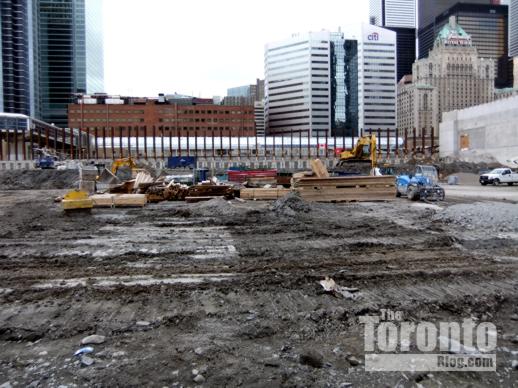 April 21 2011: North view of the construction area from Bremner Blvd.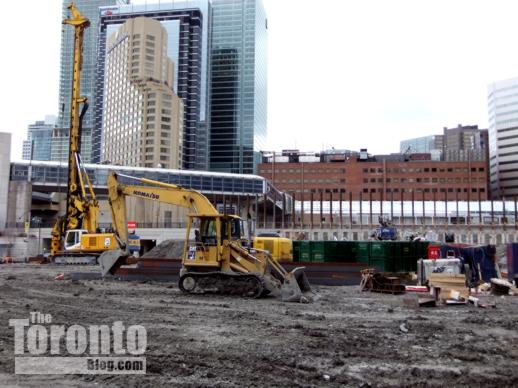 April 21 2011: An excavator and a pile driver on the site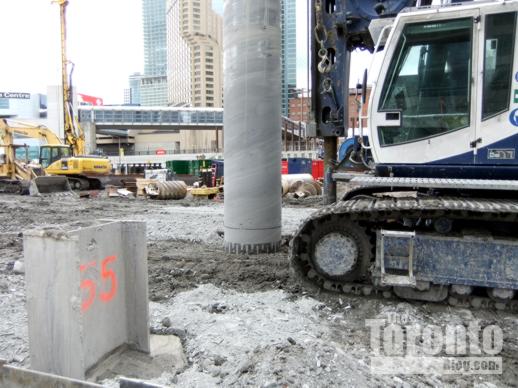 April 21 2011: A steel I-beam sunk into the ground to shore up the south perimeter of the two-tower building site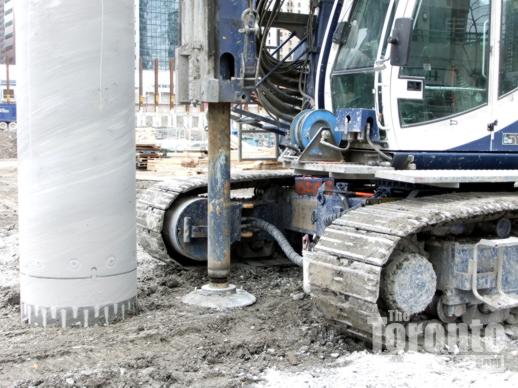 April 21 2011: One of the drilling rigs preparing the site for excavation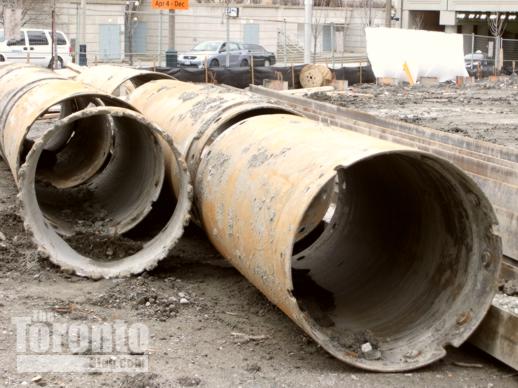 April 21 2011: Drilling rig parts next to a pile of steel I-beams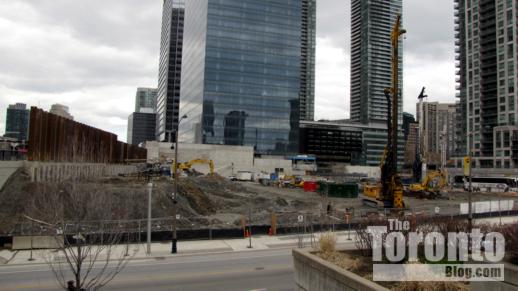 April 21 2011: East view of the Southcore Financial Centre construction site from the Simcoe Street steps to the Toronto Convention Centre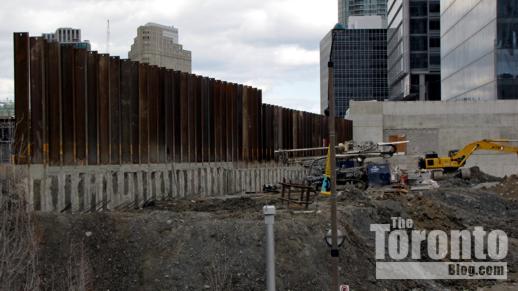 April 21 2011: A view of the row of steel I-beam foundation supports next to the railway tracks at the north end of the construction site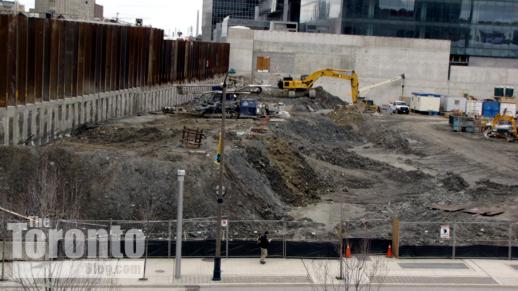 April 21 2011: The north half of the hotel and office tower site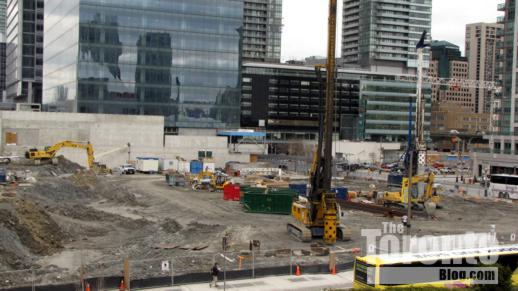 April 21 2011: Pile driving machines near the SE corner of the site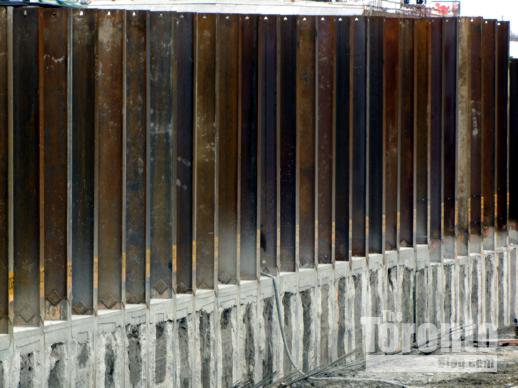 April 21 2011: I-beams along the north side of the property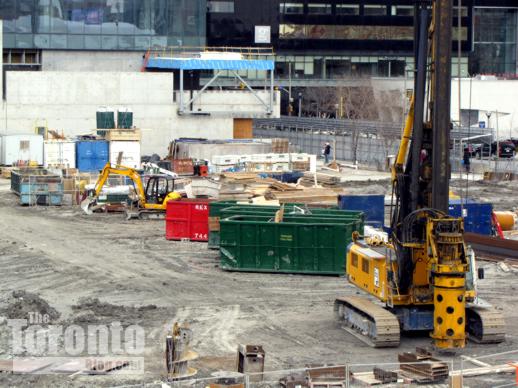 April 21 2011: A pile driving machine on the west side of the site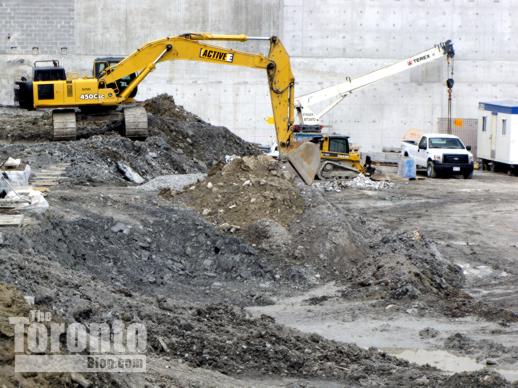 April 21 2011: An excavator digging at the northeast corner of the site