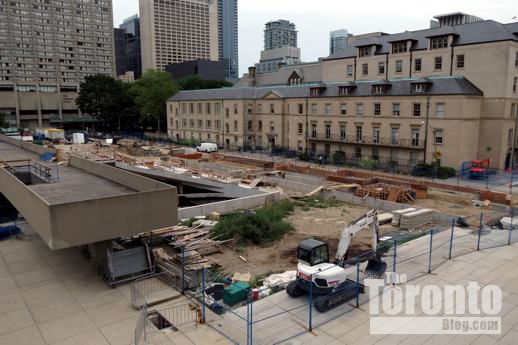 July 19 2011: Construction of the relocated Peace Garden continues along the western flank of Nathan Phillips Square next to Osgoode Hall (right) …
<>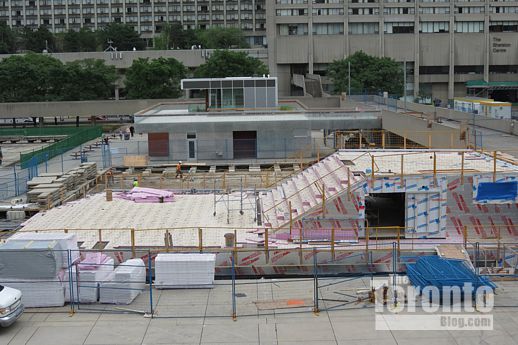 … as does work on a new live performance stage midway between City Hall and the new skate and snack bar pavilion which opened last September (rear).
<>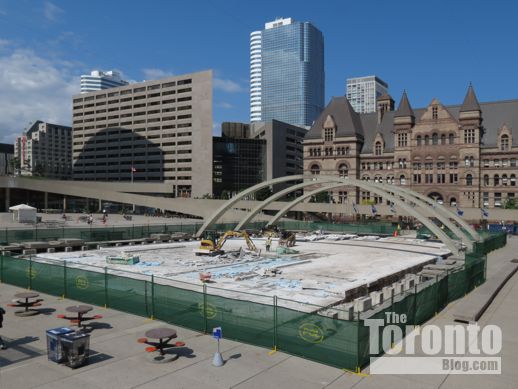 Meanwhile, the reflecting pool will be a dry dustbowl throughout the summer as it receives extensive maintenance work and upgrades…
<>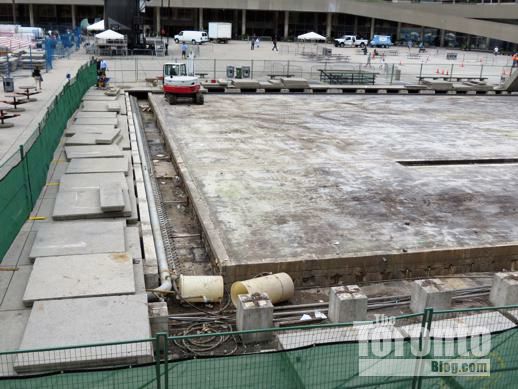 … including repairs to mechanical facilities along the pool's entire perimeter …
<>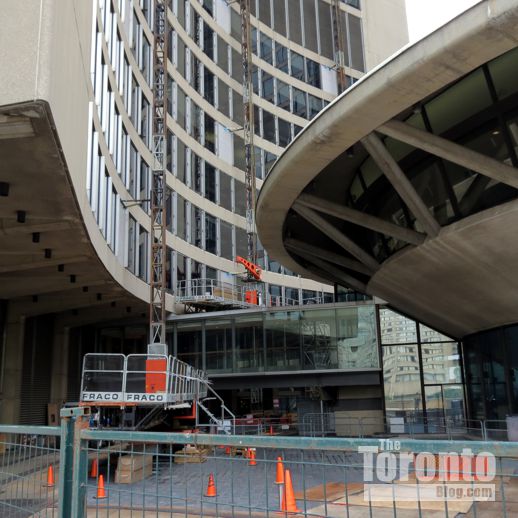 … while window upgrade work continues on City Hall's west tower, seen here July 7 2012. Hundreds of window panes on City Hall's east tower were replaced last year.
<>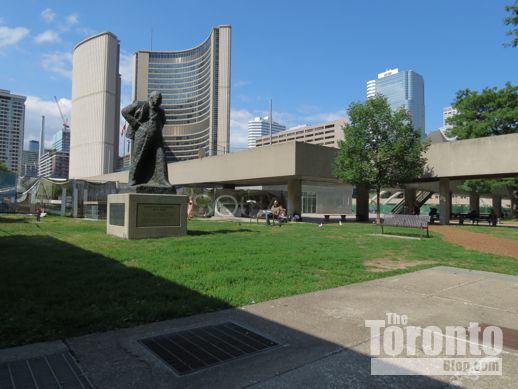 However, a two-level restaurant that was supposed to be constructed at the square's southwest corner won't materialize until some unprojected future time, as part of a third phase of the revitalization project for the 40-year-old square
Slow progress: In recent months a lot of people have been wondering just how much longer downtown Toronto's building boom is going to last.  I keep wondering the same thing about the Nathan Phillips Square Revitalization project at Toronto City Hall.
Like much of the downtown area, Nathan Phillips Square remains a giant construction zone for the third consecutive summer as the $40-million-plus revitalization project drags on, with work gradually progressing on a new theatre/stage facility as well as a relocated and enlarged Peace Garden along the west side of the square.
Extensive maintenance and upgrades have forced the closure of the square's signature reflecting pool/winter skating rink and put another huge section of the square off-limits for months — although that work isn't part of the revitalization plan.
And as if all that isn't enough, this is the second year that work has been in progress to replace the 40-year-old window panes in the iconic City Hall towers.
CONTINUED ON PAGE 2