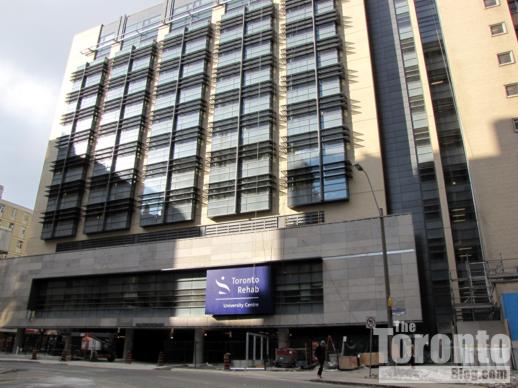 Toronto Rehab's new south wing on Elm Street, seen January 29 2011
Self Improvement: Staff and patients will be moving into the new south wing at TorontoRehab this month, now that construction is winding down on the 13-storey patient care and research facility.
Completion of the building, part of Toronto Rehab's University Centre complex at the corner of University Avenue and Elm Street, is the most outwardly-visible component of an ambitious, multi-million-dollar plan to transform the institution into "an internationally recognized rehabilitation, research and teaching facility." By renewing and redeveloping its patient care, research and education facilities, Toronto Rehab intends to "push the frontiers of rehabilitation science even further, so that we can make a real difference in the lives of the 4.4 million Canadians who live with disability" resulting from illness, injury or aging, its website explains. Total cost of the redevelopment project for the facility, which is publicly owned and controlled, is expected to exceed $180 million.
I have walked past Toronto Rehab countless times — it sits quietly on the west side of "hospital row," directly south of the Mt. Sinai and Princess Margaret Hospitals, and right across the street from SickKids and Toronto General Hospitals. I'm familiar with all those other high-profile institutions, and have been inside each, but I have never once walked through the doors of Toronto Rehab and have never given the place much attention. Quite honestly, I didn't know anything about what goes on inside its walls until I noticed that new walls were being built on the Elm Street portion of its property. (An old, four-floor south wing on the site was demolished to make way for construction.) That's when Toronto Rehab piqued my curiosity, and I learned that it's a leading institution in rehabilitation science, and operates the second-largest rehabilitation research program in North America.
A teaching hospital affiliated with the University of Toronto, it runs innovative inter-professional education programs to teach rehabilitation science to students from across all health disciplines. And it provides extensive rehabilitation care through wide-ranging in- and out-patient programs.
But Toronto Rehab wanted to do more, and do it better, so in 2008 it embarked on a four-year redevelopment plan that resulted in construction of the new south wing. In addition to the new, state-of-the-art rehabilitation hospital building, the redevelopment plan includes renovations to the existing 12-storey east and four-storey north wings, creation of dedicated education space for the students who receive clinical training at Toronto Rehab, and "creation of one of the world's most advanced rehabilitation facilities."
I'm willing to bet you didn't know all of that before, either!
Further information is available on a special Toronto Rehab webpage describing full project details. Below are some of my pics tracking construction of the south wing since 2009.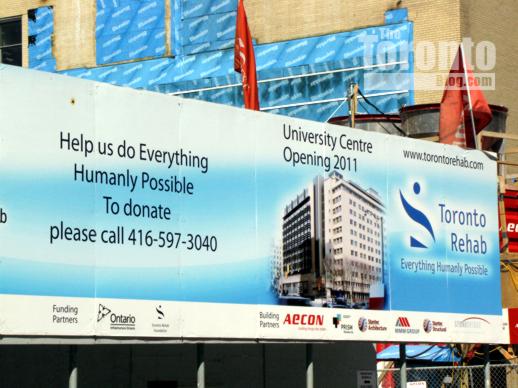 Project sign outside Toronto Rehab building site April 17 2009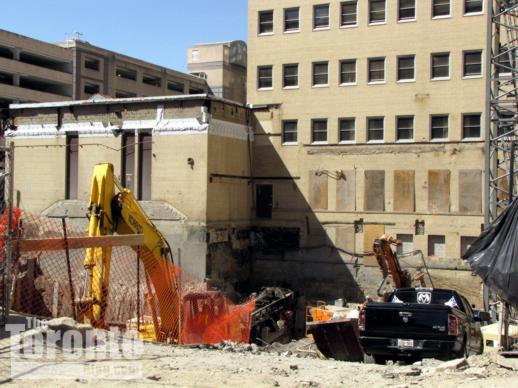 Excavation activity for hospital building extension on April 17 2009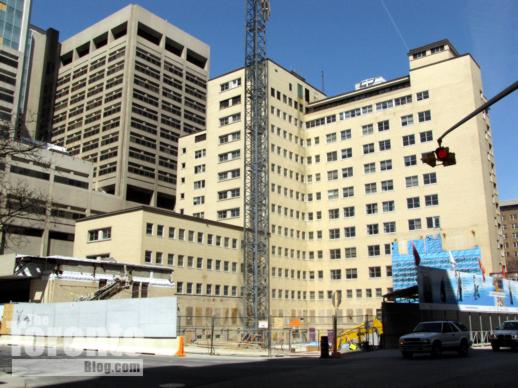 Construction site viewed April 17 2009 from the corner of Elm and Murray Streets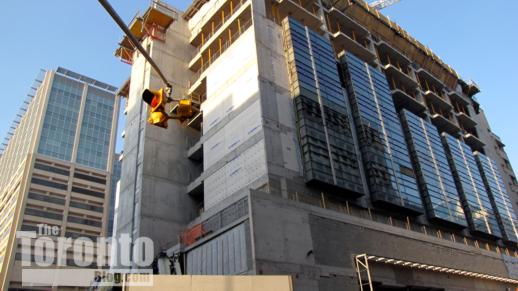 March 9 2010 view from Elm Street of Mt. Sinai hospital (left) and construction progress at the new extension to Toronto Rehab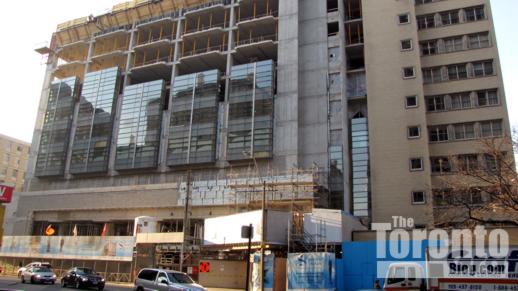 New south wing taking shape on March 9 2010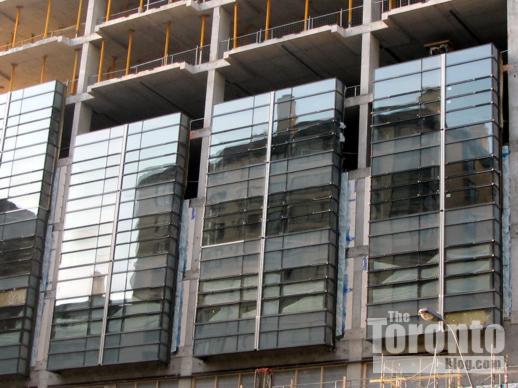 Facade exterior coming together on March 9 2010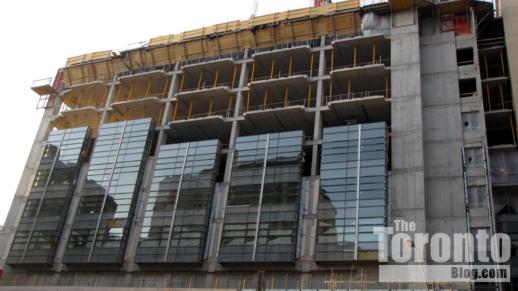 Window installation viewed on March 9 2010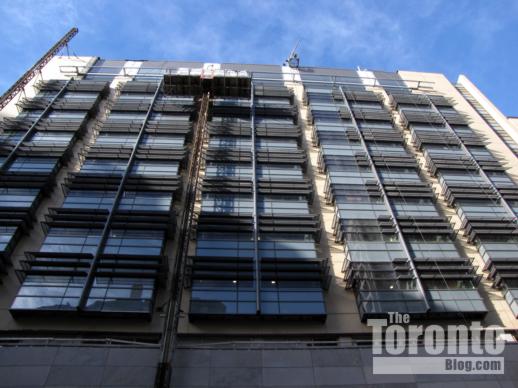 Toronto Rehab Elm Street facade November 2 2011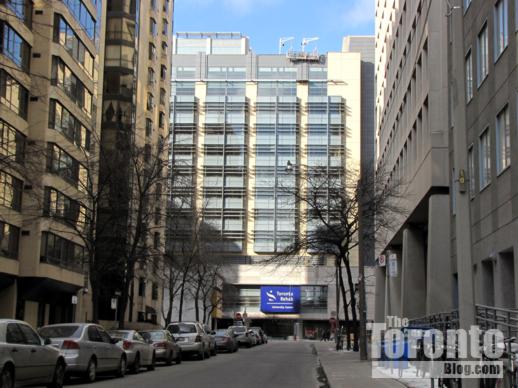 Simcoe Street view of Toronto Rehab's new building on January 30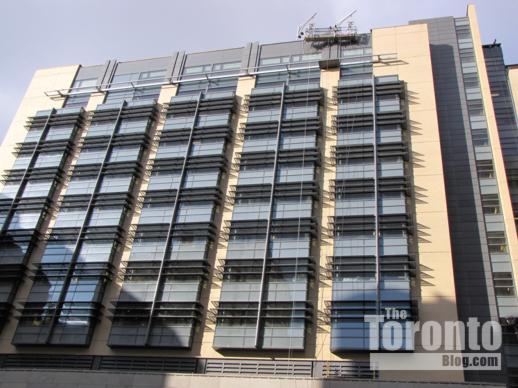 January 30 view of the windows on the new south wing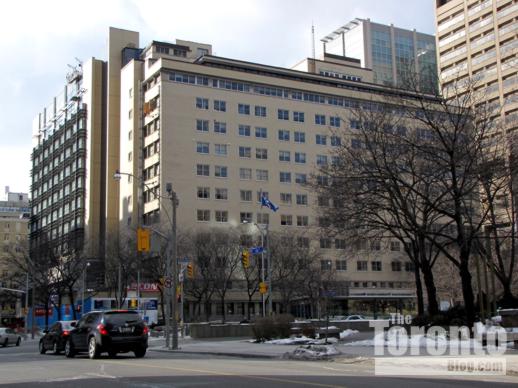 Toronto Rehab viewed from Elm Street, east of University Ave., on January 30