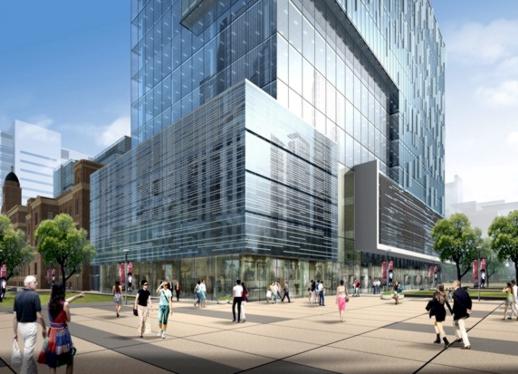 From the MaRS Discovery District website, this rendering by B + H Architects suggests how the 20-storey Phase 2 building will appear to pedestrians at the southeast corner of College Street and University Avenue …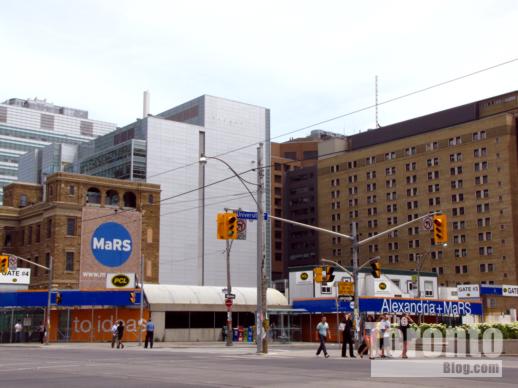 … while this photo from July 27 2011 shows how the building location currently looks when viewed from the northwest corner of the intersection
MaRS relaunch coming: In a sure sign that Toronto is putting the global economic meltdown firmly in the past, construction work will resume next month on the MaRS Discovery District's long-awaited Phase 2 building at the southeast corner of College Street and University Avenue. With 770,000 square feet of rentable building space, the tower will more than double the size of the downtown innovation facility to 1.5 million square feet, "creating Canada's largest science, technology and research centre," the MaRS Centre Phase 2 webpage states.
The 20-storey tower designed by B + H Architects "will be a visual and architectural marvel," the webpage adds, noting that the building will feature "avant-garde glass design" with "thermally broken high-performance unitized aluminum and double-glazed curtain wall with laminated glass accent fins." Inside those glass walls will be "state-of-the-art laboratory and office space" boasting "advanced communications and information technology capabilities." About 60% of the space will be laboratories, with offices occupying the rest.
The Centre will offer a direct connection to Toronto General Hospital next door, as well as to the TTC's Queen's Park subway station. An atrium with a 62-foot-high glazed skylight, stone flooring, and metal mesh and terracotta walls will link it to the adjacent MaRS heritage building and towers while, below ground, the Centre will have a two-level parking garage with dedicated parking spots and showers for cyclists.
The project will cost approximately $344.5 million, create 4,000 construction jobs, and more than double the number of people working at the MaRS Centre — from 2,300 now to 5,000. Construction is expected to commence in mid-August, with completion anticipated for September 2013. The provincial Crown corporation Infrastructure Ontario is giving MaRS a $230 million fully repayable loan to build its new facility, while the balance of the project cost is being borne by MaRS and its strategic partner Alexandria Real Estate Equities, Inc., "the world's leading life science developer and owner." Leases have been signed with two key tenants: the Ontario Institute for Cancer Research, which already has space in the South MaRS tower, and Public Health Ontario, which will move its central lab into the premises.
The return of construction cranes and workers to the site next month will cheer architecture and building buffs who've been anxious to see work resume on the Phase 2 tower. Construction had reached ground level when the global economic crisis struck in 2008, bringing work on the tower to a complete halt by November of that year. Many building enthusiasts were worried that completion of the partly-built structure could be delayed indefinitely, like the former Bay Adelaide Centre "stump" that sat as an eyesore in Toronto's Financial District for 15 years. Things appeared hopeful in January when an online news story suggested that an announcement about a construction restart might be made sometime during the winter (for more details about that revelation, see my February 17 2011 post).  Although the announcement took several months longer than expected, architecture afficionados will be thrilled to watch once again when work continues on a new landmark building at the College & University corner.
Below are two more renderings by B + H Architects, along with several photos I shot yesterday of the Phase 2 building site. Extensive information about MaRS is available at this page on the Centre's website.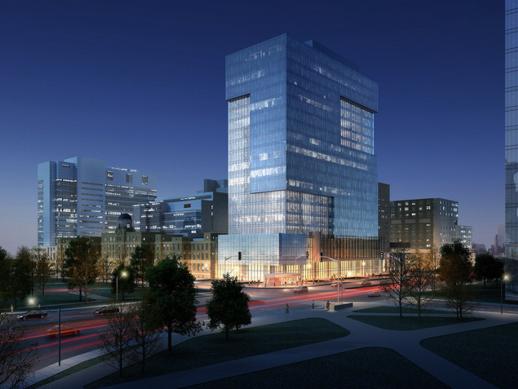 This rendering by B + H Architects appears on the MaRS Discovery District website. It suggests how the Phase 2 building could look at night when viewed from the University of Toronto campus to the northwest …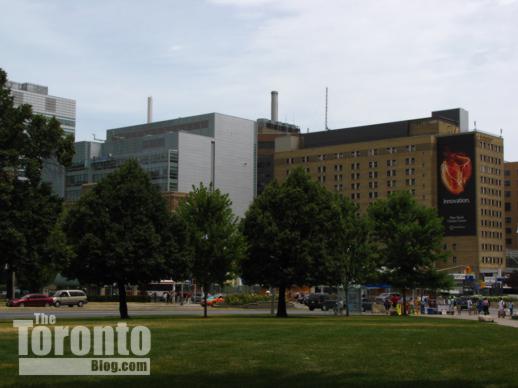 … while this photo shows how the Phase 2 building location looked yesterday when viewed from the U of T campus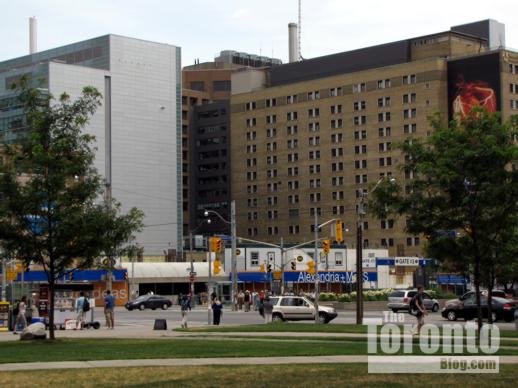 July 27 2011: A view of the building site, looking southeast from U of T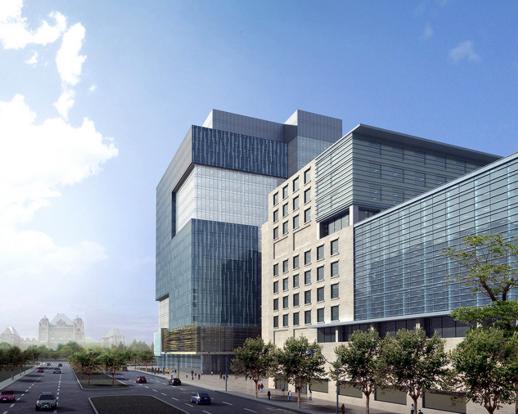 Another B + H Architects rendering from the Mars Discovery District website. It depicts the Phase 2 building viewed from the south on University Avenue …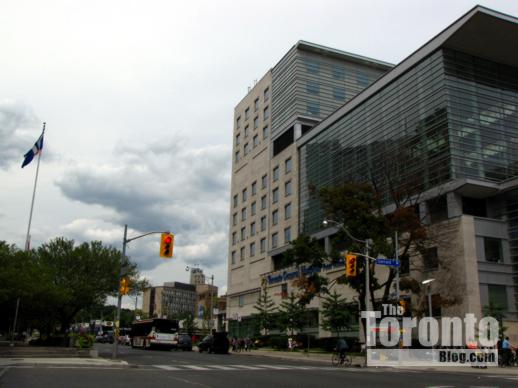 … while this photo from yesterday afternoon shows the Toronto General Hospital's Clinical Services Building before construction resumes on its new neighbour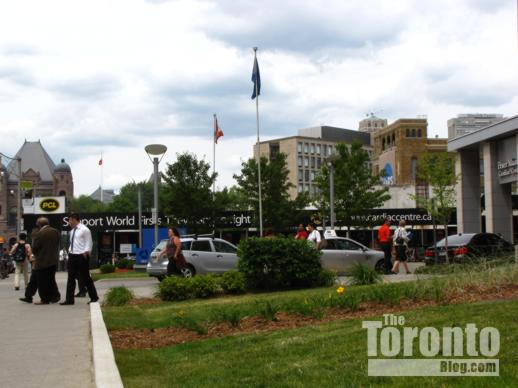 July 27 2011:  Hoarding around the Phase 2 building site is visible from the sidewalk outside Toronto General Hospital's 585 University Avenue entrance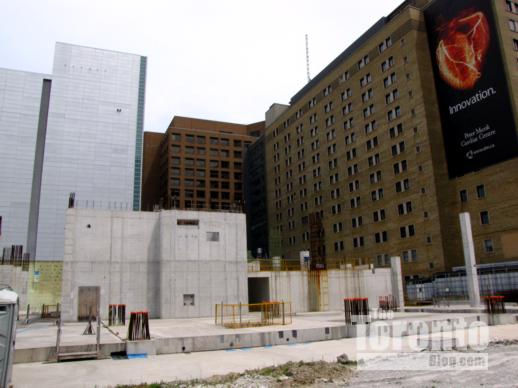 July 27 2011: This "stump" shows how far construction had progressed by the time work on the Phase 2 project was halted in 2008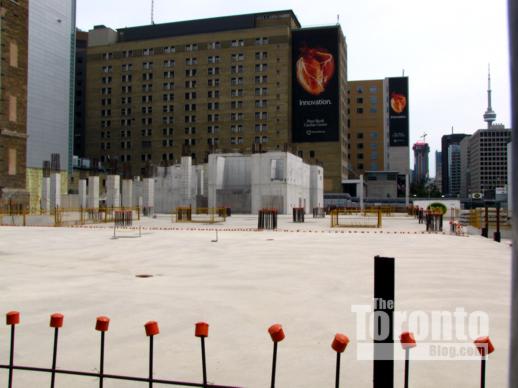 July 27 2011: College Street view of the partially completed MaRS Phase 2 building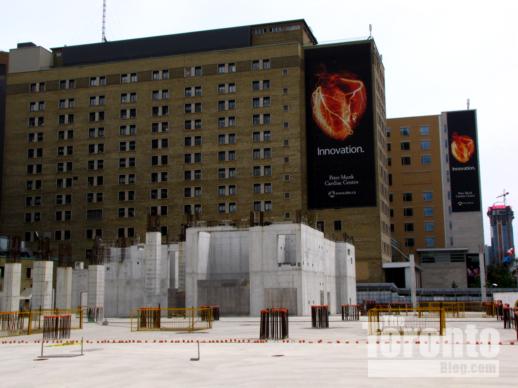 July 27 2011: Another view of the "stump," this time from College Street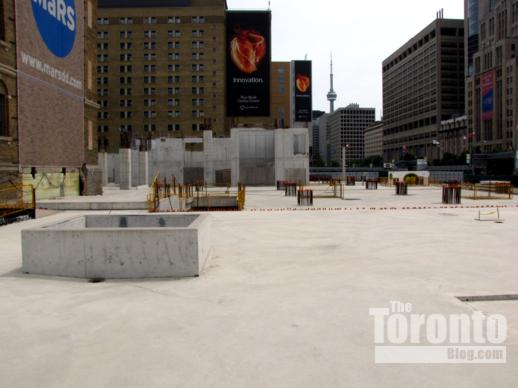 July 27 2011: Previous construction progress viewed from the northeast