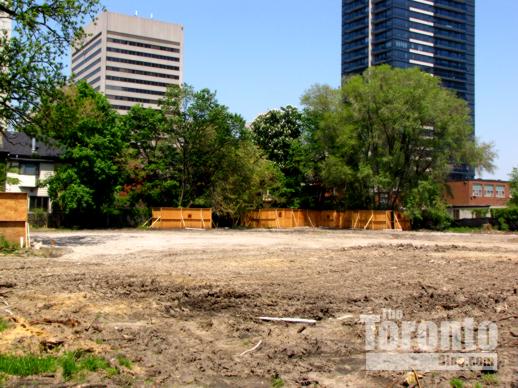 May 31 2011: 15 Huntley Street is just one large empty lot …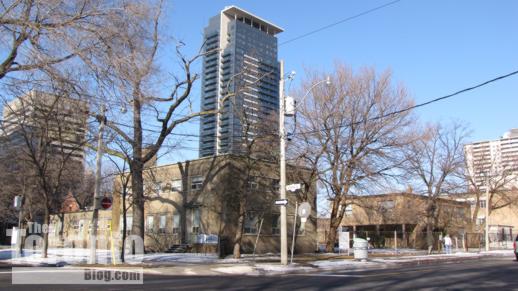 … now that the low-rise brick buildings that formerly occupied the site — seen here on February 28 2011 — have been completely demolished…
… to make way for new offices for the Elementary Teachers' Federation of Ontario, depicted in this rendering provided courtesy of KPMB Architects
All clear: A large empty lot sits at the northeast corner of Huntley and Isabella Streets, now that derelict buildings once occupied by the Children's Aid Society of Toronto have been removed from the property. The demolition paves the way for construction to commence this summer on a new office building for the Elementary Teachers' Federation of Ontario (ETFO).
Designed by KPMB Architects of Toronto, the ETFO headquarters will stand four storeys (20 metres) tall and have one level of underground parking, accessed from Isabella Street on the southeast side of the property.  Designed to achieve LEED (Leadership in Energy & Environmental Design) certification, the building will boast several exterior deck areas plus an extensive green roof that will provide insulation as well as storm water management. "We tried to have as much green roof as possible," Kael Opie, the ETFO project architect at KPMB, told a meeting of the Upper Jarvis Neighbourhood Association this week. The north side of the building has been terraced to minimize shadow impact on nearby homes, he added, while "aggressive landscaping" will include the planting of many new trees to help the new building blend into the neighbourhood. (Several mature trees had to be destroyed to allow construction of the ETFO headquarters; however, the northwest corner of the building was specifically designed to preserve one large black walnut tree, as indicated in the architectural rendering above, and new plantings will far outnumber the trees that had to be removed).
Surveyors have been on site this week determining where any service infrastructure — such as water, gas and hydro lines — might be situated on the property. In about two weeks' time, machines will begin drilling "soldier piles" on the property, and site excavation should commence about three weeks later. The construction crane is expected to be installed in early August, and project completion is anticipated for the end of January in 2013. More project details, along with photos of the old CAS buildings both before and during demolition, are outlined in my May 9 2011 post. Below is another KPMB Architects rendering of the new ETFO building, along with a few more pics I took yesterday of the cleared lot on which it will be constructed.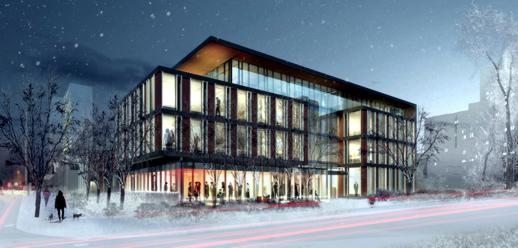 A southwest view of the new ETFO office building is depicted in this rendering provided courtesy of KPMB Architects of Toronto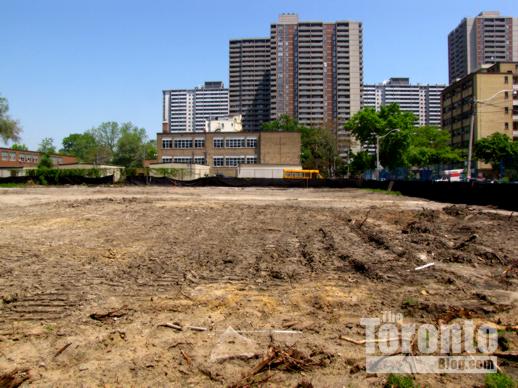 May 31 2011: East view from Huntley Street of the ETFO building site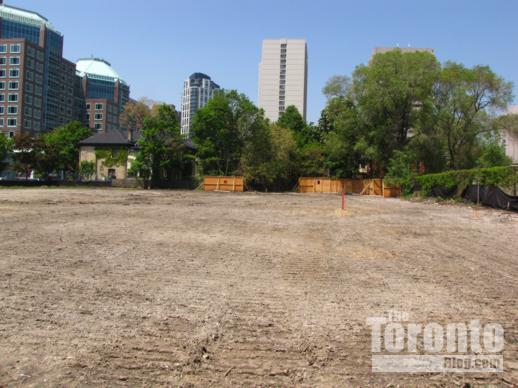 May 31 2011: North view from Isabella Street of the ETFO building site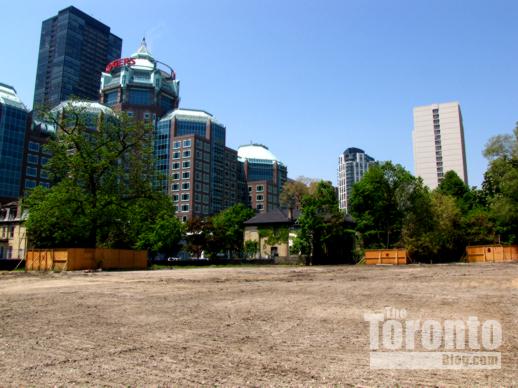 May 31 2011: Northwest view from Isabella Street of the ETFO building site