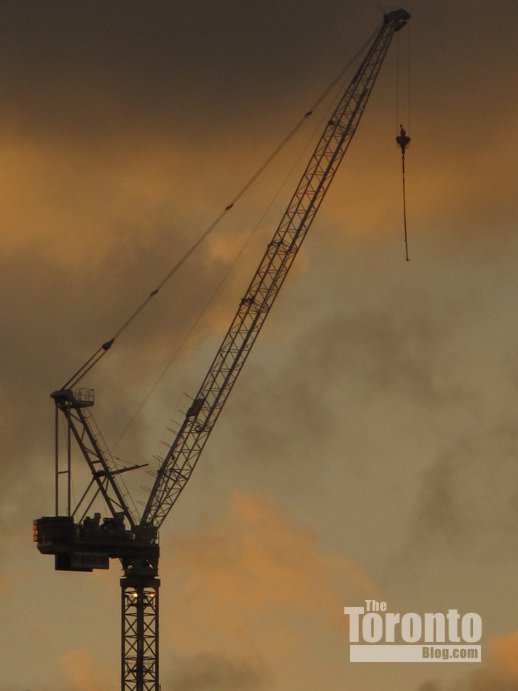 A construction crane at sunset April 8 2010

Construction season: We Canadians have long joked that our country sees only two seasons: winter and construction. Lately, however, Toronto has been under the influence of a microclimate that produces just one season lasting all year long: construction.
Toronto has been experiencing a building boom of unparalleled proportions since the early 2000s. There have been major construction projects in nearly every downtown neighbourhood, with more on the way. It's almost impossible to walk more than a few blocks without passing a building site, a sandwich board sidewalk sign advertising a new condo development, or a zoning notice advising the public that a proposal has been submitted to City Hall to develop a specific property. On downtown streets, cement mixers and dusty dump trucks are as common a sight as buses and streetcars. So are scaffolding, sidewalk detours and traffic lane closures. And if you look up, you're bound to see a nearby construction crane reaching skyward.
Just from my apartment balcony, I can see two office towers, one five-star hotel and seven condo highrises — each more than 30 storeys tall — that have been built in the past two years alone. I can see the tallest skyscraper in Canada, First Canadian Place, getting a $100 million facelift as new cladding is installed on its 72-storey façade.  I can see the historic Maple Leaf Gardens hockey arena being converted into a mixed-use facility featuring a Loblaws grocery store and a student athletic centre for Ryerson University. In just a few weeks I'll be able to see a new condo tower going up on Bay Street, and by spring I should be able to see as many as five cranes — three for condo projects, one for the Hospital for Sick Children's new Research and Learning Tower,  and one for a new Women's College Hospital building.
I think it's cool to see so much construction activity on the skyline – my balcony view is constantly changing, and there's always something different to see. But when I walk around downtown and discover how much development is already underway or proposed for the near future, I'm almost blown away. Toronto is growing by great leaps and bounds. I have stumbled across fully-finished new buildings where I saw only a zoning sign or an excavation the last time I passed through the neighbourhood. Or I'll notice that I can no longer see the CN Tower from a certain area because a tower under construction has completely blocked the view. Entire streetscapes and neighbourhoods change so rapidly, I can barely remember what they looked like before new highrises started going up. I daydream about construction frequently, imagining how the city streets and skyline will  look with dozens of additional skyscrapers.
A few years ago, I began carrying my camera during walks downtown, so I could snap photos of construction projects and sites for proposed developments – just to keep track of what's going on, and to show friends who used to live here just how much the city has changed since they left. Thanks to my little hobby, I've now got thousands of photos of dozens of different building projects. Organizing some of those pics into a blog seemed like a logical next step, so here you have it: The Toronto Blog. If you're a resident or fan of Toronto, or just an architecture or construction aficionado, I hope you'll come along as I track the building boom and watch T.O. grow!