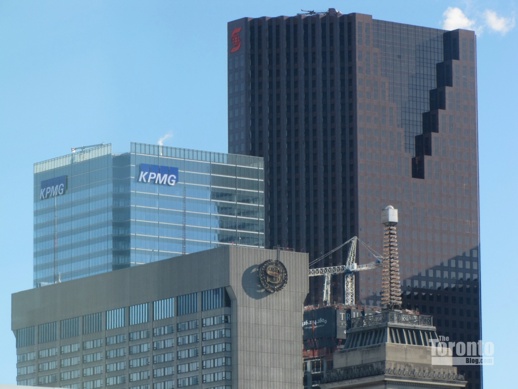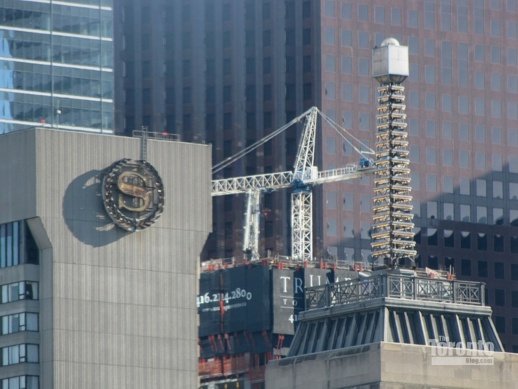 Trump Toronto starts to make its mark on the skyline
For years, my balcony view of the Financial District skyline never changed. I had a terrific view of the CN Tower, First Canadian Place and Scotia Plaza, and could even see the TD Bank Tower at the Toronto-Dominion Centre. Things changed considerably in mid 2009. That summer, the Bay Adelaide Centre (BAC) topped off at 50 floors and obscured nearly all of my view of the TD Bank building, while the 43-storey RBC Centre blocked a bit of the CN Tower (only the lower third, thankfully). In 2010, part of the RBC Centre's next-door neighbour, the new Ritz-Carlton Hotel, came into view (appearing behind other towers this time, not blocking sight of them). Within just a couple more months, I'll get to see another new skyscraper when the Trump International Hotel and Tower overtakes the Bay Adelaide Centre in height.
I've been wondering when the Trump would finally make a noteworthy impression on the city skyline. For the past two years, its construction has been obvious from parts of Adelaide Street and Bay Street, but taller neighbours have obscured most views from the north and south. That started to change in late fall 2010; from the CN Tower observation decks in early November, I could see part of the Trump climbing behind the east side of First Canadian Place. Now the Trump can be seen from other areas of downtown, too, as these photos — snapped through a window at the Art Gallery of Ontario on December 26 — show. With its spire, the Trump will become the second-tallest tower in Toronto. Measured to its roof, however, the Trump will take only third place.