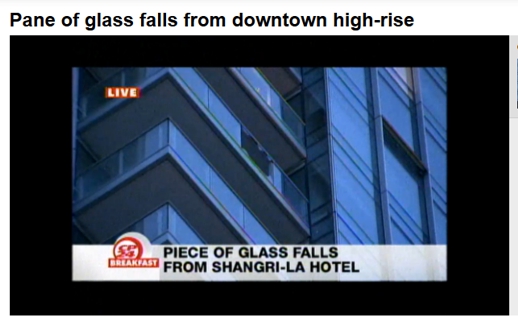 A shattered glass panel is visible on a balcony at the Shangri-La Toronto hotel and condo tower on the northwest corner of Adelaide Street and University Avenue. This image is a screen capture from a video report on cp24.com.
More breakage: It has happened yet again — another balcony panel on the 66-storey Shangri-La Toronto hotel and condo tower has shattered, raining pieces of glass onto a major downtown street.
According to local news reports, no-one was injured when pieces of glass fell onto Adelaide Street when the balcony panel broke around 1.30 a.m. today. Police immediately closed the street to traffic so they could investigate the mishap. Adelaide Street was reopened to traffic around 10:30 a.m., the Toronto Star reported in its Sunday online edition.
Local news station CP24 posted a video of the scene on its website. The tape showed a shattered balcony panel on the Shangri-La tower's southwest corner, about 20 storeys above Adelaide Street. The CP24 reporter noted that this marked the third time this year alone that a glass panel had shattered and fallen from the tower, which officially opened in October 2012.
The first instance occurred on a very cold day last January, at which time glass from a shattered panel fell onto Adelaide Street. The second event occurred last September. In that case, the CP24 reporter said, the falling glass injured a man on University Avenue. A Toronto Star report on the September incident said that a 53-year-old man was treated at hospital for the minor injuries he suffered when some of the glass struck his head.
Last night's incident comes in the wake of the broadcast premier this past Thursday night of a documentary film entitled The Condo Game, which I previewed in a November 18 2013 post. That film, which examines the pitfalls and potential future problems posed by Toronto's continuing condominium building boom, had been inspired by a series of balcony glass breakages at three downtown condo towers in the summer of 2011.
So far, there has been no word from Toronto police or City building inspectors as to what may have caused the balcony panel to break today.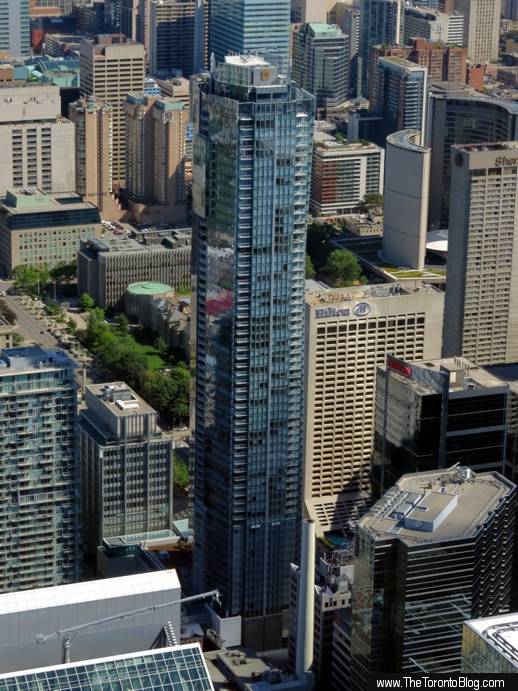 A CN Tower view of the Shangri-La Toronto hotel and condo tower on June 3 2013