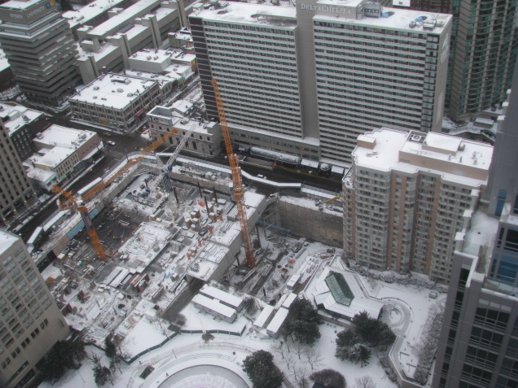 January 7 2011 webcam view of construction progress at Aura
Growing closer to ground level: The huge hole in the ground at the northwest corner of Yonge and Gerrard Streets is filling in nicely. The foundation for Aura at College Park is rapidly taking shape as work crews continuing pouring concrete for the 75-storey condo tower's extensive underground levels.
Work crews were easy to observe from the sidewalk on Yonge Street when I walked past the site's entrance for concrete mixing trucks earlier this week. Last time I passed by, I couldn't see any of the construction workers from the Yonge Street sidewalk because they were still too far down in the deep excavation.
Won't be long before passersby get a clear view of the construction activity from the street. For now, they have to be content peering through the small observation windows in the hoarding along the north side of the site.
Below are several of my recent photos of the site, including a shot from the CN Tower which shows the top of one of the three construction cranes at Aura poking above the nearby Delta Chelsea hotel. That same view will look markedly different a year from now, at which point the tower's frame will have an impressive presence on the city skyline.