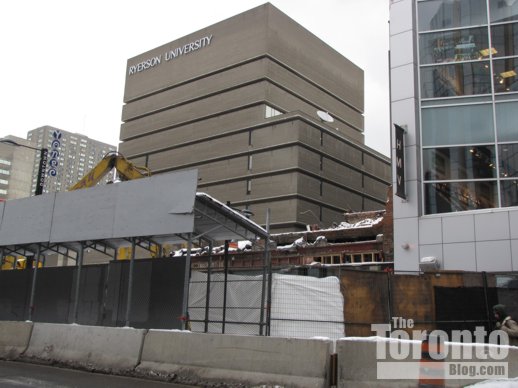 January 14: There's very little left of the first floor of 335 Yonge
Remains of the day: Crews have demolished the top two floors of the heritage building at 335 Yonge Street that suffered extensive and irreparable damage in a suspicious fire on January 3, and are working to clear the rest of the site.
The fire marshall's office has yet to report if it has determined what started the fire; however, a police criminal investigation is underway based on surveillance videos that showed a man entering the building and then leaving only minutes before the blaze broke out.
On January 26, city councillor Kristyn Wong-Tam will meet with the building owners, local businesses, and officials from Ryerson University to discuss what will happen with the site.
Meanwhile, The Globe and Mail reported today that a contracting firm is suing the owners for allegedly not paying a $70,000 bill for work performed after part of the building facade collapsed last April. I'm sure there will be even more legal proceedings in the months ahead to determine what will happen with the property.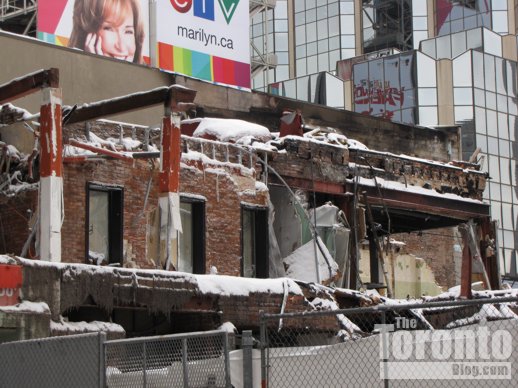 Local TV celebrity Marilyn Dennis smiles down on the ruins of 335 Yonge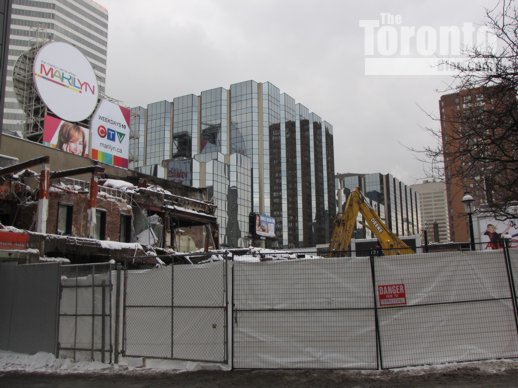 Covered fence blocks street views of demolition at 335 Yonge