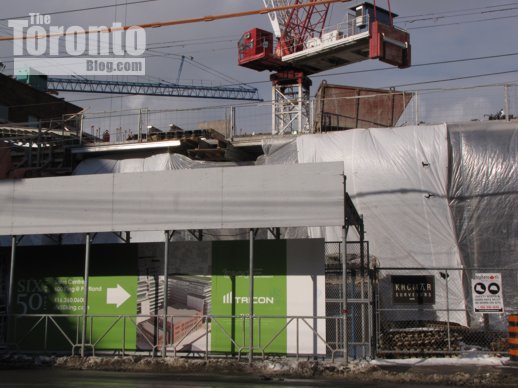 Six50 King West Condominiums construction on January 14 2011
All wrapped up: Construction had reached the second floor when I walked past the Six50 King West Condominiums last week. But there wasn't much to see and in turn tell you about because protective plastic sheeting was wrapped around the entire street level of the building.
I'm sure the plastic wrap was a legitimate winter construction procedure, rather than some sneaky scheme to keep my prying eyes and camera from getting a glimpse of how the new building is shaping up. I could be wrong; the people working at some downtown building projects (most notably the Maple Leaf Gardens transformation) really don't want folks like me tracking construction progress, especially with my camera.  But the kind contractors at Six50 didn't give me any grief.
A project of Freed Developments, Six50 is just one of a dozen new condo buildings — either recently completed or currently under construction — that are radically changing the look of the booming King West neighbourhood. And nine of those just happen to be Freed projects.
Six50 will be two "high style" contemporary buildings "joined at the hip," according to the condo's website. There will be a 15-storey building on Bathurst, and its 9-floor companion fronting on King Street. Together, they will boast 220 contemporary condo units. Of those suites, 201 will be typical one-story apartments, while a lucky 13 will each have two floors of living space. Six units will be townhomes.
The project is more than 80% sold, but units still are available at prices starting in the $300,000's.
Below is a website rendering of the project, along with several photos I've taken of the Six50 site, one of which shows a crew at work demolishing the building that formerly occupied the location.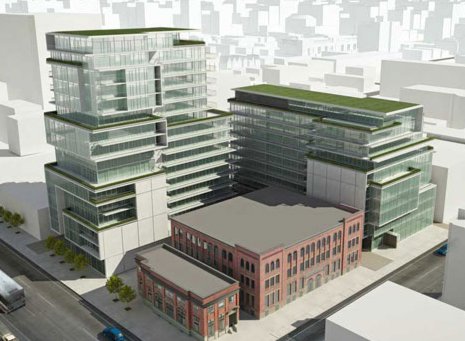 A rendering of Six50 King West, from the condo website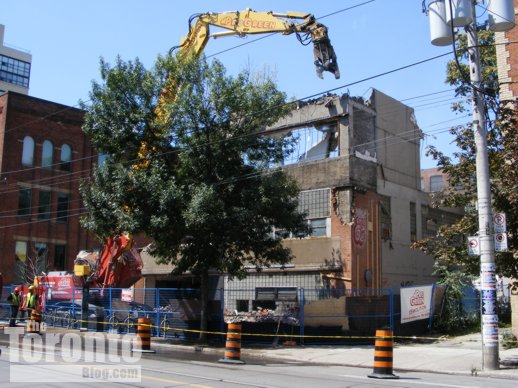 Demolition at Six50 King West Condominiums site on August 20 2008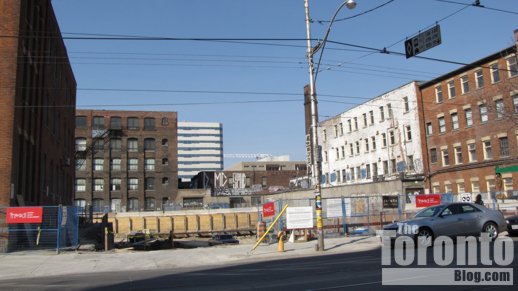 Excavation work at Six50 King West Condominiums March 11 2010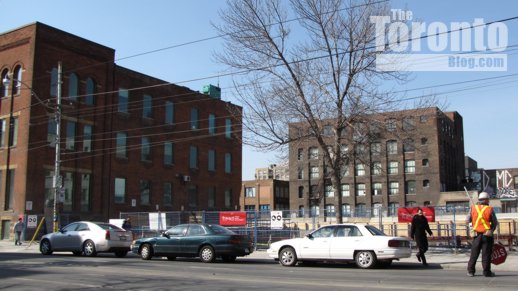 Excavation work at Six50 King West Condominiums March 11 2010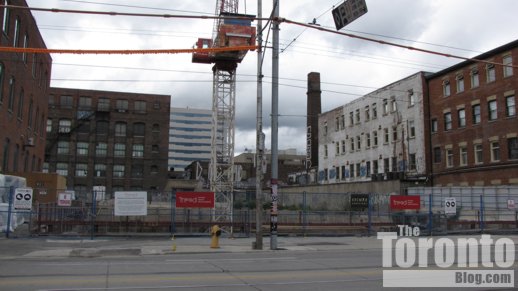 Crane on site as condo foundation is built Sept 4 2010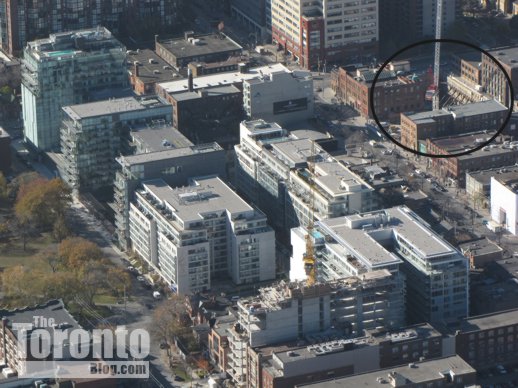 CN Tower view of Six50 King West November 2 2010.  Nearly all the new buildings in the photo are Freed Developments projects.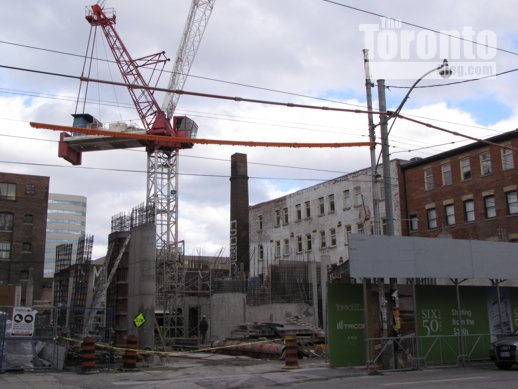 Street level view of construction November 23 2010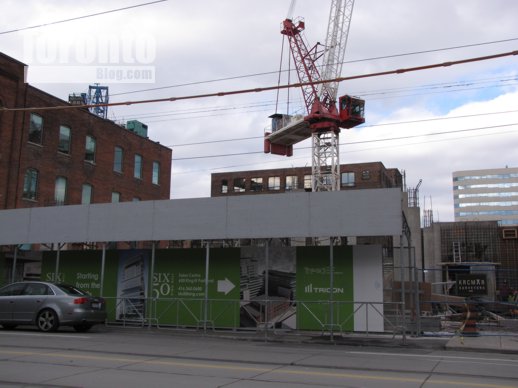 Street level view November 23 2010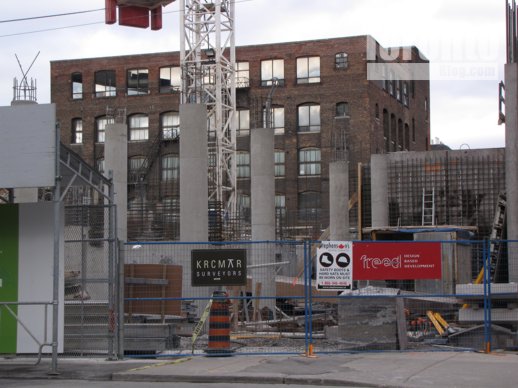 Street level view November 23 2010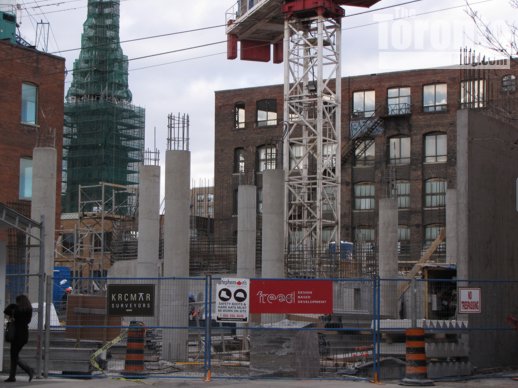 Street level view November 23 2010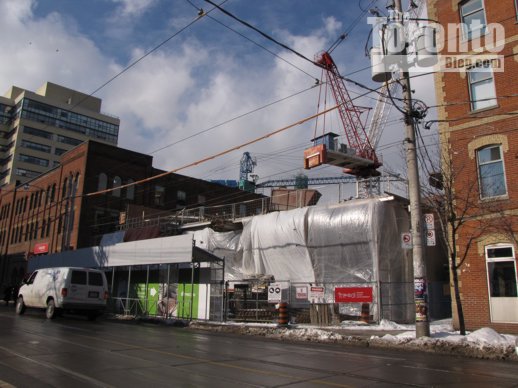 Street level view on January 14 2011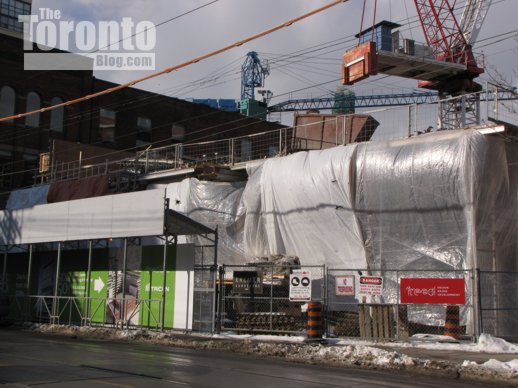 Street level view on January 14 2011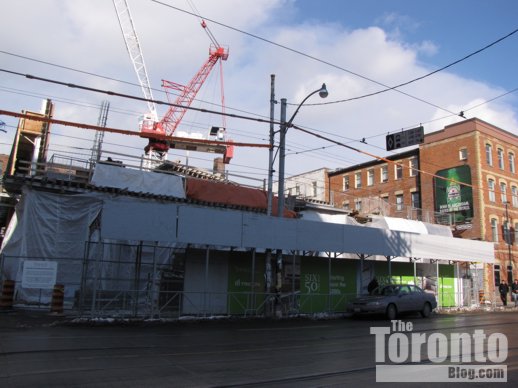 Street level view on January 14 2011