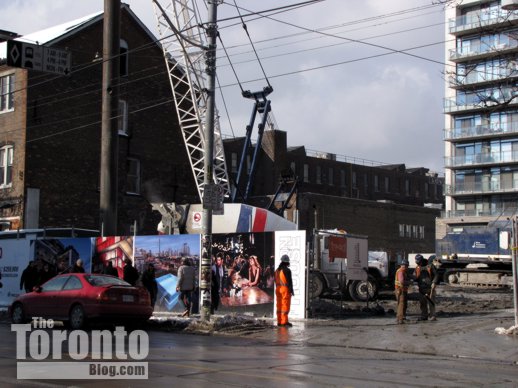 Foundation pile drilling rig at Fashion House Condos site January 14 2011
Big Red: Construction has started on what's promising to be the most fashionable — and eye-popping colourful — digs on trendy King Street West. Foundation pile drilling crews were on the site of Fashion House Condos last week, the latest Freed Developments project to get shovels in the ground. 
Situated on the north side of King between Brant and Portland Streets, Fashion House will have 334 condo suites along with ground-floor retail shops and restaurants in what the project's website describes as  "a stunning 12-storey glass and steel staircase tower" of "intricate platform design."
The sleek glass structure will connect to the historic three-storey brick building at 570 King Street West, which will be restored.
Fashion House seems destined to become an address that will be easy to find and hard to miss, thanks to the "dashing lipstick-red window coverings on the building's exteriors (all of which shine a crisp, clean white inside)" that will complete the building's "fashion-forward design statement." (That's assuming red remains a hot fashion colour by the time construction concludes.)
The project, designed by Toronto's Core Architects Inc.,  is more than 85% sold.
Below are some photos I've taken at the Fashion House site, along with some artistic renderings of the condo building from the Fashion House website.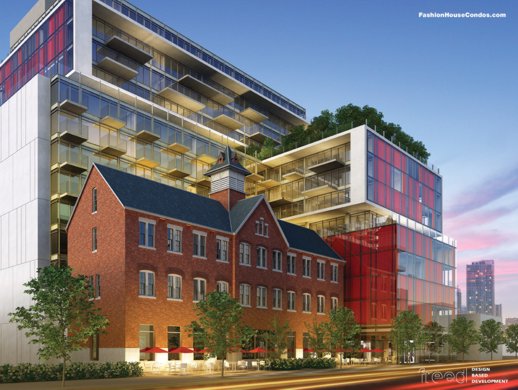 Artistic rendering of Fashion House Condos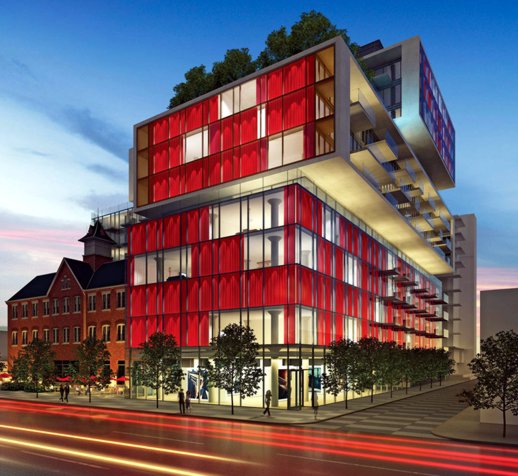 Artistic rendering of Fashion House Condos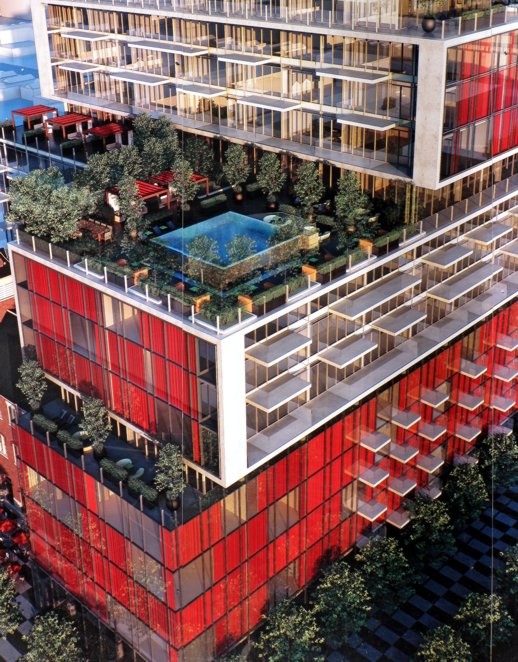 Fashion House Condos rendering on billboard at project site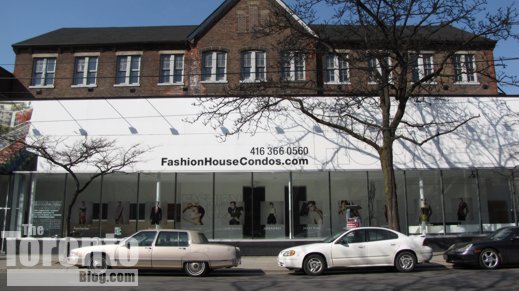 This historic brick building, seen on March 11 2010, will be restored and connected to the sleek glass Fashion House Condos tower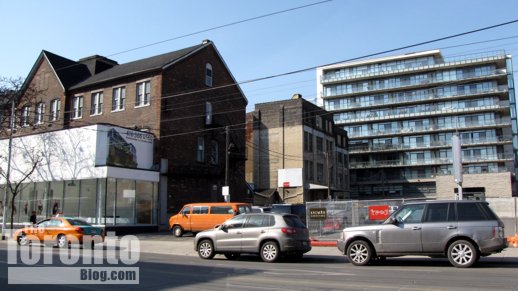 Fashion House Condos location viewed on March 11 2010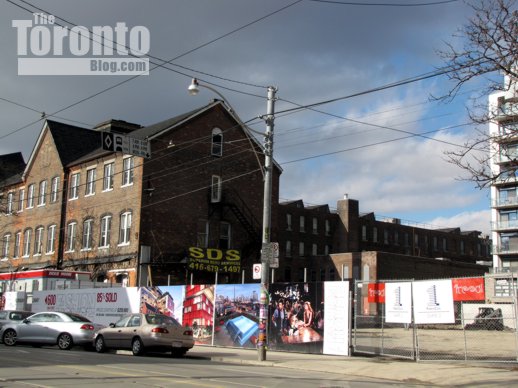 Fashion House Condos location viewed on November 23 2010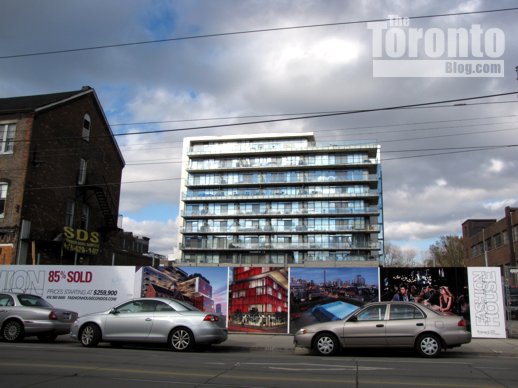 Fashion House Condos location viewed on November 23 2010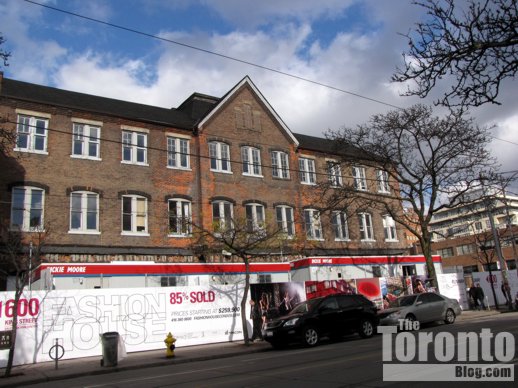 Fashion House Condos location viewed on November 23 2010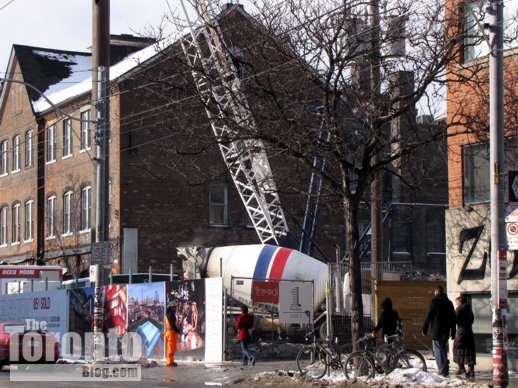 Foundation pile drilling rig at Fashion House Condos site January 14 2011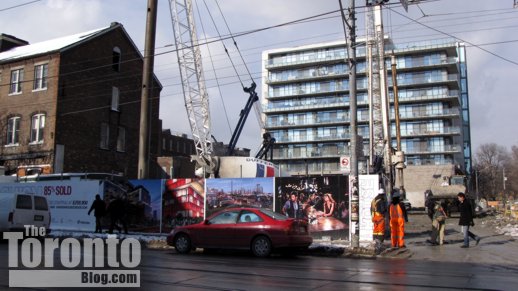 Foundation pile drilling rig at Fashion House Condos site January 14 2011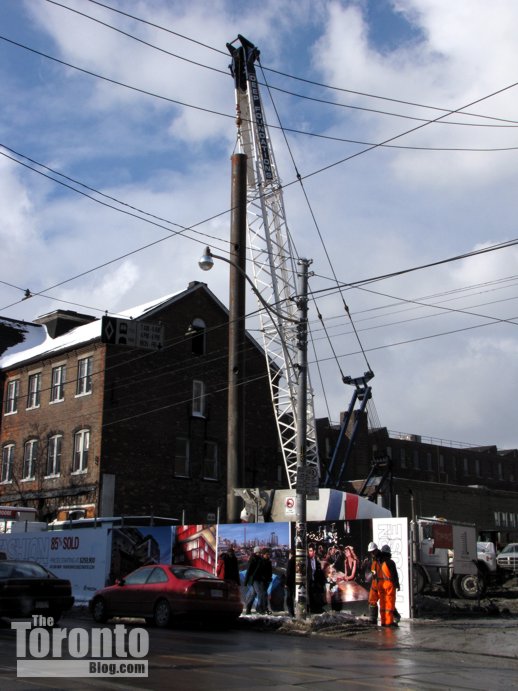 Foundation pile drilling rig at Fashion House Condos site January 14 2011