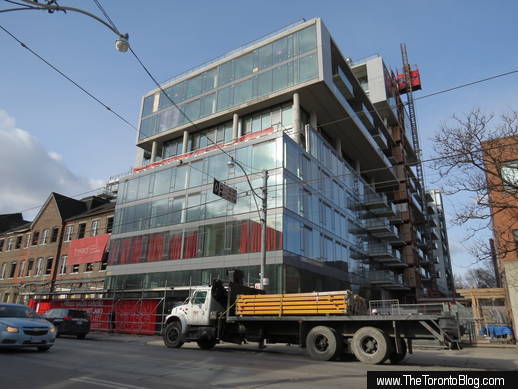 November 28 2013: A view of Fashion House Condos on King Street West, where construction is nearing completion and units are being fitted with the building's trademark bold red window coverings.
By popular request: Judging by the email I've been receiving lately, there's considerable interest in the Fashion House Condos development on King Street West. Numerous people have asked if I have taken any recent photos of the midrise residential building designed by Toronto's CORE Architects Inc., which is nearing the end of construction.
I actually had an opportunity to snap some photos just a few days ago during a quick trip to the King West area, so I have posted them in the Fashion House Condos album on thetorontoblog.com's Flickr page.
An update on this Freed Developments project will follow soon.
Click on the image to view a small-format slideshow of Fashion House condo photos. Click twice to open the Flickr album and view individual full-size pictures.