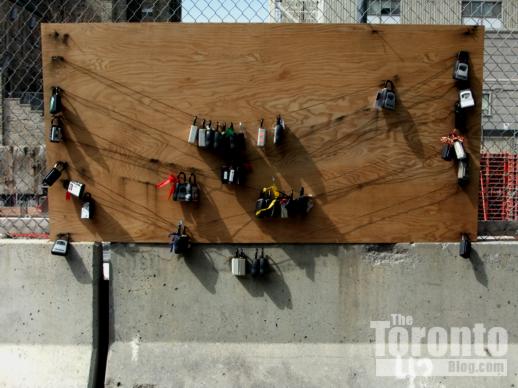 April 22 2011: Lockboxes containing keys to units for sale at X Condos
Keys to your next condo: Looking to buy a condo in the Bloor-Jarvis area? You'll have lots of options on Charles Street East, where at least 23 suites are currently up for resale at the X Condos tower alone.  The photo above, taken at X Condos on Good Friday, shows real estate agent lockboxes containing keys to units listed for sale in the building.
The 44-storey condo tower is situated at 110 Charles Street East, on the northeast corner of Ted Rogers Way (aka Jarvis Street). The lowest-priced unit listed on the mls.ca website on Friday was $319,900 for a 545-square-foot 1-bedroom on the 17th floor. The most expensive listing was $918,000 for a 2-bedroom plus den with three bathrooms on the 40th floor. Most suites are priced in the $400,000's.
If you're not interested in X Condos, but want to live in the same neighbourhood, there's still plenty of choice: Couture Condos is under construction right next door, while X2 Condos is starting construction right across the street.