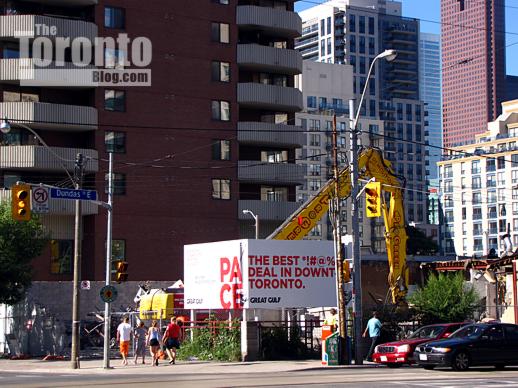 July 1 2011: A view of the southwest corner of Jarvis and Dundas Streets …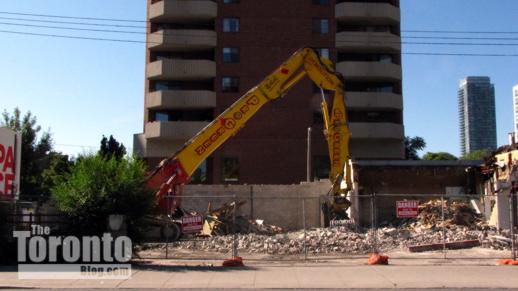 …  where half of the small strip plaza that once occupied the site has been demolished to make way for construction of the 46-storey Pace Condos tower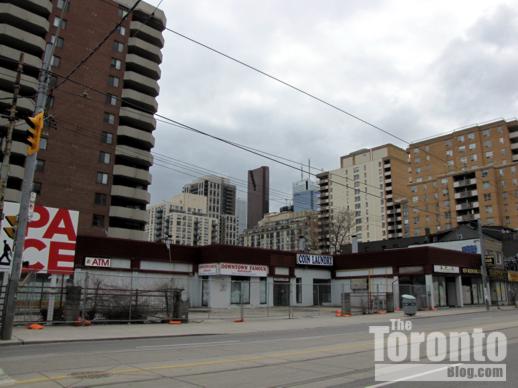 March 22 2011: This is what the plaza looked like before demolition started
Strong sales: There isn't much left of the small retail plaza that formerly sat at the southwest corner of Dundas and Jarvis Streets, home to a convenience store, coin laundry and restaurants until late last year. This week, a demolition machine began to destroy the single-storey structures that used to occupy the property on which developer Great Gulf Homes plans to construct Pace Condos. According to the rezoning application that Great Gulf filed with the city in March, the proposed 46-storey tower will have a 10-storey podium and five underground levels, and will contain 417 condominium suites. The Pace Condos website indicates that 27 different floor plans are available for units ranging from small studios to 1- and 2-bedroom apartments, along with "family suites" offering 3, 3.5 or 4 bedrooms. Design-wise, Pace Condos will be "a paragon of architectural brilliance," the website gushes. "Pace is a shimmering glass tower artfully placed on a podium comprised of dark charcoal-coloured bricks. This is urban elegance at its best. This is eye-catching, eye candy design the likes of which the city has never seen," it adds. Curiously, the website doesn't credit Toronto's Diamond + Schmitt Architects, the firm behind the tower design it lauds so highly, although it does mention that "custom kitchens" will be designed by Ciccone Simone.
When I first wrote about the Pace Condos project in my March 22 2011 post, I noted that the building location is a seedy area on the edge of one of Canada's poorest residential districts. While I personally wouldn't want to live in the neighbourhood, nor would any of the friends with whom I have discussed the condo project, I did acknowledge that Great Gulf would probably find plenty of eager buyers willing to pay to live there. It looks like that has indeed been the case: According to the project website, 14 of the condo's 27 floorplans have already sold out.
Below is a screenshot — from the Pace Condos website — showing how the proposed tower will look, along with several more photos I took today of demolition progress on the building site.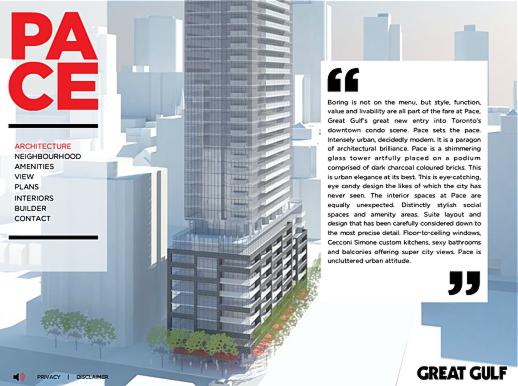 From the Pace Condos website, an architectural illustration of the glass tower and its 10-storey dark charcoal-coloured brick podium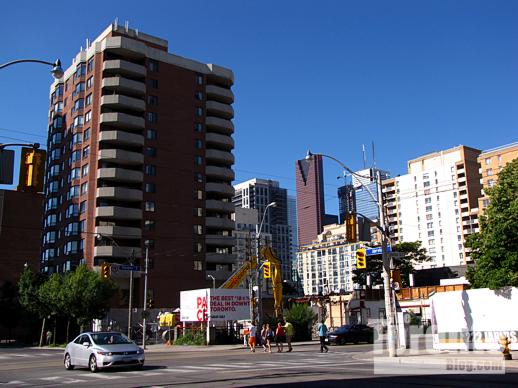 July 1 2011: A view of the Pace Condos site from outside the Hilton Garden Inn Toronto/City Centre on the northeast corner of Dundas & Jarvis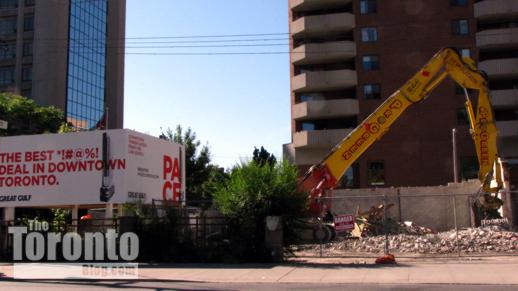 July 1 2011: The former convenience store building has been reduced to rubble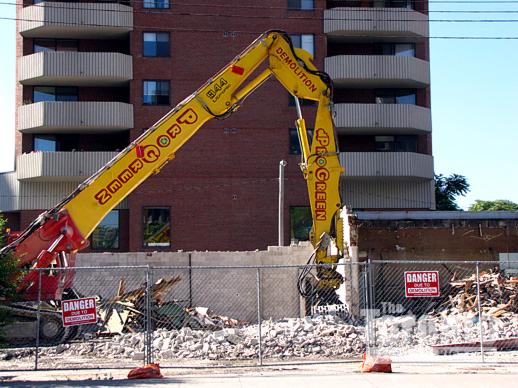 July 1 2011: Only the south wall of the former retail businesses is left standing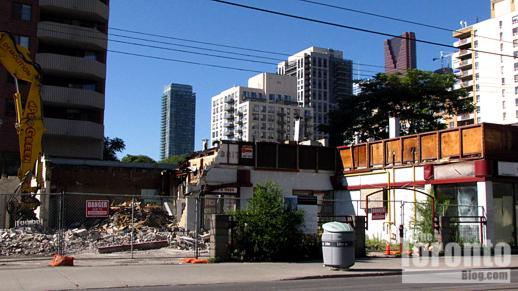 July 1 2011: The former coin laundry building is partially demolished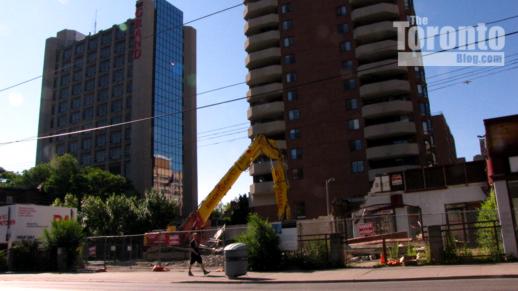 July 1 2011: A view of the Pace Condos site from the north side of Dundas Street. The Grand Hotel & Suites Toronto is the tower at left, while the highrise at right rear is a condominium; both are located on Jarvis Street just south of Dundas.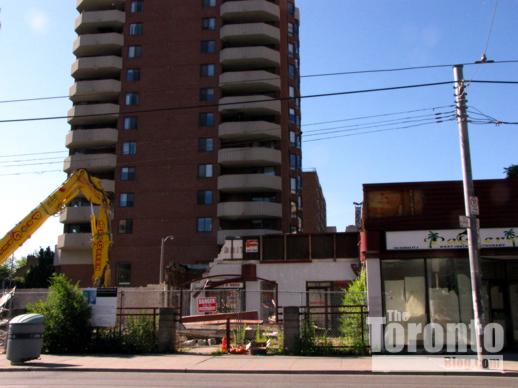 July 1 2011: Another view of the site from the north side of Dundas Street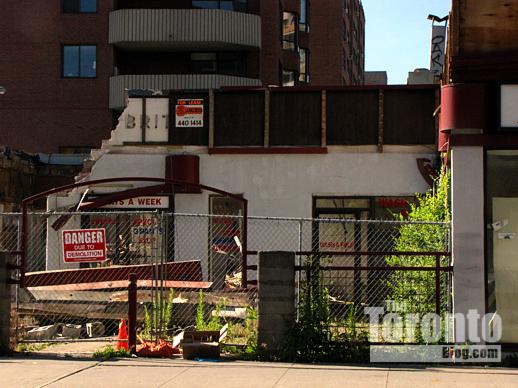 July 1 2011: Demolition will resume after the Canada Day holiday weekend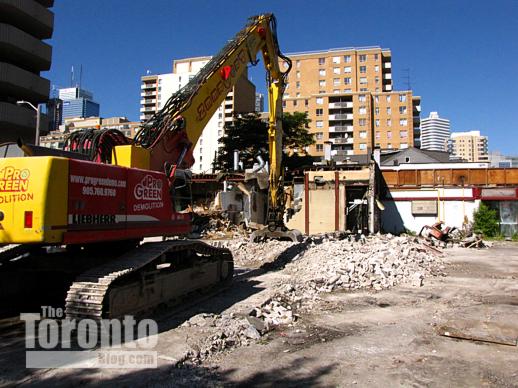 July 1 2011: A view of the site from Jarvis Street, looking west