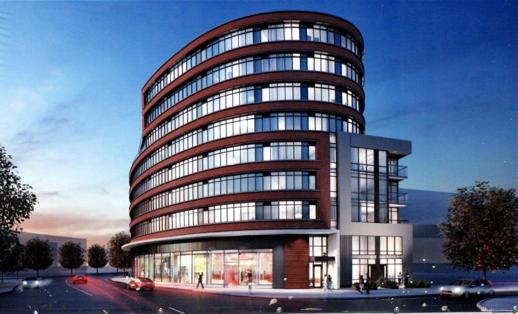 This rendering of the curvelinear Trinity Lofts building appears on signage posted on hoarding at the condo construction site on Eastern Avenue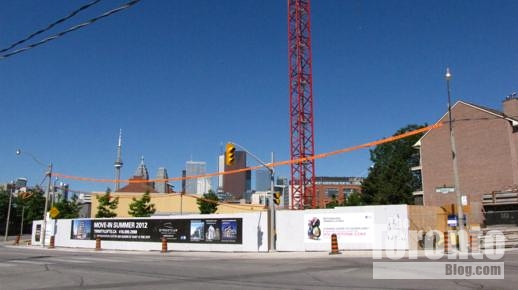 July 1 2011: Looking west toward the Trinity Lofts condo construction site and the skyscrapers of Toronto's Financial District
Curved condo: The sharp bend in the road where Eastern Avenue meets Front Street is going to get a lot more visually interesting for passing motorists in just a few months' time. Right now, all that passersby can see is a tall red crane soaring above the middle of a wedge-shaped piece of property on the north side of Eastern Avenue, between Trinity and Erin Streets. Behind the poster-covered wooden hoarding that surrounds the site, work is progressing three levels below grade on the foundation for Trinity Lofts, an eight-storey condo building with a dramatic curvelinear design that will match the bend on Eastern Avenue. As building progresses above street level, likely sometime in late summer, passersby will get to watch the curve take shape.
A project of Streetcar Developments, Trinity Lofts will have 81 loft condos in floorplans ranging from a 535-square-foot 1-bedroom (with prices starting at $329,900) to an 813-square-foot 2-bedroom + den with 101-square foot balcony (starting at $491,900). The building will have two townhomes; TH01 is a 1,697-square-foot 2-bedroom with den and 582-square-foot garden going for $809,900.  Occupancy is expected for around this time next summer.
Streetcar certainly picked a great location for this project, one of several small condo complexes it has either already built or is currently constructing in the downtown's booming Lower Eastside (a July 9 2010 article from the Toronto Star describes the various projects). Located one block south of King Street, the building is just a short streetcar ride from the Financial District, only a two-minute walk from the Distillery District, and within reasonably short walking distance of furniture and grocery stores, including the St Lawrence Market. It's also just a short walk from the new Don River Park that is being built to the southeast as one of the Lower Eastside developments underway for the 2015 Pan Am Games. Loft owners feeling too lazy to walk anywhere won't have to go far to find wheels — there's several car dealerships right across the street and around the corner. And the location should feel extra-safe and secure for anyone except fugitives on the lam: It's right right across Erin Street from the Toronto's 51 Division police headquarters.
I've walked and cycled past the Trinity Lofts site several times in recent months, but haven't been able to see what's happening behind the solid wall of construction hoarding. However, the photo below (a screen shot from the Trinity Lofts project website) shows construction progress as of last month. The others are photos I've snapped recently showing the condo location viewed from different perspectives on Eastern Avenue.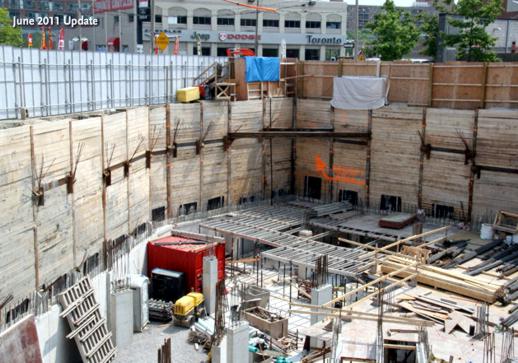 Foundation construction progress photo from the Trinity Lofts condo project website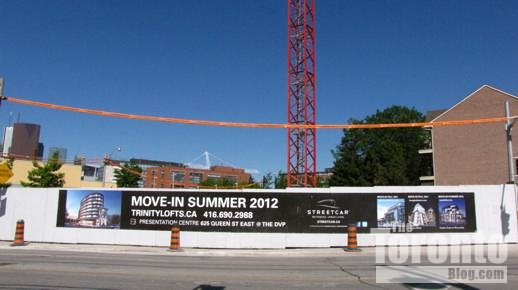 July 1 2011: Eastern Avenue view of the construction site, looking north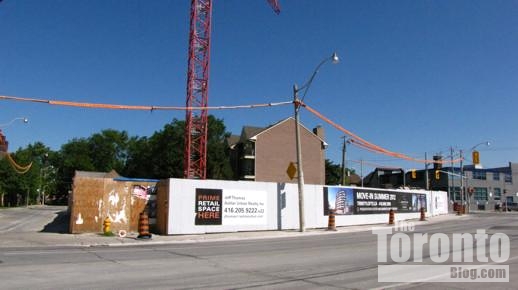 July 1 2011: The Trinity Lofts condo building site extends along Eastern Avenue from Erin Street (left) to Trinity Street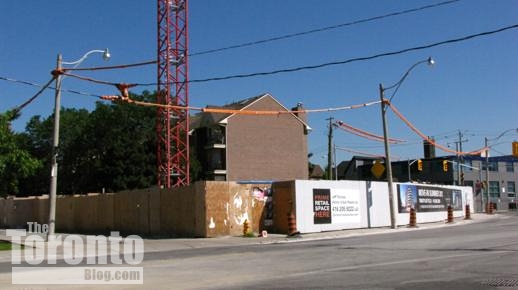 July 1 2011: Northeasterly view of the site from Eastern Avenue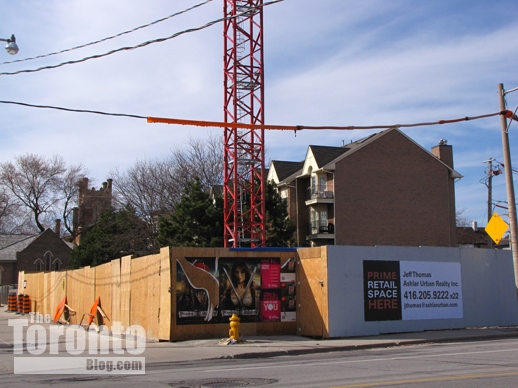 April 30 2011: Like most new condos, Trinity Lofts will have street-level retail