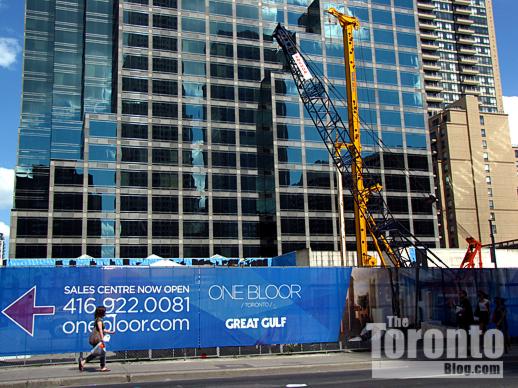 July 13 2011:  Construction equipment rises above the One Bloor condo tower construction site, viewed here from the west side of Yonge Street
Shovels ready: It only felt like it was taking forever, but it's finally going to happen: According to a July 14 2011 article posted on the Toronto Star website, Great Gulf Homes will break ground tomorrow to officially launch construction of its 70-storey One Bloor condo tower at the southeast corner of at Yonge and Bloor Streets.
Frankly, it's about time. Seven months ago — in a January 10 2011 post, to be exact — I publicly wondered when Great Gulf was going to get shovels in the ground and start building the One Bloor tower on what is often referred to as the "premier" piece of real estate in Canada. During the months that followed, heavy machines rolled on and off of the One Bloor site, hinting that a construction start was imminent. But they didn't stay for long, and nothing appeared to change on the property. But after foundation building equipment arrived on the site in June, it seemed clear that preliminary construction work for the tower was set to start.
Initially, One Bloor was slated to be a 65-storey condo building with two floors of retail space fronting on the prestigious Yonge & Bloor intersection. However, thanks to strong buyer demand (the Star says 85% of the units in the 732-suite tower have been sold), One Bloor will now soar five storeys taller — topping off at 70 floors. Construction is expected to cost $450 million and last until the end of 2014.
Below are several One Bloor website renderings that suggest how the skyscraper, designed by Toronto's Hariri Pontarini Architects, will look, along with photos I've taken of the project site in recent months.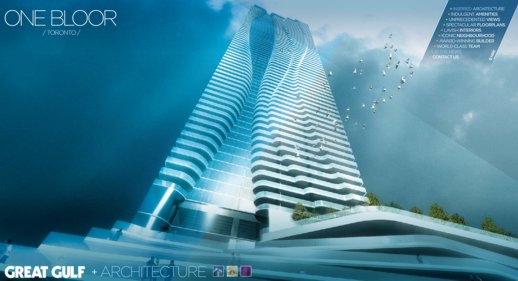 Condo tower rendering from the One Bloor project website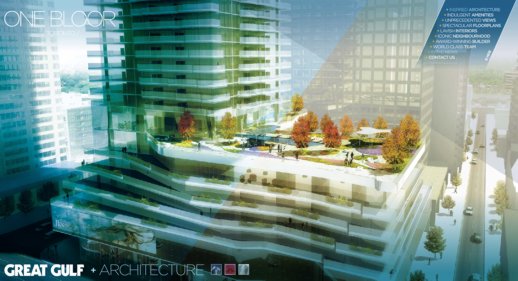 Condo tower podium rendering from the One Bloor project website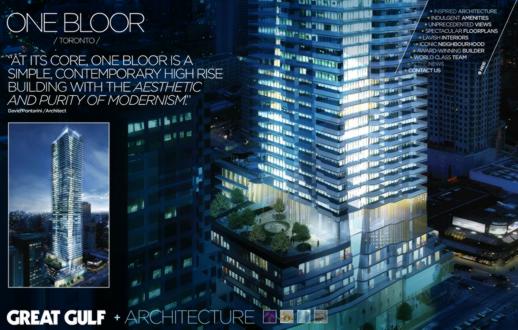 Another tower rendering seen in this screen capture from the One Bloor website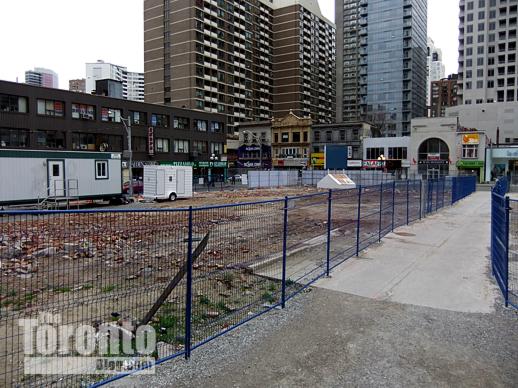 May 1 2011: Trailers on the otherwise vacant south side of the One Bloor condo tower construction site, viewed from the west side of the Xerox Tower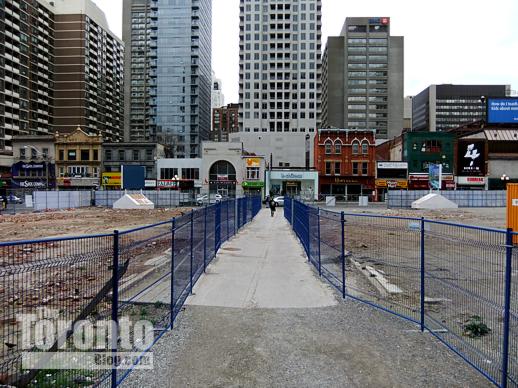 May 1 2011: Looking west across the vacant One Bloor site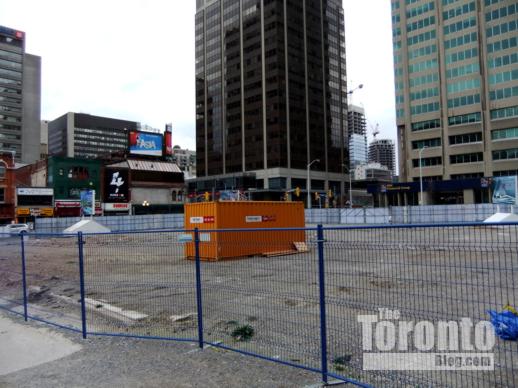 May 1 2011: Looking northwest toward the corner of Yonge & Bloor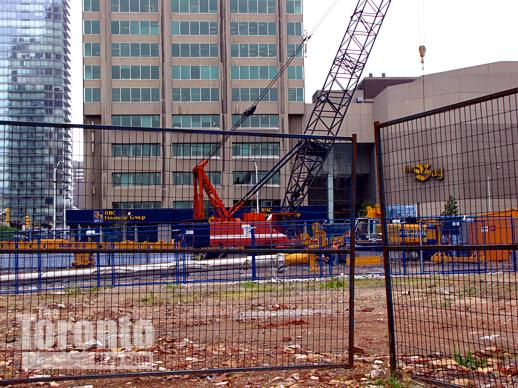 June 22 2011: A shoring rig on the northern half of the One Bloor site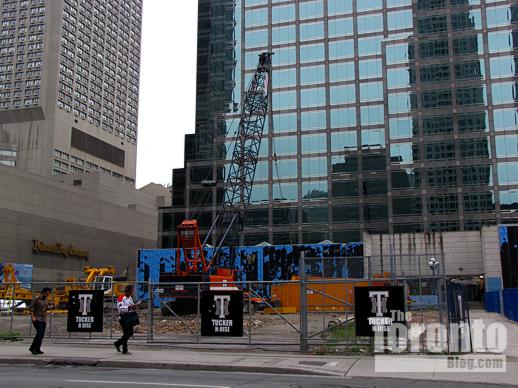 June 22 2011: Yonge Street view of the shoring rig on the One Bloor property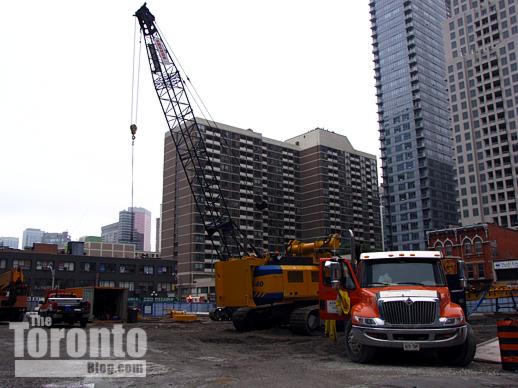 June 22 2011: Bloor Street view of the shoring rig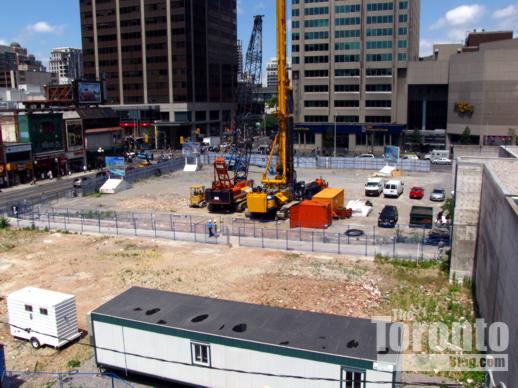 July 6 2011: Two shoring rigs ready for action on the building site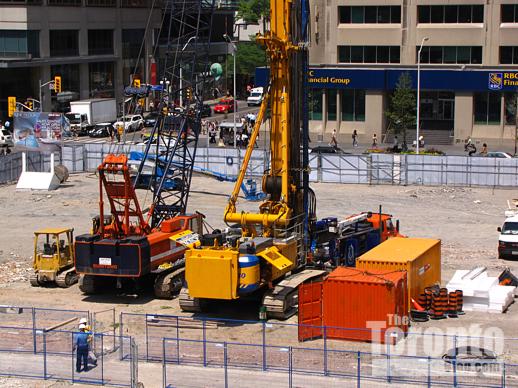 July 6 2011: A closer look at the two rigs sitting idle on the site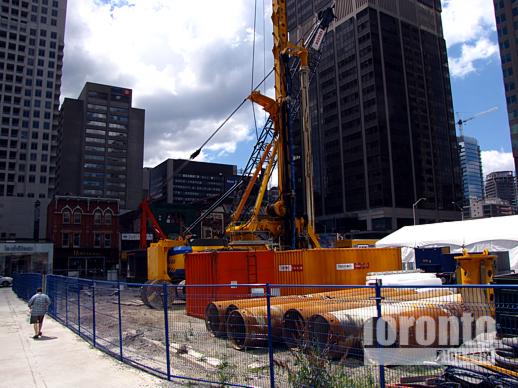 July 13 2011: More construction equipment and a tent have been brought in for the groundbreaking ceremony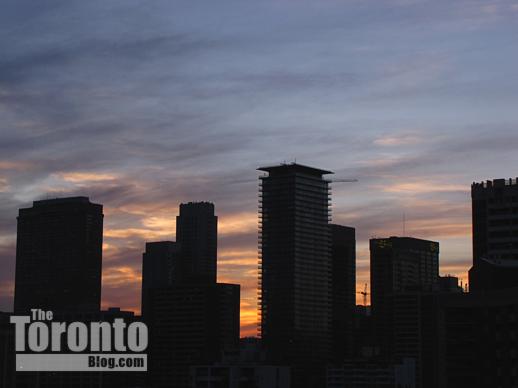 July 14 2011: My balcony view at sunset of skyscrapers near Yonge & Bloor Streets. The 45-storey Casa condominium tower (center) currently dominates the skyline; however, in three or four years' time, One Bloor — which will rise just to the right rear of Casa — will be the tallest building in the area