Condo would tower above 120-year-old Oddfellows Hall
Situated at the southwest corner of Yonge & Grenville Streets, the development site is currently occupied by a 2-storey commercial building with a bank, restaurants and retail shops along Yonge, and office space on the second floor. If approved by the City, 460 Yonge would be taller than Karma, a 50-storey condo tower that will soon commence construction just 26 meters to the west on Grenville Street. It also would soar sky-high above its next-door neighbour to the south, the historic Oddfellows Hall at 2 College Street/450 Yonge. Designed by Dick & Wickson, the four-storey brown brick building was constructed in 1892 and served as meeting space for the Oddfellows and International Foresters before it was converted into commercial and office uses. The City added the Oddfellows Hall to its list of heritage buildings in 1974, and gave it official heritage designation on April 14 1997.
City planners concerned about height, density and 15 other issues
In a November 29 2011 background report prepared for Toronto and East York Community Council (TEYCC), city planners identified 16 separate concerns with the 460 Yonge proposal including its height and density, transportation and servicing impacts, as well as "built form and massing issues." At its January 10 2012 meeting, the TEYCC directed planning staff to hold a community consultation to gather public comments on the proposal. That session will take place tomorrow evening at the Grosvenor Street YMCA auditorium, beginning with an open house at 6.30 p.m.
Residents fear condos will destroy Yonge Street's historic character
The sheer height and huge size of 460 Yonge will undoubtedly attract considerable comment at the public meeting, since area residents and neighbourhood associations are worried about the detrimental impact that condo tower development could have on Yonge between College and Bloor Streets. With more than a dozen towers currently in the works for this stretch of Yonge, residents and heritage building advocates fear that condo development will destroy the pedestrian-friendly, low-rise and open character of a street that has historic, economic and cultural importance to the City. In fact, the College to Bloor section of Yonge boasts the largest number of intact 19th Century retail buildings in the province, some of which — like the Oddfellows Hall — have been listed or designated as heritage properties by the City.
Is tower's relation to Oddfellows Hall inappropriate?
Concerns about 460 Yonge's proximity and relation to the Oddfellows Hall also are bound to be raised at the community consultation.  In a special report prepared for the City as part of its Downtown Tall Buildings Project, consultants had recommended that new highrise buildings proposed for downtown Toronto be assessed according to various performance standards  they called "regulations." More specifically, Regulation 17 recommended that tall buildings "not visually impede the setting of listed/designated heritage buildings. Where heritage buildings are low-scaled, the podium of the tall building will respect and reflect the unique urban grain and scale, visual relationships, topography and materials of the surrounding historic building(s). The tall building will preserve and enhance the character and appearance of the setting of the adjacent listed/designated building(s)."
City considering tall building regulations, urban design guidelines
The consultants' recommendations have not yet been enacted into law by City Council. The TEYCC considered the Tall Buildings Study at its February 14 2012 meeting, but deferred decision on the report for further consultation and will revisit the study at its April 17 2012 meeting. Nevertheless, heritage advocates will probably raise Regulation 17 in support of their objections that a 60-storey tower would be excessively tall next to a 4-storey historic building.
The Tall Buildings Study isn't the only city initiative that is studying built form, urban design and heritage properties in the downtown core. At City Council's request, city planners have been undertaking a North Downtown Yonge Street Planning Framework review, and will be suggesting urban design guidelines for the area bounded by Bay, Charles, Church and Carlton/College Streets. The planners held a community consultation on February 16 to discuss their work, and are expected to report to TEYCC this spring to present their building guideline recommendations along with a draft Official Plan Amendment to implement them.  Whether or not those rules can be passed into law in time to govern whatever winds up being built at 460 Yonge — and elsewhere along Yonge's College to Bloor strip — remains to be seen.
Below are building elevations and a site plan drawing that appear in the city planners' background report on the 460 Yonge application, along with photos I have taken of the development site and the historic Oddfellows Hall building.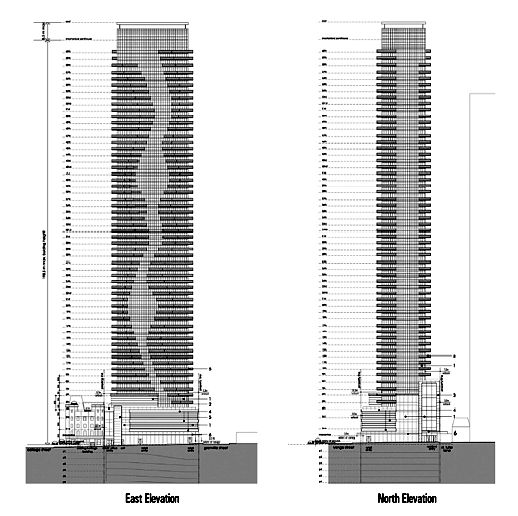 These illustrations, included in a city planning department report, suggest how the 460 Yonge tower would look when viewed from the east and north.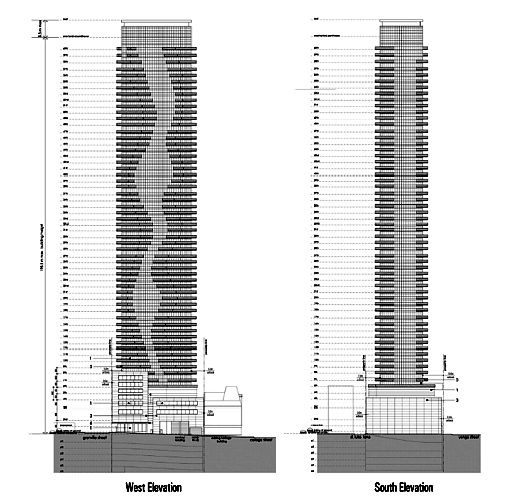 These illustrations, from the same planning department report, show west and south elevations for the proposed 60-storey condo tower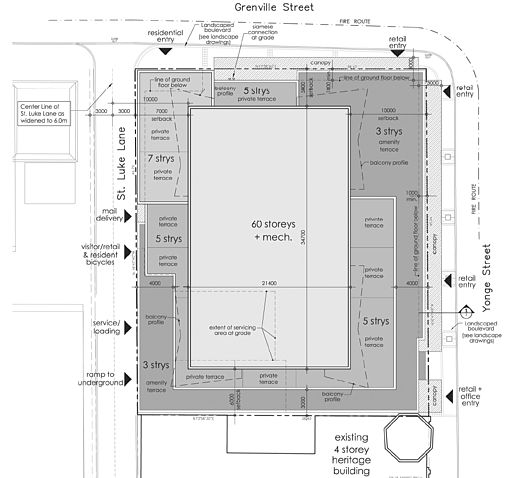 This site plan illustration shows stepbacks for the condo's podium and tower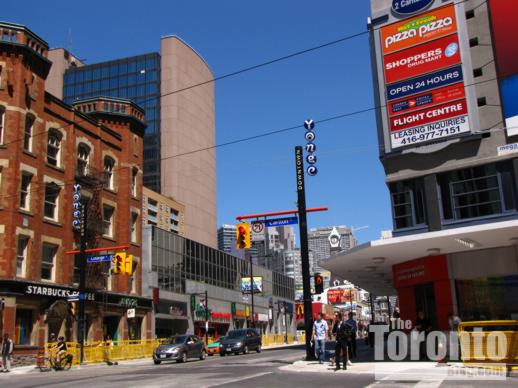 June 30 2011: Looking towards the 460 Yonge Street site from the southeast corner of Yonge and Carlton Streets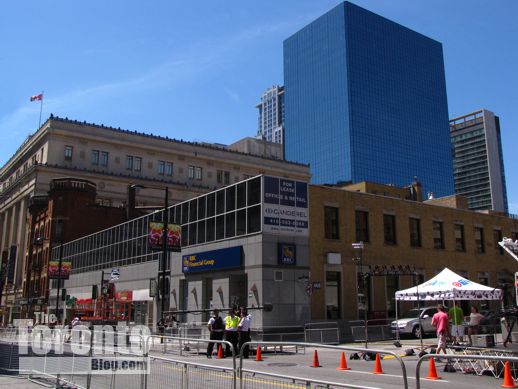 July 3 2011: Looking south on Yonge Street toward the 460 Yonge site, Oddfellows Hall, and the historic College Park building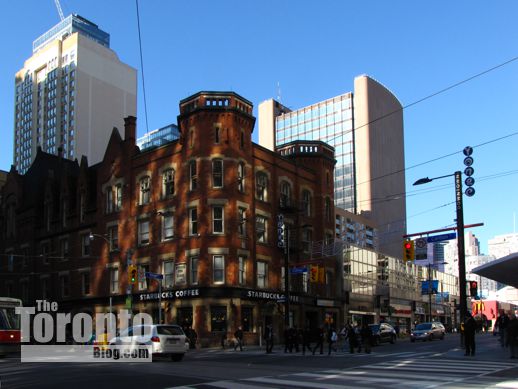 November 23 2011: Nearby condo towers reflect morning sunshine onto the brick facade of the 120-year-old Oddfellows Hall building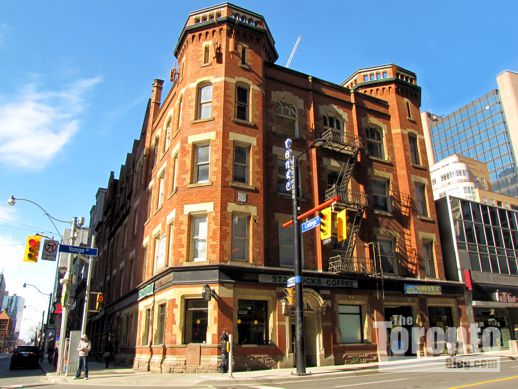 February 26 2012: Looking west at Oddfellows Hall, which has municipal addresses at 2 College Street & 450 Yonge Street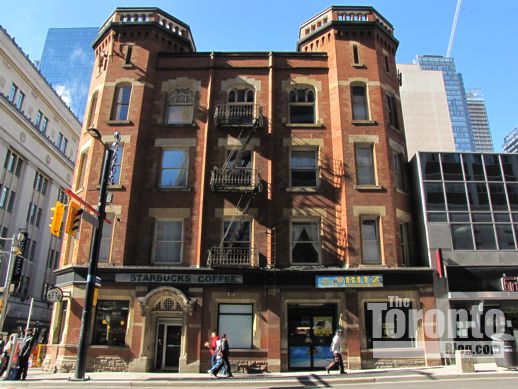 February 26 2012: Oddfellows Hall was designed by the firm Dick & Wickson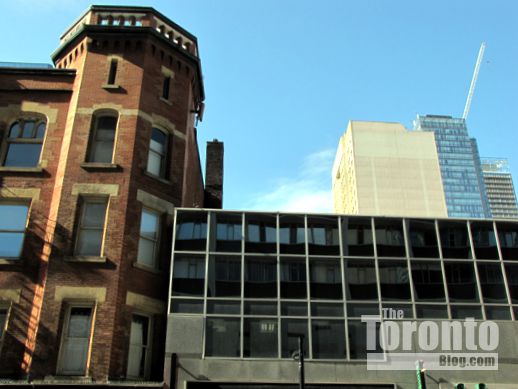 February 26 2012: Where old will meet new: Oddfellows Hall looms above the low-rise commercial building that will be replaced by a condo tower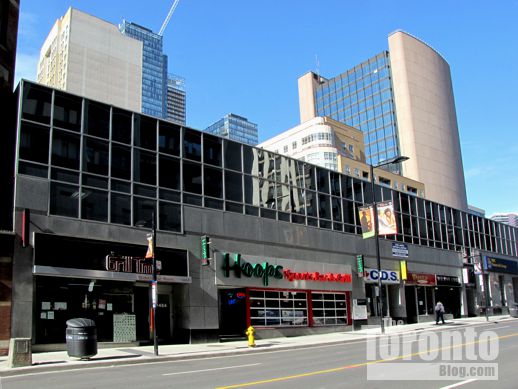 February 26 2012: A view of the street-level retail establishments along the Yonge Street side of the development site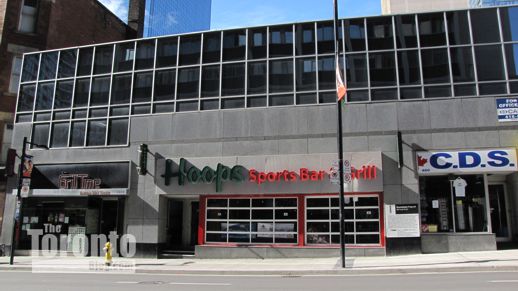 February 26 2012: Street-level business tenants include a Grill Time Korean BBQ House and a Hoops Sports Bar & Grill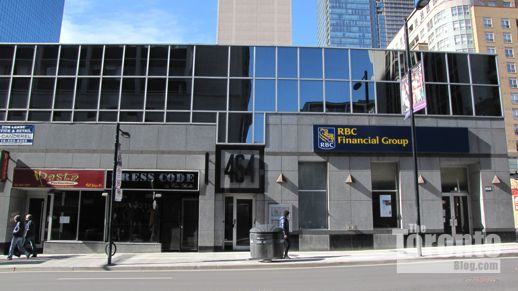 February 26 2012: Other retail tenants include Pasta Perfection, Dress Code by Ciao Bella, and a branch of RBC Financial Group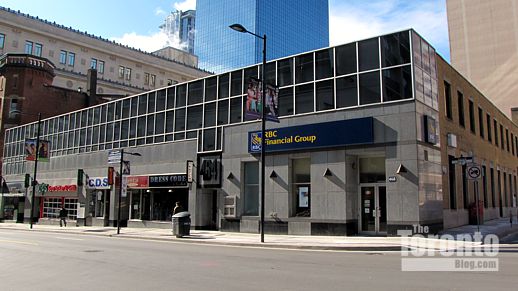 February 26 2012: Office space occupies the existing building's second floor. The new condo would have two floors of retail space and one floor of offices.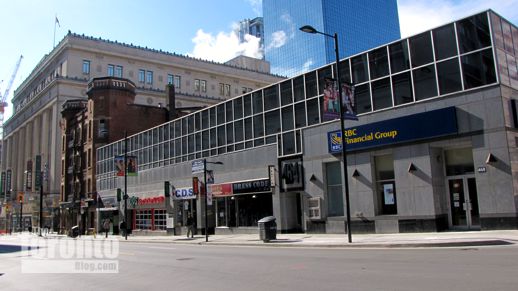 February 26 2012: Another view of the condo site and the Oddfellows Hall, looking south on Yonge Street toward College Park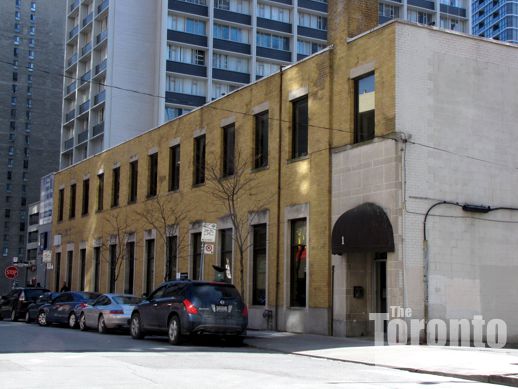 February 26 2012: The building's north side along Grenville Street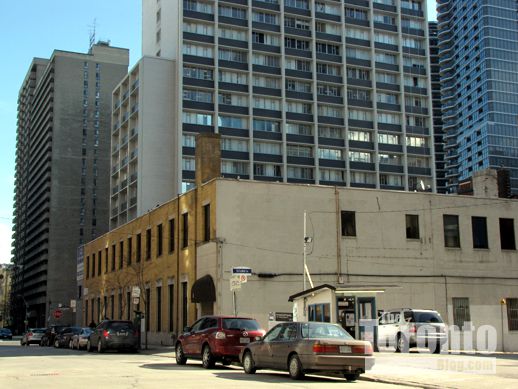 February 26 2012: Looking east along Grenville Street toward the condo site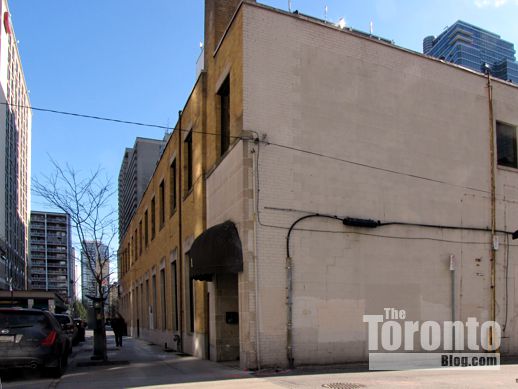 February 26 2012: St Luke Lane runs along the west side of 460 Yonge from  Grenville Street to College Street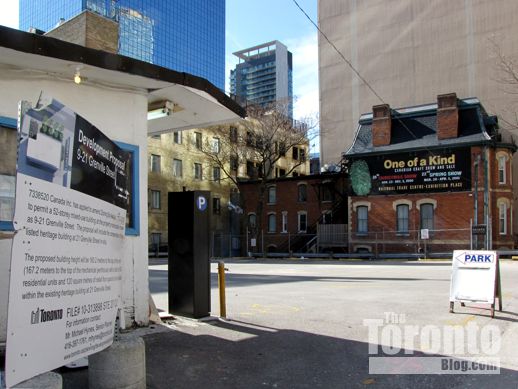 February 26 2012: A view of the Karma condo tower site on Grenville Street, on the west side of St Luke Lane behind 460 Yonge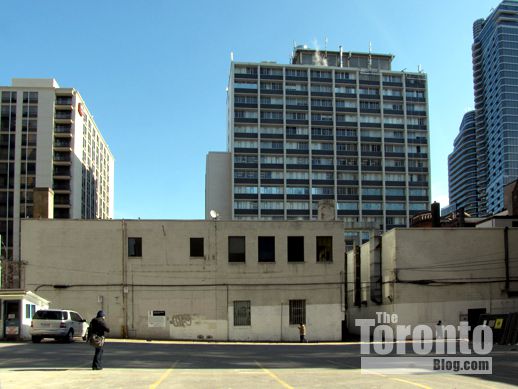 February 26 2012: The rear of 460 Yonge Street, viewed from the surface parking lot on which the Karma condo tower will soon be built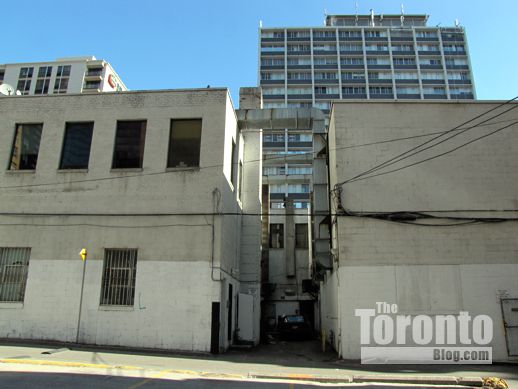 February 26 2012: The west side of the buildings at 460 Yonge Street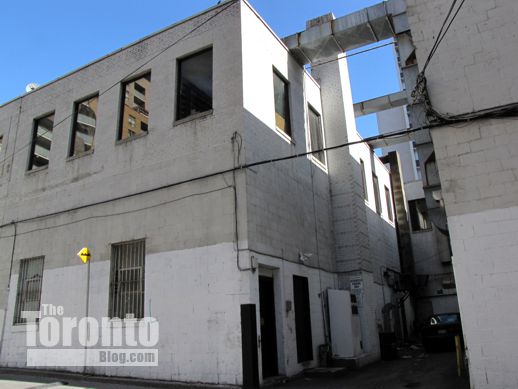 February 26 2012: A closer look at the rear access lane for 460 Yonge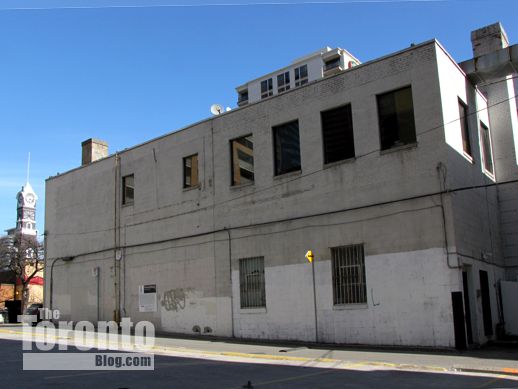 February 26 2012: The entrance to the condo tower would be at the northwest corner. Access to the underground parking would be from St Luke Lane.
February 26 2012: Looking north up St Luke Lane from behind 460 Yonge Street, roughly where the ramp to the condo's underground garage would be accessed. Area residents worry that the narrow lane will be constantly clogged with service vehicles after the Karma and 460 Yonge condo towers are built.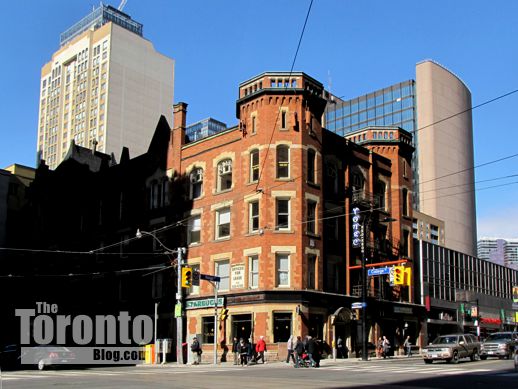 February 26 2012: Once constructed, the 50-storey Karma condo tower will rise behind the Oddfellows Hall, right next door to The Gallery, a condo highrise at 25 Grenville Street (upper left). At upper right is the Ontario government's George Drew Building at 15 Grosvenor Street.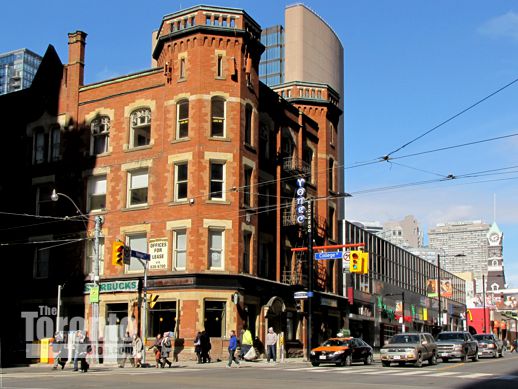 February 26 2012: If built, the 460 Yonge tower would totally dominate views to the north on Yonge Street from the College/Carlton intersection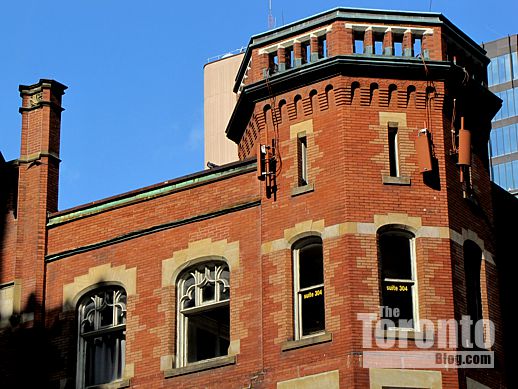 February 26 2012: The heritage building's ornamental, Gothic-style roof is a landmark at the northwest corner of Yonge & College Streets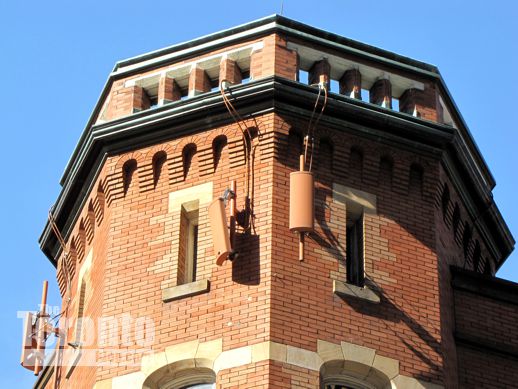 February 26 2012: A closer look at the building's upper southeast corner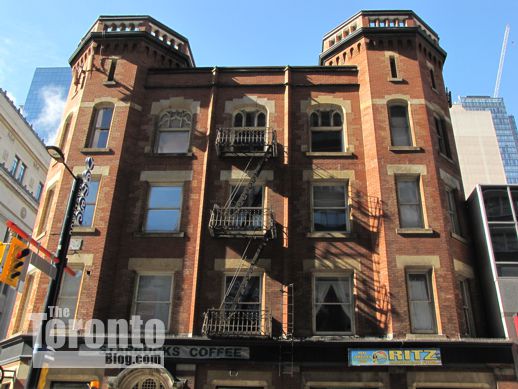 February 26 2012: The east side of Oddfellows Hall above Yonge Street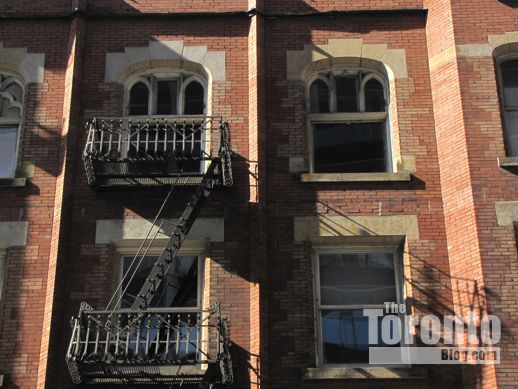 February 26 2012: A fire escape on the east wall of the century-old building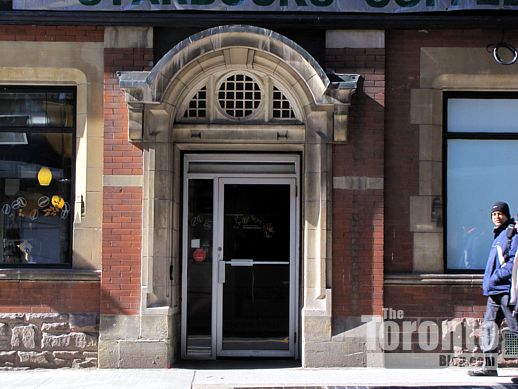 February 26 2012: The ornamental entrance to the 450 Yonge Street Starbucks store on the ground floor of Oddfellows Hall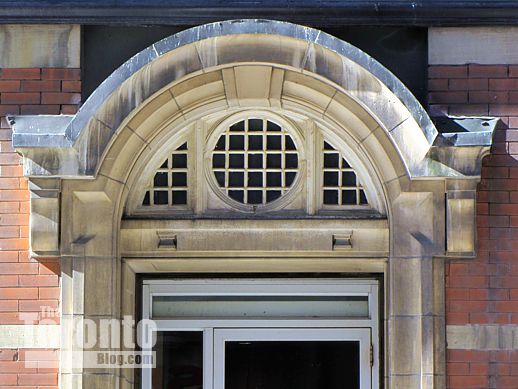 February 26 2012: A closer look at the ground-level doorway on Yonge Street
February 26 2012: A closer view of one of the windows on the Oddfellows Hall