Designed by Toronto's Kuwabara Payne McKenna Blumberg Architects (KPMB Architects), the 4-storey, 20-meter-tall office building looks just like artistic renderings suggested it would, and is on schedule for its expected completion and occupant move-in date of March 2013.
Upper Jarvis neighbourhood transformed
The ETFO headquarters is quickly and dramatically revitalizing the northeast corner of Huntley & Isabella Streets, where the Children's Aid Society of Toronto once operated out of several small 1- and 2-storey brown brick buildings. After the CAS relocated six years ago to new premises just three blocks to the west on Isabella Street, its former home fell into a noticeable state of disrepair, creating an eyesore in the heart of the long-established Upper Jarvis neighbourhood.
Even though the building is still a year from completion, neighbourhood residents have already been commenting favourably on the ETFO offices. At a meeting of the Upper Jarvis Neighbourhood Association last December, a number of residents spoke up to praise the building design and say they thought the ETFO headquarters would fit well within the community, a long-established enclave characterized by a mix of houses, low- and highrise apartment buildings and condos, offices, schools, a hotel and a hospice. Several area residents told me they were particularly pleased that KPMB Architects designed the west side of the building along Huntley Street to accommodate a large black walnut tree, and incorporated green roof elements into the structure.
Building will achieve platinum LEED certification
In fact, KPMB has designed the building to achieve platinum LEED (Leadership in Energy & Environmental Design) certification. Besides the extensive green roof, the building will feature sustainable technologies including "automated exterior shading, radiant heating and cooling ceiling systems, underfloor or 'displacement' air delivery, geothermal fields, exhaust air heat recovery, rainwater harvesting, natural ventilation, [and] automated lighting systems," the ETFO website notes. Landscaping will include the planting of many new trees — more than the dozen that had to be destroyed to permit construction — to help the building blend into the leafy neighbourhood.
Below are several photos showing recent building progress and this weekend's crane removal activity.
April 27 2012:  Construction viewed from the southwest
<>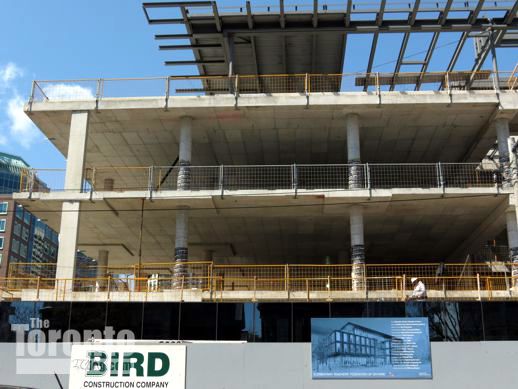 April 27 2012: The south side of the building along Isabella Street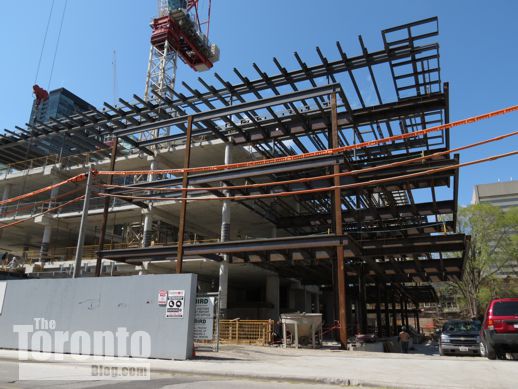 April 27 2012: Steel framework at the southeast corner of the building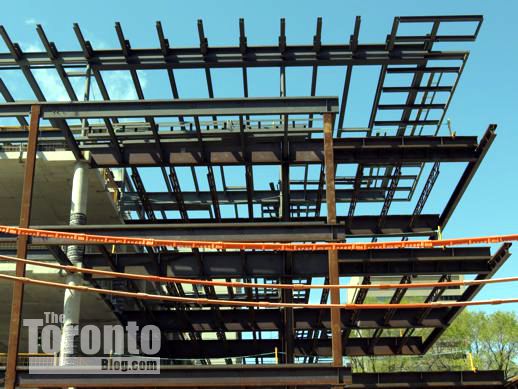 April 27 2012: Another view of the steel framework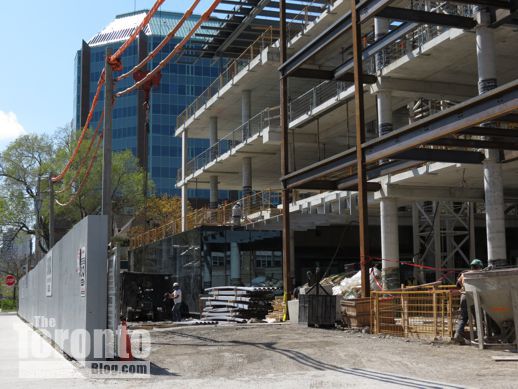 April 27 2012: The south side of the building along Isabella Street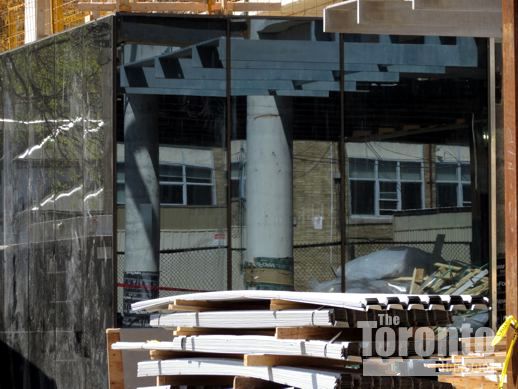 April 27 2012: Glass cladding on the southwest corner reflects columns near the building's southeast corner on Isabella Street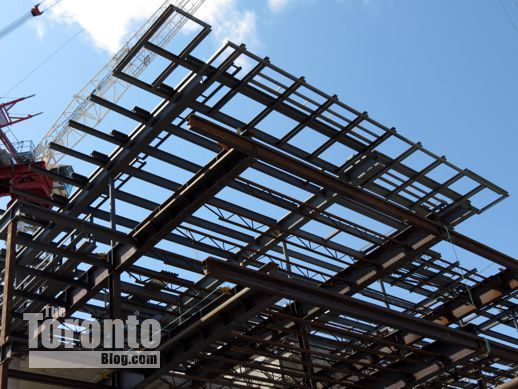 April 27 2012: Steel framework on the east side of the building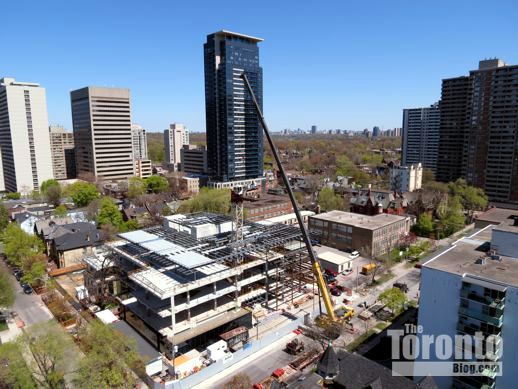 April 29 2012: Overlooking the ETFO site as the construction crane is removed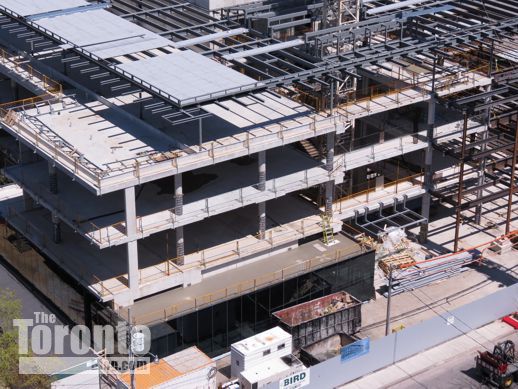 April 29 2012: A view, from a nearby apartment building, of the construction progress on the southeast corner of the ETFO headquarters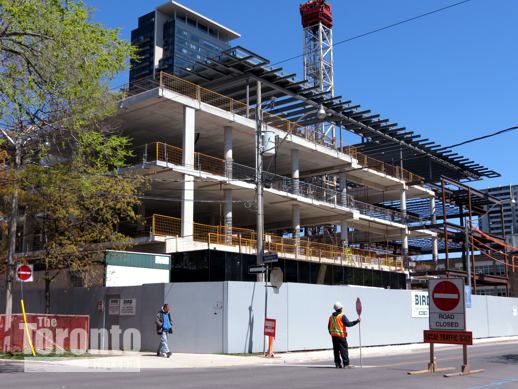 April 29 2012: Isabella Street was closed between Sherbourne and Huntley Streets this weekend while the construction crane was taken down from the ETFO site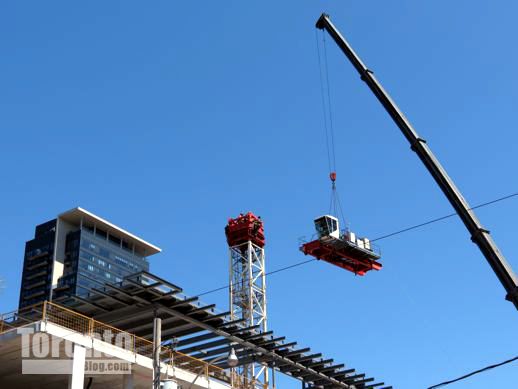 April 29 2012: The operator's compartment is lowered from the crane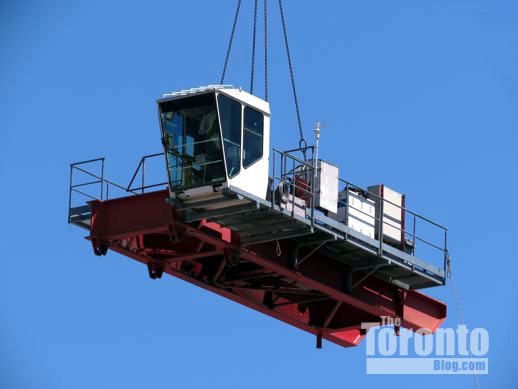 April 29 2012: The crane had worked the project since mid-August of last year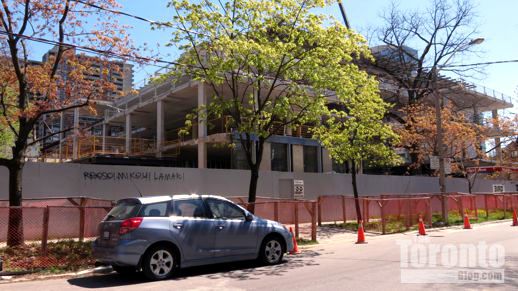 April 29 2012: Construction progress viewed from Huntley Street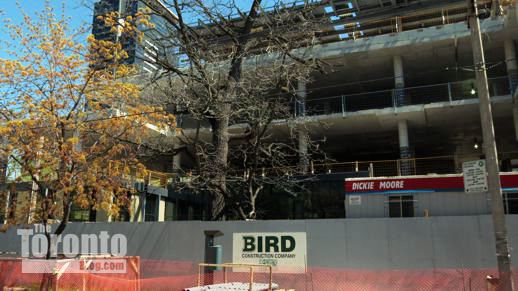 April 29 2012: The architects designed the west side of the building to preserve this old black walnut tree on Huntley Street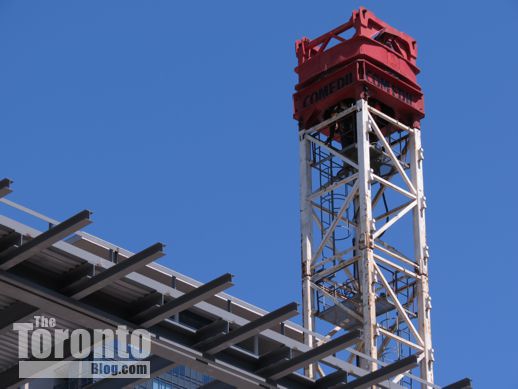 April 29 2012: As of lunchtime on Sunday, only the bottom segment of the crane remained to be disassembled and removed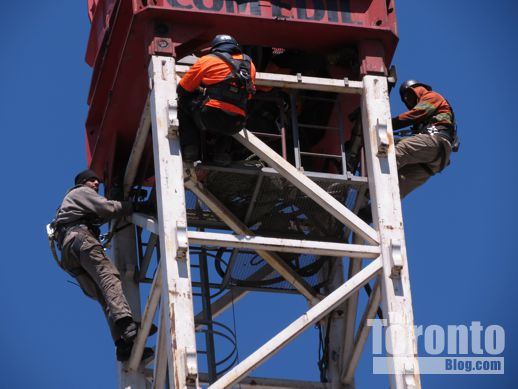 April 29 2012: A crew works to disassemble the crane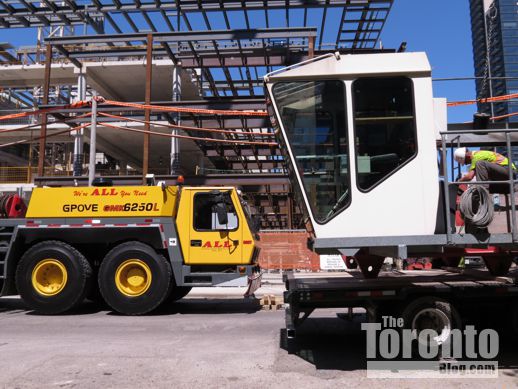 April 29 2012: The operator's compartment sits on a flatbed truck on Isabella Street following its removal from the construction crane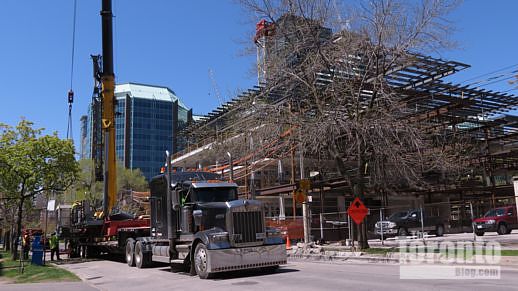 April 29 2012: A view of crane removal activity at the ETFO building, looking west along Isabella Street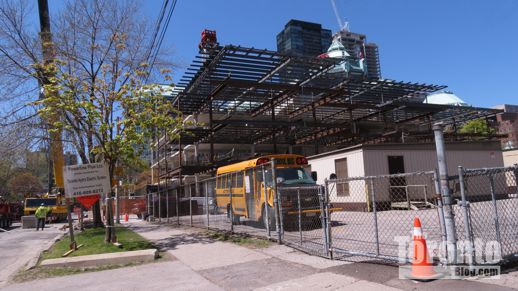 April 29 2012: East side of the building, viewed from Isabella Street
<>